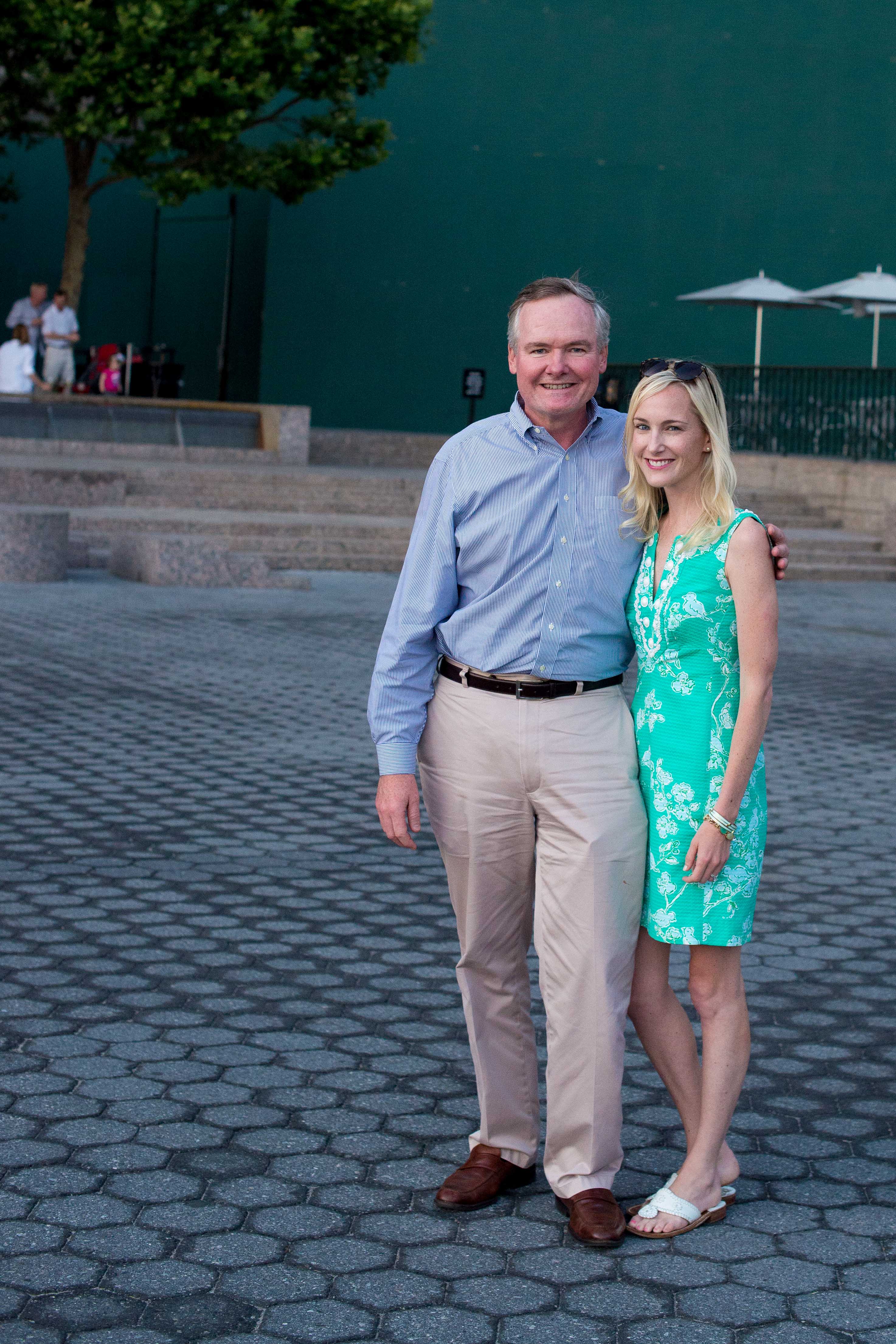 Dress: Lilly Pulitzer (Old–find the print on eBay), but this is my newest Lilly obsession / Tote: C.Wonder (Old), see current C.Wonder cork collection here / Sandals: Jack Rogers / Bracelets: BaubleBar (c/o) and J.Crew Factory (Old), similar here / Earrings: J.Crew / Sunnies: Kate Spade (Old), newer styles here
I'm throwin' it back to the last Father/Daughter Dinner Night in New York, which took place right before the big move in late June. :) The tradition started all the way back in 2006, when I was fresh out of college and new to the city. I was almost always lost, confused, and unsure of myself, but dinner night with Dad was a constant.
Initially, we frequented the same restaurant: Il Vagabondo, a small Italian restaurant on East 62nd Street, right near my first apartment. We were there every single week, so we got to know the owners pretty well! In the months and years that followed, though, we expanded, and tried restaurants all over Manhattan. I can't even tell you how much I looked forward to these nights. No matter what was going on in our lives, we always made time for them… and each other.
The last Father/Daughter Dinner Night took place at P.J. Clarke's on the Hudson, overlooking the North Cove Yacht Cove and Hudson River. It was a rough one for me. There had been hundreds of these dinners during my eight years in New York, and they'd become a huge part of my life. Dad was there through it all: every challenge, setback, and crossroads… and I'm really not sure I would have survived my twenties without his advice, encouragement, wisdom–and of course, his jokes. Sitting there together, it was hard to believe that soon, I'd no longer be able to see Dad whenever I wanted.
Now that I'm in Chicago, I realize that Father/Daughter Dinner Nights aren't over. They've just grown up and changed–like we have. Sometimes they have to occur over the phone, and they now require a little more travel. But we still have them.
Dad, thank you for guiding me through the difficult and confusing times, and cheering me on during the exciting and wonderful times. I can't wait for our next phone date, and I'm counting down the days until my upcoming trip home. Oh–and I have a bunch of great spots for us to try out when you come to Chicago! ;) I love you, Dad.
(And thanks for taking my photos! And snapping a shot of that random woman's adorable dog, haha)