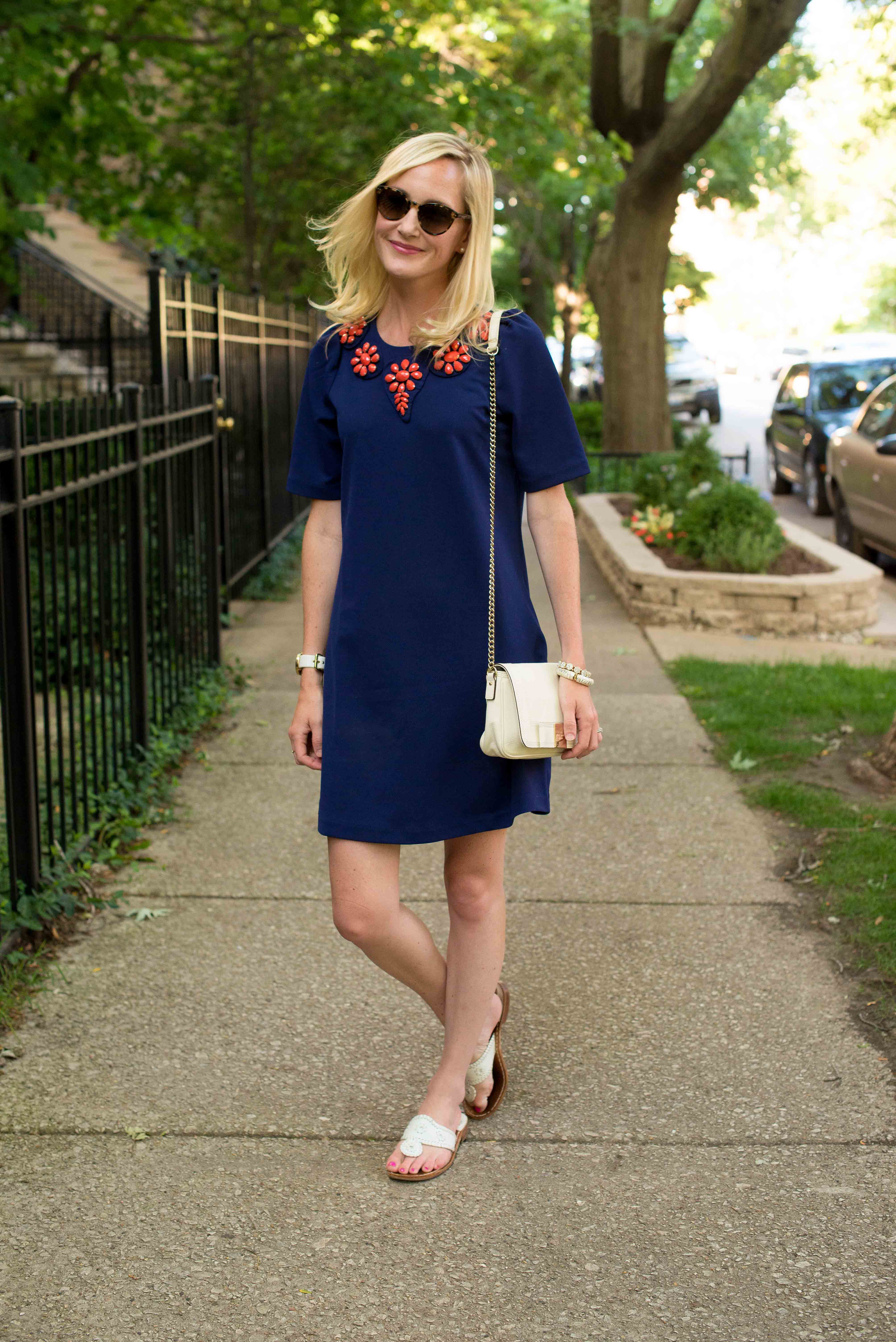 Dress: April Marin (c/o) / Bag: Kate Spade (Old), similar here and here (bigger) / Bracelets: Capwell + Co. (c/o) and Armed & Readi (c/o) / Sandals: Jack Rogers / Earrings: J.Crew / Sunnies: Kate Spade (Old), newer styles here / Watch: Marc Jacobs, and love it in brown and black!
Well, it's day five in Chicago, and things are good. :) Our days have been packed with exploring, catching up with Mitch's high school and college friends, and turning our new apartment into a home.
My last apartment wasn't the best. It was a studio, and had very little storage space–so it was a complete mess more often than not. It was located on the top floor of an old school where the gymnasium had once been, and didn't even have windows–just skylights, which were impossible to open. (Making the place a zillion degrees during the warmer months!) I suppose I could have tried harder to make it homey, but I knew it was a temporary place, so I just kind of gave up.
The Chicago apartment, though, is so different. It's still located on the top floor–but it's in an old townhouse, and it has walls and windows. (Huzzah!) There's a great cross breeze, and it has beautiful wide-plank hardwood floors, a big backyard, and a back porch. (Outside spaces are pretty much unheard of in New York, unless you're more established… or living in your grandmother's old rent-controlled apartment.) I'm in love. Of course, every room is a project, but the possibilities are endless.
Moving–especially from one major city to another–is super expensive, so we're trying our best to outfit the new apartment on the cheap. Think lots of DIY projects, thrifted items, and sale stalking. Our biggest project, and the one we're most dedicated to right now, is the back porch. We've never had an outside space before (and the weather is gorgeous), so we really, really want to make it nice. After weeks of research and combing the internet, we found the perfect outdoor furniture set for a steal. Today, we're attempting to put it together.
Cross your fingers for us! I'll check back in tomorrow to share our progress!