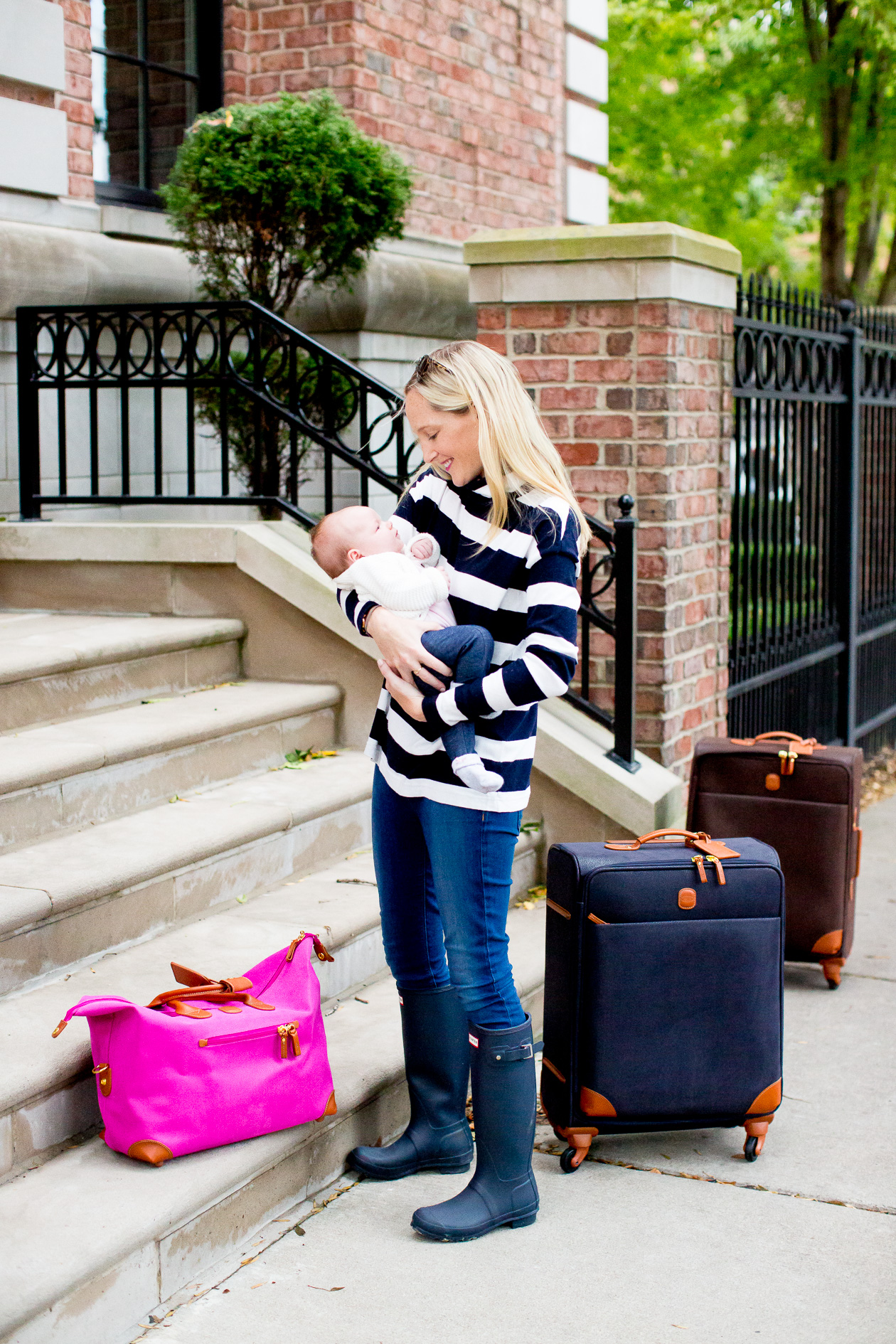 While Mitch and I took a little break from traveling this past summer because of Emma's arrival, we're back at it. This afternoon, we're headed to the lake for the annual Larkin Family Fall Festival, and we're traveling to the East Coast and Central Illinois for both Thanksgiving and Christmas in the upcoming months. (Incredibly grateful we're able to spend the holidays with both families this year!) I'm so, so excited about these trips for a variety of reasons, but the #1 reason is that we're going to be introducing Emma to some of our family members and friends for the first time! Be still, my heart. ;)
Here's the thing, though: traveling with an infant isn't easy. Whether we decide to drive or fly to our destinations, it's going to be tricky. We do, however, finally have our luggage situation figured out! Up until recently, Mitch and I traveled with small duffle bags that didn't fit everything we needed for week-long trips. They were bulky and unwieldy; they were constantly exploding all over our car; and despite their size, they were WAY too heavy. (For my shoulders, at least!) They needed to go.
This past week, though, we upgraded to gorgeous, quality "forever luggage" from Horchow, which has an amazing selection of travel gear. The family was going back and forth between Bric's Bellagio and MyLife lines for a while, as both are insanely beautiful. But we ended up going with the MyLife luggage because of its super soft exteriors and full-grain leather accents. Mitch decided on the 25″ Spinner in brown, I couldn't help myself and went with the same suitcase in navy, and Emma totally freaked out about the pink duffle. (Okay. She may have just been hungry, but I swear she made a fuss when she saw it!)
A few things we absolutely love about our new bags:
They really spin. This is HUGE for us right now, as we often only have one hand available. And they spin and don't get stuck. Lots of suitcases claim to do this, but few actually follow through on their claims. ;)
They come with TSA-approved locks and removable luggage tags. Don't you just hate it when you invest in new luggage and they don't come with tags?! Finding matching ones can be so hard…
They're lined with stain- and water-resistant satin nylon. Anyone ever had makeup or shampoo explode in their bag? I have. It ended in tears.
They're handcrafted. And you can tell. The attention to detail is amazing! Just look at some of the up-close shots below. Stunning, right?
They help us stay organized. Listen: Mitch and I are generally a mess. We just always have a lot going on, and things get crazy really quickly! But we love that our bags have pockets and straps to keep our stuff in place.
As I mentioned, we're off to Lake Bloomington this afternoon, new luggage in tow. Be sure to follow along with us during the Larkin Family Fall Festival on Instagram and Facebook… and check out my favorite luggage and travel gear from Horchow below. :)
Before we depart, though: do you have any tips for long car rides or flying with an infant? We'd love to hear!
This post was sponsored by Horchow and ShopStyle, but all opinions are our own. As always, thank you so much for supporting the partnerships that keep Kelly in the City up and running!