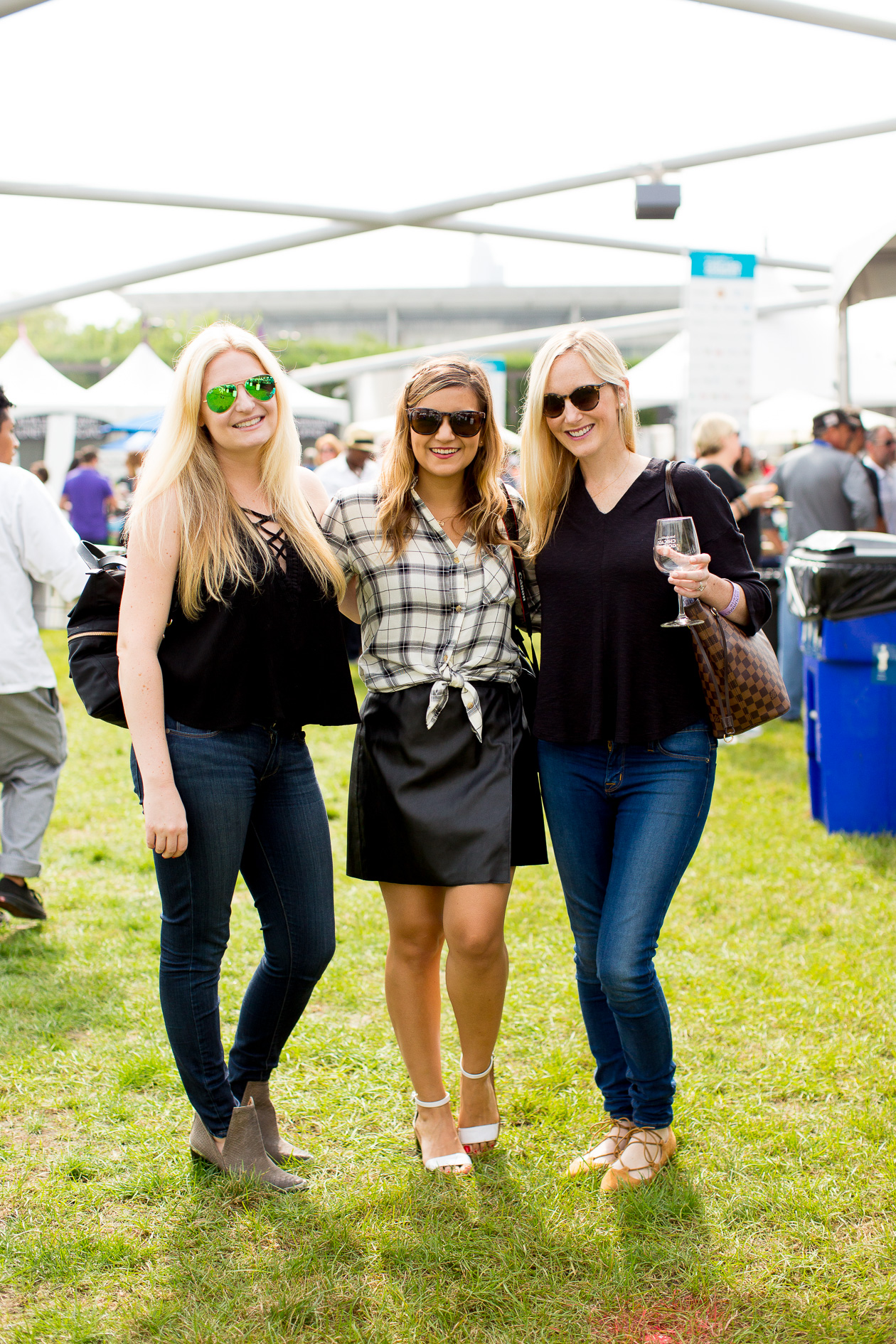 Wearing: Hudson Jeans (Mine aren't ankle but I wish I had them! #shortlegs) / Lace-up Flats c/o (Also available here.) / B Collection Top (SUCH a fan of this line for fall. Everything is super cozy and flattering. I have this sweater and adore it, btw. Shop my other faves below!) / Louis Vuitton Tote (Buy here, here, here, here, here or here) / Daniel Wellington Watch c/o / Similar Sunglasses / Nearly Identical Necklace / Monica Vinader Bracelet c/o (Also love this one)

Confession: I may have attended Chicago Gourmet in Millennium Park on both Saturday and Sunday last weekend. ;) One of my favorite parts? Hanging with my girlfriends, Kit and Lauren.
And learning about the city's farm-to-table restaurant movement!
If you missed my first post on it, Chicago Gourmet (presented by Bon Appétit) is a celebration of food and wine showcasing more than 200 of the city's finest restaurants and chefs as well as hundreds of renowned vintners, spirit makers and premium breweries from around the world. Kit, Lauren and I (and Mitch, haha) were guests of COUNTRY Financial (an exclusive partner for Chicago Gourmet), and before entering the festival, we attended a COUNTRY Financial Q&A session with Kevin Hickey, Chef/Partner of Bottlefork and The Duck Inn. Hosted by Check Please! host Cat De Orio, the session was (in my opinion) about how special Chicago is, from its food scene and incredibly supportive residents to its farmers markets to farm-to-table restaurants.
The whole farm-to-table thing hits home for my family, as my brother-in-law, Charlie, owns a chicken farm called Above Normal Eggs in Normal, Illinois. (See what he did there?) Charlie sells farm-fresh, cage-free, non-GMO eggs… and they're out-of-this-world good. (Here are some photos I took of his farm this past summer!) We've noticed–just as Chicago has, too–that restaurants are chomping at the bit to use fresh, locally sourced, quality ingredients, and we love it. We also love that businesses and local farmers are supporting each other!
Note: If you want to try Above Normal Eggs, you can find Charlie every Saturday at the Downtown Bloomington Farmers' Market on the Museum Square.
Because of this, and our support of farm-to-table restaurants, it meant a lot to be guests of COUNTRY Financial, which has supported the agriculture industry and local farmers since 1925. While COUNTRY Financial continues to support local farmers who are at the forefront of the Chicago culinary scene and who feed the farm-to-table restaurant movement, the company also works to help restaurants understand what it means to be financially secure in the industry. Oh, and get this: COUNTRY Financial is coincidentally based in Charlie's town. How crazy is that?!
Anyway, I had such a great time at Chicago Gourmet with my girlfriends. Below are some photos of our fun! And never have I been more excited to try out some new-to-me farm-to-table restaurants in Chicago. :) At the top of my list are Beatrix, Frontera Grill and The Duck Inn!
This is a sponsored conversation written by me on behalf of COUNTRY Financial. The opinions and text are all mine.