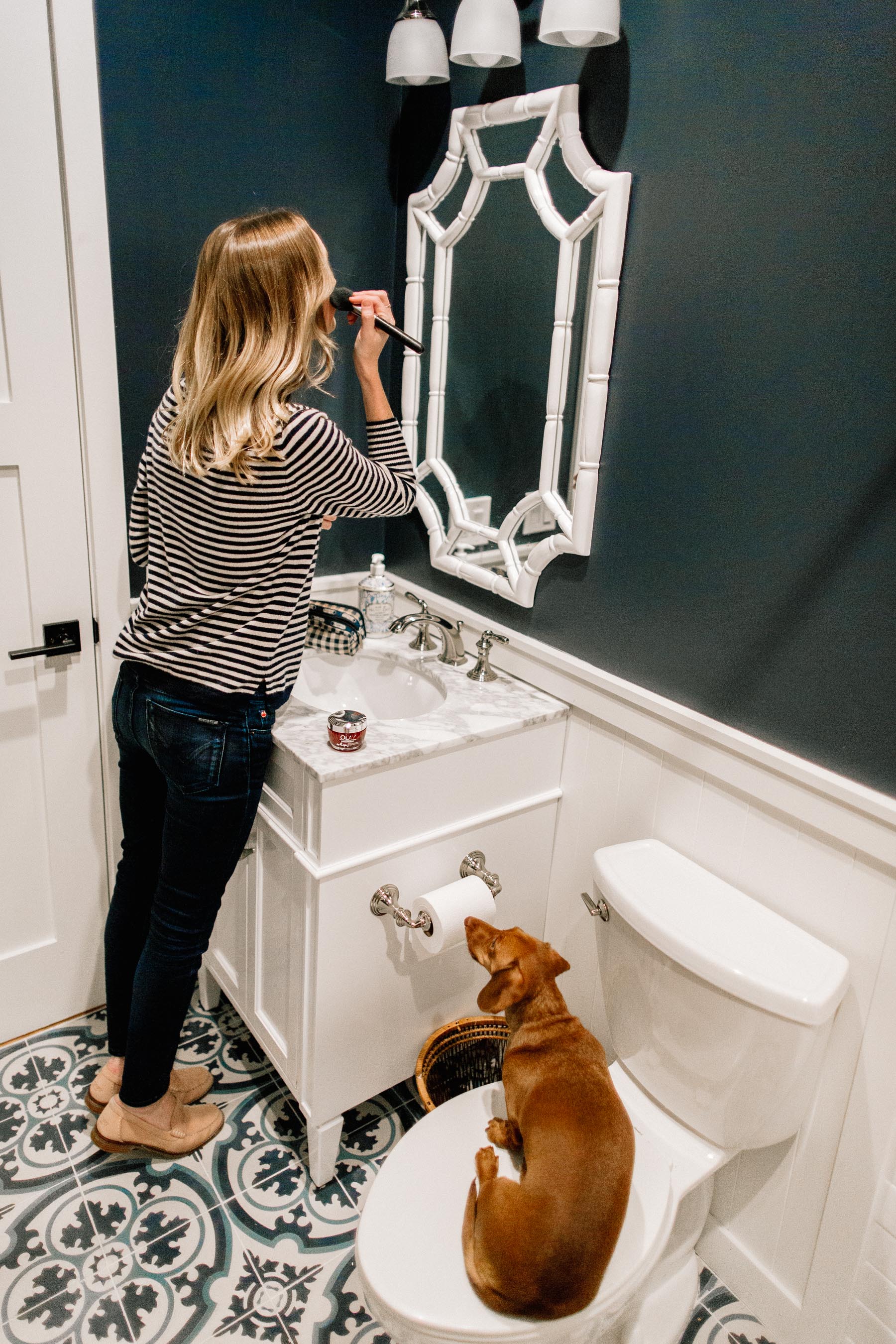 I'm pretty proud of myself. 😜 While there are still a few "holes" I need to fill, I've put a lot of effort over the last few years into finding beauty products that make me look–and consequently feel–better. I've also cut down on how many I use, both for the sake of time and my own sanity. If I've learned anything about beauty routines, it's that I typically quit if they're too intensive!
So here are the products I swear by, along with a few requests for recommendations in certain areas. :)

Skincare
I've been partnering with Olay for the better part of the last year, and it's been a lot of fun to test out the brand's line of products. My favorite product, though, has been their Whips Face Moisturizer.
First, I need to say that I simply don't drink enough water. I'm constantly trying to improve, but I'm also constantly forgetting. I force myself to drink a glass any time I walk into the kitchen, I put a water bottle next to my desk, and the first thing I do when I wake up or before falling asleep is gulp some down! Still, I don't get enough, especially when I'm on the go… and I'm left feeling parched–both on the inside and outside. But Whips has done wonders in that area. While I've always been crazy about moisturizers, this is the one product that actually keeps my skin looking and feeling moisturized and soft through the end of the day.
But this is the coolest part, in my opinion: not only is Whips SPF 15, it also acts as a makeup primer. Crazy, right? I've tried a bunch of very expensive primers, and I honestly have to say that Whips competes. Why? It has a matte, non-greasy finish, and totally helps me avoid that awful "3 p.m. shine." And it's a fast-acting, three-in-one product. Whereas I normally have to put moisturizer on my face and wait for it to soak in, and then apply the primer and wait for it to soak in as well, Whips instantly absorbs into the skin–and I can apply my foundation immediately thereafter. (That's its Active Rush Technology working hard.) Whips shaves a good five minutes off my morning routine, which is invaluable in this household.
Want to see how it works? This is really cool. View the above video to see how Whips transform the cream into liquid, and absorbs instantly into my skin because of its Active Rush Technology, leaving no residue behind. This is opposed to other moisturizers that rely on Hyaluronic Acid. (They seem to sit on the skin for a long time, leaving a wet and sticky residue.)
Finally, the Whips brightening formula evens skin tone, smooth wrinkles, and minimizes appearance of pores, which has been amazingly helpful, too. I know I talk about this all the time, but I've battled skin dullness ever since Emma was born. Whips gives me more of a glow!
Find out more about Olay's #faceanything campaign here.
Another skincare product I swear by is the acne-clearing product Differin, which recently became "over the counter." I've been using it since I was a teenager, and it's the only thing that's ever worked to clear up breakouts for me, besides Accutane. (Have I ever mentioned that I was on Accutane when I was in high school? It's somewhat of a controversial drug, and you really need to know the risks that come along with taking it, but it was a miracle for my 16-year-old self. I was on a very low dose, so I also didn't experience any of the most common side effects.) Differin is known for clearing up acne within one to three weeks of use, and it's also known for being very easy on sensitive skin. (No redness, flaking or peeling!) I highly recommend trying it if you're tired of battling your skin.
Still looking for:
A face wash that also brightens skin. (Always trying to liven up my dull complexion!)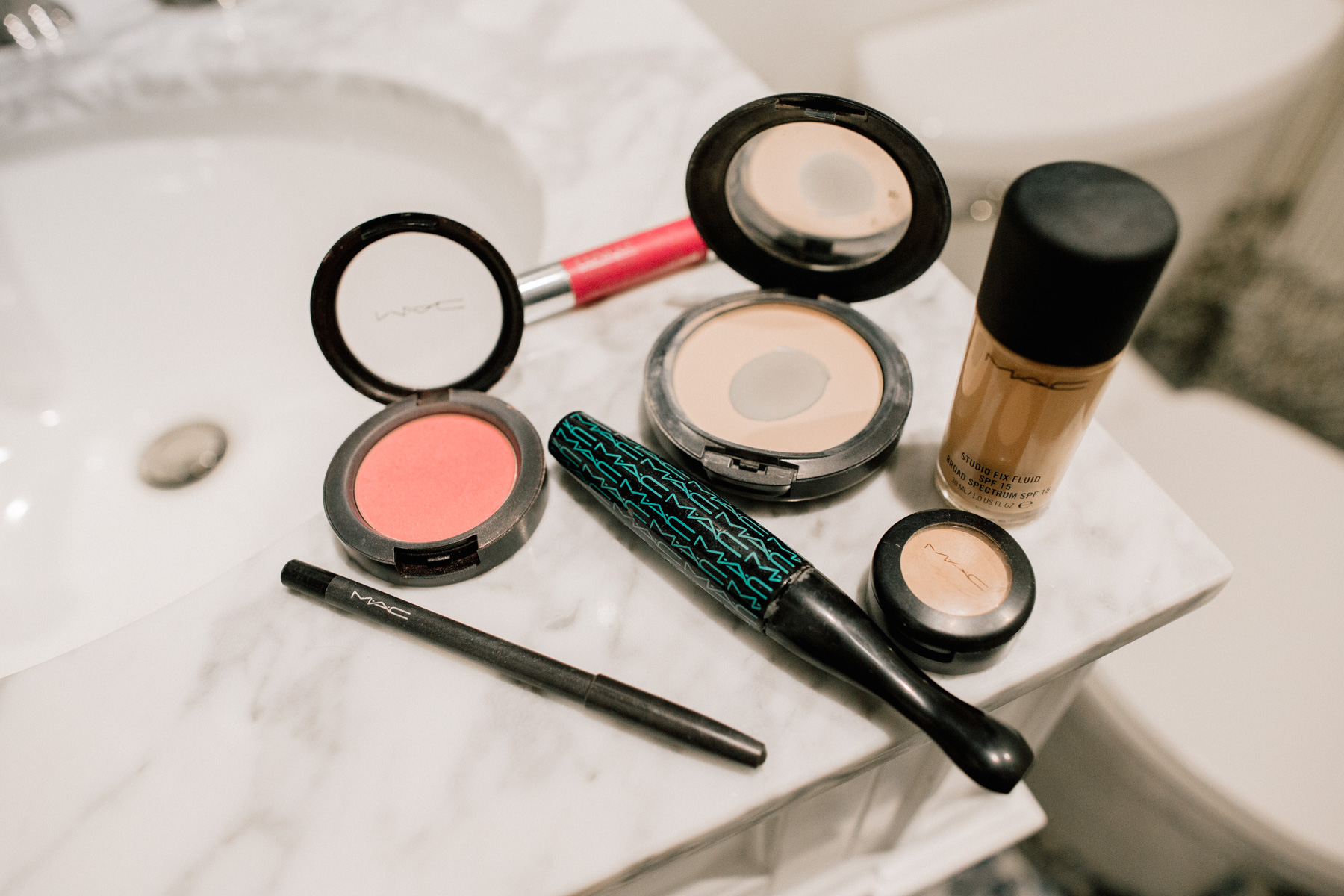 Makeup
It takes me roughly five minutes to apply my makeup, which isn't bad. Here's what I do and use:
SKIN: I first apply MAC's Studio Fix Fluid foundation in NW15 with my hands. It's GREAT, and out of everything I've tried, it gives me the most coverage while maintaining a very natural look. I love that it has a matte finish (no shine!) and that it has SPF 15 in it. (I should note, however, that when I'm at the beach or pool, I use a foundation with a higher SPF and less coverage.) Next comes MAC's Studio Finish Concealer (also in NW15), which I couldn't live without. I put it under my eyes and on whatever problem areas I have, and it covers any blemishes or redness. I brush a tiny bit of the Studio Fix powder on top, and then I apply the Powder Blush in "Dollymix." Tip: you only need a couple of brushstrokes of the blush. Any more, and you'll end up looking a bit clownish. ;)
EYES: I use the Pro Longwear Eye Liner in "Black Ice," which really stays on. (All others I've tried usually rub off within the first hour, giving me that lovely "raccoon eyes" look.) And then I apply Extreme Dimension Mascara–either the regular version or the waterproof one. Both last the whole day and don't rub off.
LIPS: For "the everyday," I go with Clinique's Chubby Stick lip balm in "Mega Melon," but I'll admit that I need to reapply several times throughout the day. It's more like a tinted chapstick. For special occasions, I wear actual lipstick. (Though I don't have a favorite.)
Still looking for:
A moisturizing lipstick in a shade that works with my fair skin. I hate lipsticks that make my lips feel and look dry, and so many shades make me look paler than I am. Help!
A luminizer. While I've never tried one before, I've read that luminizers can do wonders for people with dull skin. I've heard good things about this one by RMS Beauty, but open to any suggestions!
Another foundation. I do love the MAC one I use, but I don't know many people who swear by it, which makes me wonder if there's something better out there. ;) I've tried Bare Minerals and really didn't love it, but that's about it. Suggestions?!
A bronzer. My cousin, whose skin tone is similar to mine, used Bobbi Brown's Bronzing Powder in "Natural Light" while we were on Nantucket, and she looked beautiful. It's in my cart, and I can't wait to try it!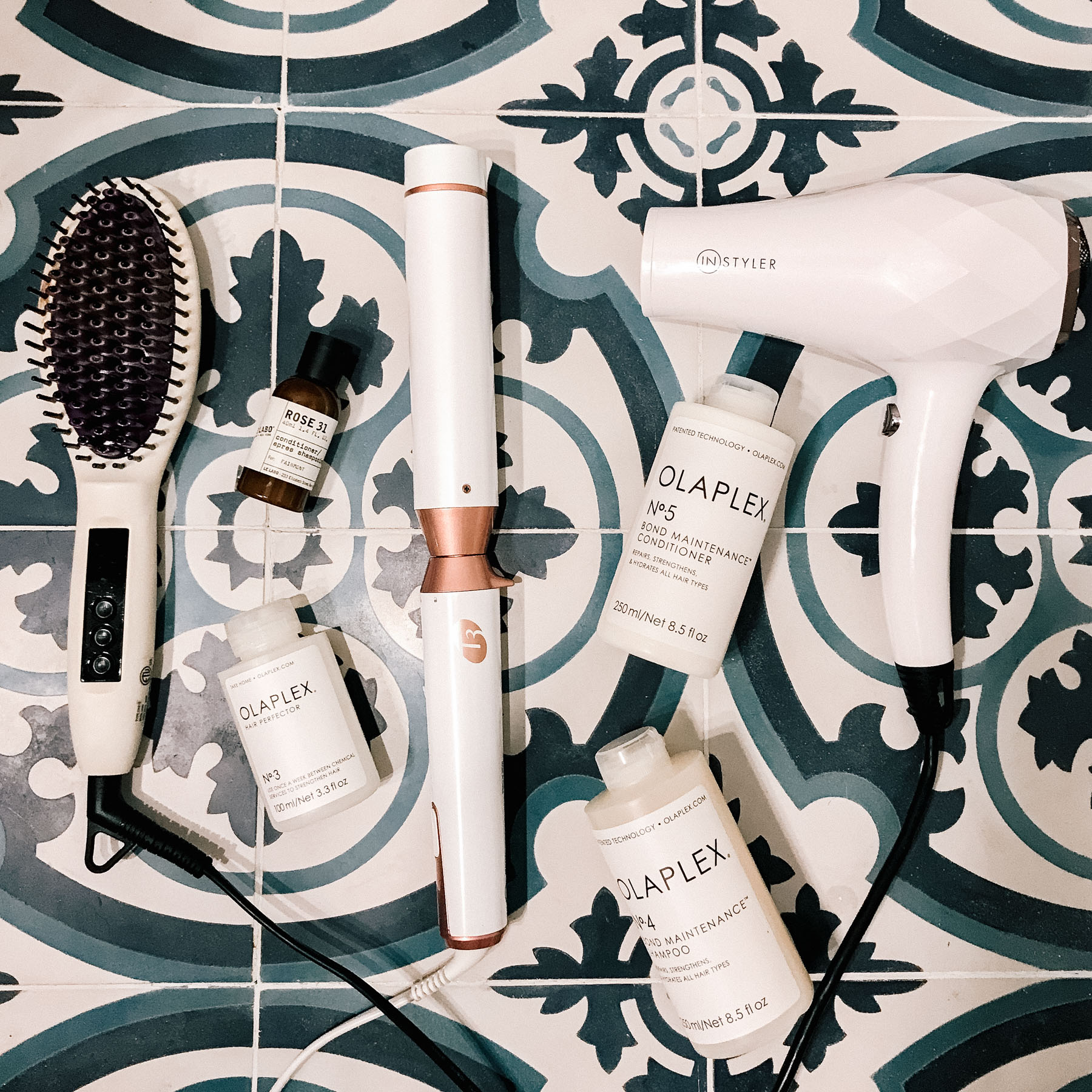 Haircare
Because I have fine hair, I wash and condition every day, but I diligently use certain shampoos, conditioners and repairing treatments to avoid damage, drying and frizz. In case you're new here, I used to be on a mission to destroy every last strand on my head. (I highlighted it on an almost-monthly basis and flat ironed daily.) Last year, though, I stopped highlighting and threw out the flat iron all together. While I miss my blonde hair, I've seen a HUGE improvement in terms of hair loss. It's still growing back, but it's healthier and softer than it's ever been in the last decade.
RESTORE: I swear by the Olaplex Repairing Treatment, and by now, you probably know that I'm absolutely obsessed with this stuff. It brought my hair from feeling like straw to feeling like silk. I love it so much that I wrote a whole blog post on it. I can't recommend it more if you have damaged hair! Truly can't believe it's real.
SHAMPOO + CONDITION: Olaplex Shampoo & Conditioner is what I use most. It was recently released, and since I love the repairing treatment so much, I pounced as soon as I could. I use the shampoo every day and the conditioner every other. There's a noticeable difference in softness and frizziness–a zillion times more effective than any other "no frizz" shampoo/conditioner I've used, except for the Rose31 Conditioner. OH MY GOODNESS. This is the queen of no-frizz conditioners. It's not even really advertised as such, and it was actually created for Fairmont Hotels. It's hard to find (it's only on LeLabo's website and in the Fairmont online store), and it's very expensive. ($53 per bottle. Sheesh.) But a little goes a long way, and I simply use it every other day. I'm telling you: it's magic. (Also, I love Pantene's "3 Minute Miracle," which is SO affordable–usually around $4 to $6. Whenever I run out of Olaplex or Rose31 or forget my conditioner while traveling (which is like half the time), I grab that at the drugstore.
STYLE: To dry my hair, I use the Blu Turbo Ionic Dryer. InStyler sent me this a couple of years ago, and it's very good. I've heard great things, however, about the Dyson hair dryer and the T3 Cura one's abilities to fight frizz. Interested in trying them, but not sure I can stomach the price. I also use the InStyler Straightening Brush. GET THIS. It's great. I'd say I only use it once a week, mostly for the hair that frames my face, but it's why I was finally able to throw away my flat iron. It's fantastic. Granted, I do have thin, fine hair… but it styles and straightens in under three minutes for me, and it doesn't break or pull out my hair like the iron did. Finally, I love my T3 Convertible Curling Wand Base and 1.5-inch Barrel, which I bought last year. I use this once in a while for special occasions, but this is the best ironing wand I've ever used. I can curl my hair in under five minutes using it, and the curls don't fall throughout the day. My favorite is the 1.5-inch barrel, which gives me nice waves… but there are lots of other options, too. Pricey, but 100-percent worth it, in my opinion. (So maybe I should splurge on the dryer? Decisions, decisions.)
Still looking for:
An anti-frizz spray. Or something like that. I feel like I've tried a ton, but haven't found one that works magic yet. Let me know if you're in love with a particular one!
What are your can't-live-without products?
In collaboration with Olay, but all opinions are my own. As always, thank you so much for supporting the partnerships that keep Kelly in the City up and running!