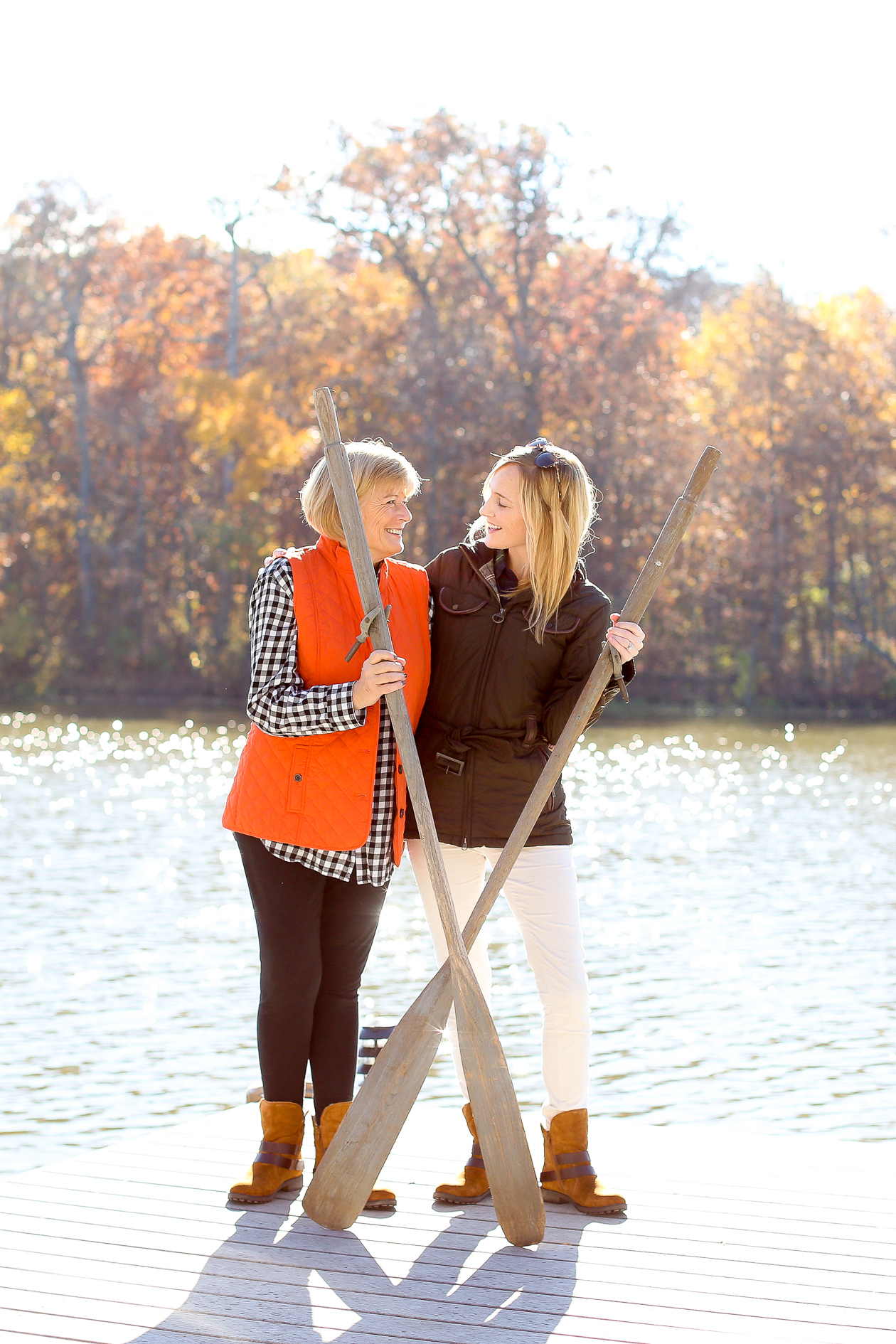 Outfit 1: Barbour Fly Fishing Rows Jacket c/o / Blank NYC Corduroys (Old, but love these!) / Naturalizer "Talley" Boot c/o / ASOS Blanket Scarf c/o (Old, super similar here!) / Kendra Scott Earrings c/o / Kate Spade Sunglasses (Old, similar here and here)
Outfit 2: Barbour Fly Fishing Rows Jacket c/o / Hudson Jeans c/o / J.Crew Flannel Shirt / Lands' End Booties c/o / Kendra Scott Earrings c/o / Kate Spade Sunglasses (Old, similar here and here)
Last weekend, we headed down to my in-laws' house on Lake Bloomington, Illinois for the Second Annual Larkin Family Fall Festival. It was the perfect laid-back getaway, filled with chili, s'mores, bonfires, movies, games, hugs, laughs, coffee, boat rides, and trips to the pumpkin patch.
As I'd hoped for, I spent a big chunk of the weekend behind my lens, capturing moments and folliage and virbrant colors… and it was perfect. Photography has always been a major source of happiness for me, and it was really nice shooting something other than just outfits, haha. So today I'm going to share a TON of pics from the event! ;)
Happiness, happiness, happiness.
On a related note, my mother-in-law, Lisa, and I took over Naturalizer's Instagram account yesterday, and we posted photos from our weekend together on the lake. Anyone else have an in-law who's also become a true friend? Before I met Mitch, I kind of envisioned myself in a "Meet the Parents" type of situation once I got married. Never did I think that I'd end up with a second set of parents–or an absolutely wonderful mother-in-law who's down to style boots with me for a mother/daughter blog project, hehe.
So. Grateful. :)
Catch my last Naturalizer feature with Mom here!
Do you have a hobby that brings you great joy? Or a fabulous in-law? I'd love to hear!