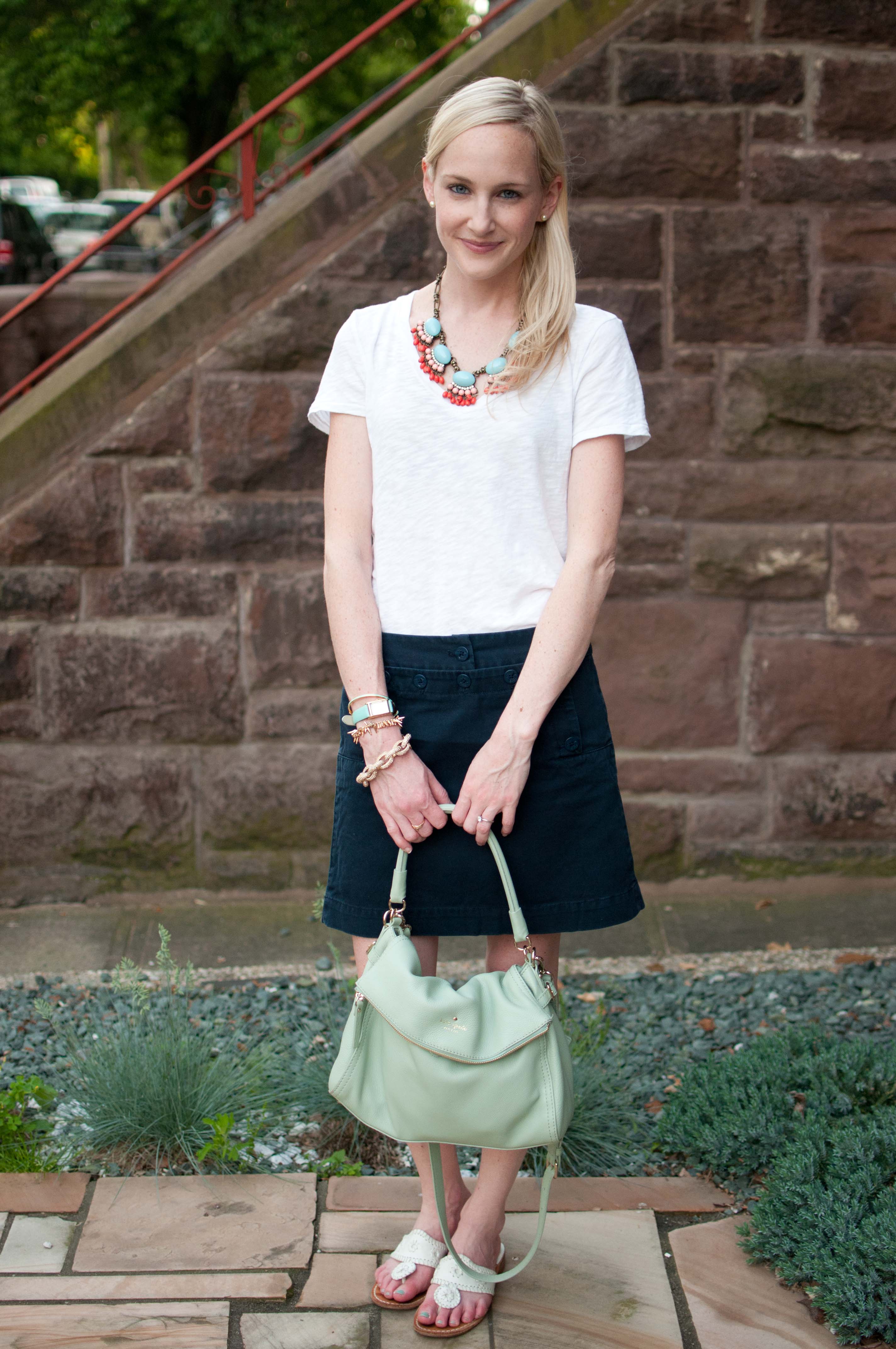 Hello, humidity. I forgot about you. ;)
Yesterday, Mitch and I went all the way to Harlem so I could visit Costco's optometrist, but the store's eye care center was closed. And it's always closed on Tuesdays. Way to go, Kel. ;) But at least we picked up a pizza at Aldi! Kind of made it worth it.
GroopDealz, inspired by J.Crew / Bag: Kate Spade, also similar here by J.Crew / Skirt: J.Crew (Old), similar here, here, and here / Sandals: Jack Rogers, also loving these cork Jack Rogers and these monogrammed Jack Rogers / Watch: Kate Spade / Bracelets: Bracelets: J.Crew* (Pave), similar here in color; Stella & Dot (Spikes); and Kate Spade (Bow — On sale!) / Earrings: J.Crew
Other news: we are finally in possession of our wedding invitations. They go out today! Woo! Hope to post some shots of them soon.
Happy Wednesday, everyone! Only a few more days until Memorial Day Weekend! We have back-to-back weddings (Saturday and Sunday). It would be an understatement to say I'm excited. What are your plans for the long weekend?!
Necklace: GroopDealz, inspired by J.Crew / Bag: Kate Spade, also similar here by J.Crew / Skirt: J.Crew (Old), similar here, here, and here / Sandals: Jack Rogers, also loving these cork Jack Rogers and these monogrammed Jack Rogers / Watch: Kate Spade / Bracelets: Bracelets: J.Crew* (Pave), similar here in color; Stella & Dot (Spikes); and Kate Spade (Bow — On sale!) / Earrings: J.Crew