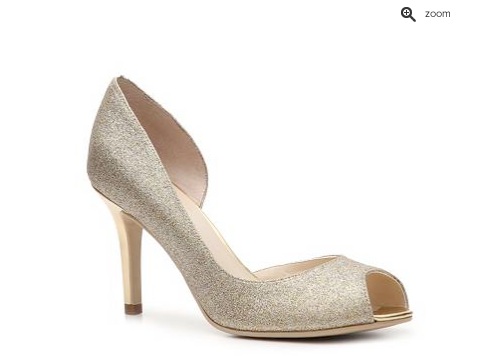 I'd like to extend a heartfelt thank you to quite a few ladies for helping me find the perfect bridesmaids shoes! After a post in which I pleaded for assistance, the lovely Marta from Sugar n' Spice, Marie-Eve from A Pretty Nest, Julie of Style by Joules, Lara of We Heart Beauty Blog, and Lauren R. came to my rescue. Ladies, you're fabulous! I can't tell you how floored I was by how much time and effort you put into helping me with my search! I was so, so touched. :) Thank you! 
Every single girl sent me a pair of pumps that I seriously considered. I had such a hard time deciding that I printed out pictures of them and laid them out on my floor to analyze. Because, you know. That's always the best way to make a difficult decision. But after a couple glasses of wine and a whole lot of second-guessing myself, we have a winner! Lauren R. found these beauties by Marc Fisher, and I fell completely head over "heels" in love for them. (Heh, heh. ;)) You rock, Lauren!
Of course, I ran straight to the nearest Macy's (on 34th) to try 'em out. A miracle on 34th Street did not occur (I had to size down more than two sizes in order to prevent my heal from slipping out which kind of made me nervous), but a miracle in Hoboken did occur. I found pretty much an exact replica of Lauren's find through DSW. The pumps received good reviews, too. Allie, my bridesmaid and loyal companion since middle school when I had braces and bangs, found a slammin' good coupon code, which only sweetened the deal further! (This was super impressive, as Allie lives in Thailand and has a spotty internet connection! Go, Mouse!)
I'm loving everything about these darling heels by Kelly & Katie, from the subtle glitz to the brand's name. Another bridesmaid (and my best, best friend from childhood) is named Katie. Enough said, right? Hello, photo op! She actually went out today, picked them up at her local DSW, and sent me a picture of them. Thanks, Lobster. I love 'em!
Side note: Tara, another bridesmaid and a best, best friend from college, was called "Monkey" growing up. I was called "Bunny" by my mom. Annie was called "Bee." Sarah, Erica and Beth: Let's get on those animal nicknames, okay? ;)
Anyway, I am thrilled, and I couldn't have done it without the help of you, fellow fashionistas! I love the shoes! Thanks again! xoxo