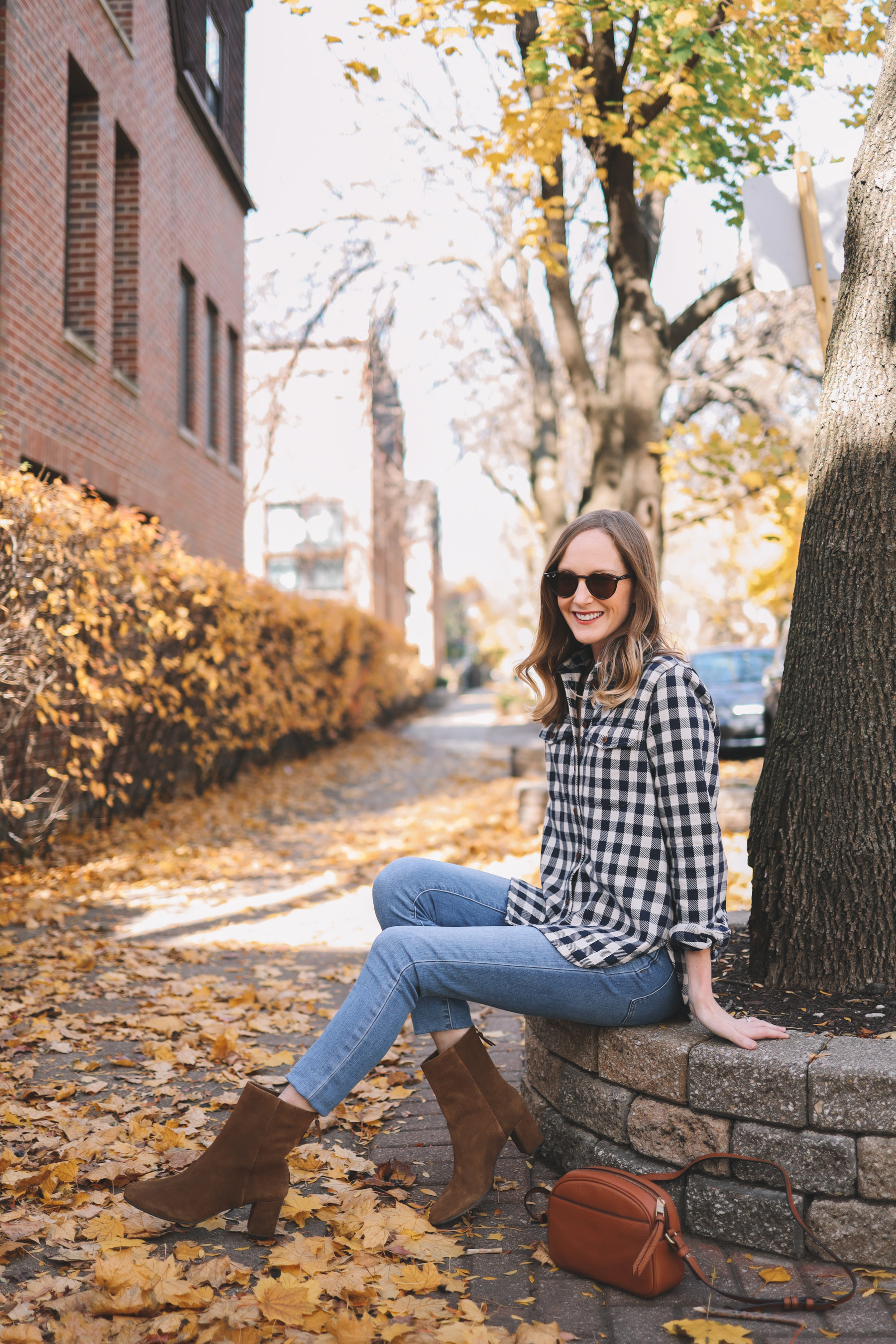 Buffalo Check Shirt Jacket (Runs large, size down.) / Willa Ankle Boots (TTS. Also love the knee-high ones!) / Camera Bag / Newer Skinny Jeans Here and Here — Love these kickout crop jeans, though. They'd go great with the booties!
Wanted to feature the famous Buffalo Check Shirt Jacket today, as it tends to sell out quickly whenever J.Crew or J.Crew Factory bring it back. I'm also currently watching Schitt's Creek (for the first time!) and it makes me feel like Stevie, which I like. 😜 (David just kissed Patrick, btw, and I'm dying; so cute. 😭)
First, I will say that it runs big—in a good way. It's supposed to look oversized, but I'd recommend going down one size anyway.
I wear mine as a shirt with nothing under it, but I have seen people wear it with a solid long-sleeve t-shirt underneath tucked into jeans, and it looks really cute! Gives you some more shape, too.
Anyway, it's wonderfully cozy and perfect for rolling around in leaves with the girls. ;)
In other news, I need to invest in a good pair of cropped skinnies or kickout jeans to wear with my booties so I can stop tucking the hems underneath, haha. I ordered this pair and this pair of skinnies, but also have my eye on this pair as they appear to be far more cropped!
xoxo
Shop the post:
Buffalo Check Shirt Jacket (Runs large, size down.) / Willa Ankle Boots (TTS. Also love the knee-high ones!) / Camera Bag / Newer Skinny Jeans Here and Here