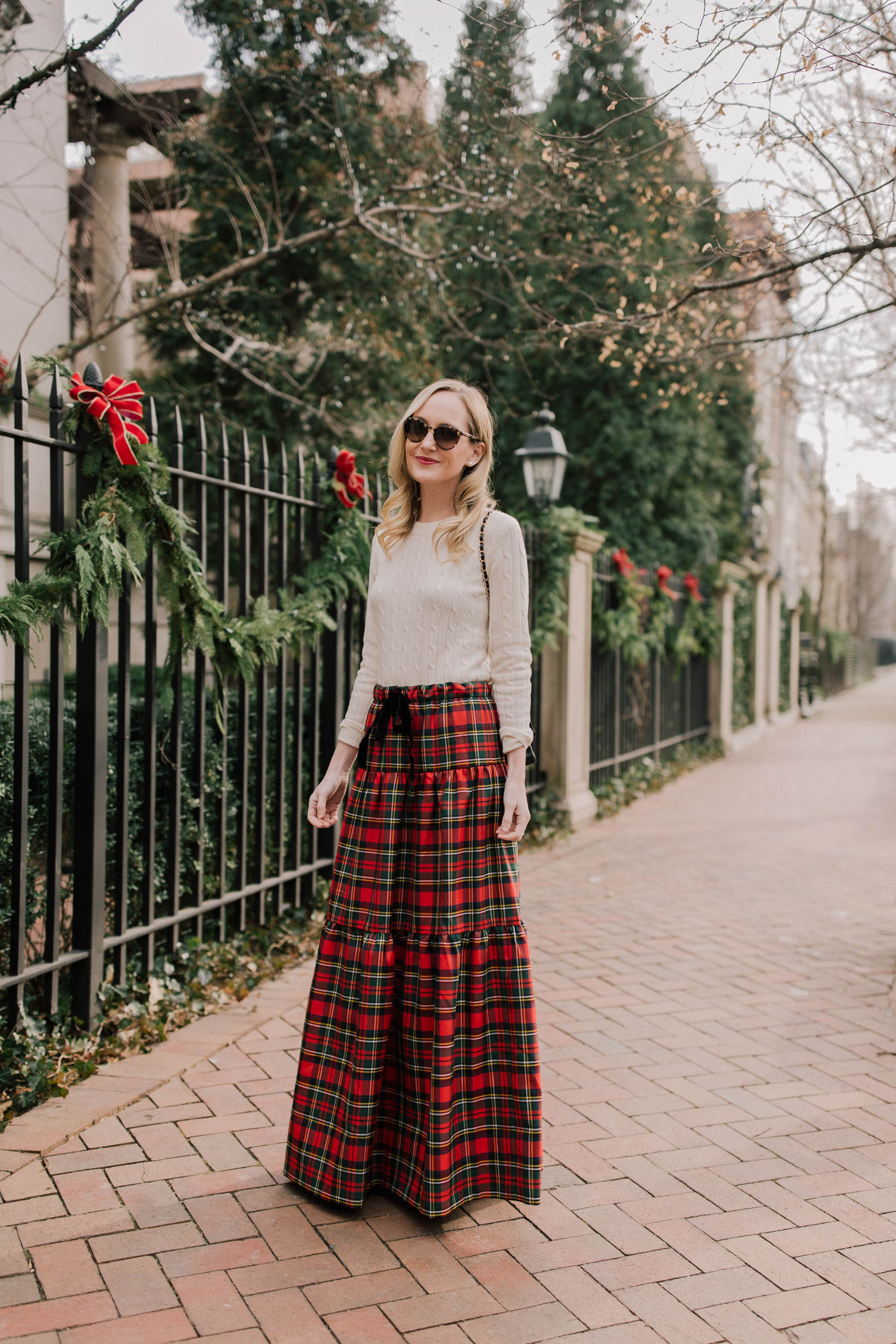 Plaid Tiered Maxi Skirt (Also love this similar shorter skirt and everything from the "Jolly Plaid" collection, as well as this one!) / Vineyard Vines Cashmere Cable-Knit Sweater c/o / Chanel Bag c/o (Read my post on how to score secondhand Chanel for a steal!) / Block Heel Pumps (If they're sold out, they're also available at Zappos. And this pair, this pair, and this pair are super close. I also adore this pair of bow pumps and this pair of bow-tie pumps.)
Can I let you guys in on a little secret?
I'm wearing leggings under this skirt. Which makes it, officially, the best holiday skirt of all time. Paired with a sweater, I was so warm!
I know, I know. I legit sound like a crazy person. But it's going to be 15 degrees in Chicago today. It wasn't 15 degrees when these photos were taken, but still: pants are a must here in the Windy City. ;) And you can't deny that two outfits in one is a wonderful thing. Hello? Off comes the skirt after the holiday party, and off to the bar you go! (Not that I could do that anymore, because, you know: 7:30 p.m. bedtimes are a bit restricting. But YOU–if you're not a parent–might be able to do that kind of thing. 😂)
Thoughts, though:
Do we like this skirt? I personally ADORE it, haha. Like, it's definitely my favorite holiday look, even next to this one and this one. But some of my friends say the skirt looks a bit like Little House on the Prairie, and not in a good way. Which I can see. And I'll admit that it's definitely possible that my love for plaid is clouding my judgment. (Hello, #30daysofplaid.) So I suppose I'll leave it up to you.
Yay or nay?
Be truthful. I promise you won't hurt my feelings. Because whatever the outcome, I'm still wearing it on Christmas! ;)
And if you do think it looks too much like Little House on the Prairie, do you think it could be improved with a sequin or glittery black sweater? (Don't suggest a camisole because it's not happening. ☃️)
In terms of sizing for the skirt, I'd suggest sizing down. I'm wearing an XS here, which is what I normally wear in J.Crew, and I do wish I'd gone down one more, due to the drawstring design. (Also, no: I didn't need to hem it. First time for everything. I'm somewhere between 5'4 and 5'5, and I'm wearing these block heel pumps.) And for the Vineyard Vines cashmere sweater, I'd also go down one. I'm wearing an XXS here, and it's perfect!
Anyway, let's talk about things other than clothing. Like what Mitch and I (and Emma!) were doing when we snapped these photos. One of our absolute favorite holiday traditions is walking up and down Burling Street (and the streets that surround it) and admiring all the Christmas decorations. Guys, there's a house that has full-sized Christmas trees tied to its floor-to-ceiling windows. On the outside. I guess that in my state of complete awe, I forgot to snap a photo of it. But really: it's incredible, and you shouldn't miss it.
Gah! Christmas in Chicago is absolutely magical. :)
If you're interested in visiting and exploring the city this holiday season, I really recommend staying at The Cambria Chicago Loop-Theatre District or Cambria Magnificent Mile. I know a few of you stayed there on account of a previous blog post about the hotels, and I loved getting your messages about how much fun you had! Both properties are perfectly situated for maximum holiday fun while in the city, and the staff is incredibly friendly and helpful. If you're visiting Cambria in the next month, you can still reach out on social media using #CambriaConnectors and ask me for recommendations on what to see and do while in Chicago. The best part is that up until December 21st, you'll be entered to win a $100 gift card when you do so. (Just don't forget to use #sweepstakes when you reach out!) So fun, right?!
Okay, Friends. Mitch and I have a crazy day. We're finishing up a bunch of holiday projects and then preparing for my brother and sister-in-law's arrival on Thursday! CANNOT WAIT. Let the holidays begin!
Shop the post:
Plaid Tiered Maxi Skirt (Also love this similar shorter skirt and everything from the "Jolly Plaid" collection, as well as this one!) / Vineyard Vines Cashmere Cable-Knit Sweater c/o / Chanel Bag c/o (Read my post on how to score secondhand Chanel for a steal!) / Block Heel Pumps (If they're sold out, they're also available at Zappos. And this pair, this pair, and this pair are super close. I also adore this pair of bow pumps and this pair of bow-tie pumps.)