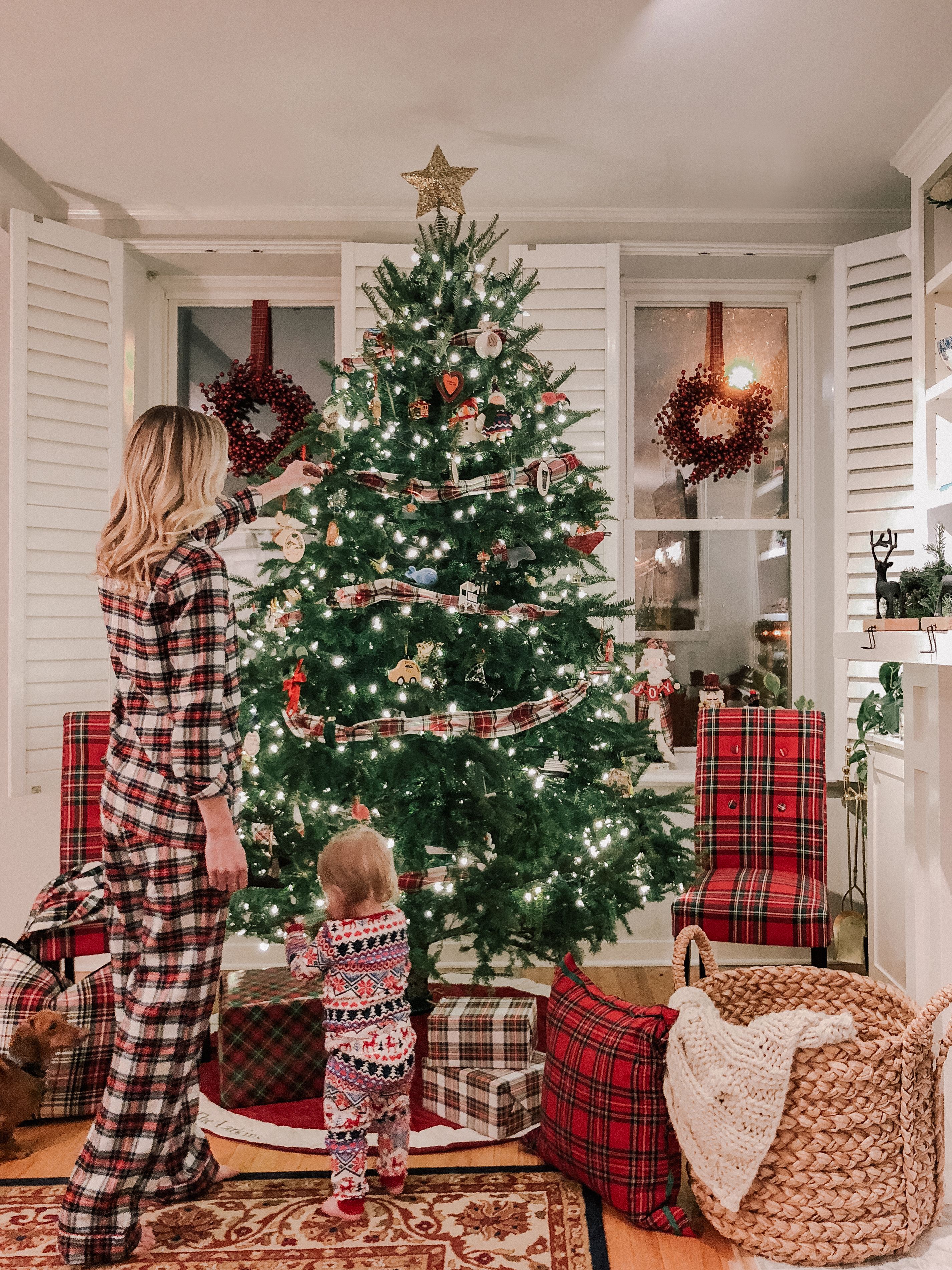 My Pajamas (Also here, and pants only here. And I love the black watch plaid version, which is also available here!) / Emma's Pajamas (But just got her these and SO excited about it! And how cute is the gingham version?!)

It's been quite the month. The holidays are my busiest time of the year, and thus I'm already sick and worn out. 😂 Still, experiencing Christmas–which is somehow only 13 days away–through the eyes of my daughter has been truly magical, and Mitch and I make it our mission to do something festive and fun with Emma every day!
Today, I'm teaming up with two of my best girlfriends (Emily from Isn't That Charming and Shaheen from Lows to Luxe) to talk holiday traditions, as part of the Motherhood Series we write together. We all recently started our little families, and I love hearing about (and adopting!) others' traditions. :) Be sure to check out Em's post and Shaheen's post, because I adore their fam bams, and I'm so excited to read about what they're up to this holiday season!
PS: A few of my favorite Motherhood Series posts include What Have You Learned From Your Kids?, How We Travel with Baby, How Did You Know You Were Ready to Have Kids?, The Dad Survival Guide, How Many Children Do You Want to Have?, and How We Chose Emma's Name.
So, without further ado, here are the holiday traditions we've started with Emma:
Walking Burling Street
Mitch and I started doing this when we first moved to Chicago, and it's become something I look forward to every year. Here are a bunch of iPhone photos I took on Burling a couple of years ago, and yesterday's photos (and the photos from last year's post) were snapped there, too! It's about a 15-minute walk from our house, so we bundle up and bring along coffees and hot chocolates, and then "oooh" and "aaaah" at the beautiful decor. I'm note sure who these people are, but it would seem that they're all friends or relatives of Martha Stewart. ;) So pretty!
Advent calendar
Okay, we haven't actually started doing this one yet, as my mom just ordered one for us and it's set to arrive in the next few days. But I'm so excited! We're going to hang it right outside the kitchen, and I think it's going to add a lot of anticipation and fun to the month of December!
Visiting Santa
We did this for this first time this year, and we had the BEST time. Granted, Emma shrieked her little head off when she met Santa at Macy's in downtown Chicago. But the rest of the day–from lunch and seeing the Tree at the Waldorf to walking the riverfront and adoring the lights on Michigan Avenue–was perfect, and truly got us in the spirit. While we live so close to the downtown area of the city, we only get down there a couple of times per month… and our last outing made me want to do it more often!
Magnificent Mile Lights Festival
A few weeks ago, the Magnificent Mile Association invited us to see its annual Christmas parade, and I can't tell you how much fun we had. Yes, temps dropped like 50 degrees right in the middle of it. (Fitting, right?! Such the way to kick off the holiday season!) But we huddled together and cheered and applauded during the shows and while the balloons passed by, and Emma spoke her true first words when beach balls were thrown into the crowd:
"This is a ball."
SO CUTE!
Nightly Christmas movies
Sure. We don't always finish them. But I love having them on in the background, even if we're having a wild and crazy night. On a few occasions, we've all piled onto the couch–or onto each other, on the floor–and watched one through. And the whole time, my heart was exploding.
Zoo Lights
We haven't done this yet this year, but we're planning to this weekend, when my brother and sister-in-law are here! Last year, we saw a guy propose to his girlfriend during it, and it was the cutest! But basically, the Lincoln Park Zoo puts on this amazing presentation of lights, and there are games and snacks and exhibits and just so much fun to be had by all. Couldn't recommend it more!
Saint Josephat's
We get our tree from Saint Josephat's every year, and you can see pics of this year's experience here. (And here's last year's experience.) I always say that I never want to move, but if we ever do move elsewhere in Chicago, you'd better bet that we'll be coming back to Saint Josephat's to get our tree each year. So special! (Saint Josephat's is also where Emma was baptized.)
Christmas dinner
Mitch and I started this tradition when we first started dating because life was so crazy. As our families lived (and still live) so far apart, we were traveling great distances to be with them… and we didn't want our hectic schedules to push our "together time" to the back burner. So every year, we set aside a Christmas date night. Yes, there was that time at Blue Smoke when I started hysterically crying because I was so sad we wouldn't be together during Christmas, but now we're SUPER together. ;) And while I'm not sure where and when our dinner will occur this year (probably next week in New Orleans?!), I'm certain there will be tons of laughs and a whole lot of spaghetti sauce in everyone's hair. (Love you, Emma.)
New York
Every year, we make sure to make it back to New York during December to experience the city during the holidays and see my family. I'm so grateful. The cool thing is that Mitch doesn't just do it for me; he wants to be there just as much as I do! We spend a few days roaming around our old stomping grounds and seeing as many people as we can. Here's our post from last year, here's a post from a few years ago, and Mitch's recap post is set to go live tomorrow or Friday, I think. (We also took these pics in Central Park last week!)
Baking Cookies
I'll be real, here. I'm not sure if this one is going to happen this year, on account of the fact that we leave for New Orleans this weekend and we don't have countertops yet. (Kitchen renovation!) But I want it to happen. My mom makes the best sugar cookies in the history of the world, and she was kind enough to share the recipe with me. (Maybe next year we'll do a post on them?!) So I want to make them with Emma every year, and then deliver them to people in the neighborhood! (Friends but also those who help run it!)
What are your favorite holiday traditions? Anything you think Mitch and I should add?!