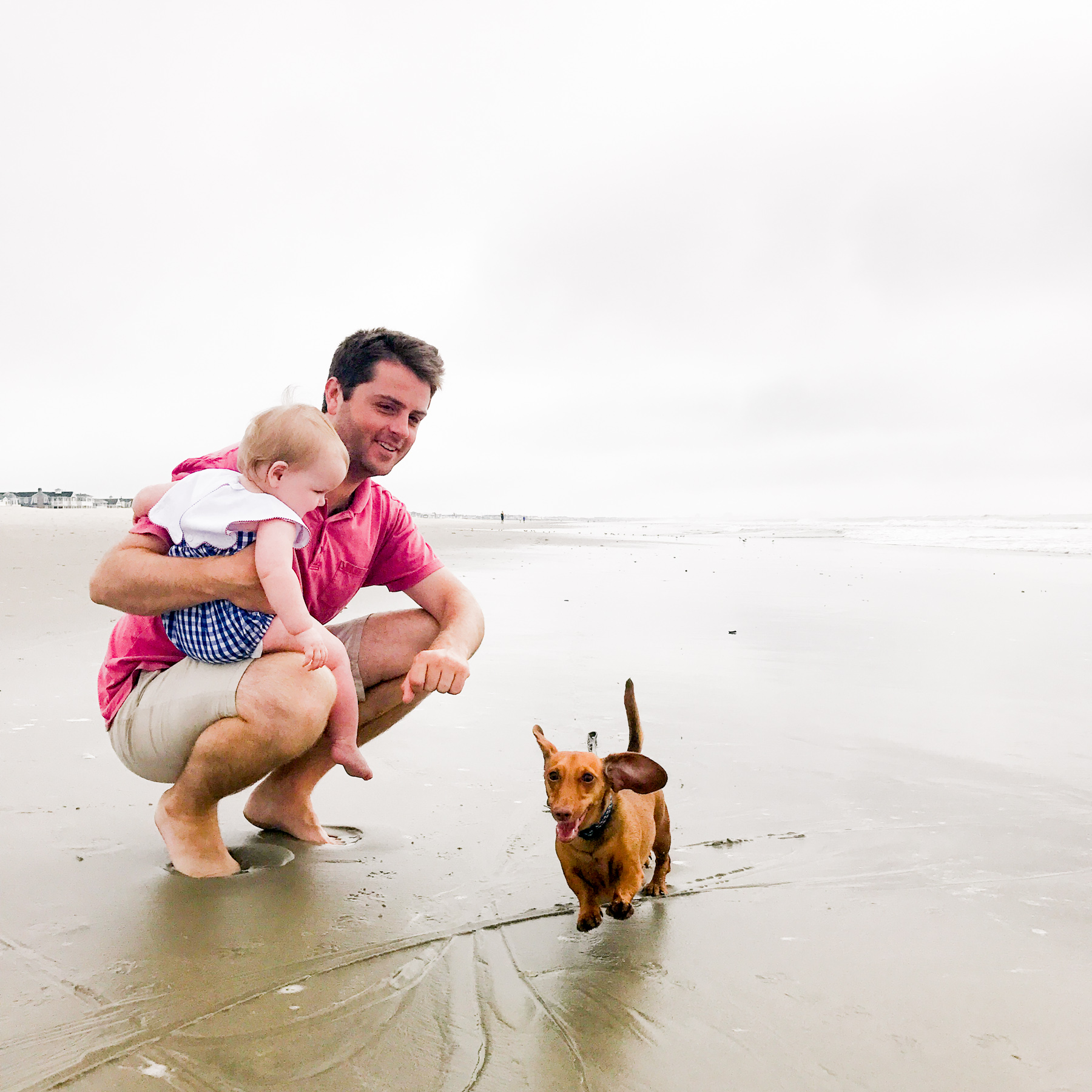 I'm so happy to be down the Shore, guys. I'm not sure I even realized just how much I needed this until we actually arrived. But this morning, as Mitch and I (and Emma) were walking along the water, I found myself feeling indescribably happy in this oh-so-slow pace of life. Which might explain why I've been posting kind of willy-nilly, whenever, this week. To quote Jack Johnson, "frames can't catch you when you're moving too fast…" 😜
Personally, I find it all too easy to get wrapped up in how hectic everyday life can be. The to-do lists; the cleaning; the running from here to there–I feel like it's the same for most, no matter how organized and on top of things a person might be. On the Shore, though, all of that seems to fade away, and it's just my family and me. I love having a place that helps me unwind and gain perspective. (Do you have a happy place like that?!)
But back to the topic at hand. I'm teaming up with Emily from Isn't That Charming for today's Motherhood post, and we're starting a discussion about when we knew we were ready to have kids. Be sure to read Em's piece here! We'd also love it if you weighed in.
Mitch and I talked about it on our walk along the beach last night, and then we typed up our "answers" this morning.
How Did You Know You Were Ready to Have Kids?
Kelly
There definitely wasn't a moment for me. I'd always known that I one day wanted to have children, but I'll admit that it was this far-off thing in my head that didn't seem real. Shortly after Mitch and I got married, I think we just started talking about it more and more, and then one day it felt like someone was missing.
Looking back, I wouldn't say we were 100-percent "ready" when we started trying for Emma. We both knew we wanted to be parents, but had "one day" really arrived? Our house had just flooded; the "nursery" didn't have walls, flooring or a door; and we'd lost our war chest. We were still trying to figure out our careers, and my family was a plane ride away. I wondered whether we even qualified as grown-ups. When does one officially become an adult?!
Ultimately, we determined that we'd likely never be 100-percent ready. There would always be something left to figure out and there would always be challenges. We decided, though, that we wanted to tackle all that stuff as a family. Life also threw us a curveball once we started trying, and it took us a long time to get pregnant. (Sadly, we truly realize that not everyone gets to choose if and when they have children.) But then (miraculously) came Emma, and life became infinitely better and I became so grateful to tackle life's challenges as a unit of three.
Four, if you count Noodle. ;)
Mitch
I remember ALL of our significant life moments together. I remember the first time I saw Kelly (149th Street in the Bronx; she was wearing a yellow raincoat), the first time I asked her out (I bet her that if I failed to quit smoking I'd have to help her move), and the terrible wine I brought on our first date (still have the empty bottle). I remember the day she moved in (two months after that first date), asking her to marry me (in Ocean City on the 40th Street beach) and our first meal as an engaged couple (gas station sandwiches at 2 a.m.). I remember our first night in Chicago (we slept on the floor) and the first night in our house (Burger King for dinner).
But I don't remember the moment we decided we were ready to have a kid. I don't think there was a moment like this. I knew I wanted to start a family with Kelly on 149th Street when I saw her in that yellow rain jacket. I'm just lucky she agreed with me. :)
How did you know you were ready–or not ready–to have children?
Be sure to read Em's piece here!
SaveSave