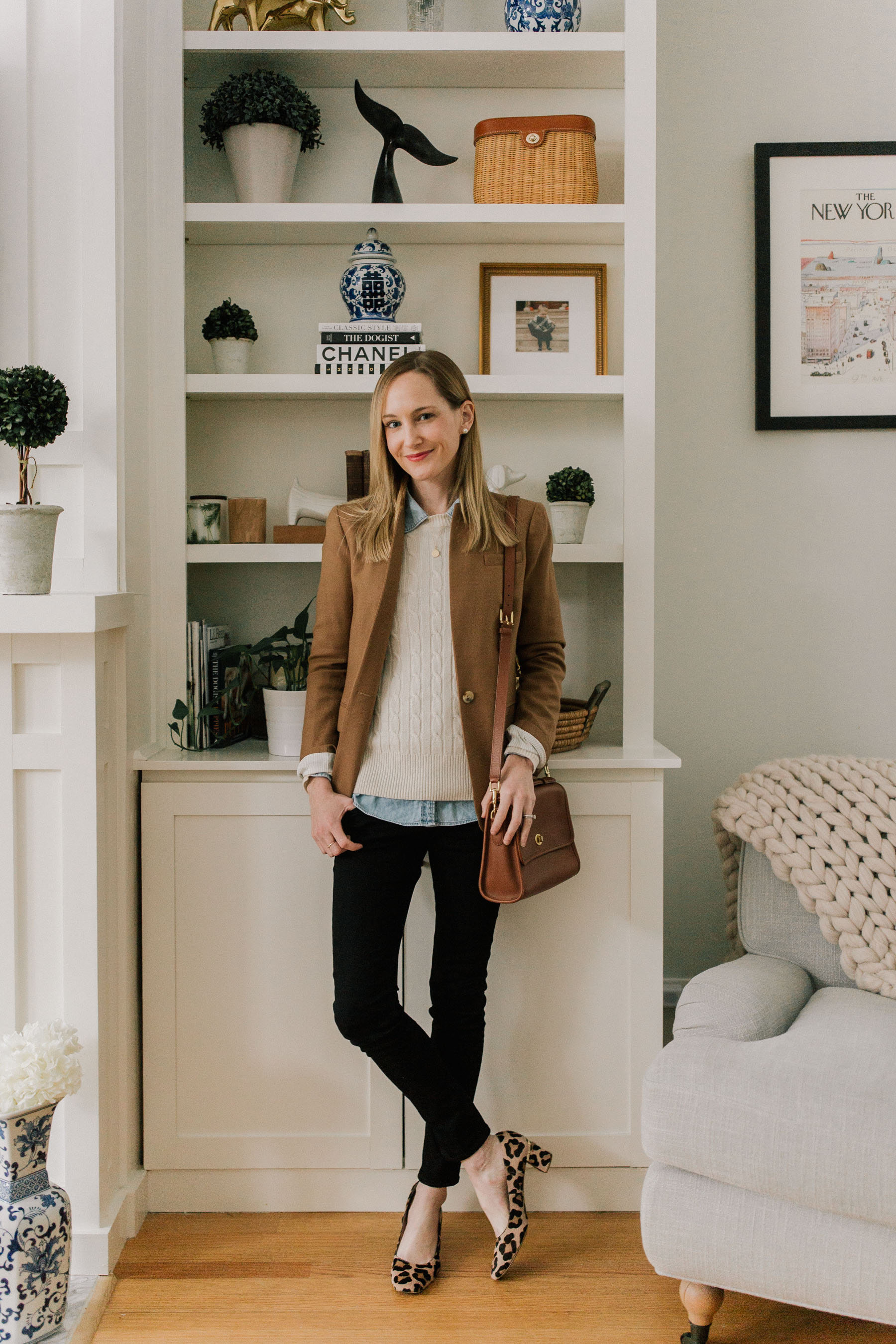 J.Crew Blazer (Mine is sold out in camel, but J.Crew Factory is making a nearly identical version! Here's J.Crew's newer version of the camel blazer, and here's the camel sweater blazer.) / Vineyard Vines Cashmere Cable-Knit Sweater c/o (Comes in a bunch of colors; my go-to cashmere sweater these days!) / Kate Spade Leopard Pumps / Coach Bag / J.Crew Chambray Shirt / Warby Parker Durand Glasses c/o / Black Skinny Jeans / Pearl Bracelet
Essentially the same outfit… twice in one week on the blog. What can I say? Things are pretty dire here in Chicago, with the crazy snowstorms… and I'm falling back on my classic staples. Which is what I do pretty much every February!
Seriously, though: this is an outfit I've been wearing since I was in college. It's so EASY. Black jeans, a camel blazer, an optional sweater (depending on how cold it is), and a chambray shirt. Whatever shoes are fine–ballet flats, loafers, cute pumps–you have to try pretty hard to screw it up. ;)
Also, do we think I've mastered the one-leg-over-the-other blog post? Yaaaaas. 😂
What's your go-to outfit?!
Shop this back to the basics outfit:
J.Crew Blazer (Mine is sold out in camel, but J.Crew Factory is making a nearly identical version! Here's J.Crew's newer version of the camel blazer, and here's the camel sweater blazer.) / Vineyard Vines Cashmere Cable-Knit Sweater c/o (Comes in a bunch of colors; my go-to cashmere sweater these days!) / Kate Spade Leopard Pumps / Coach Bag / J.Crew Chambray Shirt / Warby Parker Durand Glasses c/o / Black Skinny Jeans / Pearl Bracelet
SaveSave
SaveSave