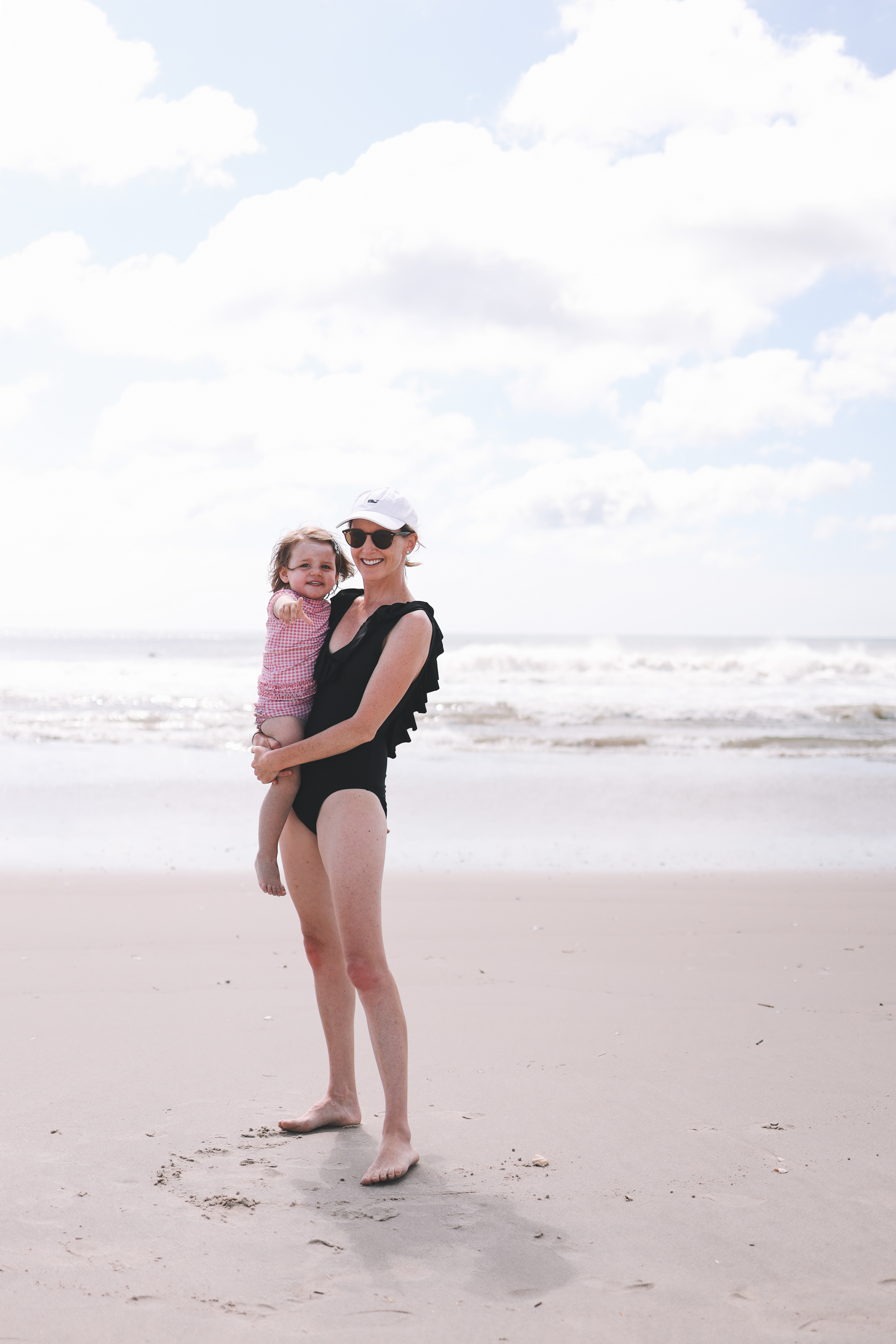 Black Ruffled Swimsuit / Vineyard Vines Hat / Sunglasses / Girls' Rufflebutts Swimsuits / Lucy's Clips / Emma's Minnow Swimsuits / Mitch's Favorite T-Shirts
I'm very much guilty of unloading camera cards onto my computer and then totally forgetting about the images. But I came across these Ocean City photos yesterday while trying to make sense of my disorderly desktop, and they made me smile. So I thought I'd share them today on the blog. :)
Highlights from this "reel":
Patrick, Kim and Christopher: One of the most wonderful discoveries while Patrick (my brother) and his family were on the island was that Christopher (his son) and Lucy are the perfect playmates! When they were teeny, I remember being a little bummed that they weren't closer in age. But now that they're both toddlers, I realize how close in age they are. (Lucy is 27 months, and Christopher is 18 months.) They had a blast together this summer. It was the cutest.
Aunt Michelle and Uncle Chris: My aunt and uncle drove all the way from Long Island—where both sides of my family are from—to OC just to see the girls. It was incredibly thoughtful and special, and Emma and Lucy were beside themselves the whole time. (HUGE Aunt Michelle fans. Probably #1 and #2 in the world, I'd say. 😉) Thank you so much, guys. We love you!
Mike and Kara + Fam: One of my best friends from high school, Mike, was down with his family for the week, so we spent nearly every day on the beach together. Mike, Kara (Mike's amazing wife), Mitch and I were all incredibly close during our NYC days, too. When Mitch and I got evicted from our East Village apartment, Kara actually found us an emergency apartment in Hoboken—right down the street from their place—and we moved in literally days later. (You're the best, Kara. THANK YOU.) So our crew goes way back, and it was truly surreal to watch our four children hit it off on the Jersey Shore together. And Mike, many thanks for taking Emma swimming approximately one zillion times. 😆
This has nothing to do with these photos, but HAPPY BIRTHDAY, DARBY BROWN! I love you.
I'm realizing now that I have a lot more OC pics; the Fourth of July ones are my favorites, and I can't believe I never got around to editing them. So stay tuned for more. :) Over and out!
Shop the post:
Black Ruffled Swimsuit / Vineyard Vines Hat / Sunglasses / Girls' Rufflebutts Swimsuits / Lucy's Clips / Emma's Minnow Swimsuits / Mitch's Favorite T-Shirts