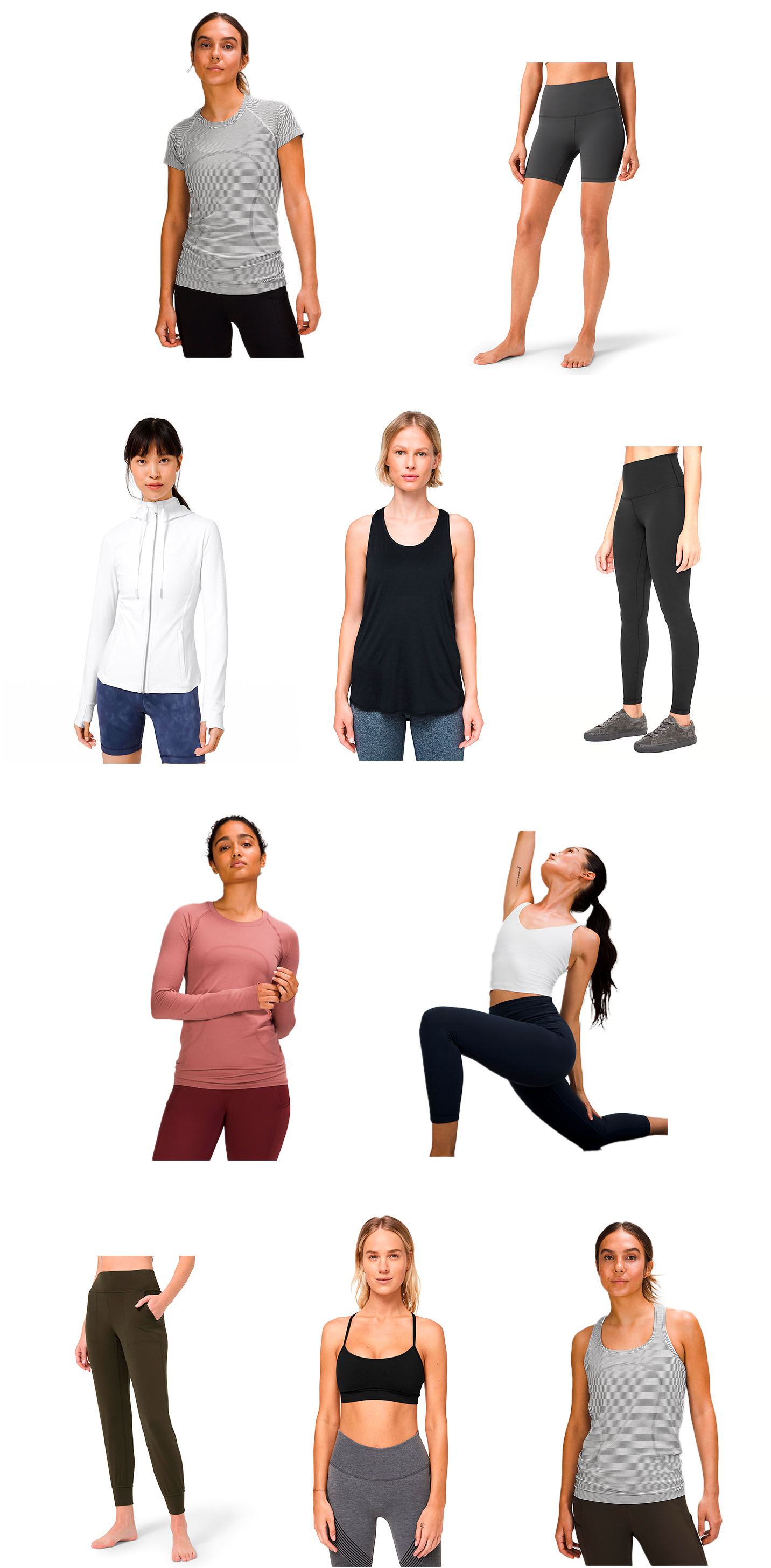 Align High-Rise Leggings / Align High-Rise Shorts / Align High-Rise Joggers / Align Tank Bra / Flow Y Nulu Bra / Swiftly Tech Long-Sleeve Shirt 2.0 / Swiftly Tech Short-Sleeve Shirt 2.0 / Swiftly Tech Racerback Tank 2.0 / Essential Tank Top Pleated / Hooded Nulu Define Jacket
Ah, the world of Lululemon. If you haven't tried the brand before, I might suggest not doing so lest you become addicted. 😆 (Just kidding. Kind of.) Seriously, though. It's so nice, and the quality and softness is unparalleled. I wear it every morning these days—whether on bike rides during the spring, summer and fall or on walks with Lucy in the winter. (Though I heavily rely on Athleta's fleece-lined Altitude Leggings for extreme cold in Chicago.) And I need to admit that I sometimes wear my Lululemon all day because #momlife.
It's no secret that the brand is pricey. But I'm at the point in life where I'd rather own just a few pieces of high-quality athletic apparel as opposed to a lot of so-so stuff. My drawers aren't overflowing, and I truly adore every single thing I own. And I've literally never had to retire anything because it's worn out. That's correct: My original leggings are six years old, and they're still with me!
My best advice when investing in Lululemon is to buy basic pieces in solid colors that'll go with everything. White, navy, black, gray and olive green are my go-to colors, and because I stick to them, most of my pieces can be mixed and matched. I don't own a ton, but I can create dozens of different "looks" with that I do have!
Here are my all-time favorites:
Align High-Rise Leggings /Align High-Rise Shorts: THE BOMB. Yes, I've tried most of the good "knock-offs" out there—from the Aerie Offline "Real Me" Leggings and the Athleta Elation Leggings to Old Navy's Power Soft Leggings and Amazon's Colorfulkoala Leggings—and they're all very good. But nothing compares to the original Align legging in terms of buttery softness and extreme comfort. I own several pairs of the leggings because I wear them year-round, and one pair of shorts for the summer. (Sizing: If you're new to Lululemon, I might suggest going one or two sizes up from your normal J.Crew size. For example, I typically buy a size 2 in J.Crew, and I like my Align leggings in a size 6, which is the size I buy most Lululemon pieces in. The 4 works but I definitely find the 6 to be comfiest.) Fun styling tip: The white leggings look great under button-down shirts!
Align High-Rise Joggers: I actually don't own these, only because I find myself wearing leggings more often than joggers. But I've tried them on and they're just as comfy as people say! I think these also work very good
Align Tank Bra: Favorite sports bra of all time. It's not really marketed as one, but I use it as such. It's made of that wonderfully soft nulu fabric that the Align line is famous for, and it can totally be worn on its own, too, since it's technically a cropped tank. (Though I normally wear it under the Essential Tank Pleated.) I take it in my usual size 6.
Flow Y Nulu Bra: This is the classic sports bra, and I wear this under long- and short-sleeve shirts. It's super soft, made in the nulu fabric as well.
Swiftly Tech Long-Sleeve Shirt 2.0 / Swiftly Tech Short-Sleeve Shirt 2.0 / Swiftly Tech Racerback Tank 2.0: These are GREAT. They're all the same, just in long-sleeved, short-sleeved and tank styles. They're seamless—crazy, right?—and they're lightweight, breathable and sweat-wicking. They also feature Silverescent technology, which inhibits the growth of odor-causing bacteria. Oh, and they have thumb holes! Sizing: These tops are form-fitting, so size up if you'd like a looser fit. I normally buy a size 6 in Lululemon, and I buy a size 6 in the Swiftly Tech tops.
Essential Tank Top Pleated: LOVE these. I have one in white and black because I wear it so often. I take my usual size 6 in it as it's flowy and forgiving. I throw this over my Align Tank Bra or Flow Y Nulu Bra and I'm ready to go! Couldn't survive the summer without it.
Hooded Nulu Define Jacket: This is the only athletic "jacket" I own because in my opinion, it's the best one out there. (It's really just a zip-up hoodie.) Again, made of the nulu fabric. Runs very small; I went up to a size 8 and it's still comfortably fitted. My mom also swears by this jacket!
Anything from Lululemon you swear by?! Let me know!