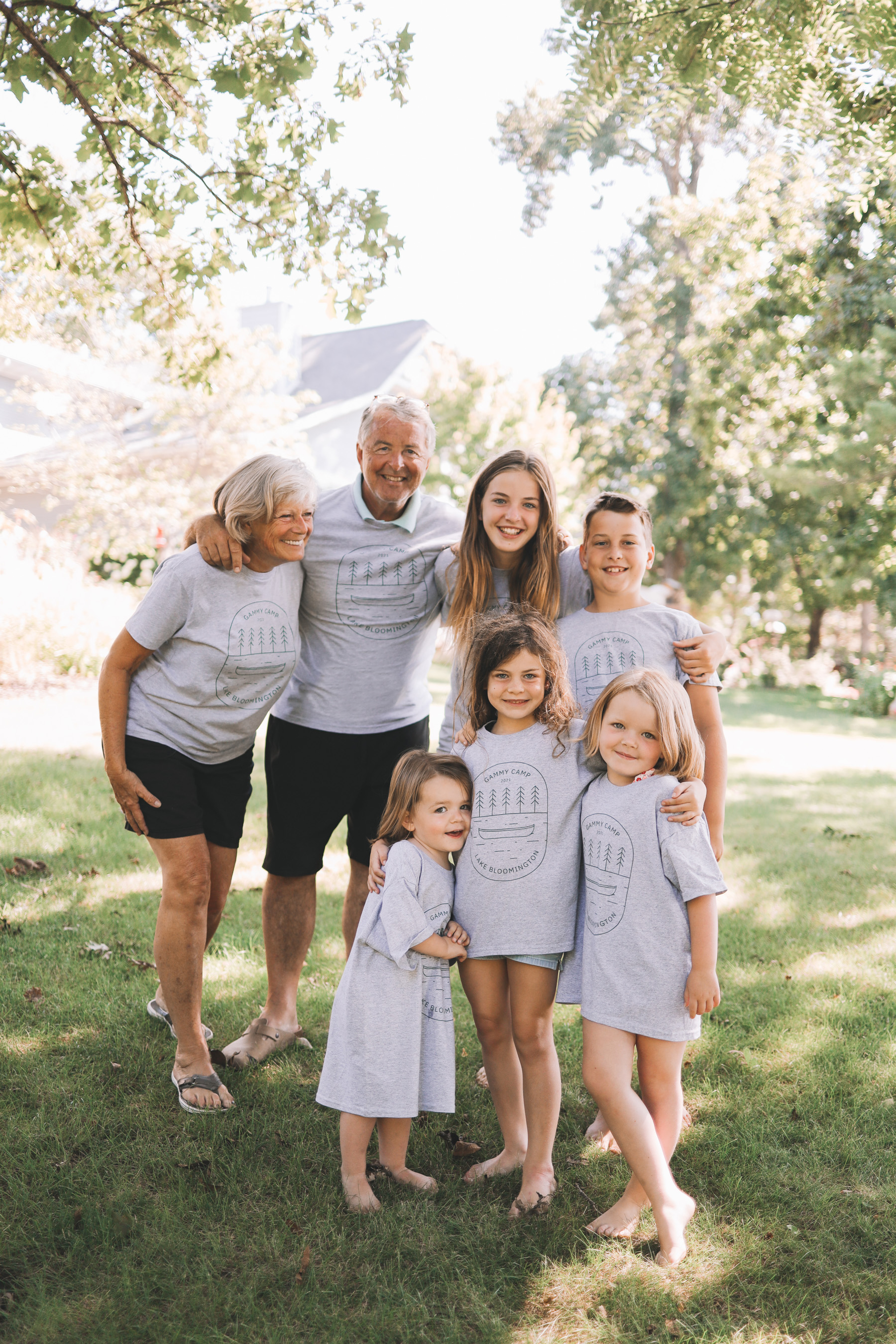 Camp Gammy T-Shirts (Mitch's graphic designer for his company did the logos!) / My One-Shoulder Striped Bathing Suit (Solid here) and Sunglasses / Emma's Blue Floral Bathing Suit / Lucy's Striped Bathing Suit / Emma's Ruffled Bathing Suit / Emma's Sunglasses
That's a wrap! Today is the last day of Gammy Camp; the Virginia Larkins leave bright and early for their trek back to the East Coast.
Every summer, my wonderful mother- and father-in-law have their grandchildren down to their home on Lake Bloomington in central Illinois for a week or two. Emma looks forward to it all year! They do everything, from water sports and crafts to cooking and farming. (Mitch's grandfather, dad, and younger brother are all farmers. They grow corn and soy bean crops, and also run a chicken farm called Above Normal Eggs!)
It's truly such a gift. Were it not for Gammy Camp, the cousins would only spend a few days together here and there every year. But because of Lisa and John, they get a huge chunk of quality time with each other and their grandparents. (I'll also admit that it's very nice for the parents. 😜 Since Chicago is only 2.5 hours north, though, Mitch and I drive down on the weekends to help out, see everyone, and get Lucy involved in some of the fun. She's still too young to be a full-time camper; she'll likely go when she's four!)
While at Gammy Camp, the kids grow so much as people. They develop a sense of independence, try lots of new things, and embrace adventure. And I really can't thank Lisa and John enough. Entertaining and taking care of four kids for such a long period of time is no easy feat, and they somehow knock it out of the park every year. Emma cries when Gammy Camp is over! (My mom is actually flying out to Chicago next week to lessen the blow. Love you, Mom.)
I took these photos when we were down last weekend. The images only represent a couple of days of Gammy Camp, but man. I really think they portray just how awesome it is.
We're a really lucky crew. Again, thank you, Lisa and John. You are the best grandparents. ♥️
Note: Mitch hired his company's graphic designer to make the Gammy Camp logo, and then had the t-shirts printed at One Hour Tees in Chicago.
Shop the post:
Camp Gammy T-Shirts (Mitch's graphic designer for his company did the logos!) / My One-Shoulder Striped Bathing Suit (Solid here) and Sunglasses / Emma's Blue Floral Bathing Suit / Lucy's Striped Bathing Suit / Emma's Ruffled Bathing Suit / Emma's Sunglasses