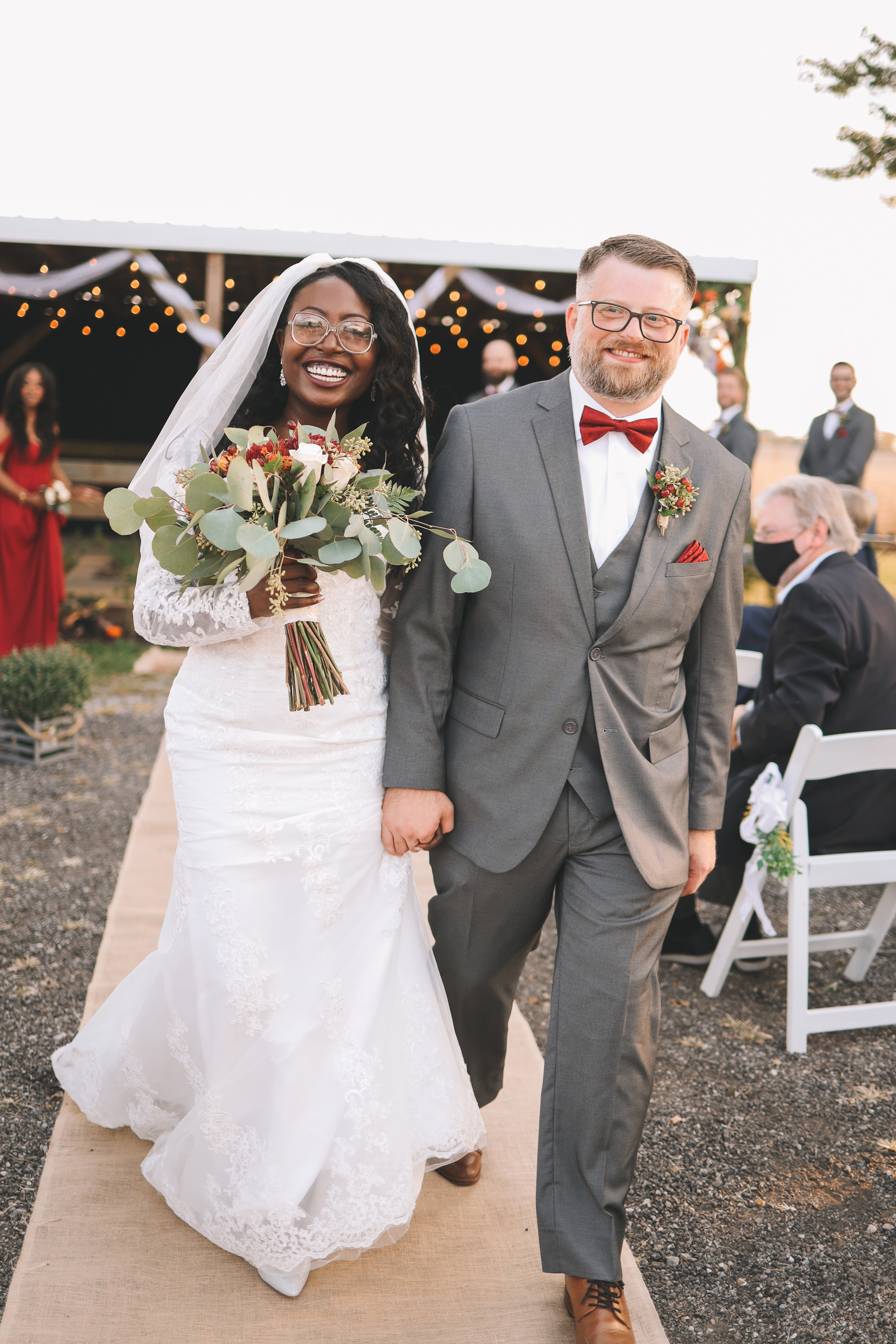 Back in October, I was the photographer for my brother- and sister-in-law's wedding on their farm, and today I'm sharing some of my favorite photos from the day!
To give you some background, Charlie and Shirley run Above Normal Eggs: a chicken farm down in Normal, Illinois. While the original plan was to have a big 200+ person wedding in town, it became clear somewhat quickly that it wouldn't be possible due to the pandemic. It was definitely heartbreaking, but Charlie and Shirley were so unbelievably gracious about it and decided to cut the guest list—which was very hard!—and have a small outdoor wedding in their backyard instead.
Of course, I think everyone wishes that all family members and friends could have been present. But I'll say that it was 100-percent the most magical and memorable wedding I've ever been to because of how the families rallied and contributed whatever possible in order to make it happen. Everyone had a job since vendors were largely cut, and every detail was thought of. I tear up just thinking about it! I really have to hand it to my mother-in-law, Lisa, who was undoubtedly the MVP. Goodness. Can you believe what she did to the farm?! I always knew she had an eye for interior design, but she apparently has a real knack for wedding decor, too. From the flowers and table settings to the twinkle lights and burlap carpet down the aisle, she totally transformed the space. (I should also mention that the china was from each family's personal collections! Everything was mismatched perfectly, and it was so meaningful.) And great care was put into making sure regulations were followed as well. People were amazing about quarantining and getting tested before and after—we just used a lot of Instacart during that time!—and there were a lot of good procedures in place for the day. Most importantly, higher risk/older people were separated and went home pretty early. So grateful that not a single person ended up contracting the virus.
The 2020 gods were definitely smiling down on us when they graced us with 80-degree sunny weather in October, too. There was unfortunately no real plan for rain, so what a miracle! The kids were running around barefoot, and everyone was comfortable. Those blankets that my mother-in-law (of course) brought along didn't even get unpacked!
One of my favorite parts of the night was the toast given by my father-in-law, John, who grew up in the farmhouse that Charlie and Shirley now live in. (You can see it in the below photos! He fully restored it a few years ago with Charlie and Lisa, just as Shirley was coming on to the scene.) It was the most perfect toast, celebrating two people everyone loves so much, and I refuse to butcher it by attempting to paraphrase it, haha. But I particularly loved when he spoke about how special it was to see his son getting married and starting his own family in the farmhouse. There wasn't a dry eye in the house! (i.e. Backyard. 😉)
Anyway, on to the photos! The photographer was cancelled to keep numbers down, and Charlie and Shirley asked if I would shoot the wedding. I was so honored. If you're new here, I had a wedding photography business back when I lived in New York, but it had been a while since I'd shot anything professionally. I was admittedly fairly nervous on the big day; I just wanted to do a good job for them. But I think things turned out okay, and I absolutely loved being so intimately involved! (If I hadn't been the photographer, I wouldn't have gotten to know Shirley's side of the family as well as I did, for example, and I wouldn't have had so many special moments with her!)
In case you're wondering, I shot almost entirely with with the small Canon EOS R mirrorless camera and this very inexpensive 35mm lens. (While I do wish I'd had this more versatile lens at the time, I had an old Canon 5D Mark III and an 85mm lens as a backup so that covered most needs!) We decided to forgo the external lighting/flash route because we didn't want to take away from the ambiance of the evening, so my nighttime shots are a little grainy. But meh, the grain gives 'em a fun old-timey feel which I think works with the "venue," I hope?! Ha!
A huge congratulations goes out to Charlie and Shirley. You two are perfect together, and you are so, so loved. Mitch and I feel beyond blessed to have been part of October 10th, and even more blessed to be part of your lives going forward! (Shirley, Sarah and I are also so freaking excited to have gained you as a sister! Larkin Ladies unite!) Life just keeps getting better—and that's something that you two show us every day.
If you live in the area, definitely check out Above Normal Eggs! You can buy eggs direct through them, or you can visit ANE at the Bloomington Farmer's Market. (The market is open from 7:30 a.m. to Noon May—October, and then moves indoors from November—April.)
If you live in the area, definitely check out Above Normal Eggs! You can buy eggs direct through them, or you can visit ANE at the Bloomington Farmer's Market. (The market is open from 7:30 a.m. to Noon May—October, and then moves indoors from November—April.)