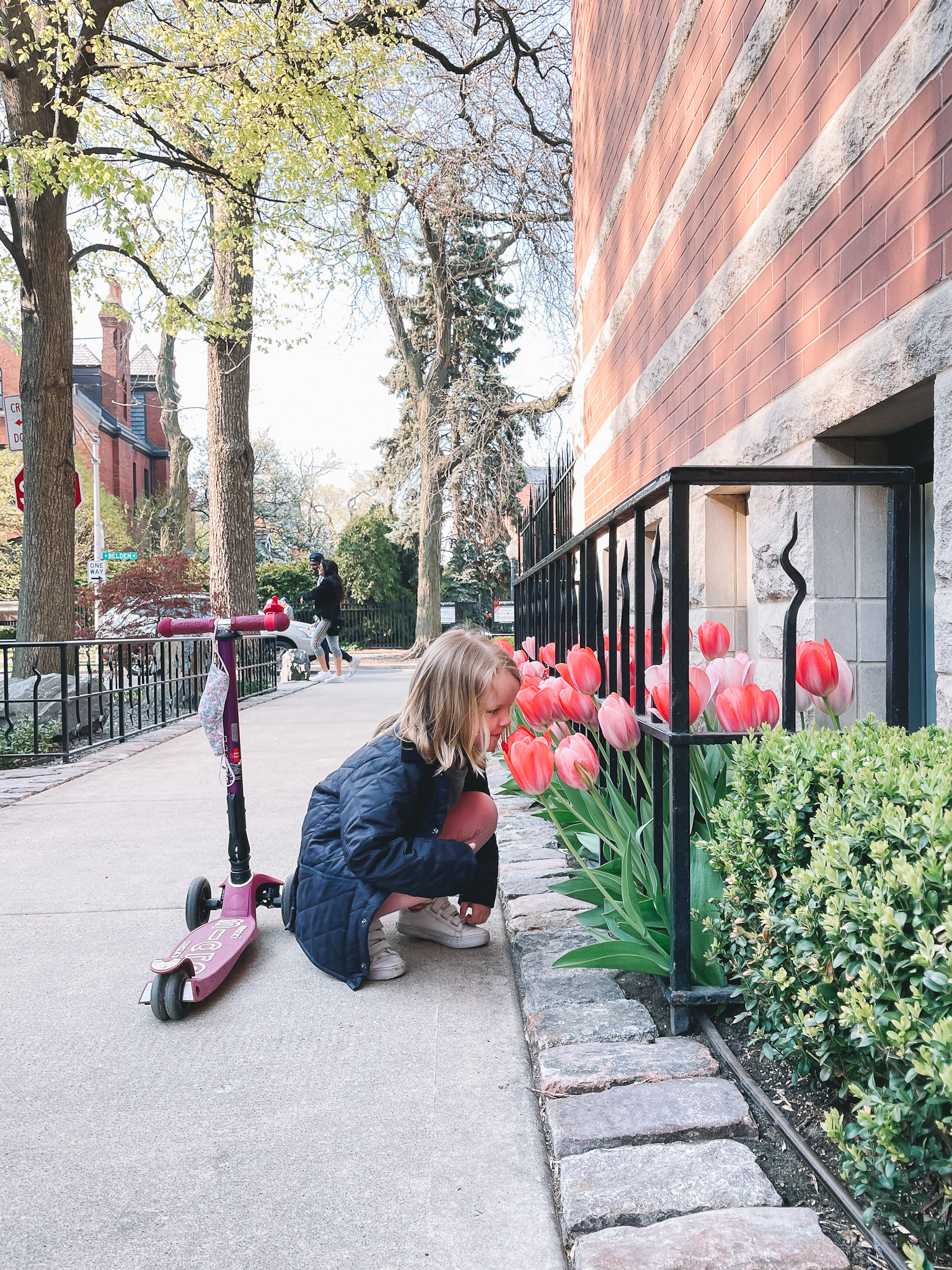 First 10 things that come to mind:
HOW IS IT MAY?! I'm so happy. With the exception of a week, we had a tough spring weather-wise, and we finally have some warmth! At the end of every winter—which is spring for most people in the United States ;)—Mitch and I ask each other why we live in Chicago. It can be a tough time, especially if predisposed to seasonal depression. But the sun is out and so are we and the change in my disposition is notable.
National Nurses Week is May 6-12. My mom is a nurse, and I have such a deep respect for the work that nurses do every day. (Now more than ever, of course!)  There are many ways to express gratitude, but even just reaching out and sending a quick note to the nurses in our lives is wonderful.
I accidentally left our freezer door open overnight. Really killing it over here. I know it was me because the thing I put away last is what prevented the door from fully closing. Lost everything in the freezer and I feel so guilty so have wasted so much food. :( Ugh.
Have you seen Jess' "Mama" collaboration with Alice and Wonder? Jess is going to be the best mother, and a percentage of the proceeds go to Every Mother Counts, an organization dedicated to ensuring women across the globe have access to quality, respectful and equitable maternal care. I love my sweatshirt!
Currently reading: 2021 Illinois Rules of the Road: (😆) I'm determined to get my driver's license once I'm fully vaccinated! I really want the freedom. I'm 99-percent sure I will need to take the vision, written and road test—all things that I'm not confident about, haha. Luckily I handled my contacts prescription at Warby Parker earlier this year, so now I just need to learn the rules of the road and practice, practice, practice. And up my confidence. I need to remember that I used to drive a stick shift up the FDR in New York City on a daily basis. I CAN DO THIS.
"One Home Project Every Day" updates:

Fixed electricity problems: A huge thank you to my father for getting us started with this. We had some lighting issues that we couldn't figure out and had given up on, but Dad got us started with some major progress. We do need to have an electrician to come in and finish a few things, but we're on the right track to getting all of the energy-saving LED lights in the house functioning!
Cleaned windows/siding: First-timers! (Even though we've lived here for two years. Oops.) Our house is built up instead of back, and there was no way that I was letting Mitch do the work on his own. (I'm also traumatized because one of my best friends fell off his roof while cleaning out his gutters and it was BAD. He's thankfully okay now but so scary.) It really needed it, though, and uncleaned siding in the city can result in some very expensive repair. Anyway, we hired Bubbles—recommended by a few friends—to do the work, and the crew was absolutely lovely and the work was awesome. So happy we did it! Now we just need to fix some chipping paint. It's never-ending, ha.
Started to clean the patio/deck: This we're doing on our own. The deck is made of IPE wood, so we're scrubbing it instead of power washing it. But we've honestly been having a lot of fun doing it! We work on the space after we put the girls down for safety reasons… and we play some (not-too-loud) music and have wine. A nice little bonding experience!
Finalized kitchen colors: Okay, guys. It's officially Benjamin Moore "Dove Wing" on the cabinets and "White Dove" on the trim and ceiling. I'm going for a warm cozy beige-but-not-too-beige look. Fingers crossed that you won't have to read about this anymore. SO SORRY. Final reveal soon, haha.
Donated unused playroom toys: I go down there every few weeks to pluck a few things to donate, and it never ceases to amaze me how quickly children can outgrow and lose interest in toys despite toy rotation. The girls enjoy the room so much more when it's clutter-free, though, and it feels great to get our unused toys to kids who will love them! (Though I definitely sniffled sending off some of Lucy's baby toys. How is my baby a kid now?!)
Cleaned out the mudroom closet (again): Our mudroom closet is very deep, and it quickly becomes disorganized because its shelves are so difficult to reach. I need to stay on top of it more often!
Did the laundry: It's a feat in my book.

Spotlight on: Betsy's Blankets and New Moms Chicago: Mitch's company had a lot of extra product recently and needed to find good homes for many, many blankets. (1,800+?!) House of Shan—another amazing Chicago find!—linked us up with Betsy's Blankets, who got the product to New Moms Chicago. Betsy's Blankets was founded by Haley, a Chicago local, in memory of her mother. Today, the organization collects new blankets and bedding to provide warm to those who need it. New Moms Chicago helps new moms living in poverty with housing, job training and family services. Couldn't think of a better match, and so thankful to Shannon, without whom this wouldn't have happened. Interested in helping? Donate to/get involved with Betsy's Blankets here, and donate to/get involved with New Moms Chicago here.
We're going to see the Cubs over Memorial Day Weekend! They invited our family to a game—in a suite, I believe!—and we're just so excited. It will be our first event after being fully vaccinated… and can't wait to do something so Chicago-centric. I've missed our city.
Lucy is starting a peewee program! I'm emotional about it, nervous about it, and excited about it. And thrilled for Lucy. Our little girl has spent more than half of her life just with our family because of the pandemic, and we really want her to be interacting with kids and grown-ups other than us! With any hope, this will prepare her for pre-k and help with attachment issues. Cross your fingers for us.
Emma started field hockey again last week. We paused with the tennis lesson idea because field hockey came through and that's her favorite. Love how happy she is. If you're interested in getting your kids involved in field hockey in Chicago, read this post and get in touch with my friend Barbie!