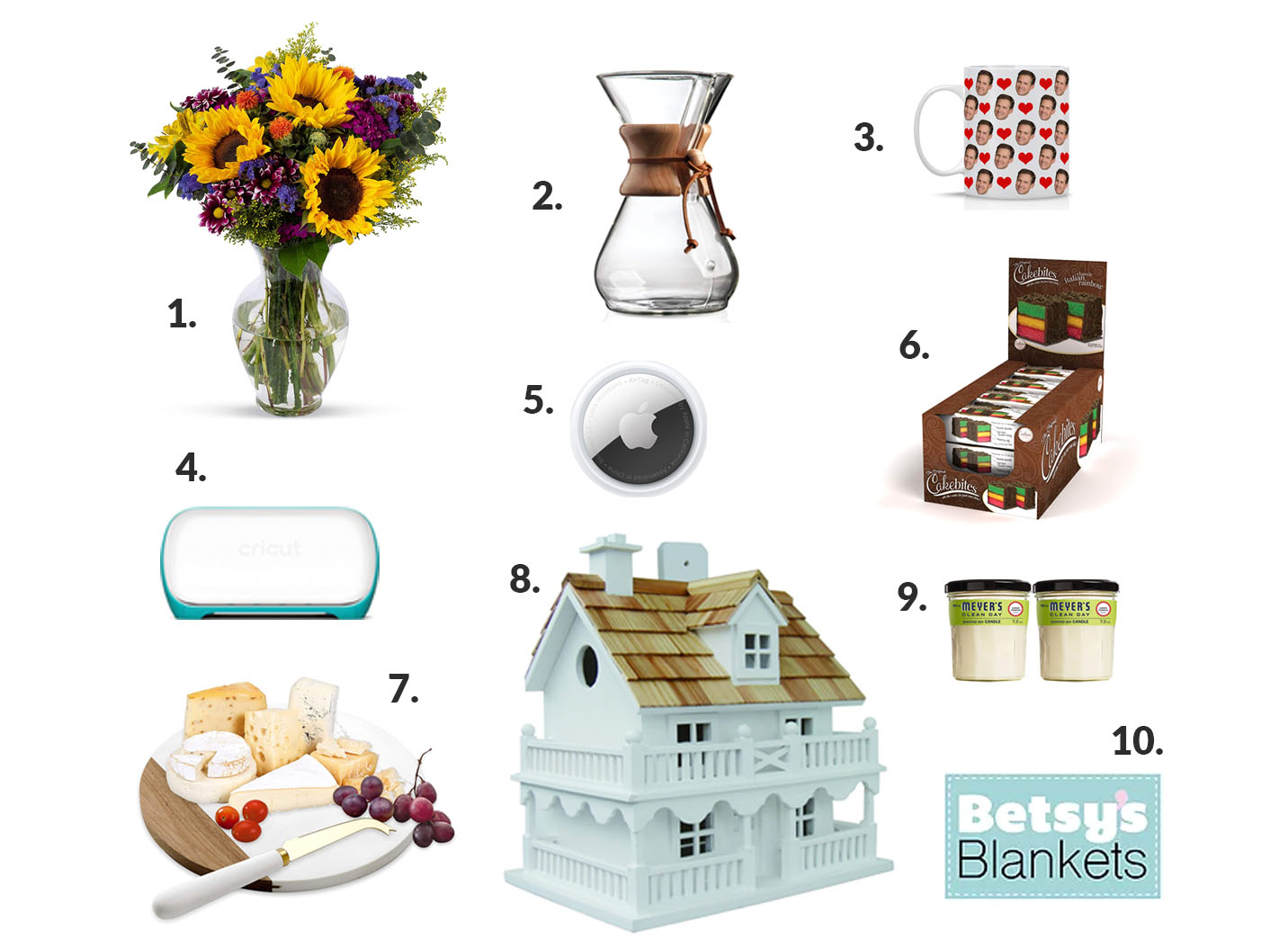 One / Two / Three / Four / Five / Six / Seven / Eight / Nine / Ten
Mitch here!
Bad news. Mother's Day is THIS SUNDAY and you totally forgot. Don't worry, so did I. Unfortunately, my wife and my mom haven't forgotten. But, fortunately, Amazon Prime exists and can solve the problem for both of us right now.
Let's get to it.
1. Fresh Flowers: Nothing checks off a Mother's Day gift obligation like fresh flowers, and Amazon sells a bunch of them with Prime shipping. I'm more of an artificial flowers guy as they're cheaper, more practical and, in a pinch, re-giftable. But fresh flowers are wildly popular for some reason, so here you are.
2. Pour-Over Coffee: I don't know your mother, but I'm willing to guess that the woman who raised you knows the power of a good cup of coffee. Pay her back with an endless supply of pour-overs. She's earned it.
3. Custom Coffee Mug: The extra ten minutes you spend customizing this coffee mug will really make your mother's day. Or at least make her laugh. I'm partial to this mug that is just a picture of my face with a bunch of hearts all around it. I should probably get one for myself while I'm at it. Or, if your mom is crafty, give the gift of infinite customizable mugs via this mug maker. Give a mother a mug, she'll mug for a day. Teach a mother to mug and she'll mug for a lifetime.
4. Cricut Joy: Speaking of crafty moms, the Cricut Joy is an easy entry into the crafting world for mothers looking to vent the chamber of unbridled creativity simmering just below her surface.
5. Apple AirTag: If your mom is like my mom, or like myself, or like literally everyone in the world, she likely loses her keys or wallet or bag or stuff from time to time. AirTags solve this problem (assuming she has an iPhone), and they're new so this is a sweet little gift that she doesn't even know she needs. Only $30!
6. Cakebites: When we lived in New York, my absolute go-to #1 gift for Kelly was rainbow cookies from Zaro's Bakery in the Bronx. And when we moved to Chicago I looked EVERYWHERE for a new rainbow cookie supplier to no avail. I even tried to make them once. (Total disaster.) But—and I know this is utter blasphemy to any New Yorker's ears—CakeBites Classic Italian Rainbow cookies on Amazon are as good if not better than Zaro's. And they ship in two days.
7. Wood and Marble Cheese Board: Let's not kid ourselves. Your mom would absolutely adore this cheese board. It's made out of wood and marble, for chrissakes. Just buy it. She'll think of you whenever she cuts the cheese.
8. Bird House: My grandmother's neighbor was a birdhouse lady, and she fought a decades-long battle with these squirrels that were eating all her bird seed. It was a vicious conflict made worse by the fact that my grandmother was on the side of the squirrels, and both fed and rooted for them. She swore me to secrecy so don't tell anyone.
9. Candles: I'm old enough now to publicly admit just how much I love candles. The whole thing is just great. I like how they stink up our candle cabinet. I like how I get to play with fire a little bit when I'm lighting them. I like how they make the house stink when we have guests over. Big candle fan. Also shoutout to this indoor s'mores fire pit which is like a candle but also makes delicious treats.
10. Betsy's Blankets: All jokes aside, if you're struggling with a gift idea or looking for a way to honor the sacrifice our moms make, I'd like to point you in the direction of my friend Haley's charity, Betsy's Blankets. Haley's mom, Betsy, spent her life comforting others, and Haley has continued in that effort to spread warmth by providing blankets and bedding to those who need it. Haley is a phenomenal person and the work she's doing to honor her mother's memory with Betsy's Blankets is incredible. They're accepting donations of new blankets and bedding, monetary donations, and newly made tie blankets. Instructions on their website.
Happy Mother's Day!
Mitch. OUT!