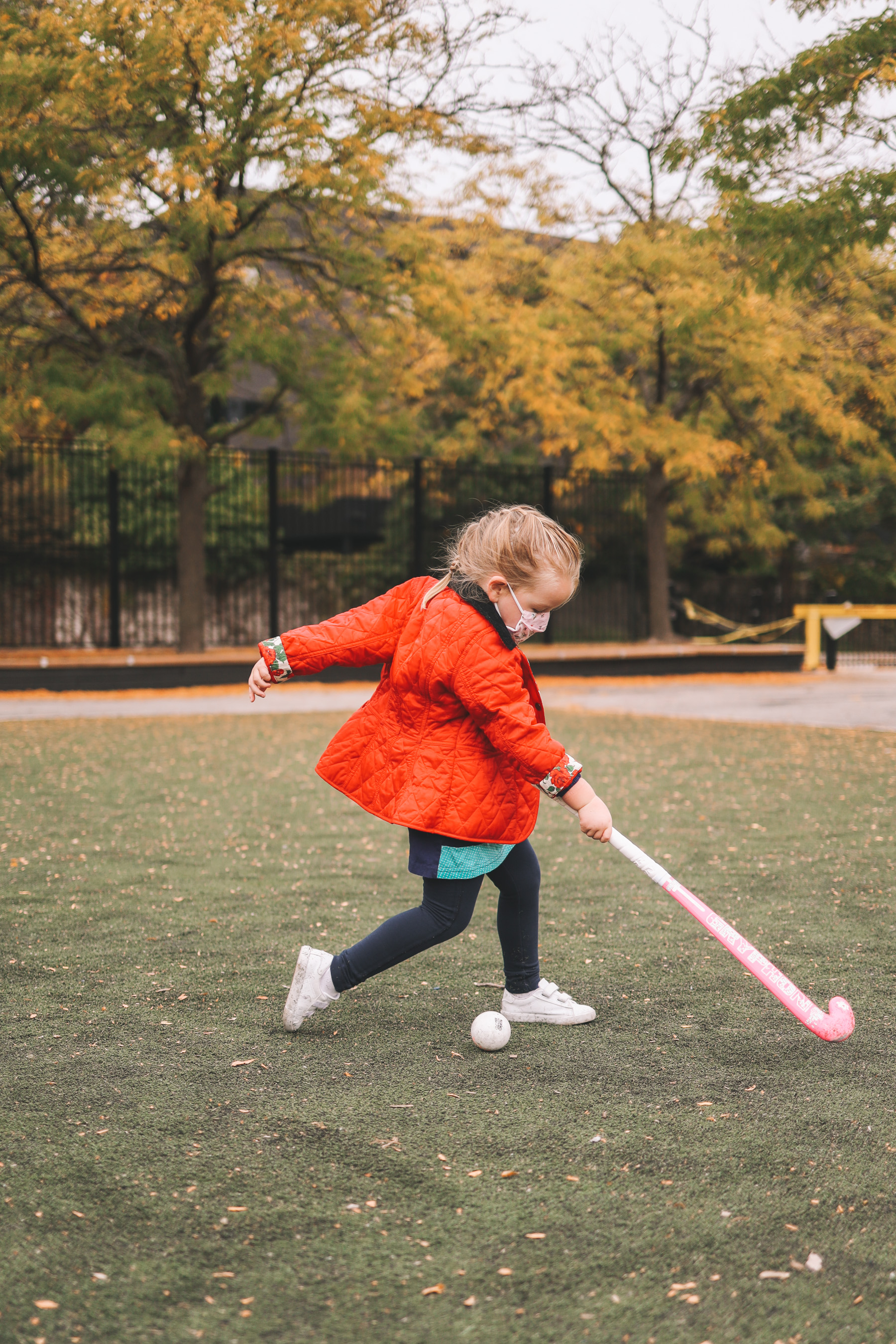 Kids' Barbour now available in the U.S. here (My favorites are the classic waxed jacket and the quilted one! For adults, my favorites are the classic waxed and warmer quilted Beadnell jackets available at Nordstrom and Tuckernuck.) / Kids' Field Hockey Stick (Thank you, Barbie! This is mine.) / Sneakers / Current Boden Play Dress / Current Boden Jumpsuit / Current No-Slip Slippers / Lucy's Patagonia Jacket / Emma's Mask
Well, this is the cutest thing ever.
One of my best Chicago mom friends, Barbie, is a former Division 1 University of Connecticut field hockey player, and she's coaching Emma. It's everything you think it would be and more. 🥰
The short story is that Barbie's daughter, who used to be in Emma's Montessori class, celebrated a birthday over the summer. And to be as pandemic-friendly as possible, Barbie had it outdoors in a park, masks and all, and she gave the kids field hockey sticks and taught them how to play.
Emma fell in love, and then Barbie and I decided to start a little "team." In exchange for coaching, I'm taking photos of her kids. (We'd totally both do it sans the exchange, but I don't know; makes us feel good to be giving each other something, haha.)
Emma has really taken to it. Field hockey is kind of all she talks about, which has been very surprising because up until this point, she's had a true distain for sports. But she loves it. It's awesome to see her so passionate about a physical activity, and it's extra special because I played for four years in high school and finally made the varsity team at the end of my "career." 😆
Yes, I played field hockey for four years and my four-year-old child appears to be better than I ever was. (The coach pretty much told me that she let me on the team because I'd tried so hard and she felt badly.) It's fine!
Anyway, I'm sure there are a lot of field hockey gals reading. So tell me: Did you play?! What's your favorite memory?
Mine is when my coach told me that I was the only player she'd ever met who after months of weight training, gained absolutely zero muscle mass. I feel like that was a feat, no? 😜
Oh, wait. There was also that time when I was side-checked by a much stronger girl and the left side of my body was black and blue for a solid month.
But then again there was that first day I got "game day" that I got to wear the field hockey uniform to school instead of the regular (boring) uniform and everyone was like, "Wait. Kelly, you're on the field hockey team?" And I was like "CRAZY, RIGHT?" And then I sat on the bench for 90 percent of the home game… 🙌 #itsfine #goirish
Tell me your stories, and please enjoy these photos!
Tips from Coach Barbie
Are you in the Chicagoland area and interested in field hockey lessons for your kids? Contact Barbie at risefieldhockeychicago@gmail.com. At the moment, she is fully booked, but things will eventually open up. She coaches all ages!
Looking to buy equipment? Consider Longstreth. It's a small Pennsylvania-based company that has awesome sales.
USAFH put together a great introductory program if you're looking for a basic guide for kids. There's no reason you can't get your children started on your own in 2020!