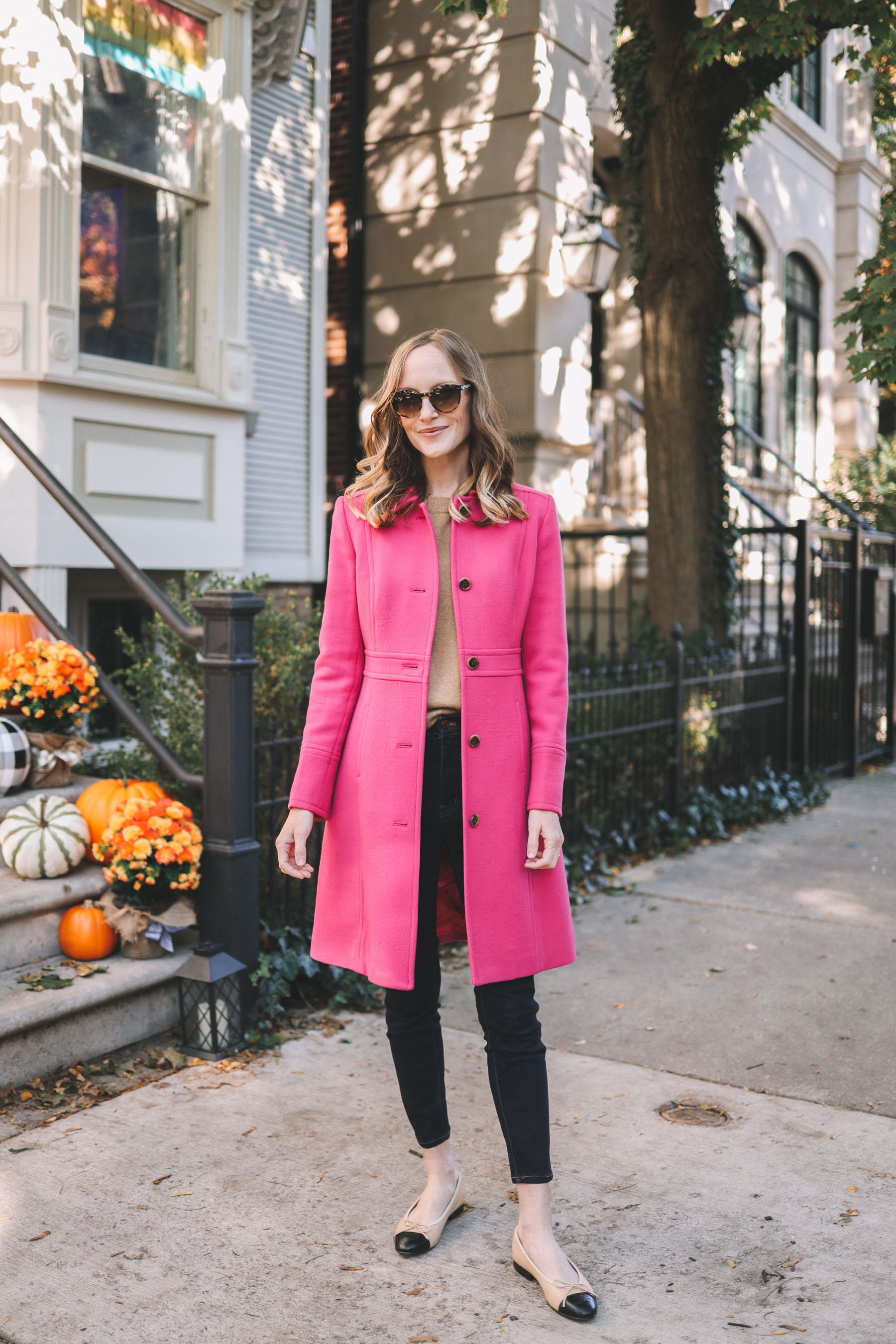 I'm basically asleep in this photo. Sorry.
J.Crew Lady Day Coat ($100 off! Another option is the Lady Coat in Italian Boiled Wool, which is new and also $100 off.) / Madewell Roadtripper Jeans / Chanel Flats (Lookalikes here! Honestly, I'd get the far less expensive French Sole version. Or the Michael Kors or J.Crew versions. The Chanel ones are nice but nothing to write home about in terms of comfort, IMO!) / J.Crew Cashmere Camel Sweater (Love this pointelle one and this more casual one, too!)
Hello! A reader let me know that the J.Crew Lady Day Coat—along with its more casual sister Lady Coat in Italian Boiled Wool and **a bunch of other coats and jackets**—is on major sale today! (Thank you, Carolina!)
A quick review:
Warmth
For a dressier coat, the Lady Day Coat is WARM. No, I don't consider it to be warmer than the famous Cocoon Coat, which is also on sale, and I likely wouldn't choose to wear it for an hour-long walk in the dead of winter. But it's the warmest tailored wool coat I've ever owned, and that's because it's made of Italian Double-Cloth Wool with Thinsulate, which makes it far toastier than most other options! It's also what I reach for when I want to look a little nicer. ;)
Quality & Fit
I bought my pink Lady Day Coat when I lived in New York, before I started this blog, so it's OLD. 😆 (It's actually the reason I started the blog, though! While looking for sizing advice, I found my now-friend Jess Sturdy's site!) But its timeless cut makes the cut year after year. I also can't believe that it looks brand new so many years later. I swear it looks just as good as my ivory one!
In terms of fit, you really need to consider what you'll be wearing with the coat. If you tend to wear thinner, more tailored sweaters, I would recommend ordering your normal size. If you tend to layer or wear bulkier sweaters, I would recommend sizing up. I have a size 0 in my pink Lady Day Coat, and I wish I'd ordered it in a size larger, as the shoulders are a little tight. I have a size 4 in the ivory one because I like layering with it, but I do admit that the sleeves are a little long. Clearly this information tells me that I should have ordered a 2 in both, but you live and you learn. And then you get Luvs! 😜 Marketing works on me.
Colors
My favorite is the pink because Chicago winters are pretty dreary and it makes me happy. But the ivory and black are classics. You can't go wrong! (Though the neon yellow is a bit much for me, haha.)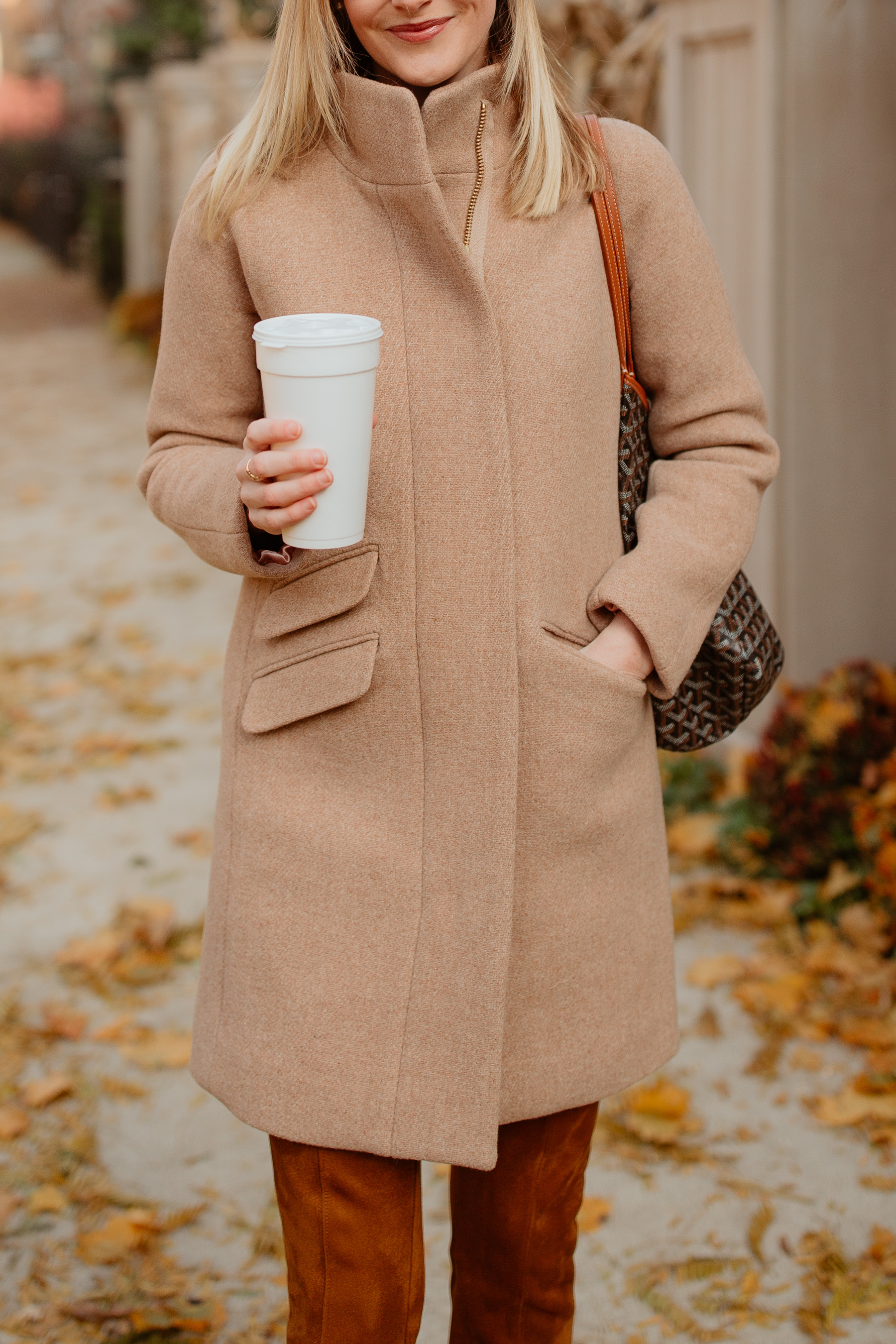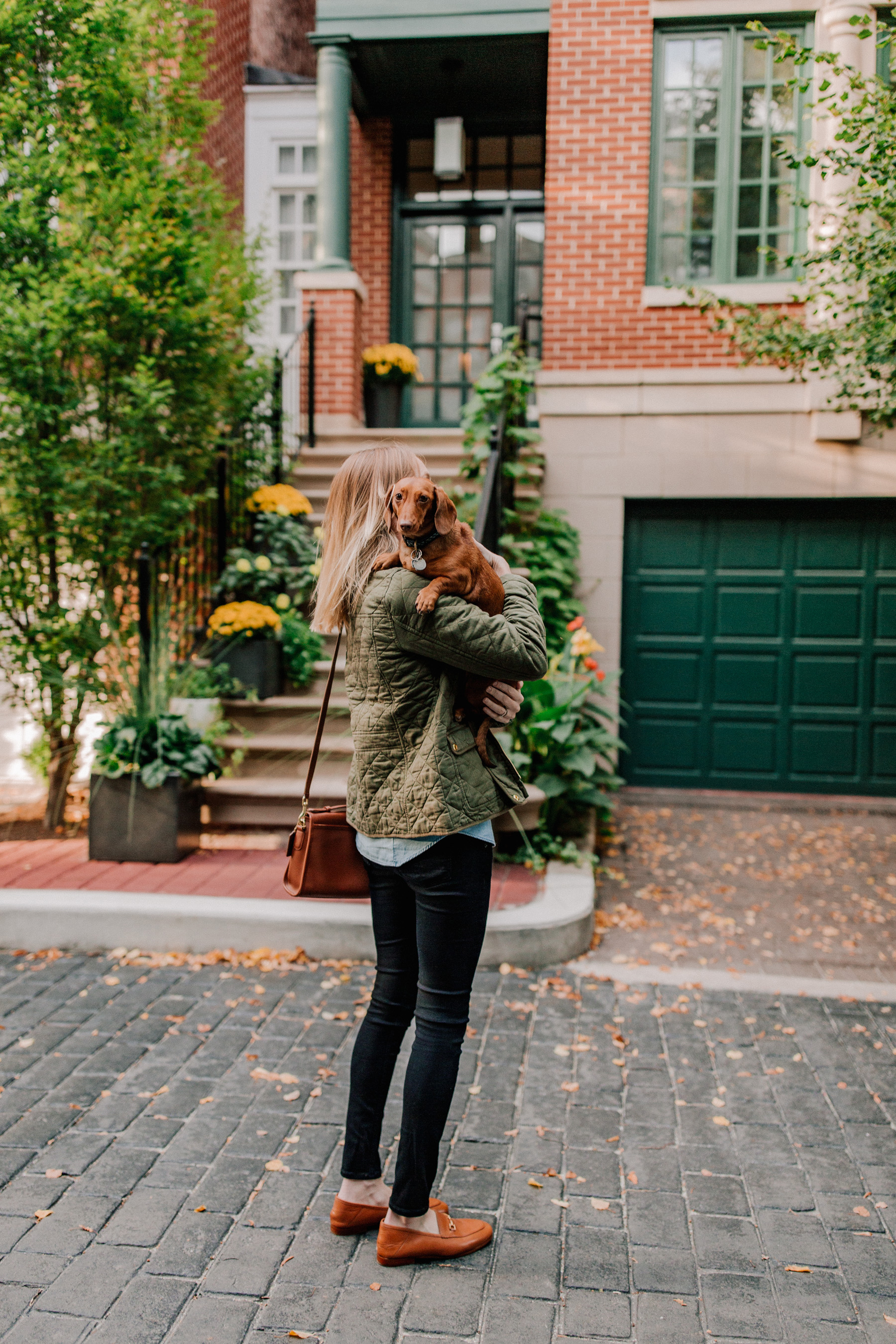 Quilted Barn Jacket (Newer)
Shop the post:
J.Crew Lady Day Coat ($100 off! Another option is the Lady Coat in Italian Boiled Wool, which is new and also $100 off.) / Madewell Roadtripper Jeans / Chanel Flats (Lookalikes here! Honestly, I'd get the far less expensive French Sole version. Or the Michael Kors or J.Crew versions. The Chanel ones are nice but nothing to write home about in terms of comfort, IMO!) / J.Crew Cashmere Camel Sweater (Love this pointelle one and this more casual one, too!)
$100 off: