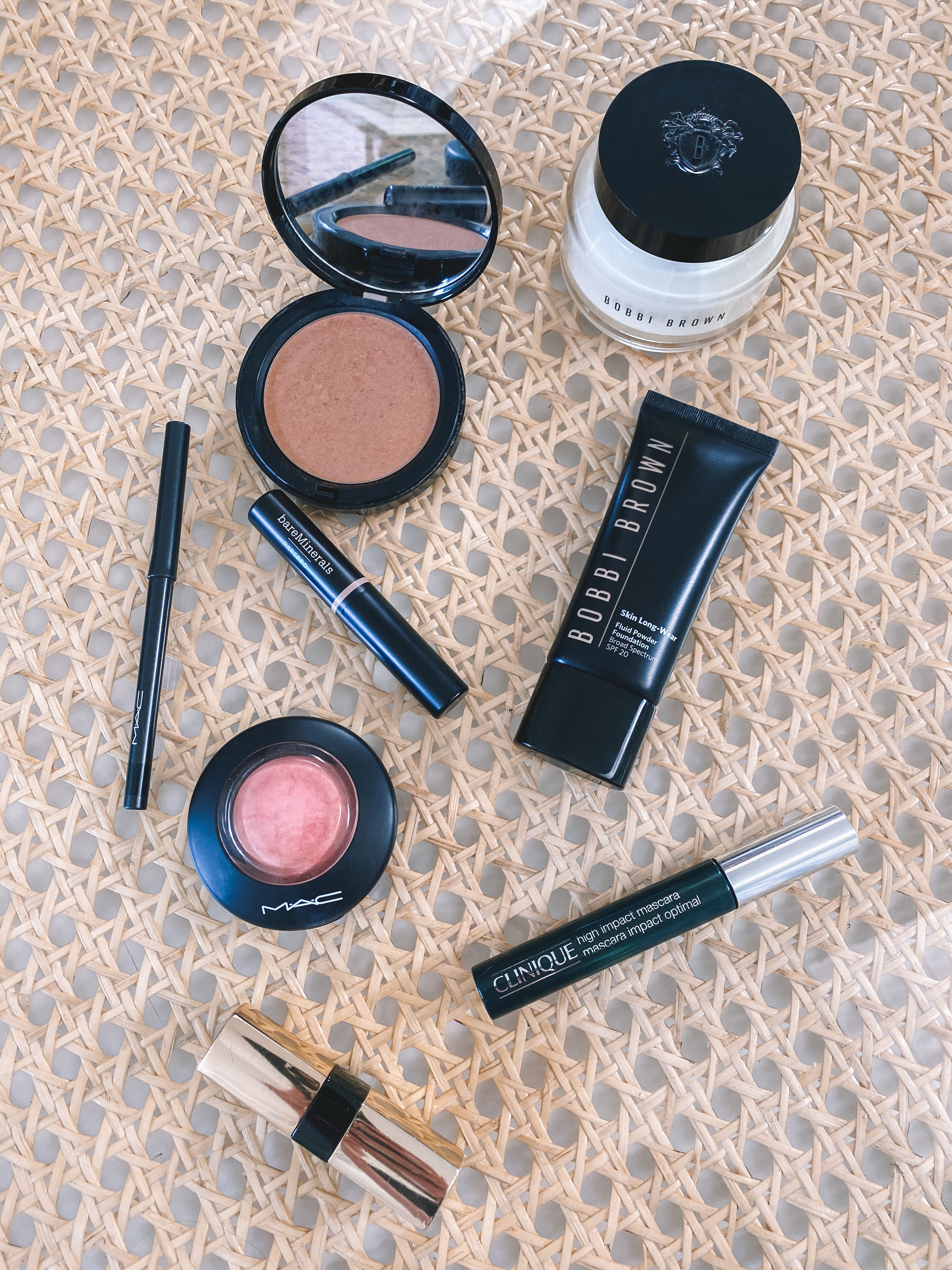 I finally have it down!
Minimal (but effective) makeup that stays in place from morning 'til night.
And I have to say: It's pretty darn life-changing. I can do it in under five minutes (sometimes even more quickly!), and I feel confident all day long.
Until this year, I really had an issue with my foundation "disappearing" sometime around noon. And if I had a nighttime event or date, I'd always need to wash it off and start over. (So time-consuming and frustrating!) Now, though, I'm just good–all the time. If I want to, I can apply a bit more blush or eyeliner at the end of the day, but I don't need to. It's lovely.
Of course, I'm seeing fewer people than ever before, haha. So… who cares? But hey. I feel better. And when the world starts back up again, I'll be ready. :)
Okay! Here's what I'm doing.
HELLO. I can't recommend this stuff more. Again, I suffered from Magical Disappearing Makeup Syndrome for years… yet this product has fixed that, and now my foundation stays on and in place.
In short, Bobbi Brown Face Base is both a moisturizer and a primer, and as long as you let it sit for a minute or two before applying anything else, it'll act like googly eyes to glue on a crisp piece of construction paper. (Help. 😆) It's really that good, though. Aside from keeping makeup in place, it also keeps my skin looking hydrated and feeling soft, which is quite the feat these days.
It's expensive. But a little goes a long, long way… and it'll last you a long, long time. (It's also included in the Nordstrom Anniversary Sale right now!)
I. Love. This. I switched over to it when I ran out of my old stuff and Nordstrom started carrying the Fluid Powder foundation, and I'm a convert. It really does what it says it does: It turns into a powder-like foundation upon application, and has a really nice matte look; no caking or flaking whatsoever for me. (I wear it in "Warm Ivory" but I'm thinking about buying "Warm Porcelain" next.) Though you can layer it, it's certainly not a full-coverage product, so don't get it if that's what you're looking for. But if you're after something that's natural-looking and that even skin tones, TRY IT. It's fantastic.
I also appreciate that it's $10 less than the "classic" Bobbi Brown foundation.
Btw: I'm interested in trying this tinted moisturizer, too!
I had no idea under-eye concealer could work such magic. The BarePro Stick is the best I've found for dark circles, which I've had for a long time due to sleep deprivation and super Irish skin. ;) Sometimes I'm lazy or forgetful and don't put it on–and when that happens, it's noticeable! The BarePro stick brightens up my eyes and makes me look far less zombie-like. It's also good for the occasional breakout. Five stars from me. I use "02-Fair Light/Warm."
These two products bring some much-needed color to my face and give me a subtle glow. They can be used together or separately, but I really can't get away with not wearing blush. (I get that dead look, haha.) I use the blush in "Dainty," "Hey Coral Hey," or "Sweet Enough" and the bronzer in "Aruba." The blush screams "Girl Next Door" and the bronzer screams "Vacation Kelly."
LOVE the bronzer. And I love the colors of the blush–"Sweet Enough" is probably my fave–but I feel like powder in general fades after a few hours. I'm interested in trying a cream blush in the hopes that it's more long-lasting; has anyone tried the NARS version?
I love that two swipes of Clinique's High Impact Mascara give me a casual, low-key look… and that five swipes make for a dramatic look. I typically go with two, but MAN. Five is pretty amazing, and I should probably do it way more often. 😜 My best tip is to give yourself 10 or 15 seconds between each swipe to prevent clumping.
I use this MAC Eyeliner mostly because it's twisty and doesn't require a pencil sharpener. What? At least I'm being honest. ;) I like it, though. It's soft and creamy, easy to apply, and typically stays on throughout the day. When I need a new eyeliner, though, I'd like to try this one from Bobbi Brown, which is also twisty. I have issues.
I've tried a lot of lipsticks over the years, and "Neutral Rose" is by far my favorite. It complements my skin tone, it looks natural yet brightens up my face, and it works well when I'm wearing either pink or red–something most shades can't do, in my opinion! "Desert Rose" looks pretty great too, though I haven't tried it yet.
What makeup do you swear by?