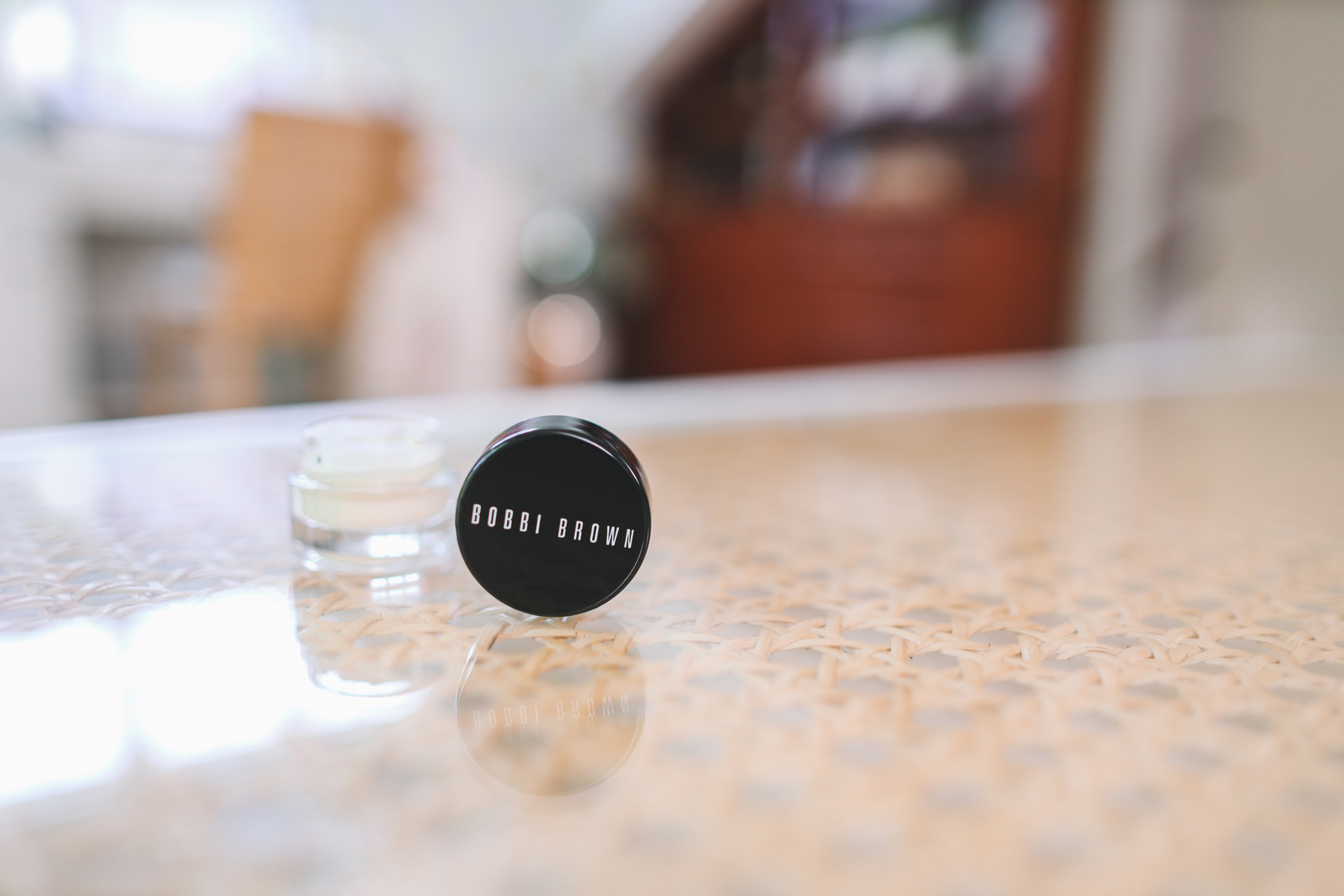 Bobbi Brown Vitamin-Enriched Face Base (You can also find it via Sephora. And if you use Bobbi Brown's Long-Wear Foundation, you can get a $60 full-sized jar for only $20 with that purchase! GREAT deal.)
With the exception of Olaplex and Rescue Shots, I rarely dedicate blog posts to beauty product reviews. But lo. A couple of weeks ago, I received a sample of Bobbi Brown's Face Base as a "gift with purchase" from Nordstrom, and I was absolutely BLOWN AWAY. (You can also find it at Sephora.)
I'm one of those girls whose makeup looks good in the morning but then slides right off my face around noon. It just kind of… poof! Disappears. And what little makeup is left seems to flake, leaving my skin looking dehydrated and dull. It's frustrating, to say the least–especially now that I'm getting older. (Being quarantined with two small children and not getting a ton of sleep doesn't help, either. 😜) Yes, I've used other primers before, and they have lengthened the time that my makeup stays in place. But not enough. Back when Mitch and I used to go out on dates, for example, I'd have to wash my face in the evening and start all over with my makeup in order to look presentable–even when using a primer!
But enter the non-greasy Bobbi Brown Vitamin-Enriched Face Base, which is designed for people with skin that's deeply affected by stress, diet and sleep. (Hi! 🙋‍♀️) It's basically an intense oil-free moisturizer and primer in one that uses shea butter for hydration, softening and cushioning along with vitamins B, C and E for protection. It's magic. When I use it, my makeup stays in place until I take it off at night without fail. It really works. It also gives me a good glow; my skin looks and feels healthier. And it seems to reduce the appearance of my wrinkles because my foundation isn't settling into the "cracks."
Of course, no one is really noticing this but me considering the current situation. 😉 But it's wild. Such the confidence-booster.
Using it is quick and easy. After washing my face in the morning, I apply the Face Base like I would any other moisturizer or primer, and then wait a few minutes for it to absorb. (One of my biggest makeup mistakes of the past was not letting my moisturizer/primer dry, which prevents it from working as a barrier.) And then I put on my foundation (I use "Warm Ivory," btw) and the rest of my makeup. That's it!
(I should note that you can also use it when not wearing makeup. Leaves your skin looking healthy and fresh!)
The one downside is that it's pricey, but two weeks later, I'm still using the free sample–and I think I have another few days' use with it, too. So a little goes a long way!
I've been a big Bobbi Brown fan for a while now. A couple of years ago when visiting my aunt and uncle's family on Nantucket (#takemeback 😭), my gorgeous cousin Sammy was getting ready for a date with her awesome–I can't stress that enough–boyfriend, Charls. (No "e.") She came out of the bathroom and I couldn't get over how incredible her makeup looked. I asked her to teach me everything she knew, haha, and her response was "Bobbi Brown." I'd honestly never heard of Bobbi Brown before 🙈, but I ordered Sammy's foundation and illuminating bronzer once I got home and I never looked back. (Thanks, SCT!)
Not sure how we both didn't know about Face Base until now, but I'm so happy for this little gift-with-purchase discovery. Total game-changer.
If you'd like to try it, there are a few options via Nordstrom and via Sephora. (If you use Bobbi Brown's Long-Wear Foundation, you can actually get the full-sized jar for $20 instead of $60 with the foundation purchase! GREAT deal.)
Again, a little goes a long way and it lasts a long time!