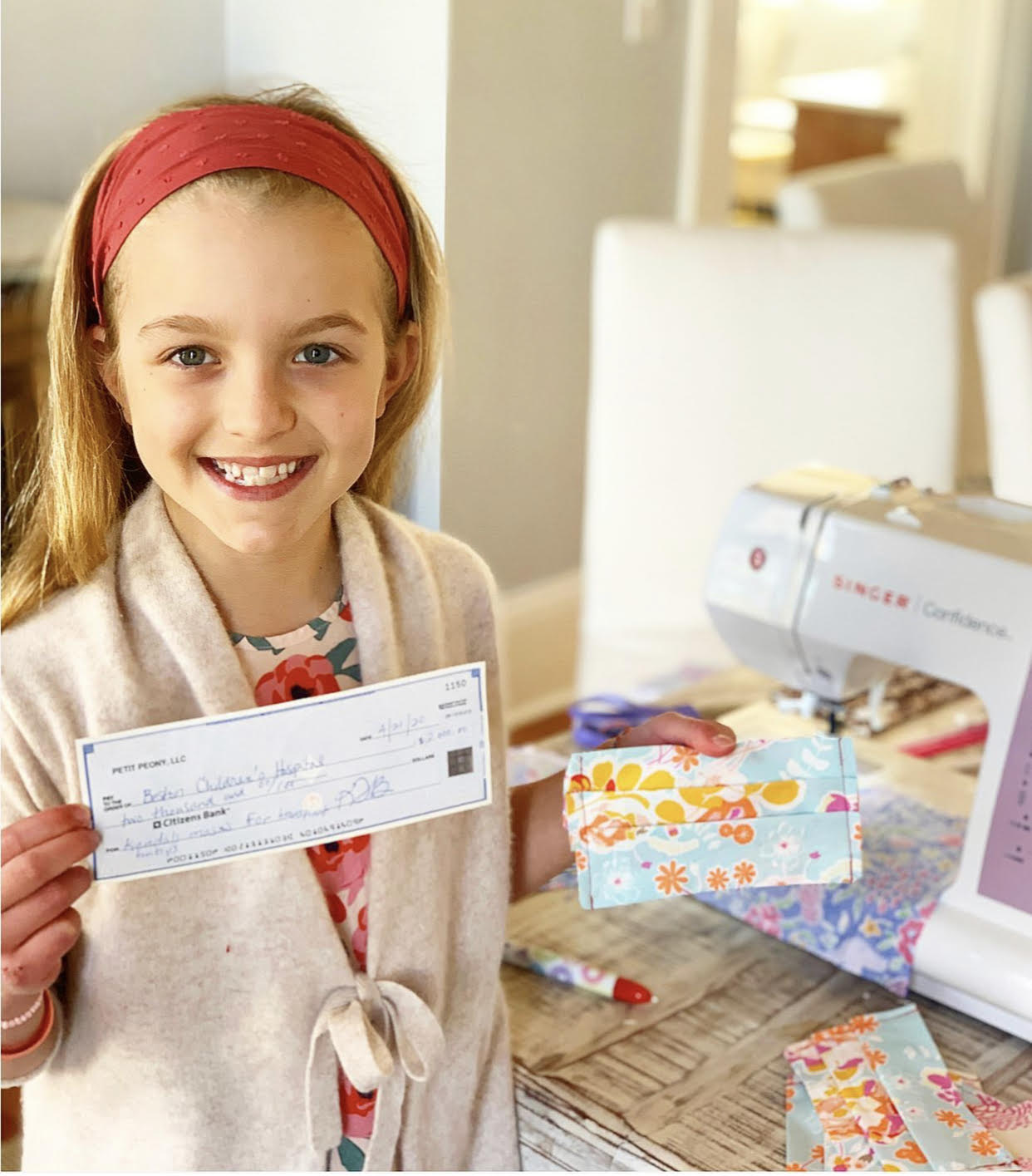 This is Kendal. She's a third grade student from Duxbury, Massachusetts with a knack for sewing–and she's currently selling masks with the goal of raising $20,000 for Boston Children's Hospital.
Kendal is the oldest daughter of Kate Bowen, owner of the adorable children's clothing boutique Petit Peony. When the Bowens first started quarantining, Kendal took to her sewing room, using leftover fabric from Petit Peony collections to make non-surgical masks for her family and teachers. Kate suggested putting 100 masks on the boutique's website to feel things out, and when they went live, they sold out in 37 minutes.
Kendal decided to donate the proceeds–$2,000 in total!–to Dr. William Pu's regenerative tissue lab at Boston Children's Hospital, where he is working to grow a human heart.
The backstory:
Kendal's now two-year-old sister, Georgia, was born in cardiac arrest. She was on life support for 14 days, and then underwent open heart surgery so she could go on a ventricular assist device: a high-risk external organ that does the work of a heart. Georgia remained on the device while she waited for what Kate calls "the ultimate gift"–a heart transplant–which she received this past September. A true miracle!
The road has been long and difficult for the Bowens, but Georgia is now thriving, thanks to Boston Children's Hospital. And the entire family, forever indebted to BCH for saving Georgia's life, now works in different ways to support research to find a cure for heart disease.
Kendal sold 700 masks over her spring break, and then the 9-year-old had a Zoom call with an owner of a local factory through which she made an additional 500 masks.
Demand for Kendal's masks only continued to grow. (Amazing, right?!) So to keep up, Kendal outsourced and went on to produce 5,000 masks with a factory in New York City. All of the proceeds are still going to Boston Children's Hospital (the only money Petit Peony uses is to cover production costs), and thus far, 60 percent of the masks have been sold.
GO KENDAL! Way to start something wonderfully positive during this challenging time.
As wearing masks is currently recommended (if not required), please consider buying yours from Kendal and help support Boston Children's Hospital. (We bought ours from her, too!) Non-surgical masks are available for both women + girls and men + boys, and they ship in about two weeks.
Thank you, Friends. And thank you, Kendal. The world needs more people like you. ♥️