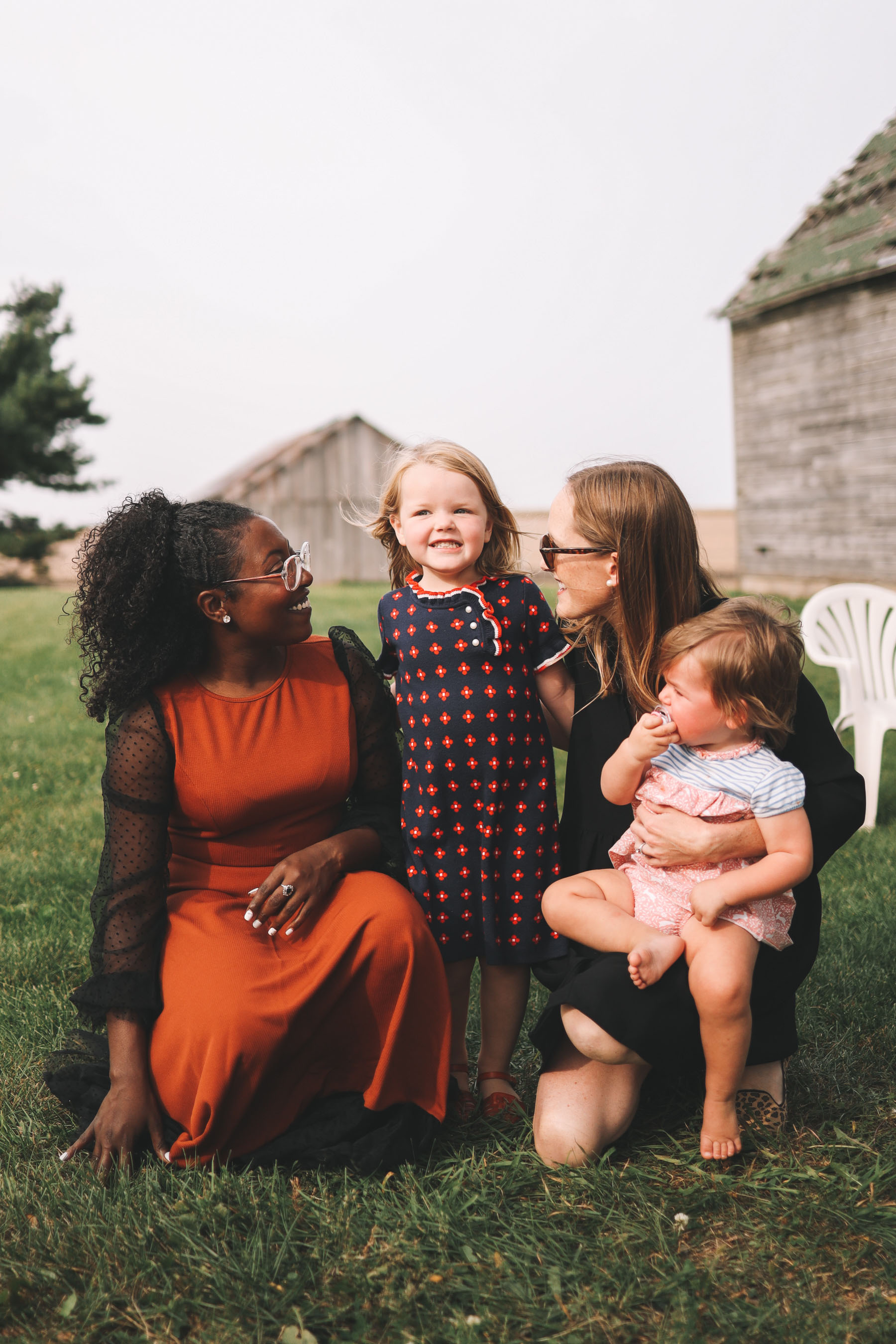 Last weekend, the aunts threw the loveliest family-only bridal shower outside Aunt Mary's farmhouse for Shirley, my brother-in-law's fiancé. :)
It was so wonderfully heartwarming; I don't think there was a dry eye in—or outside, rather 😉—the house when everyone went around sharing their favorite memories of Charlie and Shirley. Even Emma shared her favorite memory!
Her big birthday party had to be cancelled because of Covid, but Charlie and Shirley came to celebrate with her and she had so much fun with them—especially when they drove the boat around the lake together. My memory was when they came to Chicago to stay with us before their vacation in Mexico. After they left for the airport, Mitch and I both couldn't stop talking about how perfect they were for each other, and how they needed to get married pronto. It was just so clear that they made each other extraordinarily happy. I even told my mother-in-law that they needed to get married, haha! AND THEN, TWO DAYS LATER, Charlie proposed in Mexico and they FaceTimed the whole family and everyone was cheering. 😭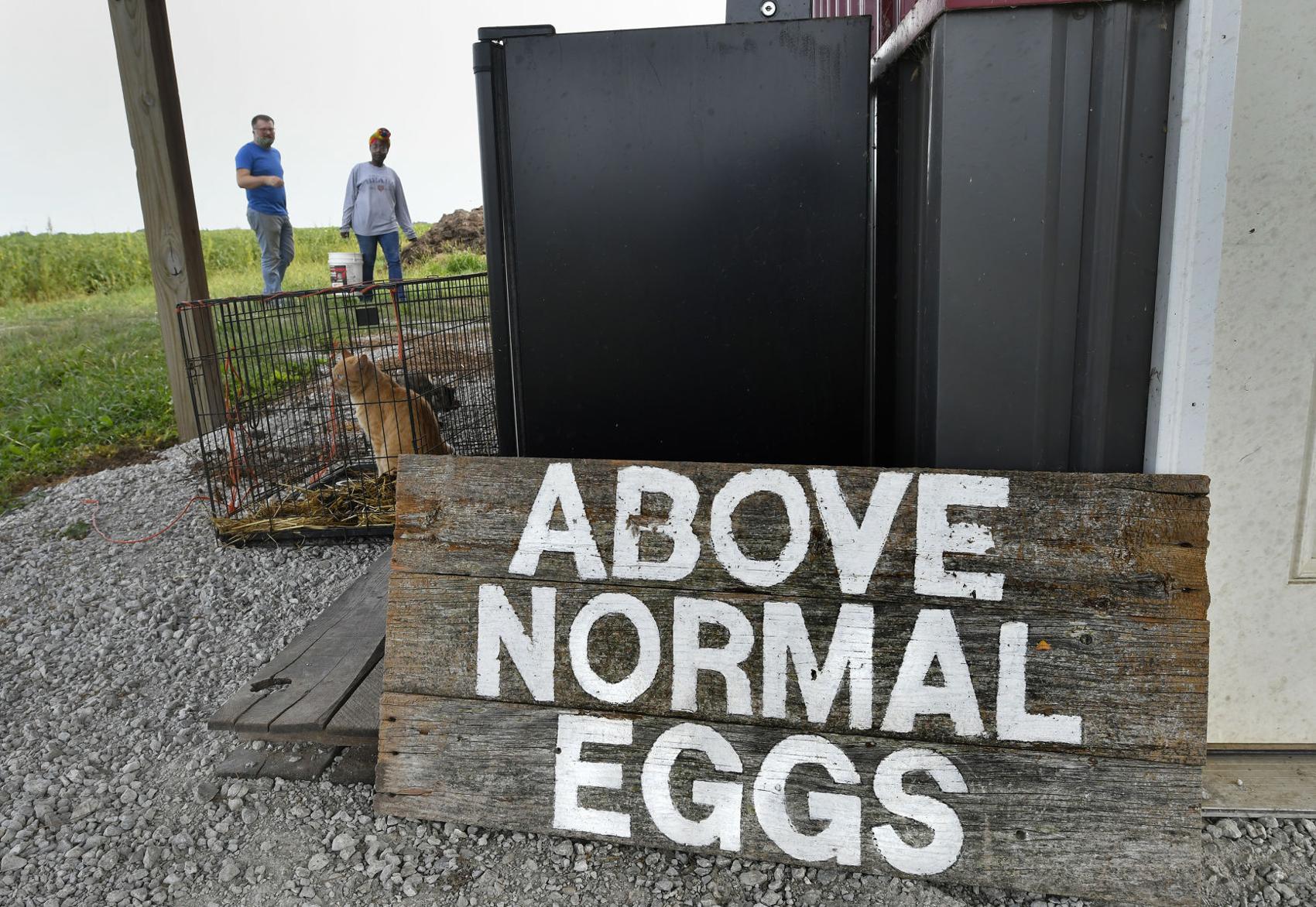 Photo credit: DAVID PROEBER, THE PANTAGRAPH
Note: If you're new here, Charlie is my brother-in-law, and he and his fiancé run Above Normal Eggs, a chicken farm in Normal, Illinois! If you live in the area, stop by the Bloomington Farmer's Market on Saturdays. They sell their eggs there. You can also reserve your eggs ahead of time by emailing Abovenormaleggs@gmail.com. The last farmer's market will happen on Halloween, so be sure to drop by before it gets too cold! Oh, and Charlie and Shirley were recently featured on the front page of The Pantagraph; read and watch the featured video here!
I've been so impressed by both Shirley and Charlie's attitude toward their wedding. They had to cancel the big reception due to Covid, which had to be very difficult… but they've been so upbeat and excited about the new plan, which is to have a small outdoor wedding in their backyard on the farm. Everyone has come together to help in their own ways, with my mother-in-law leading the way because she has an eye for design and awesome event planning skills. It goes without saying that 2020 has been a tough year, but good things have come from it as well. I know our families have grown closer as a result, and I feel like so many people I know have shifted around their priorities in the best possible way. Bah. That was jibberish. It's late and I'm tired. But do you know what I'm trying to say?
I also feel extraordinarily lucky to be gaining Shirley as a sister-in-law. Growing up, I'd always wanted a sister… and I was beyond thrilled when I married Mitch and "got" Sarah, who became such a great friend and role model. Similarly, I was over the moon when Patrick married Kim. (Here's a throwback to her shower, and the letter I wrote her.) And now Shirley! She's bubbly and cheerful and is so unbelievably sweet with Emma, who's who's become her little shadow. 😆 Again, so lucky.
Anyway, I'll leave you with some of my favorite photos from the shower. I considered it a practice round, as I'm going to be the photographer on the big day! (A little nervous because I haven't shot a wedding since Jess and Neal's out in Portland a few years ago, but I'm also SO honored and think it's going to be a blast.) Can't wait for October 10th. It's going to be magic.