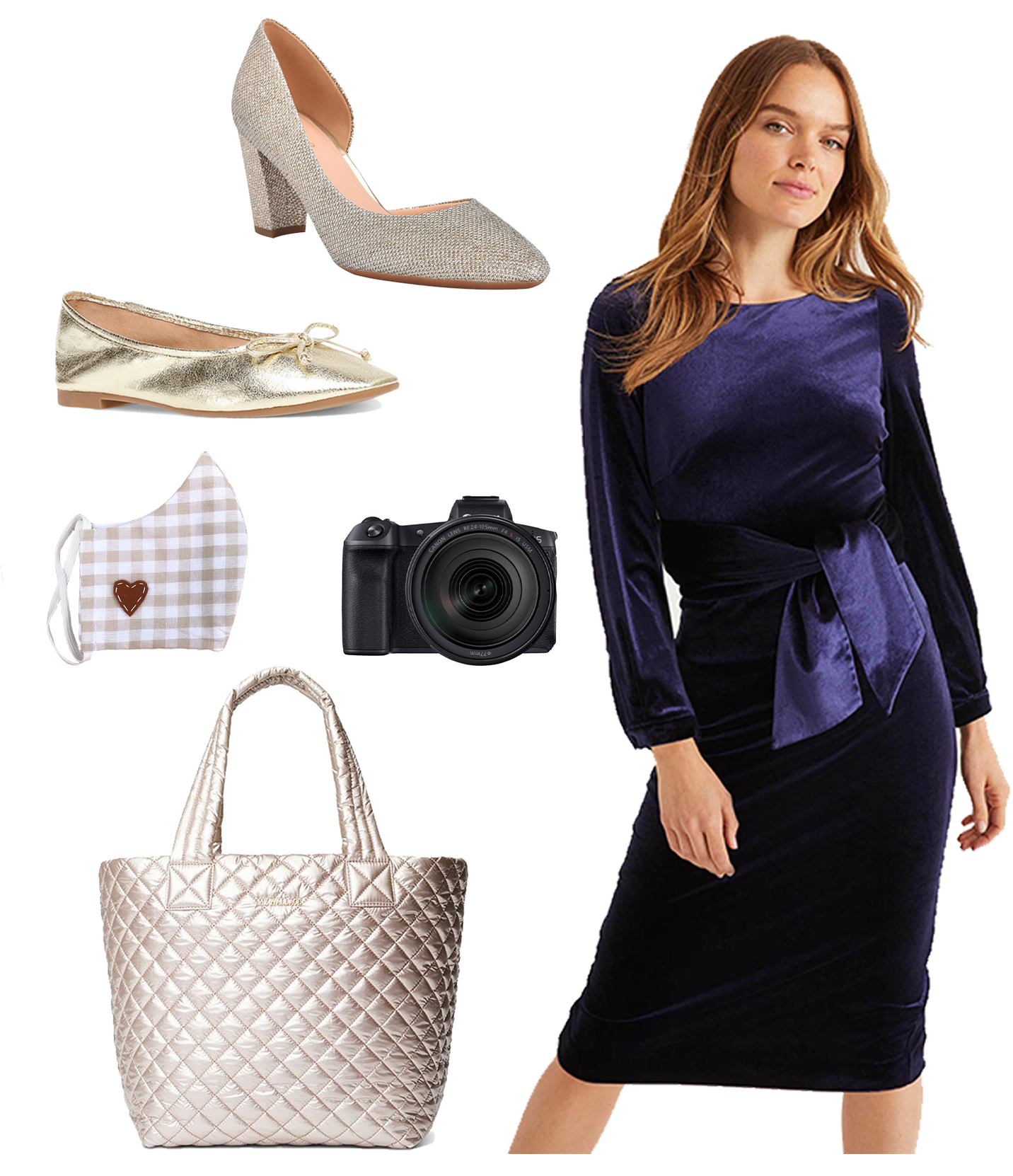 This is a fun post! My brother-in-law is getting married next weekend in his backyard on his farm. The event is very different than the original plan, but it's going to be so intimate and special—and unlike any other wedding I've ever been to! The countdown has begun. ♥️
What to wear, though?
This question was definitely a challenging one. ;) If you've been reading here for a while, you probably know that I'm always freezing. And since the wedding is on October 10th, the weather could go either way!
After much, much consideration 😆, my gut tells me that I'll likely need to dress warmly. So here's what I bet I'll be wearing:
As the weather in Normal, Illinois is currently in the 40s-60s, I think I'm going to need velvet. Velvet is my best friend during the fall and winter for special occasions. It's the only fancy-looking material, with the exception of chenille, that keeps me toasty.
Since I'm the photographer and will have two small children at the wedding, I also need something stretchy. The dress that fit the bill was this one from Boden, which I got on sale with a gift certificate. (Score!) I was a little concerned that it would be too casual, but I don't know. Seems perfect?!
If it doesn't work out, I also ordered this wine-colored velvet dress as a backup, which is from Nordstrom so it can easily be returned. And, of course, I have my trusty go-to black velvet dress. (I love it but I've worn it to so many events over the last few years and would love to mix things up! Good to fall back on, though.) In case it's unseasonably warm, and since far crazier things have happened in 2020, I have this classic Camilyn Beth dress.
I know I sound like a psychopath but gotta be prepared.
Oh! I also have this very gold (and very thick and toasty) cardigan which might come in handy.
I'm not sure whether these are going to be awesome or look meh. But for under $40, and because the block heel—the only heel option for a backyard wedding, IMO—is low (around 2″), I figured that they were worth a try. I'm pumped! (Haha. Shoe joke.)
Gold/glittery flats (for photographer moments)
I plan on wearing the above pumps for photos and dancing because it's 2020 and I can't remember the last time I wore heels and I WANT TO FEEL DRESSED UP. 😜 That said, I'll need to wear flats while shooting and running after the girls. Been there, done that… and heels are not an option, especially on grass. Here are the two party-ready pairs I ordered! Fingers crossed that one pair works and feels like I'm walking/dancing on clouds.
I'd love to bring along a clutch, but let's be serious: I'm about a decade away from that lifestyle. What I actually need for October 10th is a tote bag to carry all the baby and photography things! My all-time favorite tote is the Metro Tote from MZ Wallace, and Bloomingdales still carries it in the rose gold color. I will be carrying my old navy one… but a girl can dream!
I've been getting into Etsy lately, mostly because Emma has demanded to be My Little Pony for Halloween (???) and what's a mom supposed to do about that? Anyway, I recently stumbled upon this face mask and loved it. And while this is a small family wedding, there are two elderly grandparents attending (at a distance, at their own tables). So face masks are needed!
Camera gear
Let me know if you have a miracle dress/pair of shoes that would be good for an outdoor October wedding. ALL EARS OVER HERE! Thanks, Friends. ♥️