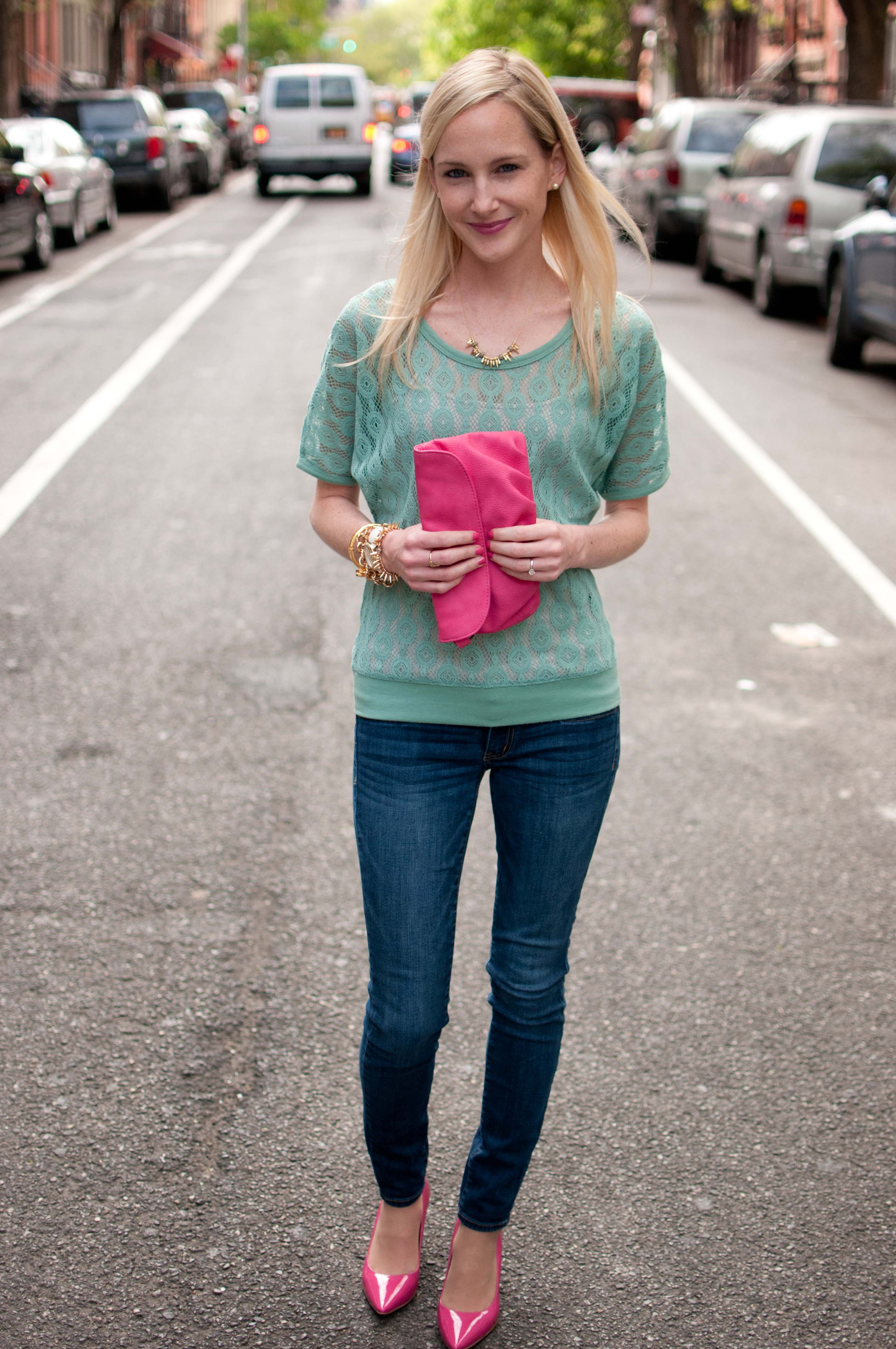 A huge weight has been lifted off my shoulders. I submitted the yearbook for printing yesterday! This might seem like a little thing–it's a middle school yearbook, after all–but it seriously has been taking up most of my free time for the last two months, and stressing me out like whoa. (I had to handle the whole thing this year, from the photos and content to organization and layout.) It's been a long time since I sat down to eat dinner or watch a movie without my computer on my lap. But now it's done. It's over. I can breathe again, and focus on other (slightly more important ;)) facets of my life! Huzzah.
Top: Forever21, similar here / Clutch: Target (Best clutch ever. Holds so much. And so cheap! Also available in blue and mint) / Pumps: Cole Haan / Jeans: American Eagle (Leftover from my younger years. Hey, a pair of jeans that fits like a glove are priceless. Even if you're a bit too old to be wearing the brand! ;)) / Necklace: Stella & Dot, Sold out, similar here, bracelet version here (Also available in silver) and ring version here / Watch: Marc Jacobs (And loving the wrap version, too!) / Bracelets: J.Crew (bow), similar here and here; Stella & Dot; and J.Crew Factory (On sale!) / Ring: Ireland, similar here and here / Earrings: J.Crew and less expensive here via J.Crew Factory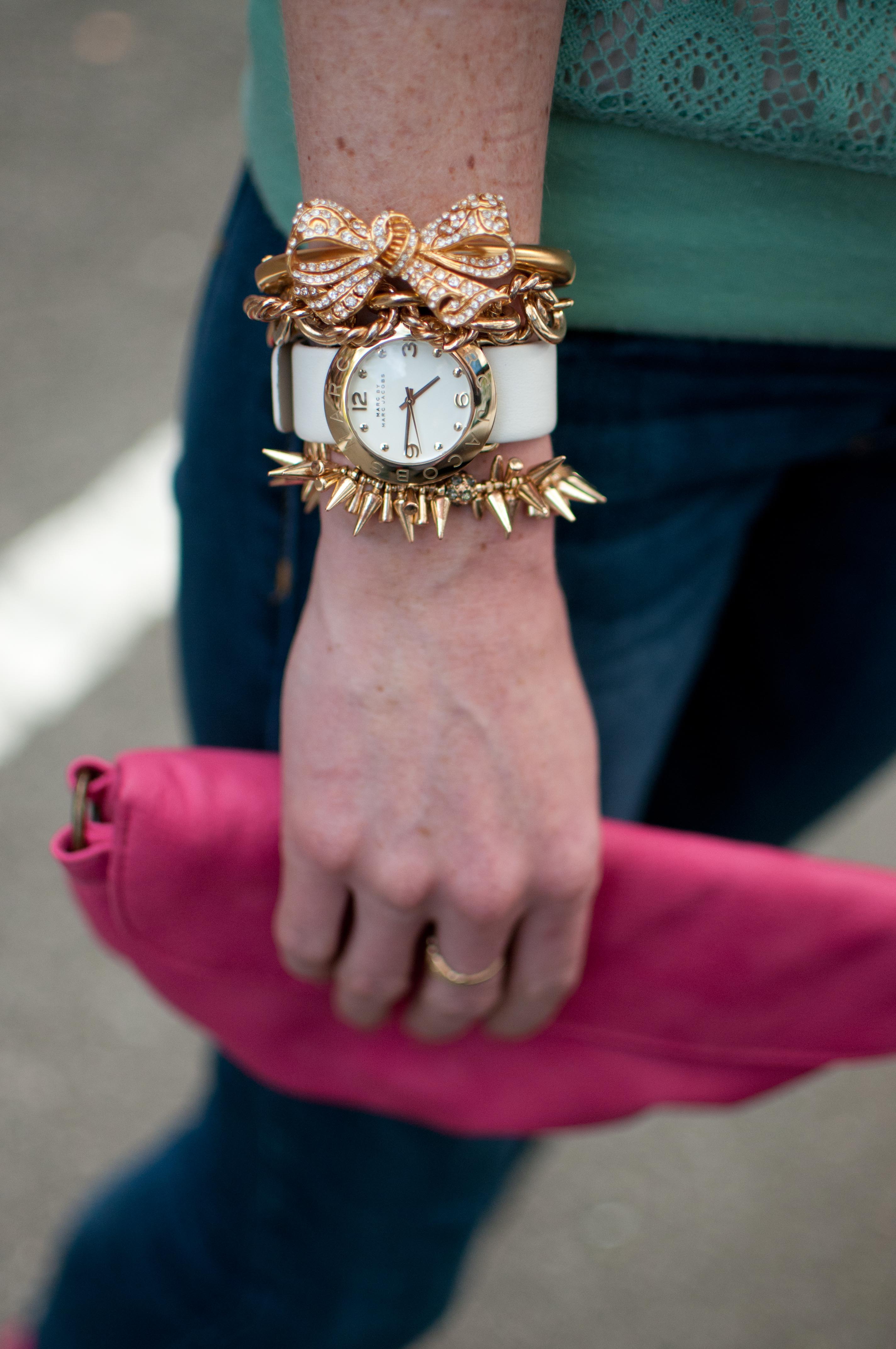 Yesterday, since I didn't need to be glued to my computer after school, we headed down to the Alphabet City/East Village area to enjoy the warm weather and get Mitch a haircut. He'll only get his hair cut at this tiny little barber (Neighborhood Barbers) across from Tompkins Square Park because he's super picky. I really can't judge, though. I still travel to Marianne Vera Salon on the Upper East Side because I love my stylist so much. ;) (Quick story: A couple of years ago, I told myself I needed to stop being ridiculous, and find a salon closer to my apartment, then in the East Village. I told the new place (which got good reviews!) to dye my hair a light brown/dark blonde that way I wouldn't have to get it highlighted so often. Disaster. I literally came out of the salon with olive green hair. Granted, I suppose it's a little difficult to go from bleach blonde to a darker shade. But olive green?! I cried hysterically, and refused to take off my Yankees hat for three days until I could get it fixed. My boss was understanding, at least.)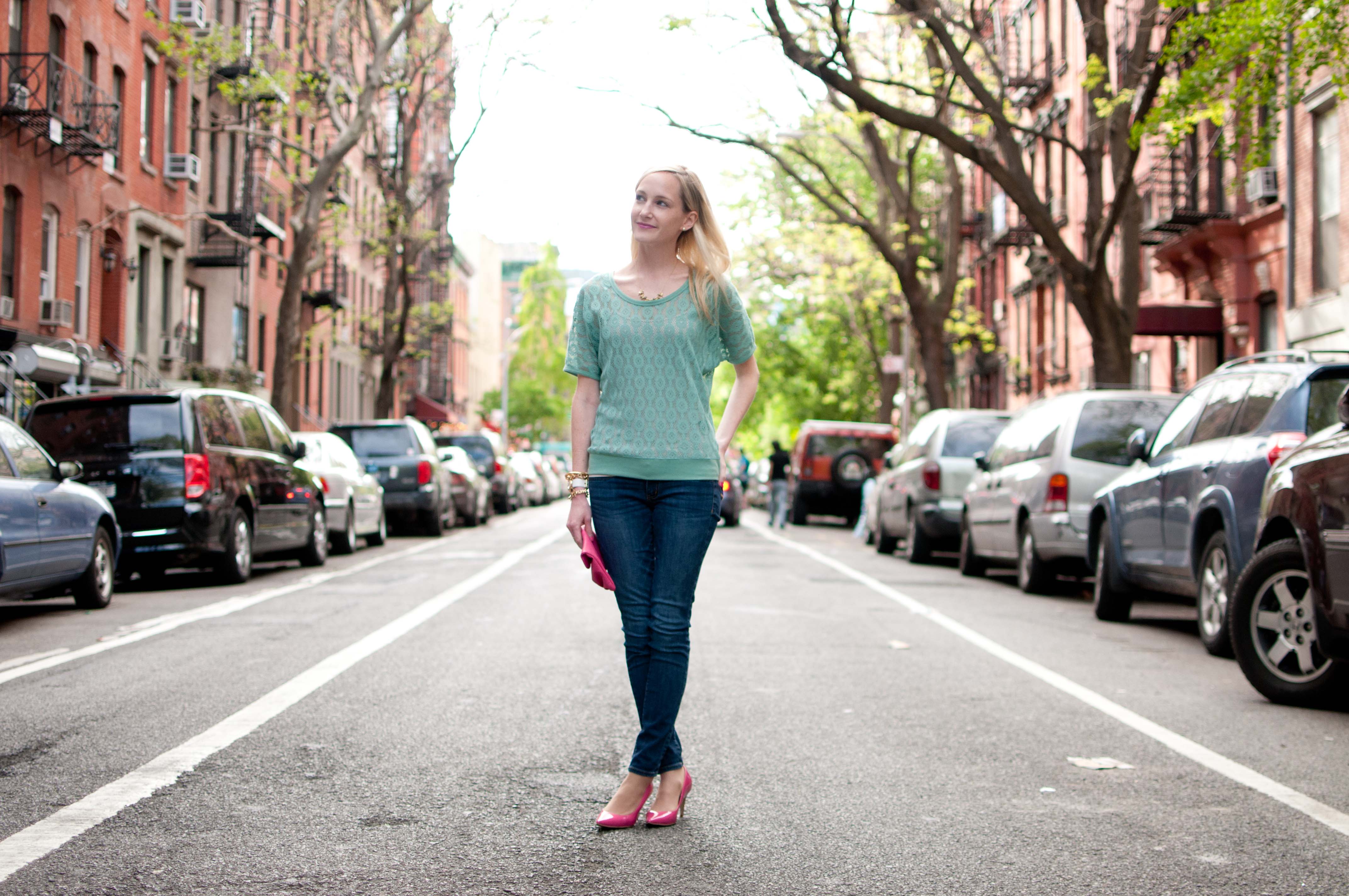 After that, Mitch accompanied me on a few "errands." ;) First we stopped at J.Crew so I could make a couple of exchanges. (Hello, 30 percent off sale!) He's the best. Thank goodness for boyfriend/fiancé/husband benches and warm weather that allows for outside waiting. Then we headed over to a nearby optical store, as I'm in dire need of glasses. I have a -6.5 contacts prescription (blind), yet I don't own glasses. I used to; I just hated them and never had them updated as my vision got worse and worse. I'm a nutcase. But an optician recently scolded me for not taking my contacts out at night and allowing my eyes to rest. It's really bad for your them, he said. I hate wearing glasses (don't like how I can't see peripherally, and convinced my ears are crooked ;)), but I know it's important. Sigh.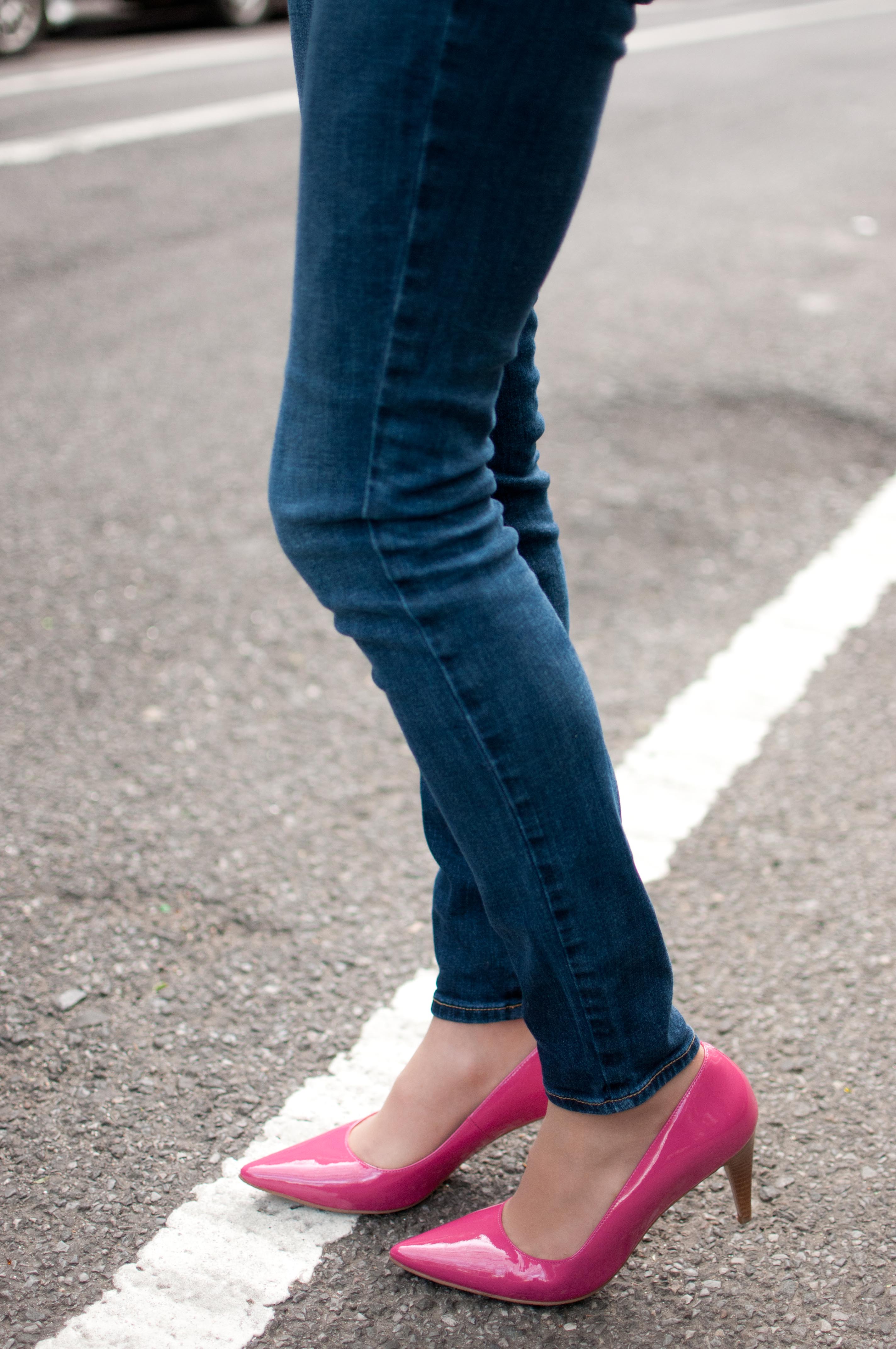 This is where my good friend Darby, who's absolutely adorable, comes in. She recently acquired a pair of glasses that I like. Gasp. She looks fabulous in them, so I'm copying her. Maybe my optician can work his magic and get them to rest evenly on my face so I'll actually wear them! (At night, at least. Small steps.) Anyway, the nearby optical store tried to charge me a small fortune for the glasses (Ah, New York), so I went on Amazon and ordered the frames for a fraction of the cost. I plan on bringing them to the local optical store in Hoboken and getting the lenses put in. Thrify eyeglasses shopper! Love it. (Check out Amazon's awesome supply of frames here.)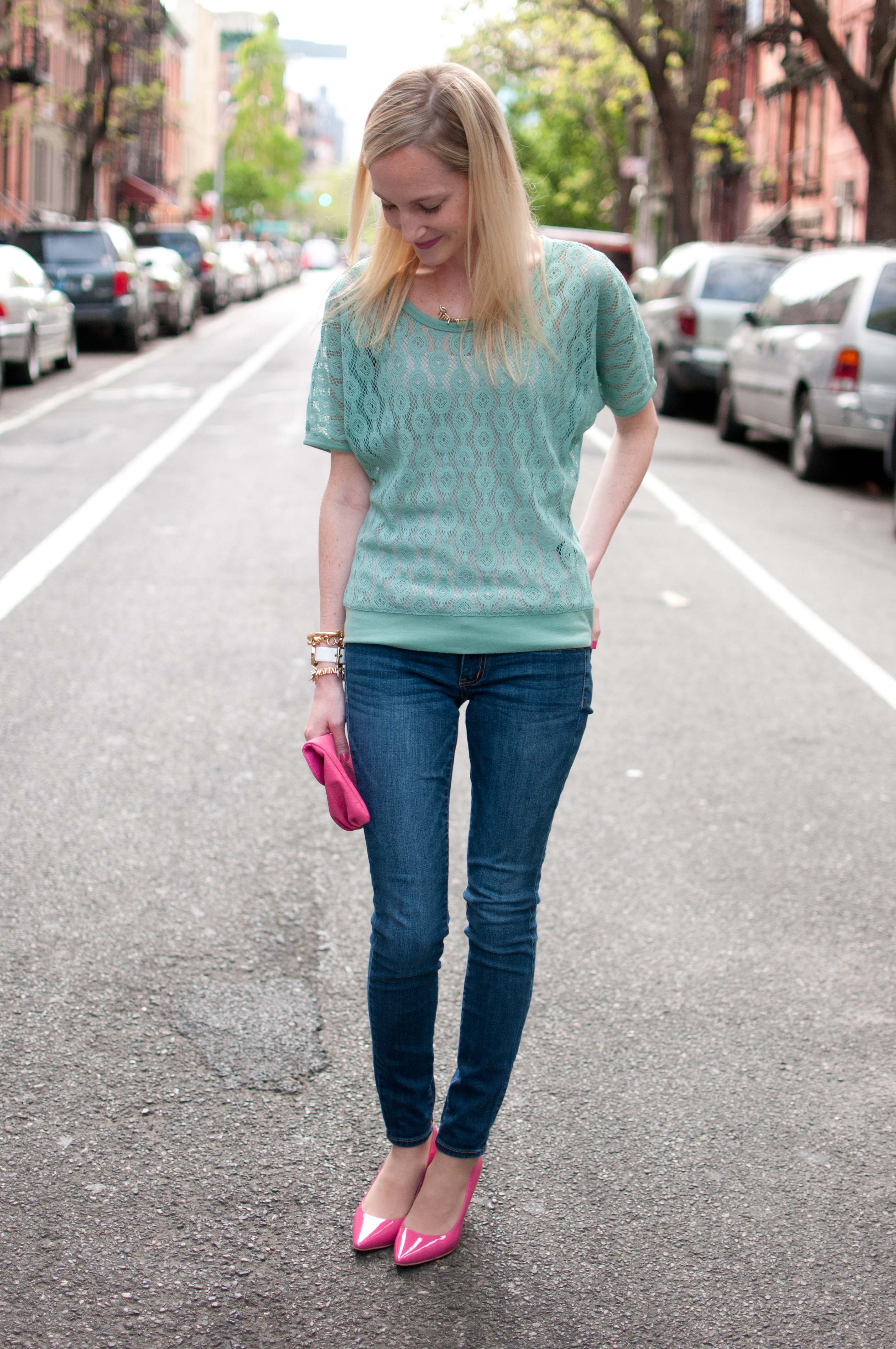 Even though we only had a few tasks–haircut, exchanges and glasses–to accomplish, it seemed to take forever. It's incredible how long it takes to get errands accomplished in New York City. I don't mean to complain. There are tons of perks that come along with living here, and I'm so incredibly thankful to call this city home, but sometimes everyday life can be frustrating. It takes so long to get places when they're only a couple of miles away, and so much seems to depend on how quickly the subways are running and what the weather is like. While I have absolutely no evidence to back this up, I feel like it's so much easier for a suburbanite run errands in a relatively quick and efficient manner. Stopping by a few stores on the way home in your car can't take that long, right? Someone make me feel better and tell me it's difficult. Because sometimes Mitch and I feel like we waste all our free time on these things. And they're so insignificant! The one thing that has helped this situation is Amazon. Love Amazon. Love the fact that you can get virtually anything through the company, for a fantastic price, shipped directly to you free of charge. It's been a time-saver and a life-changer. We're lucky enough to live in an apartment in a townhouse, too, so the packages can be left in the mud room. (Packages usually aren't left on doorsteps in New York, as they're often swiped.)
So, yeah. I'll let you know how the glasses ordeal turns out, and whether ordering frames from the internet is something I recommend. My hopes are high! Over and out, fashionistas. :)
Top: Forever21, similar here / Clutch: Target (Best clutch ever. Holds so much. And so cheap! Also available in blue and mint) / Pumps: Cole Haan / Jeans: American Eagle (Leftover from my younger years. Hey, a pair of jeans that fits like a glove are priceless. Even if you're a bit too old to be wearing the brand! ;)) / Necklace: Stella & Dot, Sold out, similar here, bracelet version here (Also available in silver) and ring version here / Watch: Marc Jacobs (And loving the wrap version, too!) / Bracelets: J.Crew (bow), similar here and here; Stella & Dot; and J.Crew Factory (On sale!) / Ring: Ireland, similar here and here / Earrings: J.Crew and less expensive here via J.Crew Factory