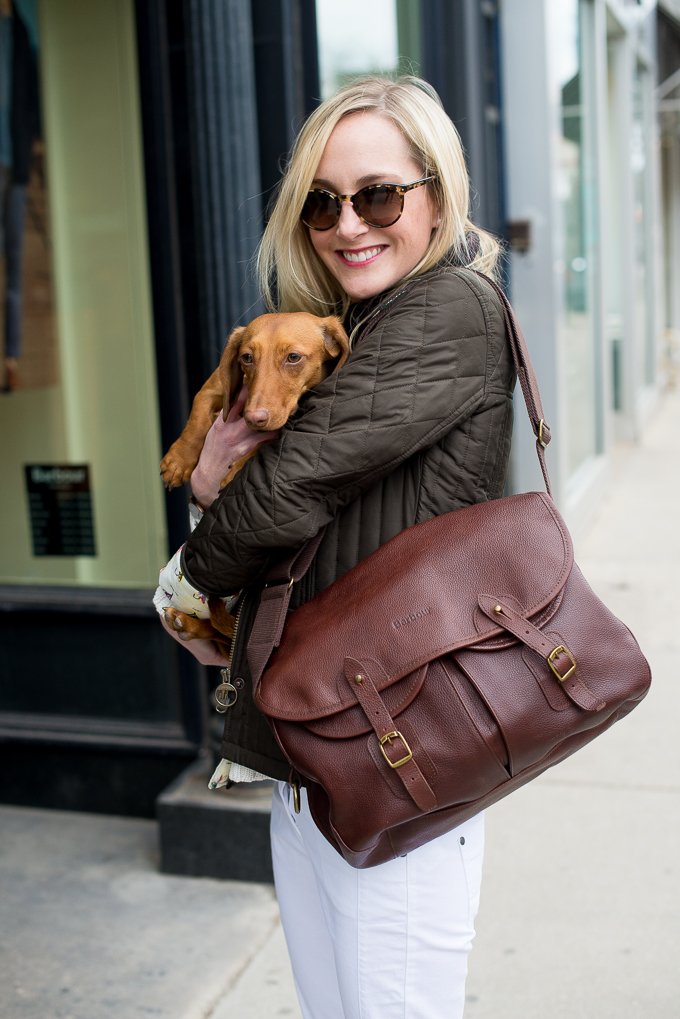 Barbour Fly Fishing Rows Jacket (Visit the Lincoln Park Barbour Store at 2042 North Halsted Street or call 773-360-7926 to order), Leather Tarras Bag, Vision Slim Fit Jeans, and Braye Sweater (c/0) / GH Bass Kiltie Loafers (c/o) / Kate Spade Sunnies (Old, similar here) / Daniel Wellington Watch (c/o) / Miriam Merenfeld Monogrammed Necklace (c/o)
The best part of my day is around 5 p.m., when Noodle and I meet Mitch at the halfway point of his walk home from work. The neighborhood is its busiest at that time, and I love experiencing the hustle and bustle. Obviously, though, catching up with Mitch is even better. ;) Noodle goes crazy when she finally spots him, and it takes her a good five minutes to calm down. She's usually so happy to see him that she cries! It's the cutest.
As Mitch and I met through our teaching fellowship positions in the Bronx, this is our first year not being together 24 hours a day. We used to do everything together–get ready, commute, eat lunch, and even teach the whole seven grade. Our lives were completely intertwined in every possible way. I know it seems like a lot of "together time," but we worked really well together, and kept each other going. Frankly, I think I would have quit my job three years earlier had it not been for Mitch.
This past September, when the situation totally changed, I was a bit apprehensive. Of course, nearly all couples go to different jobs and have different work lives, but we'd never done that before. Would things remain the same?
Fast forward seven months, and things are better than they've ever been. Not because we're apart during the day, haha, but because our jobs are no longer the focus of our lives. Back in New York, it was incredibly difficult to leave work at work. We were almost always stressed, anxious and upset about something going on at school, and since we were coworkers and married, it was hard to not talk… and talk… and talk about it. I can't tell you how many times we'd say to each other, "Okay! No talking about the Bronx today!" But it never worked. There was very little division between our personal and professional lives during the work week, and it was rough.
Now, though, everything is different. While it goes without saying that I miss my husband throughout the day, I think this year's situation is much better. Yes, our jobs are far less stressful than our old ones were, but I also think not teaching together has helped to create a good separation between work and real life. Which is such a good thing. We certainly talk about work–usually on our afternoon walks–but we don't talk about it all day long. We do more living. Work is important, but life is more important.
Whoops! I'm rambling again.
Anyway, this Barbour Fly Fishing Rows Jacket has been my go-to jacket over the past few weeks for our afternoon walks, as it's lightweight yet warm for that lovely April wind we've been experiencing. And how adorable is the lining?! Sigh. I love a good lining, haha. Sizing tip: order one full size up. To order: visit the Lincoln Park Barbour Store at 2042 North Halsted Street or call 773-360-7926 if you're nowhere close to Chicago. :)
Photos by Jess of The Golden Girl