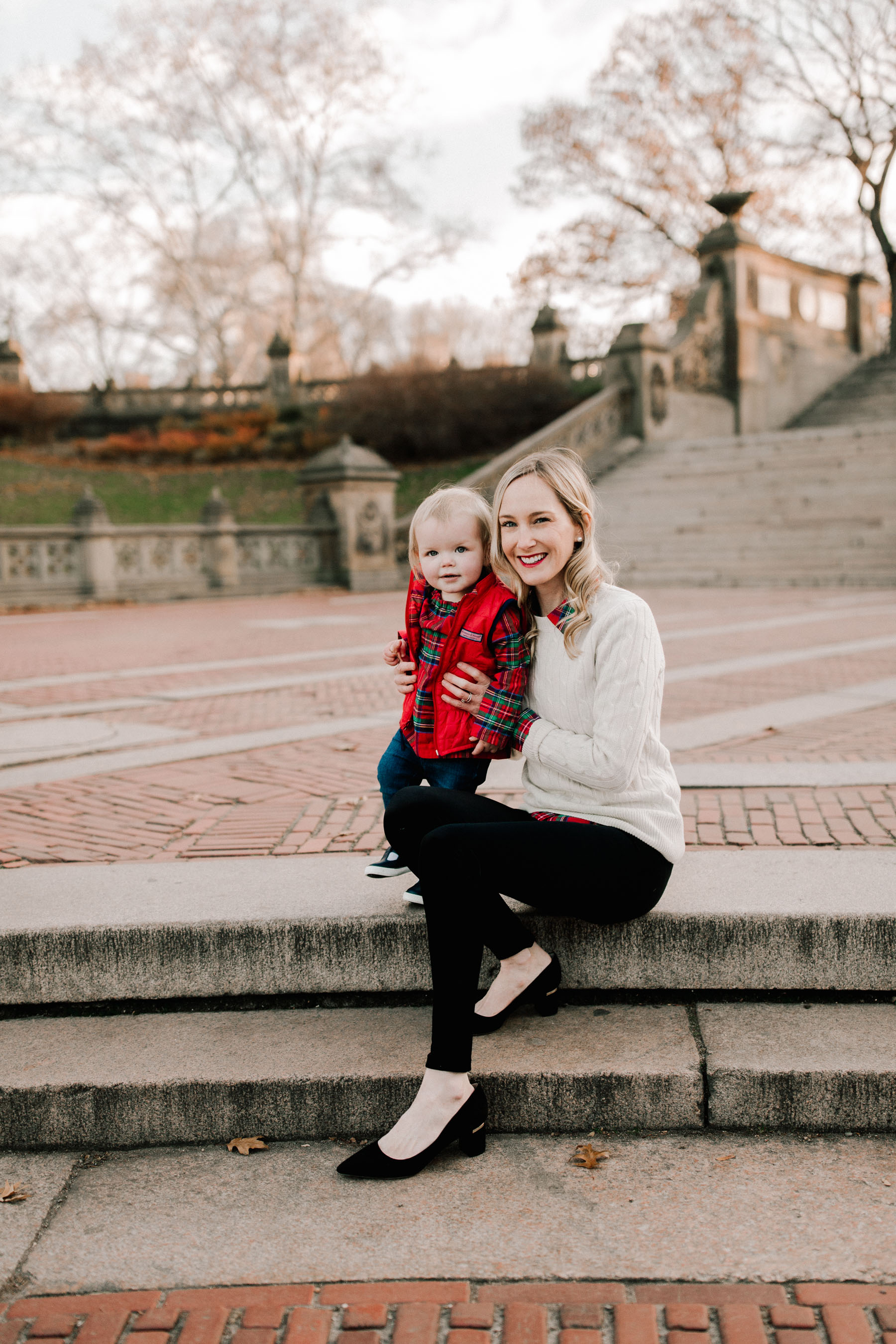 Vineyard Vines Jolly Plaid Cashmere Plaid Button-Down, Cashmere Cable-Knit Sweater, Emma's Plaid Top (More sizes here!) and Quilted Vest (More sizes here!), and Mitch's Plaid Button-Down (More sizes here!) c/o Vineyard Vines / Velvet Leggings (Spanx has a great version, too. Also have/love these, which are only $49! The Commando pair comes in leather, too.) / Block Heel Pumps (If they're sold out, they're also available at Zappos. And this pair, this pair, and this pair are super close. I also adore this pair of bow pumps and this pair of bow-tie pumps.) / Mitch's Blazer / Emma's Mary Janes / Red Plaid Scarf
Mitch and I (and Emma) flew to New York last week to see family for the holidays. It was a super short and quickly planned trip, and I wish we could have stayed longer to see everyone. But we'll be back! Still hoping to spend a longer chunk of time there in late spring or early summer. :)
While Mitch is going to do a full recap of the trip later this week (he's almost done with it!), I couldn't help but post a few pics from Central Park in December a little early.
Because it was such a fun day.
Now that Emma's a toddler, we need to give her a LOT of time to run around. Gone are the days when we could just plop her in the stroller and wheel her around all day. Girlfriend wants to play and explore. So we've become pretty familiar with Manhattan's playground and park scene… and Central Park is, obviously, always our go-to. Especially when we have dinner plans on the Upper East Side!
For us, New York is a completely different city now that we have a child–and Central Park is a totally different park. Memories I have: seeing John Mayer and Guster play in the pouring rain during Summer Stage; going on long walks on my own during every New York City Public Schools snow day (before the Mitch days); lounging in Sheep Meadow with friends, pizza and wine; walking through the park under the moonlight with Mitch on one of our first "dates," and watching the turtles swim in the pond; taking my first digital SLR out for a spin to photograph the ducks; sitting in the grass with Erica and a couple of good books. (Hi, Ricky. If you're reading, miss & love you!)
Now, though, we do things like visit the zoo, go down the slide a zillion times, watch jazz performers, climb stairs, throw rocks into various bodies of water, swing on the swings, chase pigeons, and test out every bench we see.
Isn't it crazy how a place so defined in your consciousness can morph into something completely separate? For me, it's as if there are two Central Parks: the Central Park I know incredibly well, and the Central Park I've just been introduced to, and am just starting to know. There's so much I'd never noticed before!
I guess that's part of the magic of becoming a parent. You start to see the world through your child's eyes, and it's different… in a really amazing way.
Anyway, a few outfit-related thoughts:
Over and out! Hope you have a great week!
Shop the post:
Vineyard Vines Jolly Plaid Cashmere Plaid Button-Down, Cashmere Cable-Knit Sweater, Emma's Plaid Top (More sizes here!) and Quilted Vest (More sizes here!), and Mitch's Plaid Button-Down (More sizes here!) c/o Vineyard Vines / Velvet Leggings (Spanx has a great version, too. Also have/love these, which are only $49! The Commando pair comes in leather, too.) / Block Heel Pumps (If they're sold out, they're also available at Zappos. And this pair, this pair, and this pair are super close. I also adore this pair of bow pumps and this pair of bow-tie pumps.) / Mitch's Blazer / Emma's Mary Janes / Red Plaid Scarf
See more posts from New York City HERE.