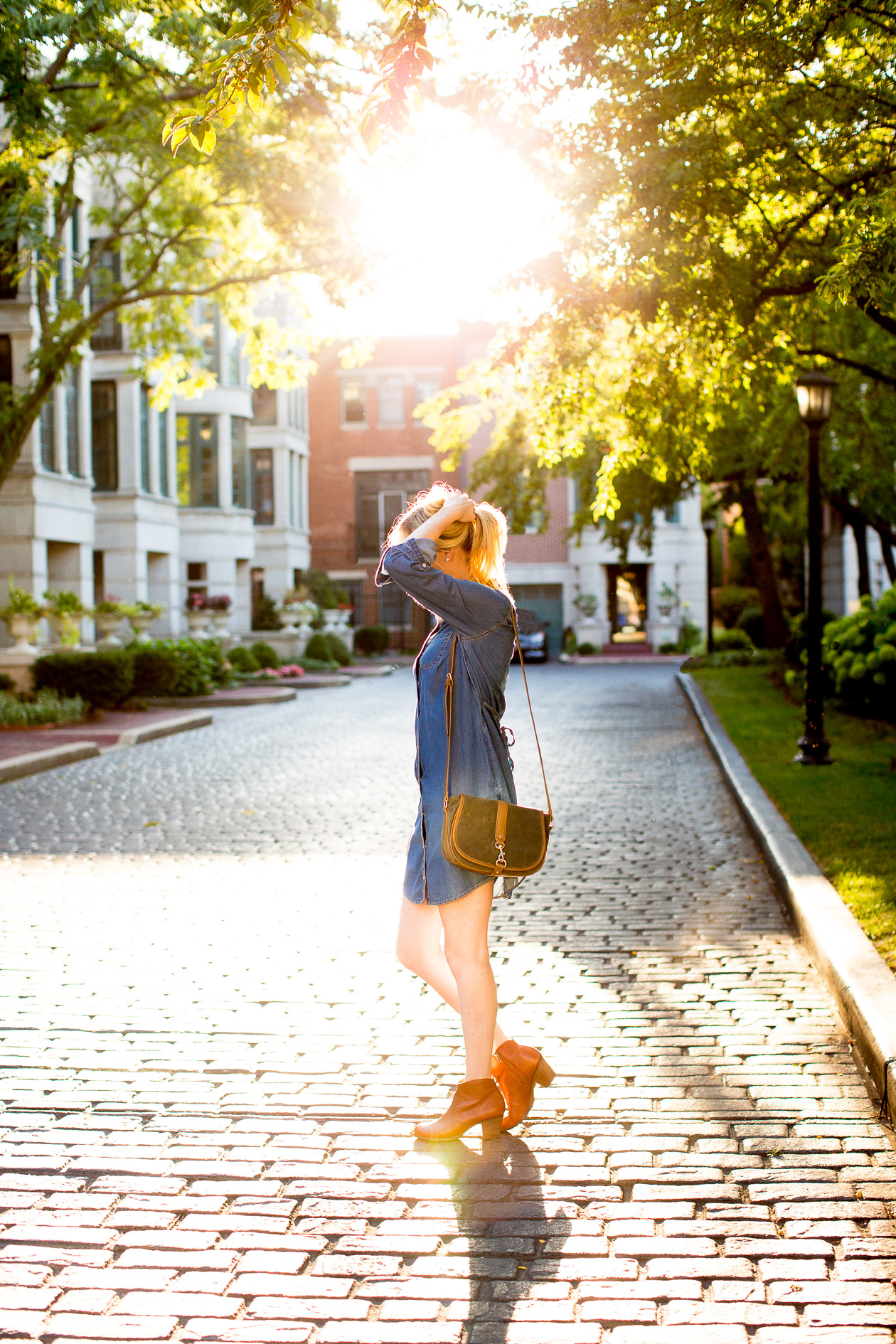 Charming Charlie dress, bag, bracelet and ring c/o / Lands' End booties c/o / Daniel Wellington watch c/o
Can we believe that summer ends this week? I know. I'm not sure how I feel about it. Half of me is terribly sad, as this past summer was the best of my life, and I adore summer. I also don't want to wish it away, as winter is a bit rough here. But the other half of me is loving all things fall: the pumpkin coffee, the layers, the boots, the colors, the crisp air, the decor, the James Taylor and Van Morrison… All of it.
I don't know about you guys, but I can only pull off the whole dress-with-booties look for a month or two. It's usually either too hot or too cold, and I'm miserable. Feet too hot or legs too cold: ah, the struggle. I can kind of deal with toasty toes. But cold legs? Nope. I mean, who chooses to wear a dress in the morning when you know it's going to be chilly and you could be wearing pants?!
But again, there's that little window that's absolutely perfect for dresses and booties. And last Thursday–when Mitch, Emma and I grabbed dinner with Maya–fell into that window. And I loved it. So here's hoping that the window stays open for a while longer, because I'm obsessed with chambray/denim shirt dresses this year. (So easy! And great "nursing wear." TMI? Sorry, haha.) I love the Charming Charlie one I'm wearing here, as it's both affordable and super soft. (It also has pockets!) And I'm crazy about this bag, which holds way more than you think it would. (Both are from the StyleWatch x Charming Charlie Collection.)
Side note: this little street is one of our favorites in our neighborhood because the bumpiness of the cobblestones always puts Emma to sleep. Whenever we're having a fussy night, we head here, and walk up and down for as long as it takes! We call it the "Magic Street." :)
Anyway, Mitch and I are spending the weekend running all over Chicago for some freelance projects I didn't get accomplished last week. My in-laws graciously offered to come up and play with Emma so we could pound out the work, and we're so, so grateful. We also had the best time catching up with them on the beautiful patio at Nella last night! Oh, and did I mention that my mom is flying in this week?! She arrives on Wednesday, and then Dad arrives on Friday. I'm beyond excited. While it's been over two years now that I left home, I'll never not miss my parents.
So many photos to come! :) Hope you're having a fabulous weekend. What are you up to?!
Every time we take photos, I test lighting on Mitch. And sometimes I accidentally get some really cute photos of him. ;) I know he looks pretty serious (and a bit like Superman) here, but holy handsome, Michael! <3 (And yes. Mitch's real name is Michael.)
Outfit details:
Charming Charlie dress, bag, bracelet and ring c/o / Lands' End booties c/o / Daniel Wellington watch c/o