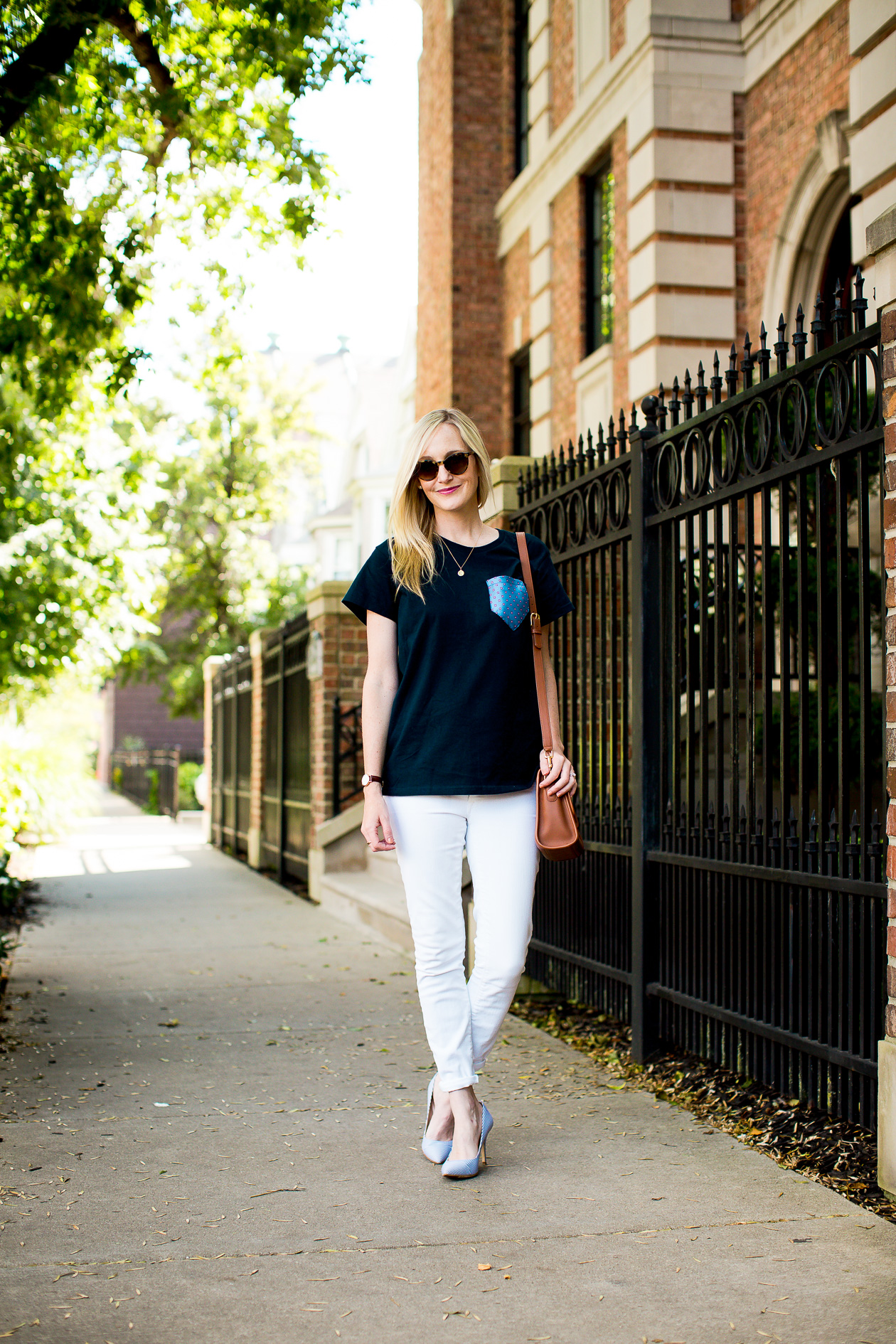 Look One: North by South Apparel "The Patriot" T-Shirt in navy / J.Crew Jeans / Coach Bag / Club Monaco Pumps c/o / Daniel Wellington Watch c/o / Similar Sunglasses / Similar Necklace
Look Two: "The 1789" T-Shirt in white / Madewell Tote (Also here) / Tieks Flats c/o / C.Wonder Tortoise Bracelet (Old, similar) / J.Crew Jeans
Because I didn't announce my pregnancy until late in the game, I never told you guys this. But at our 20-week anatomy scan (the big one), we had a scare: our doctor found something called an "echogenic intracardiac focus" on Emma's heart. In short, an EIF can mean absolutely nothing or it can be a "soft indicator" for chromosomal abnormalities. And there's really no way to tell for sure until the baby is born.
I cried in the doctor's office when the doctor told us about it. She delivered the news in the best way possible: compassionately and carefully, and she prefaced it by saying that EIFs are often meaningless. But after struggling to get pregnant, handling this information was really, really tough. (Though I imagine that learning this would be tough no matter what.) At that point, I still hadn't stopped worrying about miscarriage. And now, it would be 20 additional weeks of worrying. How cruel.
I can't even tell you how difficult it was, or how many hours I spent on the internet, torturing myself.
When Emma came out, I almost immediately panicked about her health. But the doctor assured us that she was perfectly healthy. And then I cried some more, and hugged her tiny pink body to my chest. Never had I been so thankful for anything in my life.
While I wish the EIF thing hadn't happened, it does now serve as a gentle reminder that we are blessed. And I am grateful for that. Not a day goes by that we don't talk about how grateful we are for Emma's health.
Or quietly think of the parents and children out there who are fighting unimaginable battles.
Today, I'm teaming up with North By South Apparel, a North Carolina-based preppy clothing brand, for an extremely worthwhile cause. Sales from the company's adorable "pocket tie" t-shirts, which are fully customizable, support Make-A-Wish® Central & Western North Carolina, a non-profit organization dedicated to bringing joy to children diagnosed with life-threatening illnesses.
In these photos, you can see me wearing "The Patriot" T-Shirt in navy and "The 1789" T-Shirt in white. They've been a go-to throughout my first few weeks with little Emma, as they're comfy and adorably preppy. I can't tell you how many people have asked me where I found my shirts from on our daily walks! Such a sweet spin on the traditional t-shirt.
I love that North By South Apparel has started a social media campaign–#WishUponAPocketTie–aimed to raise money for the chapter. And let's be serious: the "pocket tie" t-shirts? The cutest. Buy a tee, post a photo of yourself wearing the shirt and holding a sign with the hashtag on it, and help grant a child's dream come true. :)
Best. T-shirts. Ever. Am I right?
Thank you, Trusty Photographer! <3
Outfit details:
Look One: North by South Apparel "The Patriot" T-Shirt in navy / J.Crew Jeans / Coach Bag / Club Monaco Pumps c/o / Daniel Wellington Watch c/o / Similar Sunglasses / Similar Necklace
Look Two: "The 1789" T-Shirt in white / Madewell Tote (Also here) / Tieks Flats c/o / C.Wonder Tortoise Bracelet (Old, similar) / J.Crew Jeans