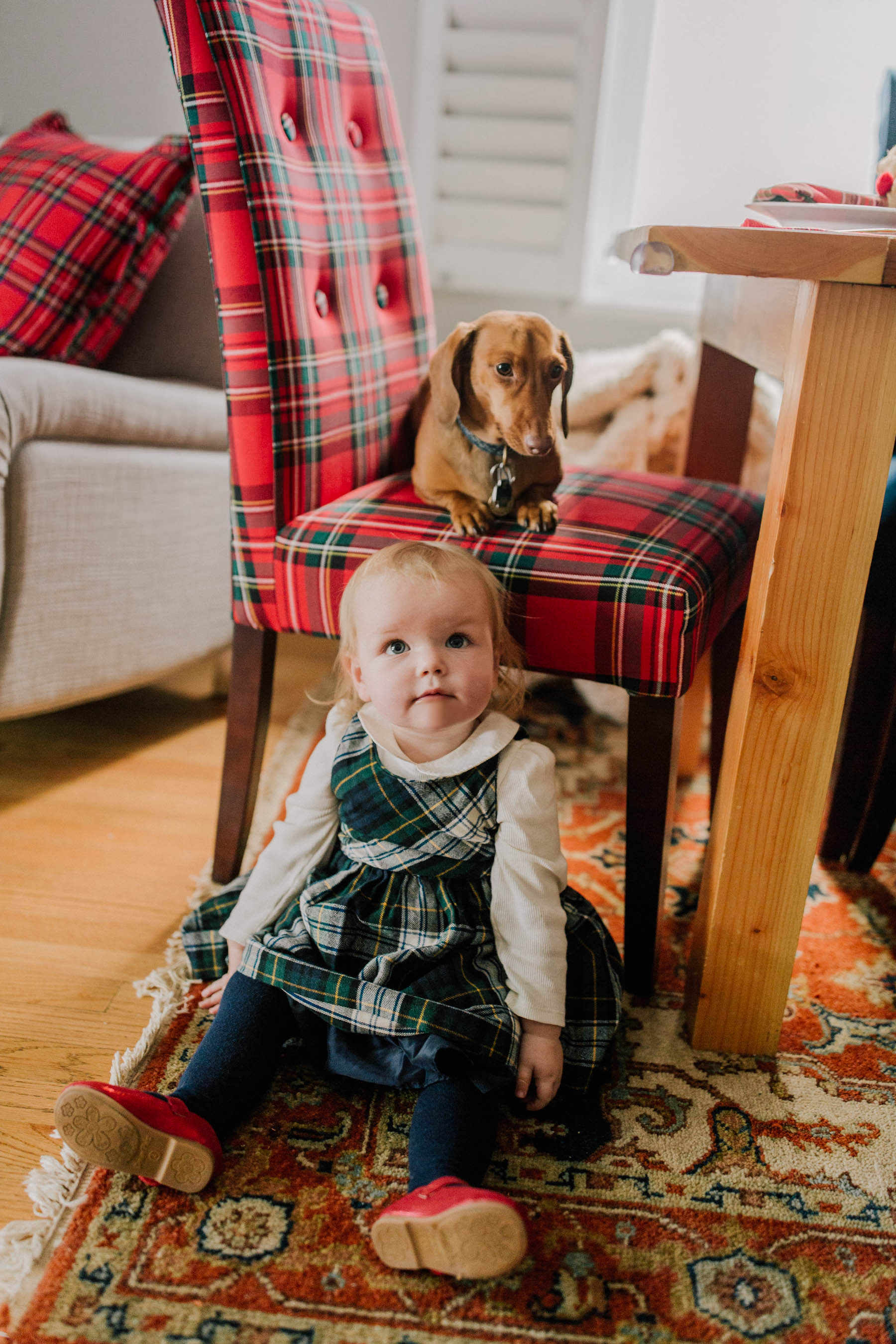 Looking for preppy Christmas decor?! Scroll down to see how we decked the halls this year!
If you saw our Insta Stories from our downtown holiday adventure last week, you probably know that Emma and I love shopping together. It's so much fun, especially now that she can walk… and wander the aisles with me. ;) Yes, it's a lot of work running after a toddler, but goodness. This is what dreams are made of, haha!
Anyway, Emma and I recently visited Pier 1–conveniently located in our neighborhood–to deck out the house for the holidays. It was a blast, and I couldn't believe how much inventory the store had. From wreaths and garland to decor and dinnerware, everything we needed for our home could be found in one place. Emma's favorites were definitely the nutcrackers, so be brought home a few of those. (Excited to start a collection. Perhaps we'll add one every year!) I can't even pick a favorite, though. So let's just run through what we took home with us:
Plaid chairs: When I saw these, all my #30daysofplaid dreams came true. Don't they just make the house?! Unfortunately, they're sold out, but I love these red velvet chairs for the holidays! (FYI: these are our navy dining chairs. So comfy, and they're amazingly stain-resistant. Still look brand new, and we're 1.5 years into parenthood! Couldn't recommend them more.)
Chair decorations: I wanted to go for a full set of the plaid chairs, but Mitch told me I was a crazy woman. (In his defense, I am crazy 😜, and we wouldn't have had anywhere to store them. #cityprobs) These chair decorations were the perfect alternative, though. So festive!
Plaid placemats and napkins: The moment I saw these, I knew they were coming home with me! I use a giant plaid tablecloth for our big Christmas dinner, but that gets dirty very quickly. So for gatherings and parties before December 25th, I'm using these plaid placemats and napkins. So much easier. :)
Reindeer napkin holders and foliage napkin holders: Couldn't help but go for two sets of napkin holders. I thought the reindeer ones were perfect for Emma, and the foliage ones were great for adult dinners. For how affordable they are, they make a huge impact.
Christmas tree plates: My mom handed down her vintage Christmas tree plates to us when we were still living in New York, but we sadly keep forgetting to bring them back to Chicago every summer when we have our car out there. (Whose mind is on Christmas in August?!) I was so happy to find these, though, as I was desperate for something similar this year.
Plaid salad plates: I'm putting these on top of the the plates, because #30daysofplaid. 😂
Christmas tree mugs: Had to grab these, as they're perfect for after-dinner coffee. I also think we'll use them for milk and cookies for Santa–which we plan on doing here in Chicago, before we leave for New Orleans on the 17th. Any volunteers for breaking into our house and throwing away said milk and cookies so we don't get mice?! (And then breaking in again, the morning we arrive back home, and replacing 'em with half-eaten cookies and an empty mug? Actually, I'm just making Jess and Neal do this, haha. Love you, guys.)
Candle holder: I couldn't believe how well this centerpiece brought everything together. These are the candles we put in the holder!
Gold silverware: I've been lusting after gold silverware for the longest time, and I definitely freaked out when I saw this. I just feel like the gold brings so much warmth to the table!
Plaid pillows: You can never have enough. I have a bunch in Stewart plaid, but the red is so festive! I also love this one.
Frank the Dachshund: Actually, Frank was probably Emma's fave. We're currently working on being gentle while petting Noodle, but Emma likes that she's allowed to hug Frank as hard as she wants. (Also, such a great dachshund name. Other winners: Oscar, Slinky, Teeny the Weenie, Scooter and Shorty.)
Twinkle lights: These we ended up ordering, and they're set to arrive in a few days. But I'm SO excited about stringing them around our fireplace bookshelves for some magical warmth. I also love the Snowflake Curtain Glimmer Strings. Wouldn't they look beautiful in our windows?!
Berry wreathes: Nothing makes me happier than seasonal wreathes in our front windows. I started doing this last year, and it made SUCH a difference in our home's warmth! This year, I went with berry wreathes because we plan on putting our tree between the windows, and I wanted some definition. (Btw, all we did was loop ribbon through the wreathes and make a knot at the end. Then, we lowered the top window, stuck the knotted part outside, and closed and locked the window. Not sure if that's how you're supposed to do it, but it worked like a charm!)
Garland: As you might know, we just renovated our living room and closed off a wall. Last year, when the room was more open, we strung garland along the stairwell. This year, though, we decided to put it above the mantel. I think it looks lovely!
Christmas tree candle: This reminds me of the ceramic Christmas tree my grandmother used to have. (Anyone else remember that thing? It had colorful lights that lit up when plugged in.) The candle brings back wonderful memories of holidays spent on Long Island. :)
This nutcracker and this nutcracker: Emma picked these out, which make me (and our bookshelves) so happy. We also tossed these nutcracker ornaments in the cart for our tree. :)
How are you decorating for the holidays?! Be sure to head to Pier 1 for more inspiration.
In collaboration with Pier 1, but all opinions are my own. As always, thank you so, so much for supporting the partnerships that keep Kelly in the City up and running!