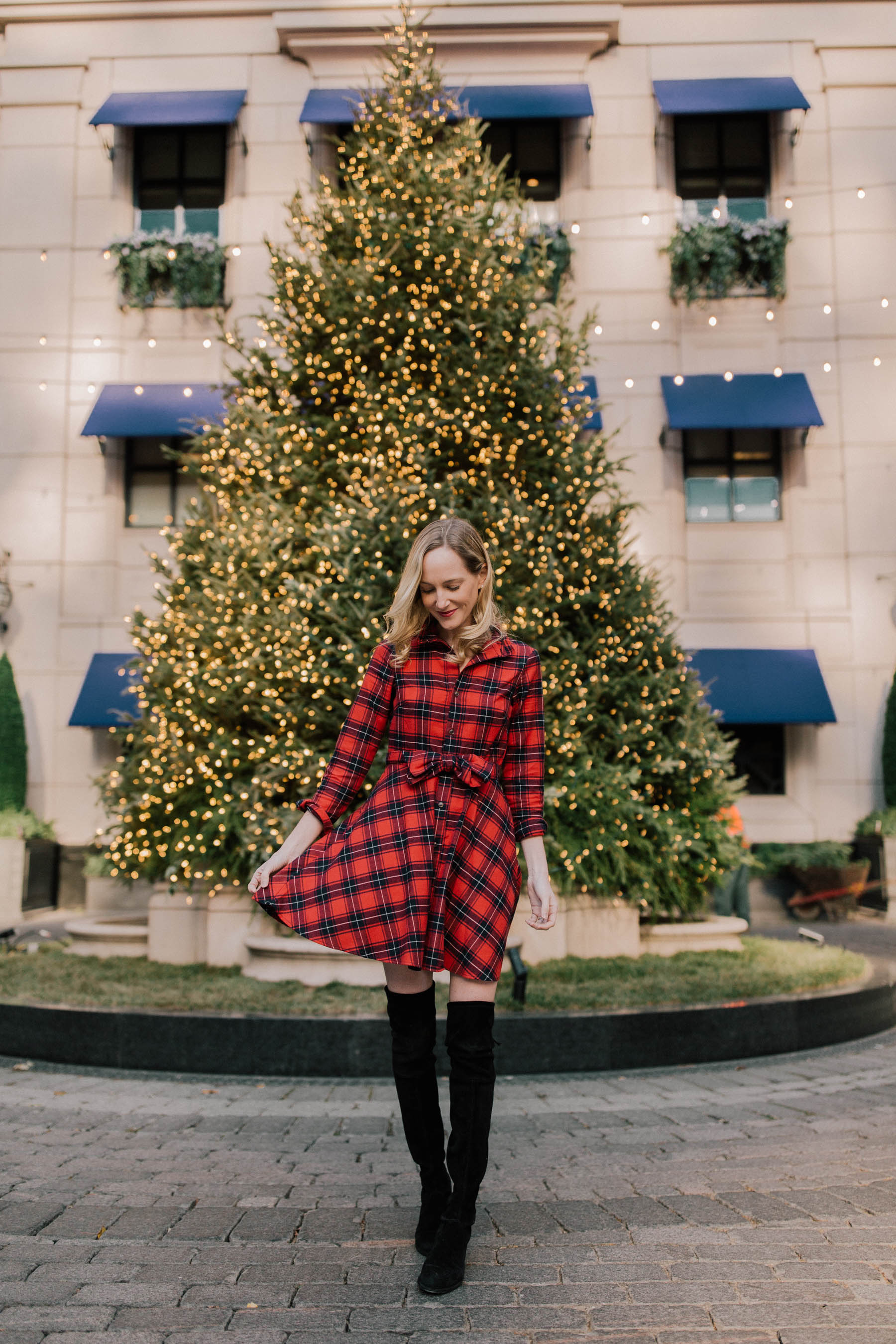 KJP Dress / Similar (Waterproof!) Boots / Tote / Wool Trench Coat
Mitch here!
I can't believe it's Christmastime. I'm freakin' out, guys. You see, I'm a Christmas junky. I intend on wassailing around the city with a belly full of eggnog for the next month. I'll give you the rundown:
Favorite Movie: It's a Wonderful Life
Song: Nat King Cole's The Christmas Song (Shoutout to Bublé for his Christmas Album, though!)
Dessert: Dachshund-shaped sugar cookies
Family tradition: Ice skating on the lake
Drink: Cocoa
Neighbor: Bumpus
Pudding: Figgy
Reindeer: Blitzen
Dentist: Hermey
Candy: Canes
Christmas is all about traditions. But our holiday traditions do include a couple of 14-hour car rides and/or several airport security lines, which aren't that fun for a 1.5-year-old kid. Which is why this year, Kelly and I are working as hard as we can to make Emma's first real Christmas–she was only four months old last time–truly spectacular.
So yesterday, after a hectic morning, Kelly and I locked eyes and decided to take the leap. It was going to be the day that Emma met Santa!
Can I step back and shout out Uber for a second? The gap between "deciding to do something" and "actually doing something" has widened significantly for me in the past year. To be honest, after changing the baby; getting everyone's coats, hats and gloves on; loading the stroller; walking the dog; changing the baby again; and finally leaving the house… I sometimes contemplate giving up and just going back inside. It's SO convenient, however, to have an Uber waiting outside to take us where we need to go.
Btw, Uber offers a car seat option in several U.S. cities. If yours doesn't have it, our best recommendation would be to bring a portable one along or call your driver to see if he or she has one. We've lucked out SO many times doing this! (Safety first when you have a kid!)
As a sleep-deprived dad with a screaming baby in the backseat, I'm not sure if I trust myself to drive the family downtown anymore. Additionally, Kelly is the worst driver in the history of the world, so using Uber is actually a safety precaution for us. (Love you, Kage.)
One other (admittedly dorky) thing: I'm obsessed with Uber's shared ETA notifications. And I find myself sending ETA messages out to random friends en route. Long story short, Santa knew we were coming.
We started the day with a visit to the spot where we announced our pregnancy to the world. We thought it would be fun to take a similar Christmassy picture, but Emma fell asleep in her stroller and it was freezing, so I took one picture of Kelly and then we ran away and I think Kelly might have cried.
Anyway, I planned about 15 activities for us to do while downtown. Ice skating in Maggie Daley Park! Hot chocolate at the Signature Room! Cupcakes at Magnolia Bakery! And obviously 12 other things I can't recall right now.
But yeah: we did none of that stuff.
It was cold, so after the failed Christmas card attempt, we grabbed coffee (not even hot cocoa 😩) because we were running on only a few hours of sleep, and went to lunch while we waited for Emma to wake up. There, however, we switched from coffee to wine. Which was good. 👍
After the restaurant, Emma tried to kill herself a dozen times by walking into the street. Note the look of terror in my eyes as Emma evades my capture and attempt to sprint out in the middle of State. The only thing that calmed her was the sight of an "L" train rolling by, which I think officially declares her a city kid.
Okay. Enough of this blabber. Let's get our kid to Santa Claus. Luckily for us, this random day in late November happened to be the exact day that Santa took up residence in one of our favorite department stores downtown. Emma was utterly enamored by Santa's decorating ability, but when she entered his room to meet him, she completely lost her mind.
(Is this normal? I'm guessing yes. This is why we don't have a photo of that experience. Disaster.)
All I can say is thank god for Uber. We did go shopping kiddie shopping afterwards, which Emma loved. (Not sure if you saw Insta Stories yesterday, but Kelly and Emma did some damage together.) But then we high-tailed it out of that place, and headed back home for pizza and a Christmas movie.
I know. This reads like a failed day.
But it wasn't a failed day. It was a great day. A fantastic day. (And I'm being sincere.) We laughed over lunch/dinner, and pointed and "oohed" and "ahhhed" at the train for at least a half hour. I saw my little girl's eyes light up as she wandered through the Christmas village before meeting that demonic Santa. I watched as she marveled at the seemingly sky-high buildings. Kelly and I tickled her in the backseat of the Uber on the way home, and then we collapsed onto the couch together before we handled bath time and bedtime.
Honestly, I feel like yesterday kicked off the Christmas season perfectly. And if you need proof of our Christmas cheer, just look at this pic right here. Bring on the holiday radio, the Christmas parties, the travel, and the Bublé. The Larkins are going all out this year!
Side note: I'm going to count the number of times I hear Mariah Carey's All I Want For Christmas Is You this year. So far, the count is at two. Don't worry: I shall update you guys frequently.
Mitch. Out.
KJP Dress / Similar (Waterproof!) Boots / Tote / Wool Trench Coat
In collaboration with Uber, but all opinions are our own. As always, thank you so much for supporting the partnerships that keep Kelly in the City up and running!