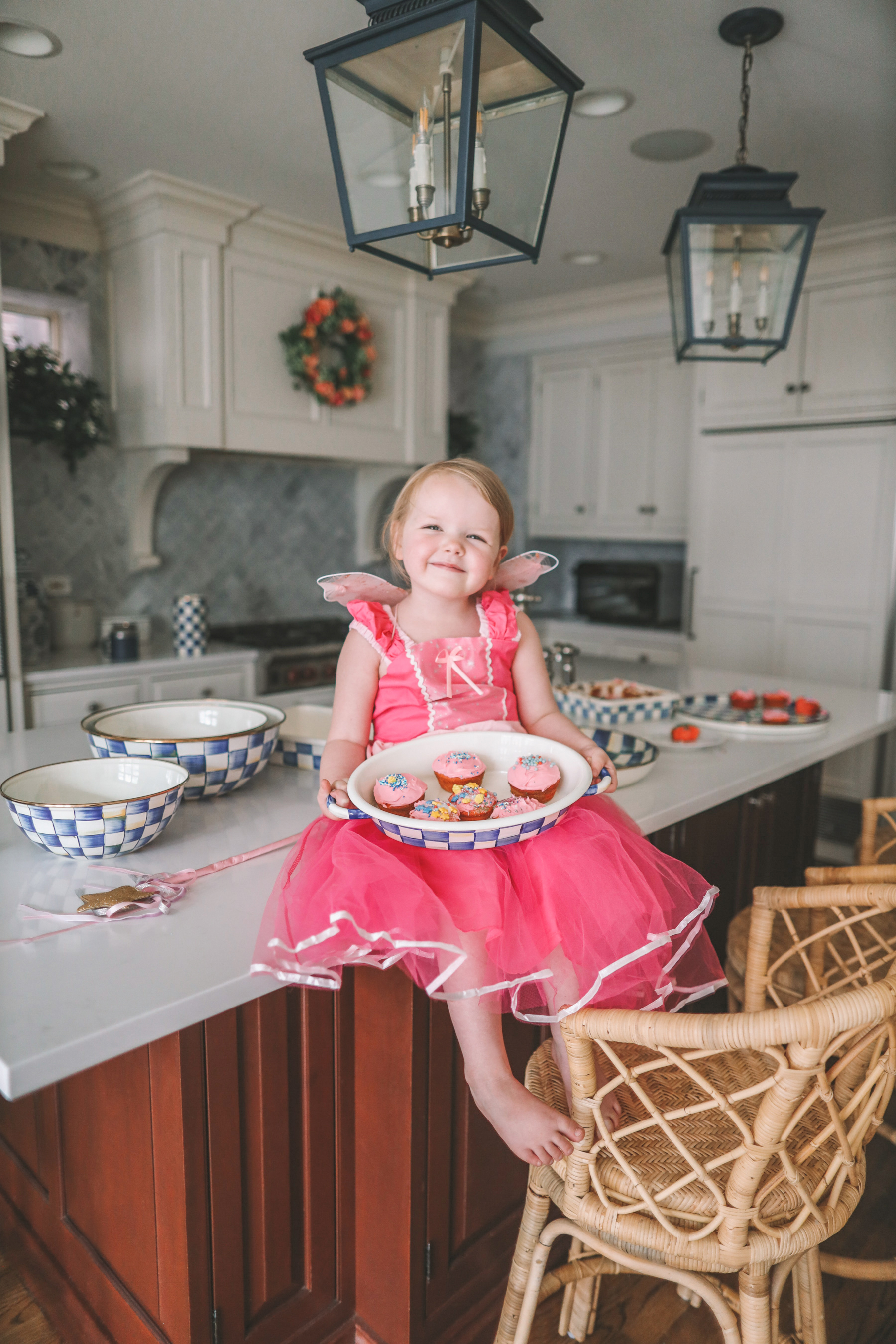 Pinkalicious Dress, Hannah Anderson Wand (This newer butterfly wand would be perfect, though!) and Similar Fairy Wings / Serena & Lily Stools (We are doing product photography for the brand; not keeping… we only have them for a few days!) / MacKenzie-Childs Royal Check Collection c/o
This is one of my all-time favorite posts! 🧁 Something that's really been helping during the quarantine has been themed weeks and made-up holidays. They give Emma something to look forward to, and I can't believe how much she gets into it. It's so unbelievably sweet. And her enthusiasm and happiness seems to transfer to everyone else, too!
This weeks focus was all things Pinkalicious: a pink-obsessed and cupcake-loving little girl from a popular children's series. Pinkalicious turns pink herself when she eats too many pink cupcakes in this book, and so Emma and I set out to make those same cupcakes… and find out whether pink cupcakes do, in fact, turn your skin pink!
(As it turns out, they do not. 😉)
Anyway, it was such a great day. In the morning, I surprised Emma with this "Pinkalicious dress" from Amazon, and she freaked out. (Photos of that to come, haha.) And then we spent the following four hours–yes, four hours 🙈–making the cupcakes. Many thanks to MacKenzie-Childs who sent us the gorgeous gingham bakeware! (I'm partnering with the company for a few Instagram posts, and the whole family has been loving the kitchen supplies they sent us. Fun cookware definitely makes cooking WAY more fun!) We also had a Pinkalicious show marathon that afternoon, and we read Pinkalicious books before we passed out clutching our sparkle wand.
All in all, a good day. 😂 Next up is Sofia the First Day. (She wears purple, so it's going to be WILD.) Will keep you posted. ;)
And have a pinkatastic, pinkaperfect day!
Shop the post:
Pinkalicious Dress, Hannah Anderson Wand (This newer butterfly wand would be perfect, though!) and Similar Fairy Wings / Serena & Lily Stools (We are doing product photography for the brand; not keeping… we only have them for a few days!) / MacKenzie-Childs Royal Check Collection c/o