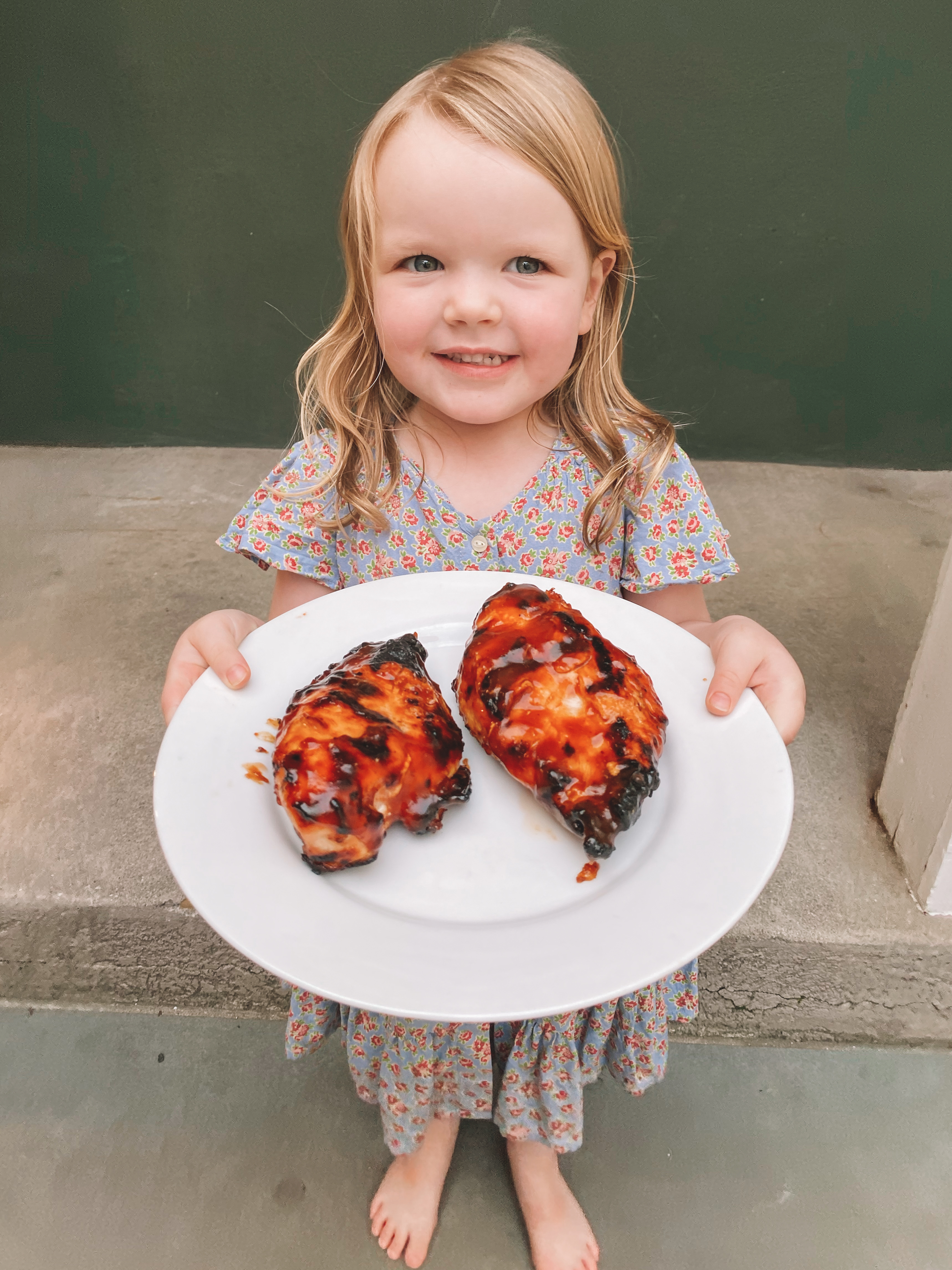 Chef Mitch here!
As Spring descends on Chicago, a primal dad instinct has awakened in me. It could be the quarantine or the warm weather, but all of the sudden I feel an urge to grill.
About a month ago, I obsessively researched grills, scouring Craigslist and driving to a far-flung suburb to meet my grilling destiny. And now, I have a grill in my backyard. So what do I do with it?
I've always been curious as to why men abandon their perfectly functional kitchens to cook stuff outside. A few observations:
Grills are outside for a reason. It's nice outside and it's loud inside.
Grilling makes the wife think I'm busy, which she appreciates.
Drinking beer while grilling isn't just acceptable, it's expected.
So I'm excited to explore the grilling world, and as a first recipe, I tackled the classic barbecue chicken breast. Barbecue is practically a religion throughout the U.S., with a surprising variety of sauces and flavors. I'm, of course, a fan of it all–from the spicy vinegar sauces of the eastern Carolinas to the thick and smokey sweet sauces of the south. Sadly, though, Chicago has little to add to the barbecue scene despite its role as the historical center of American meatpacking. That's unless you count Sweet Baby Ray's, which is based in Chicago and is also the sauce I used in this recipe.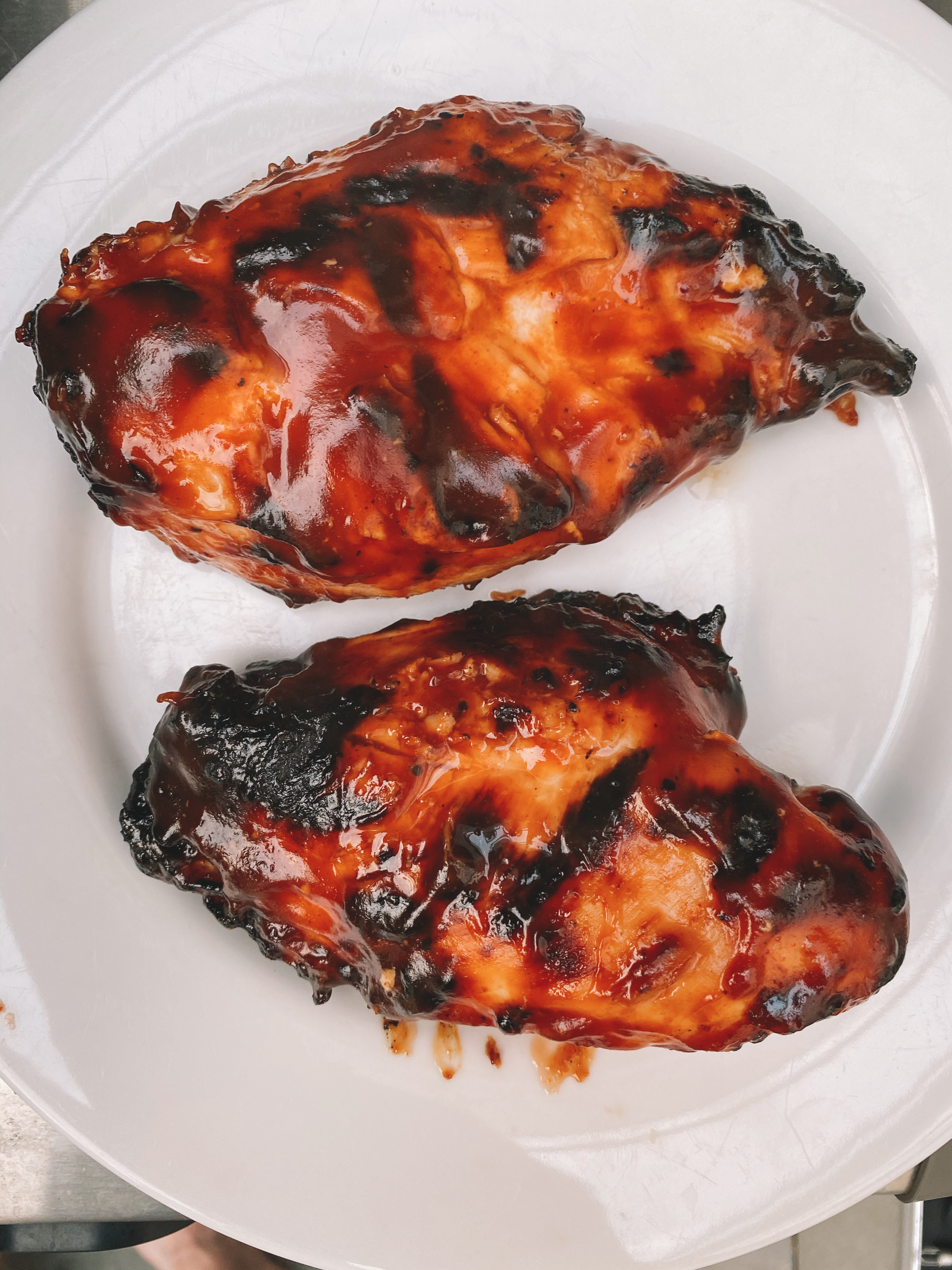 Perfect BBQ Grilled Chicken
This is a recipe for two boneless skinless chicken breasts, though it can be easily modified for any of the other cuts. We typically reach for boneless skinless because the other cuts are, frankly, disgusting. But you do you.
Brining the chicken is the key to flavoring the entire breast inside and out. Add three cups of water, half a cup of salt, two tablespoons of sugar and the chicken breasts to a ziplock bag and remove the air before sealing. The brining process takes about an hour in the fridge.
Heat the grill while the chicken brines. A well-heated grill is important because it gives you an excuse to go outside and drink a beer. It also will make your chicken taste better. Let those burners blare until your grill is rippling at 450° to 500°. This grill heating beer session is a great time to scrape clean the grill grates because it makes you look like you know what you're doing and it's also hygienic so the wife will appreciate.
After an hour of brining, brush the bird with a heavy dose of your BBQ sauce of choice. Place the breasts over high heat and let cook for 10 minutes before flipping. Reapply a heavy coating of BBQ sauce and let the other side cook for 10-15 minutes. Feel free to continually coat on the BBQ sauce until the the internal temperature reads 165°.
I like to heat my BBQ sauce in a pan on the cool side of the grill. Heating the sauce helps when reapplying and also makes for a more impressive presentation at the table where you can say impress everyone by saying "I grilled this sauce" even though you didn't really do anything.
This is a simple recipe and you can't really mess it up. It works any time of the year and any time of day. Just do it. Serve with potato chips. Have fun out there.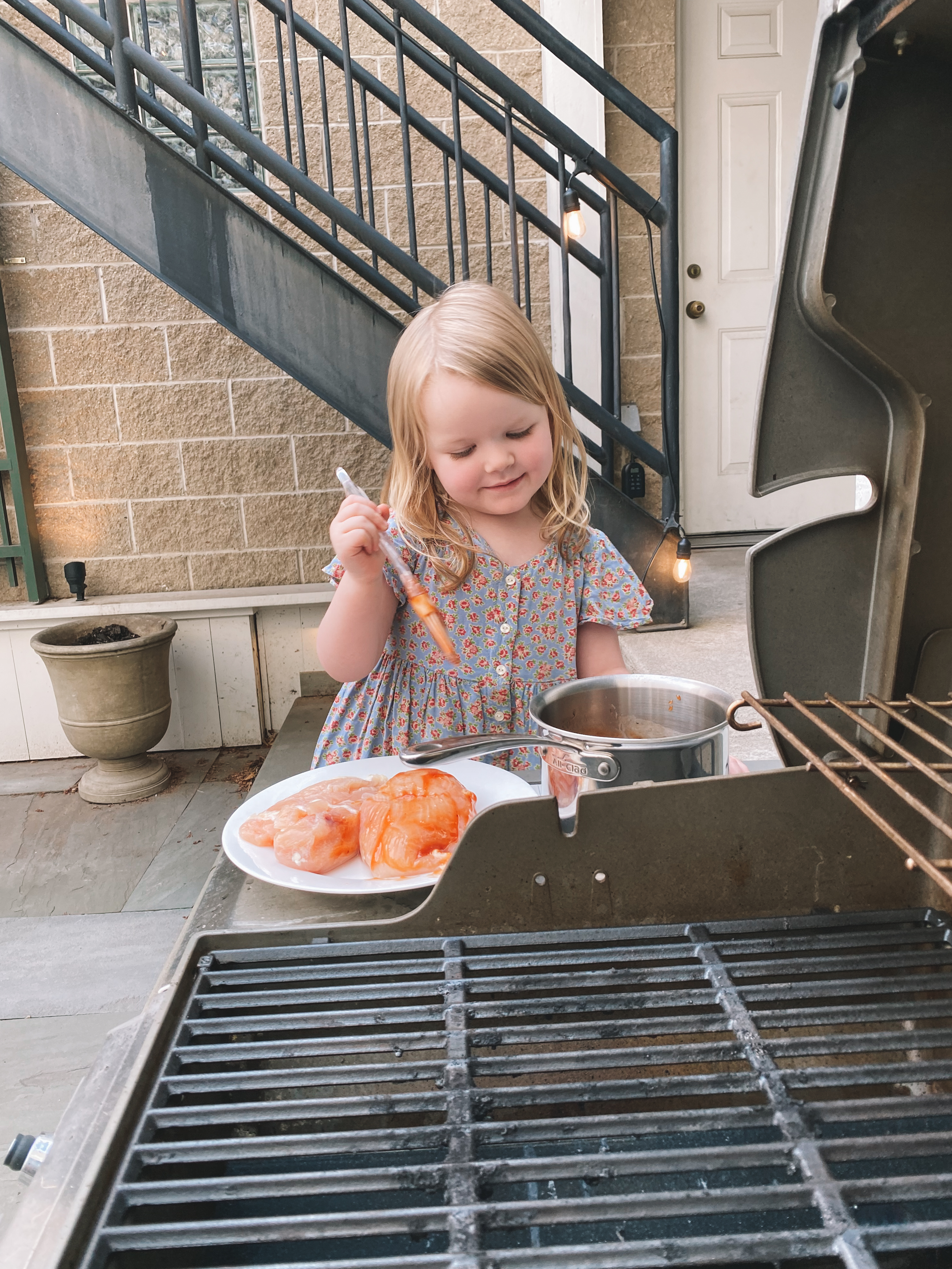 The Recipe
Four large boneless skinless chicken breasts
3 cups water
1/2 cup salt
2 tbs sugar
3 cups of BBQ sauce
Perfect BBQ Grilled Chicken
Prepare brine of water, salt, sugar in large ziplock bag
Brine chicken in fridge for one hour
Heat grill to 450°
Coat chicken with BBQ sauce
Place chicken over high heat, flip after 10 minutes
Generously reapply heavy coats of sauce
Chicken is done when internal temperature reachers 165°
Chef Mitch. OUT!