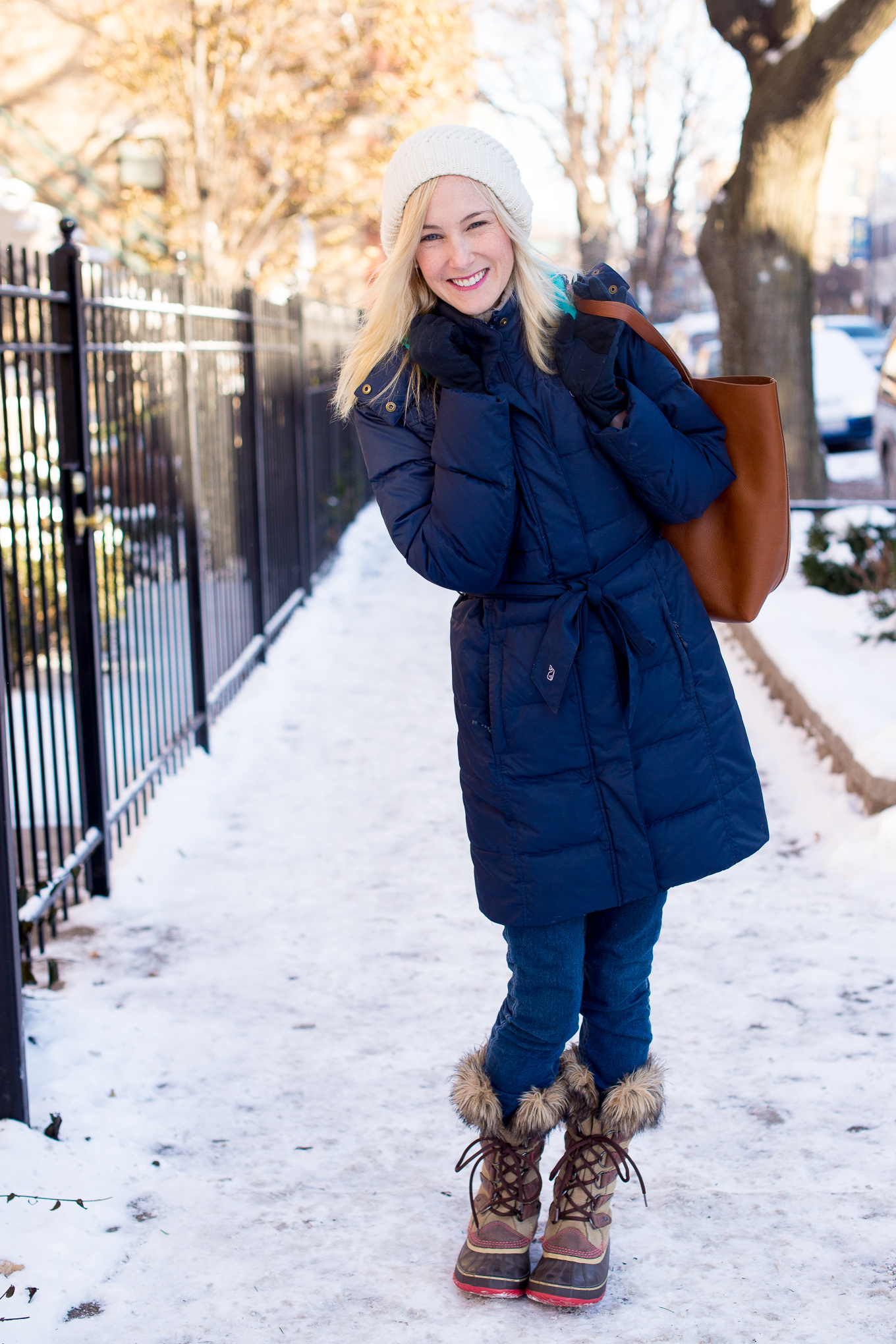 Sorel Boots (Also available here. My version is old, but I love the newer pink style! Also available here and here!) / Vineyard Vines Navy Puffer Jacket (Old, similar here) / Asos Blanket Scarf (c/o, Old, but super similar here and here… and I love this one!) / Madewell Tote / J.Brand Jeans (Old, similar here) and Anthropologie Fleece-Lined Leggings underneath! / J.Crew Factory Hat (Old, but love this one!) / Lands' End Monogrammed Gloves
It's no secret that it's quite (quite!) cold here right now. To be fair, though, this winter is apparently a lot better than last year's. I mean, yes–the Chicago Public Schools system closed its doors last Wednesday and Thursday due to the frigid temps, but we've really only had several weeks of torture so far. Last year, everything started much earlier. So I'm thankful!
That said, I'd be lying if I said I'm enjoying this. I'm not, haha. It really stinks, Especially when you have a puppy, and need to be outside constantly. (Friends and family, I'd like to publicly thank you for regularly calling and texting to make sure I'm alive. ;) Love you.)
There are, however, a few things I've found to be extremely helpful in my quest to survive my first Chicago winter: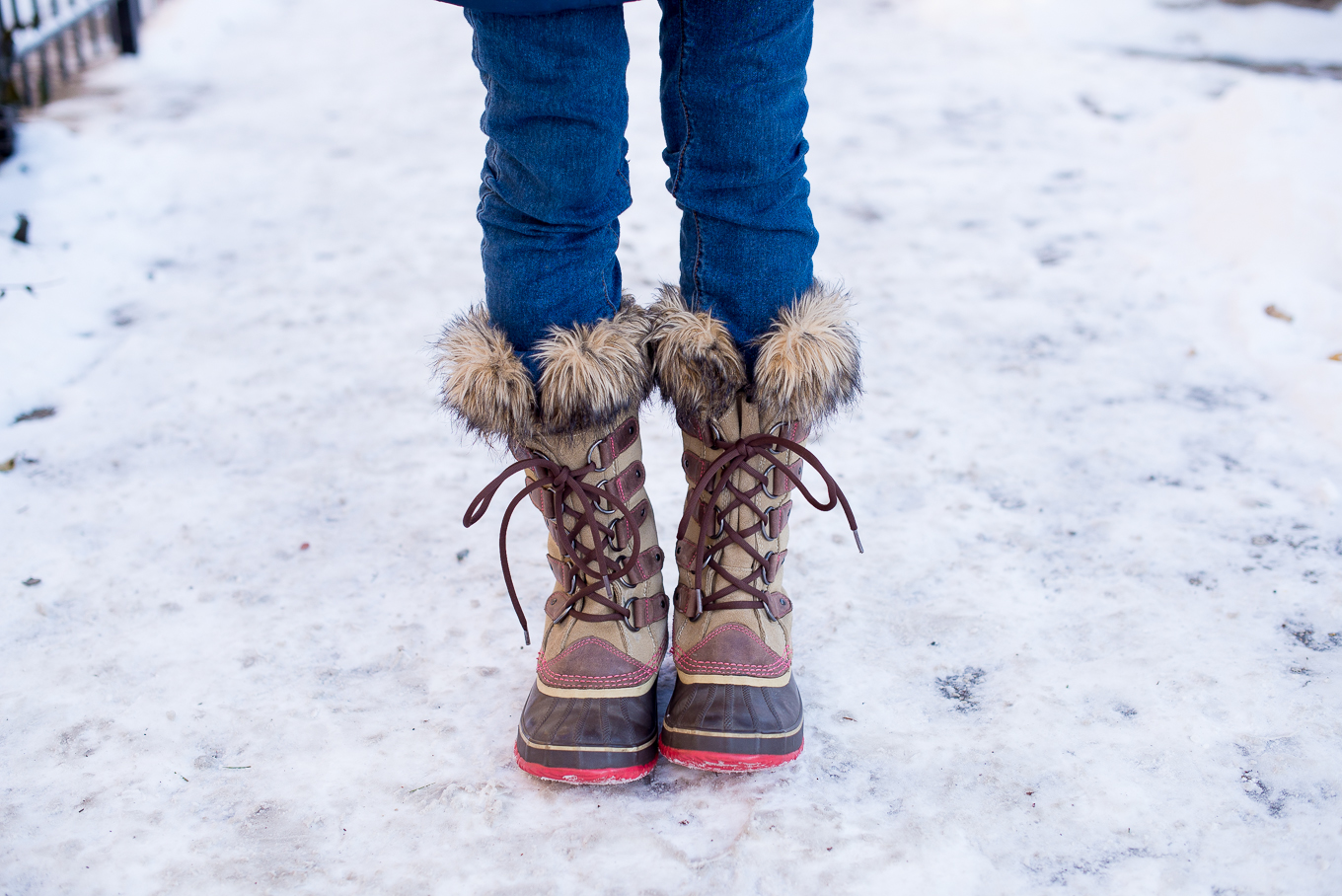 1. Hardcore winter boots. My favorite is the Sorel Joan of Arctic boot. I actually got mine a few years ago when New York City was experiencing a particularly rough winter. (Dad was the one who recommended them to me! Too cute. My father is anything but "into fashion," but the man loves rugged, outdoorsy gear! Single-handedly keeping Orvis in business?)
Anyway, I really couldn't live without them. I do a lot of walking, and these have never once rubbed me the wrong way. (Hehe.) They've never leaked, and they're the first pair of boots I've ever owned that truly keep my toes toasty. I also love the Sorel Caribou boots, though I don't own a pair.
Having trouble finding Sorels in stock this "late" in the season? Try Amazon, Zappos and eBay. For reference, I normally wear a 7.5 in flats, and took a size 7 in my Joan of Arctics.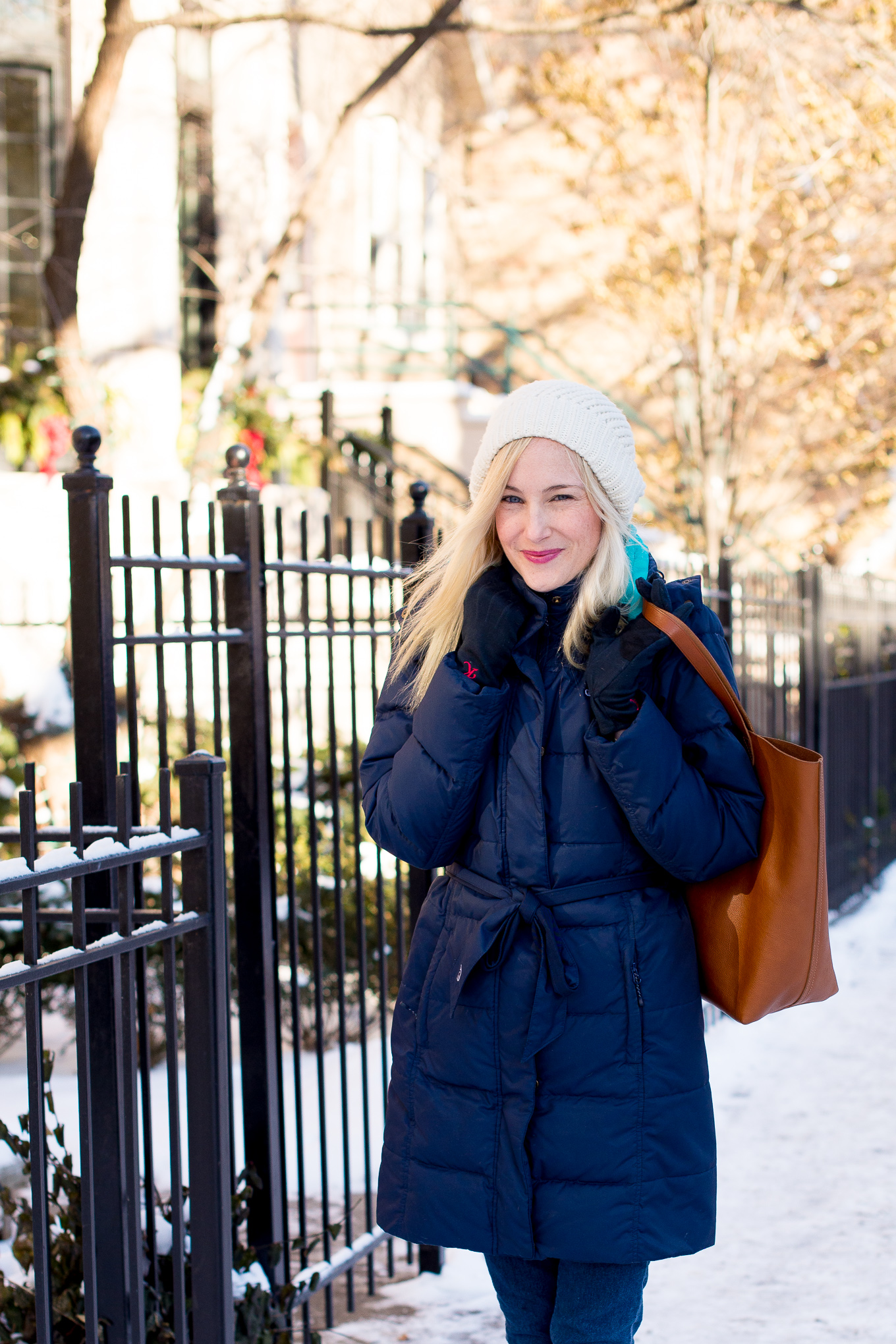 2. A really, really warm puffer coat. Wool coats are beautiful, and I wish I could get by with one. But I can't. I wear mine once in a while, when we have a "warm" day… but for the most part, wool coats are for October, the beginning of November, the end of March, and April. For Chicagoans, at least. And that's okay.
Puffer coats all the way for the chillier months. Are they gorgeous? No. But listen: they're necessary. Warmth > Style, in my opinion. No need to put yourself through unnecessary torture! Besides, no one's looking at you on the street. Everyone's hunched over, trying to keep warm.
My favorite is my Vineyard Vines Harvest Puffer Jacket, which is ridiculously warm. (Just as warm as my North Face, but cuter.) It's sadly sold out, but below are some of my favorite navy puffer coats out there right now. My best advice is to go with a darker color so you aren't constantly washing it, make sure it's filled with actual down as long as you aren't allergic, and go long for extra warmth. (Though how cute is that last one?!)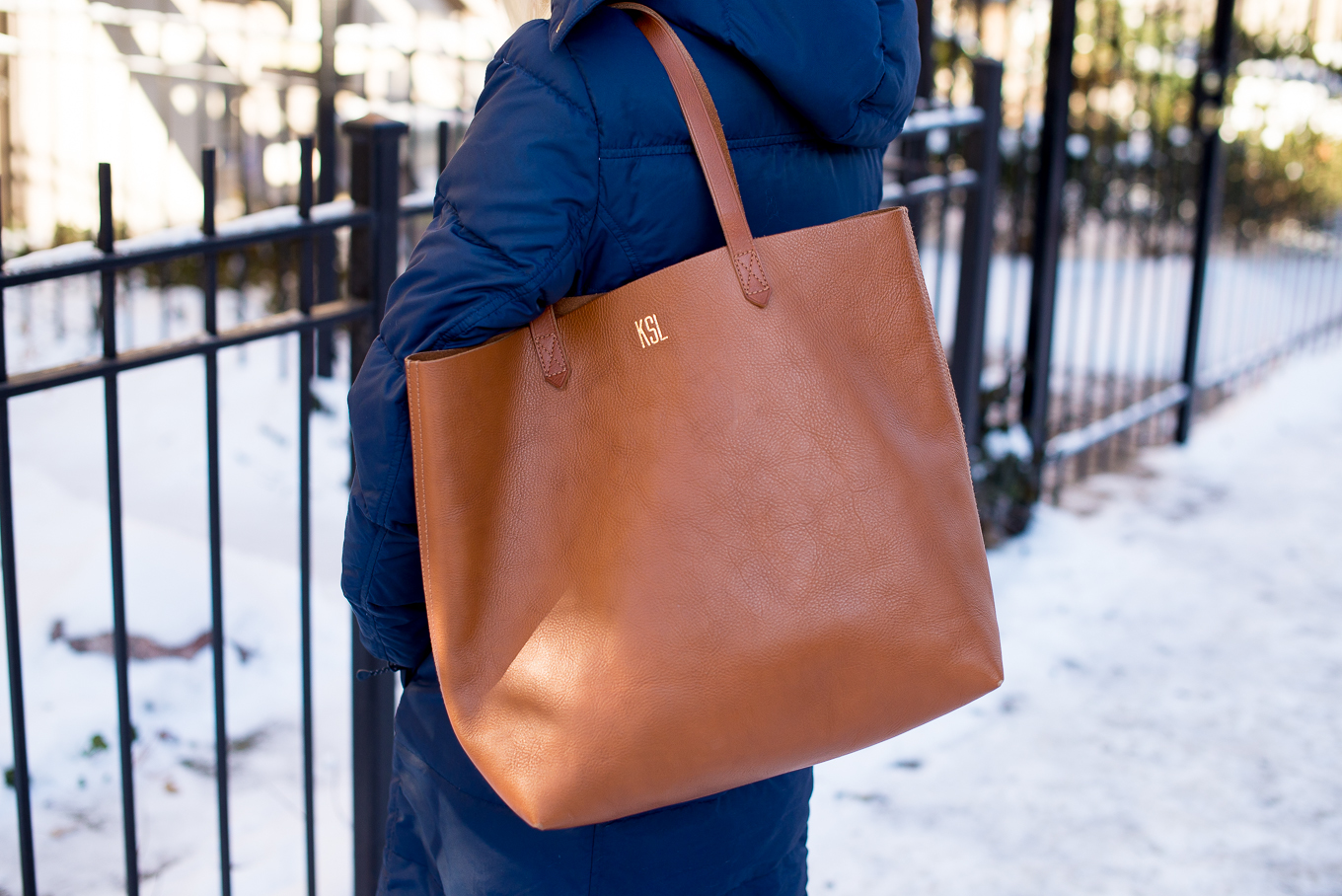 3. A tote. That way you're hands-free and can keep 'em in your pockets! If you haven't noticed already, I'm obsessed with my Madewell Transport Tote. It never goes on sale at Madewell, but it's also available on ShopBop. So wait! You can't monogram it through ShopBop, but you can bring it into Madewell during one of the company's free monogramming events and get it done that way. The events happen every once in a while, so sign up for e-mails and keep your eyes peeled. And below are some other adorable totes. :)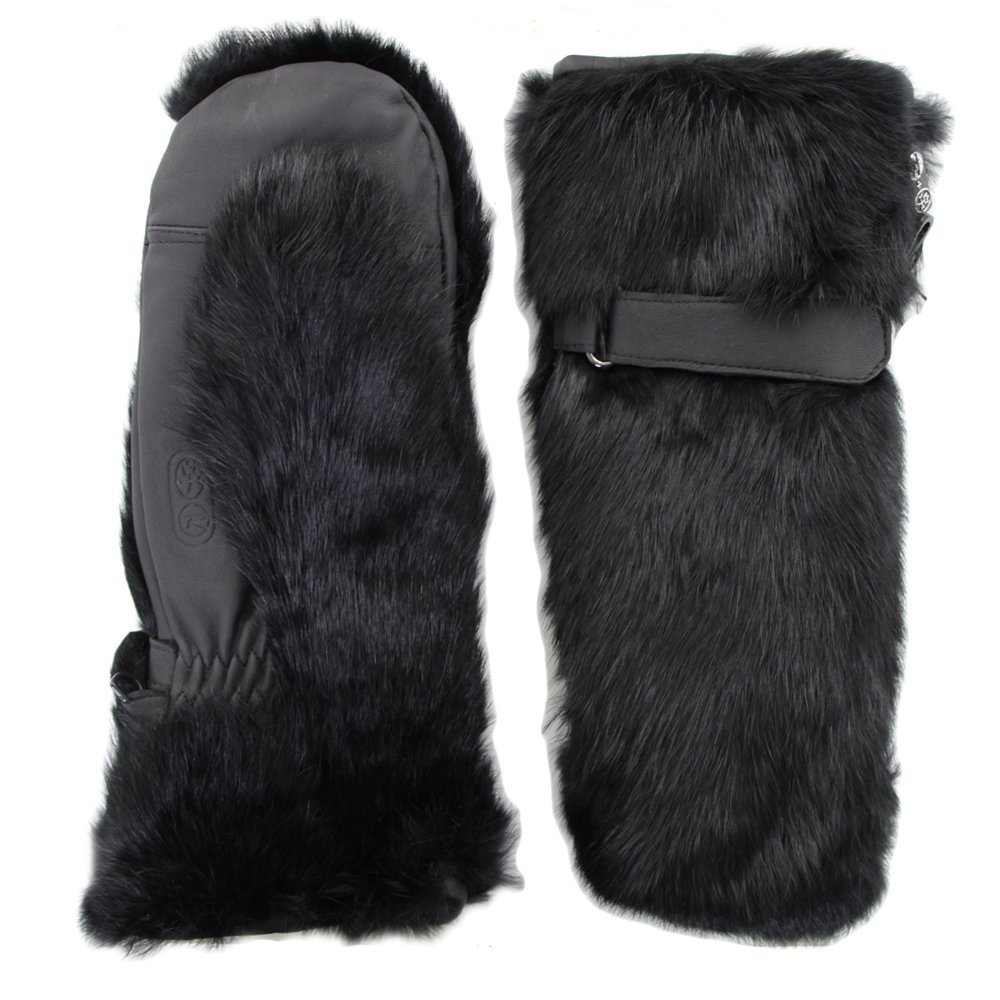 4. Mittens. I'm wearing a pair of gloves here, but I highly recommend ski mittens. Haha, I know. Not the prettiest look, but they do the job. Throw some hand warmers in there and you'll be really happy. These are actually pretty cute!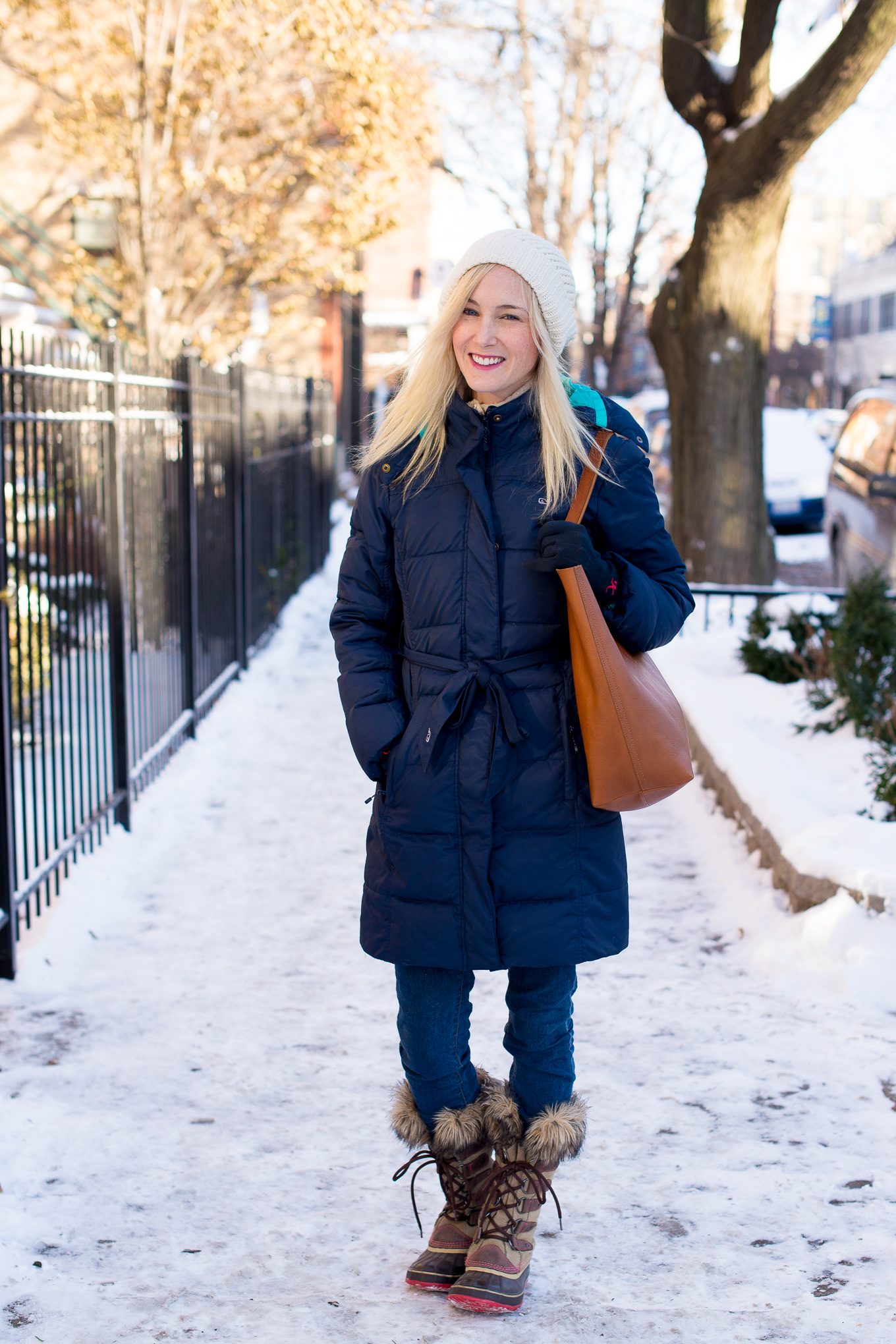 5. A fur-lined "trapper" hat. Again, I'm not wearing this in these photos–still trying to acquire all the crap I need in order to get by. ;) But Mitch has one, and it's seriously the best. I "borrow" it all the time. How cute is this C.Wonder one in buffalo check?! It's 75 percent off, too. (Whimper. Goodbye, C.Wonder!)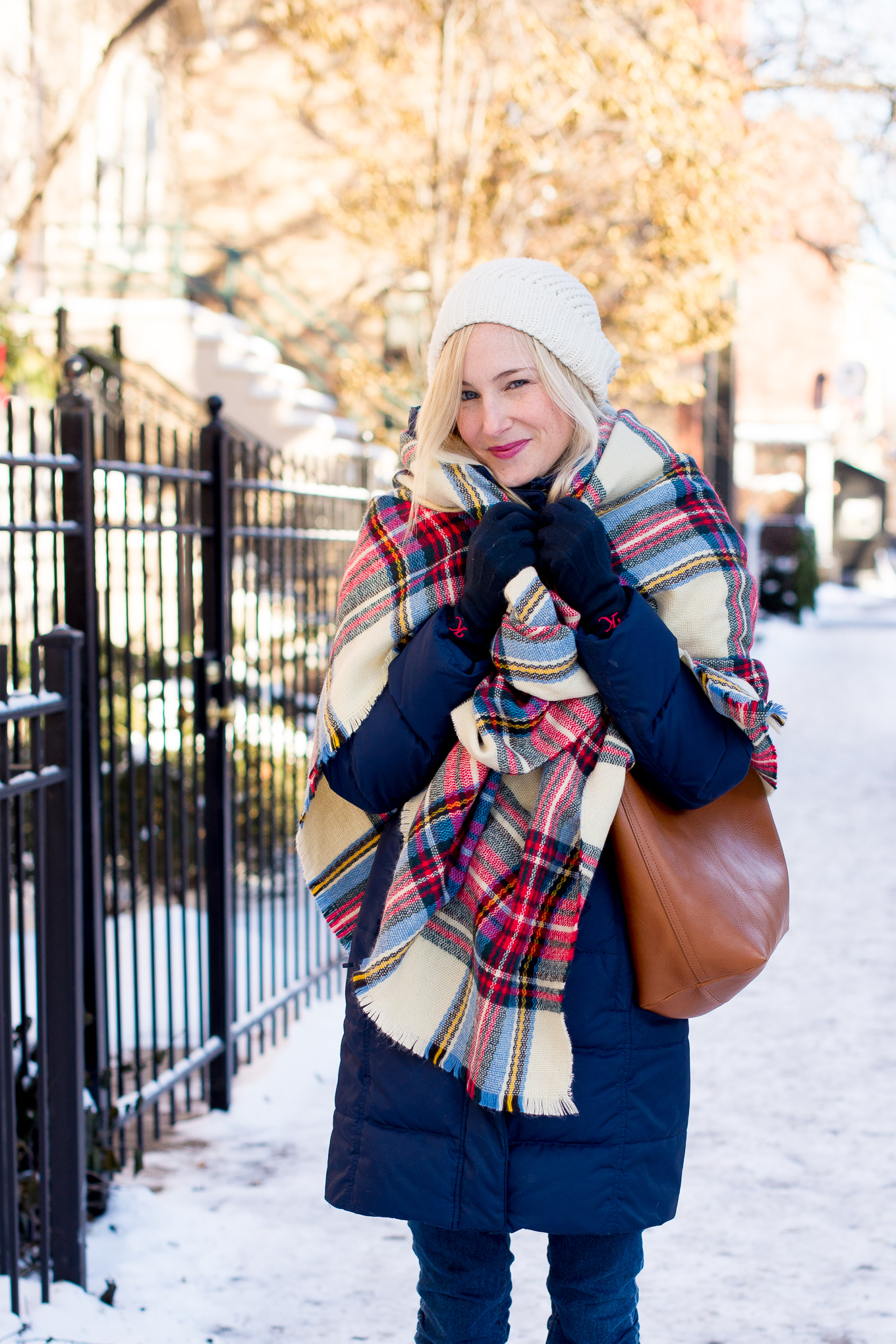 6. A huge scarf. Mine, which is from Asos, is unfortunately sold out… but this blanket scarf, which is super similar, is still in stock (and on sale). I also love this one from Lands' End!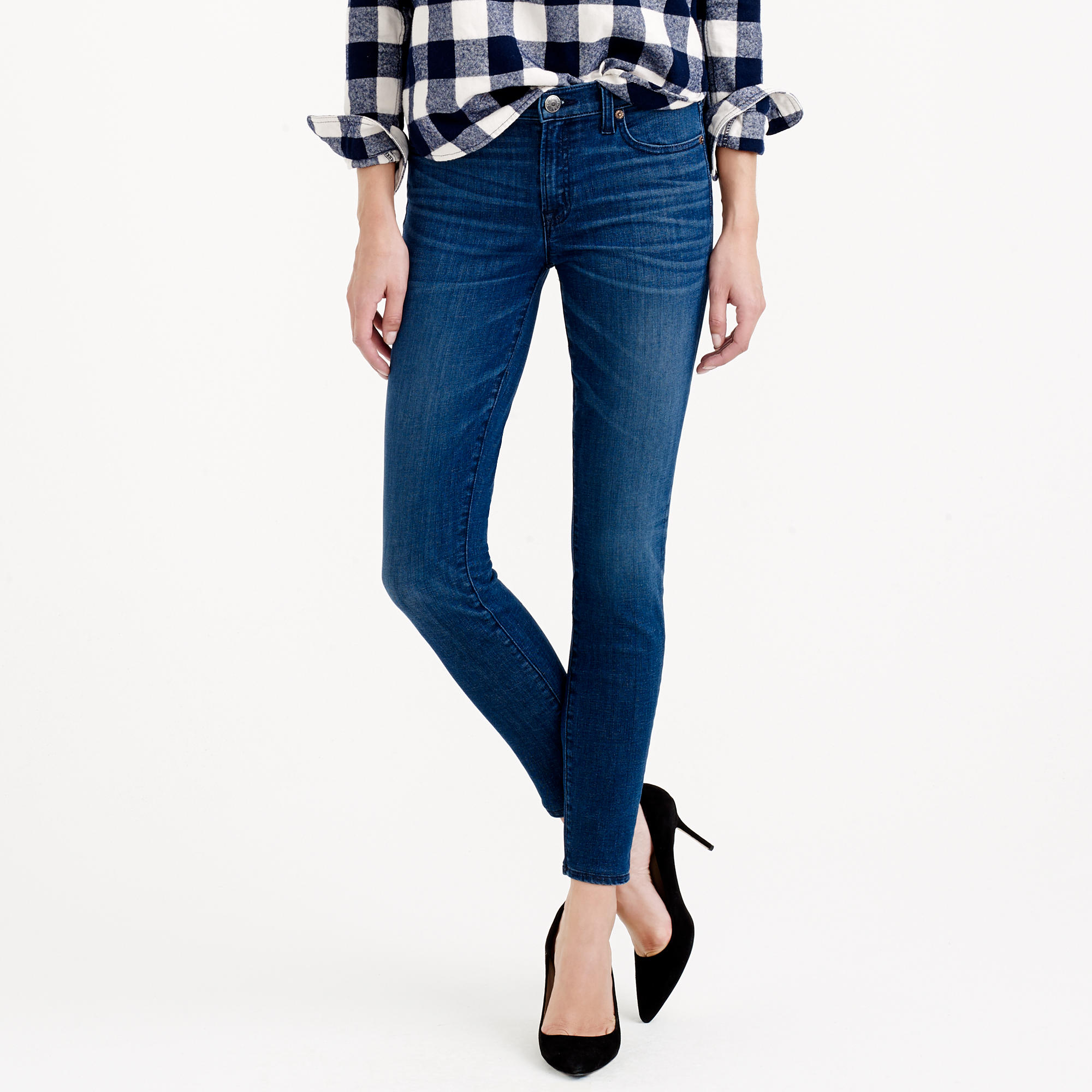 7. Jeans with stretch in them. Or cords! Of course, I'd done zero research about this, but I swear that jeans and cords with poly in them don't get as cold when outside. I love J.Crew's Toothpick Jean and Toothpick Cord, and I also love BlankNYC's Spray-On Jean. (Sizing advice: I go down one size in J.Crew jeans and cords.)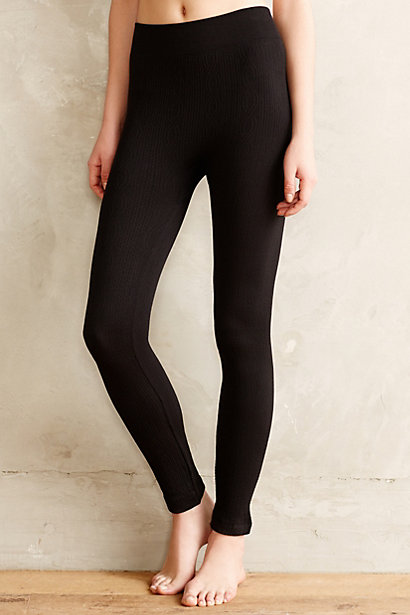 8. Fleece-lined leggings or long underwear. This Anthropologie pair is my favorite. I'm sure you guys are sick of hearing me say this, but goodness. They're fabulous. Wear them under your looser-fitting jeans, and you'll be one happy girl.
Just make sure not to sleep in them, because they attract lint like crazy. Also note the price. They won't last forever. So buy a few pairs! So worth it. Uniqlo's "Heattech" line is pretty fab, too. (And affordable!)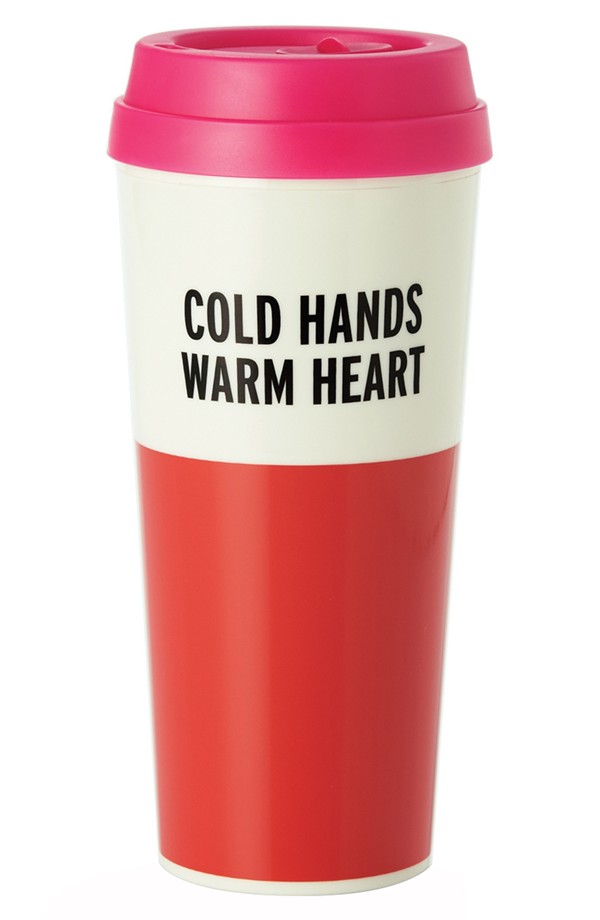 9. Warm drinks. Whether it's coffee, hot chocolate or tea, drink up. Even simply holding a warm drink is helpful! I adore the Kate Spade travel mug shown above!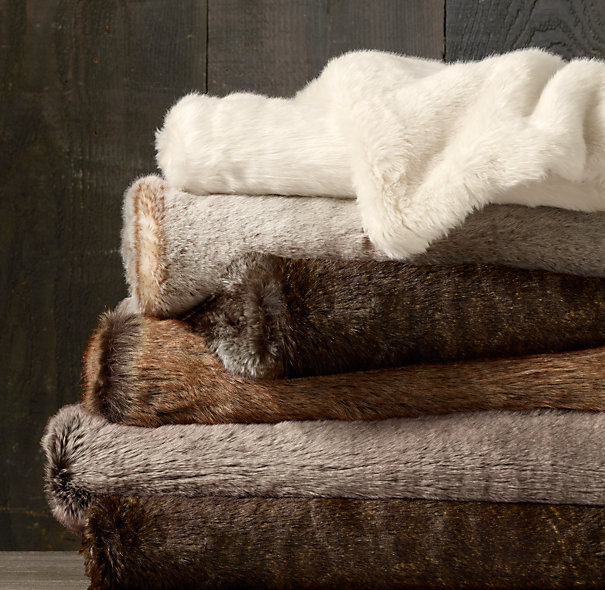 10. Blankets and space heaters. My wonderful Auntie-M recently gave us a faux fur throw from Restoration Hardware, and it's been a nighttime game-changer. I fall asleep nearly instantly when I'm under it (which I'm sure is a little annoying for Mitch on movie nights), but… sigh. It's the warmest blanket I've ever owned, and makes such a difference in our chilly apartment!
And the space heater that my amazing brother-in-law, Charlie, gave us for Christmas is… well, one of the best things to have ever happened to me. Dare I say it's the best Christmas gift I've ever received?! I can function again. I set it up in my office, and basically turn it into a sauna. Before, the temperature was unbearable. Now, though, it's lovely! Almost tropical, haha. Noods and I are so happy.
(Of course, it goes without saying that space heaters can be extremely dangerous, and it's important to use them safely!)
If you have additional tips for staying warm, please share! I'm open to all ideas! :)