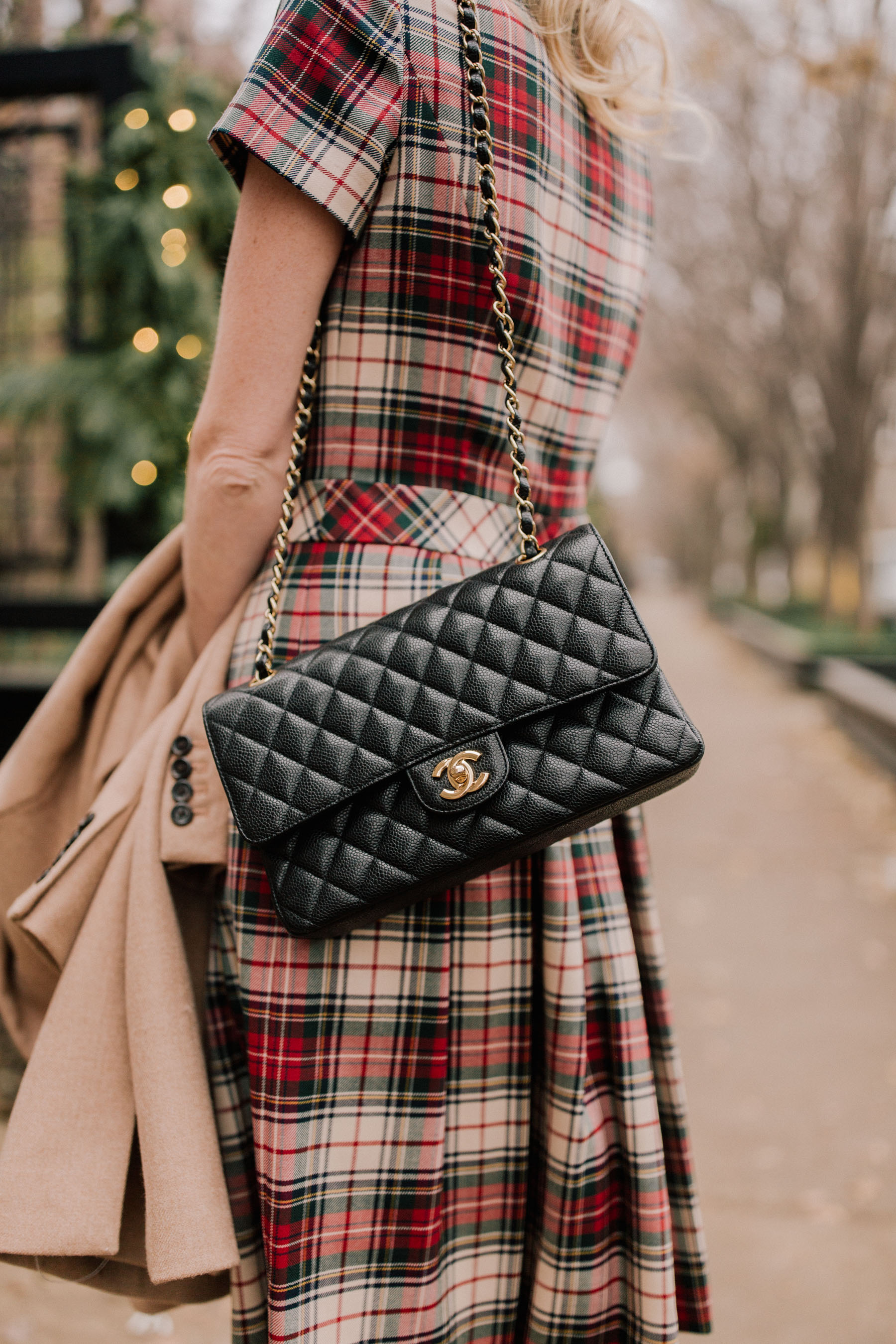 Stewart Plaid Dress / Kate Spade Milan Too Pumps (Also available here. And this pair, this pair, and this pair are super close. I also adore this pair of bow pumps and this pair of bow-tie pumps.) /  Chanel Bag c/o StockX: Learn how to score a Chanel bag for a huge discount here! (Love this lookalike, which is on sale! Similar bags here, here and here.) / J.Crew Topcoat / Monica Vinader Bracelet / Lisi Lerch Earrings
This is, by far, the best holiday dress I've ever owned.
Yes, my friends say that it vaguely resembles a Catholic school uniform. (And I, admittedly, inserted "vaguely" in that sentence. They did say it looked exactly like a Catholic school uniform. 😂) But whatever! I'm goin' back to my roots. And it makes me happy. So jingle all the way!
Can you tell I'm writing this at night in a rush? ;)
Either way, Stewart plaid is my favorite plaid of all the plaids. And fine: I realize how absolutely insane that statement makes me sound. Still, there's no denying that it's the best. 🙈 If this look isn't your jam, however, here are a few other Stewart plaid numbers for ya:
Side note: I kind of always thought that "Stewart" only included the cream plaid, but that's apparently not the case! Learning so much this year with #30daysofplaid…

Other faves above!
Shop the post:
Stewart Plaid Dress / Kate Spade Milan Too Pumps (Also available here. And this pair, this pair, and this pair are super close. I also adore this pair of bow pumps and this pair of bow-tie pumps.) /  Chanel Bag c/o StockX: Learn how to score a Chanel bag for a huge discount here! (Love this lookalike, which is on sale! Similar bags here, here and here.) / J.Crew Topcoat / Monica Vinader Bracelet / Lisi Lerch Earrings

SaveSave