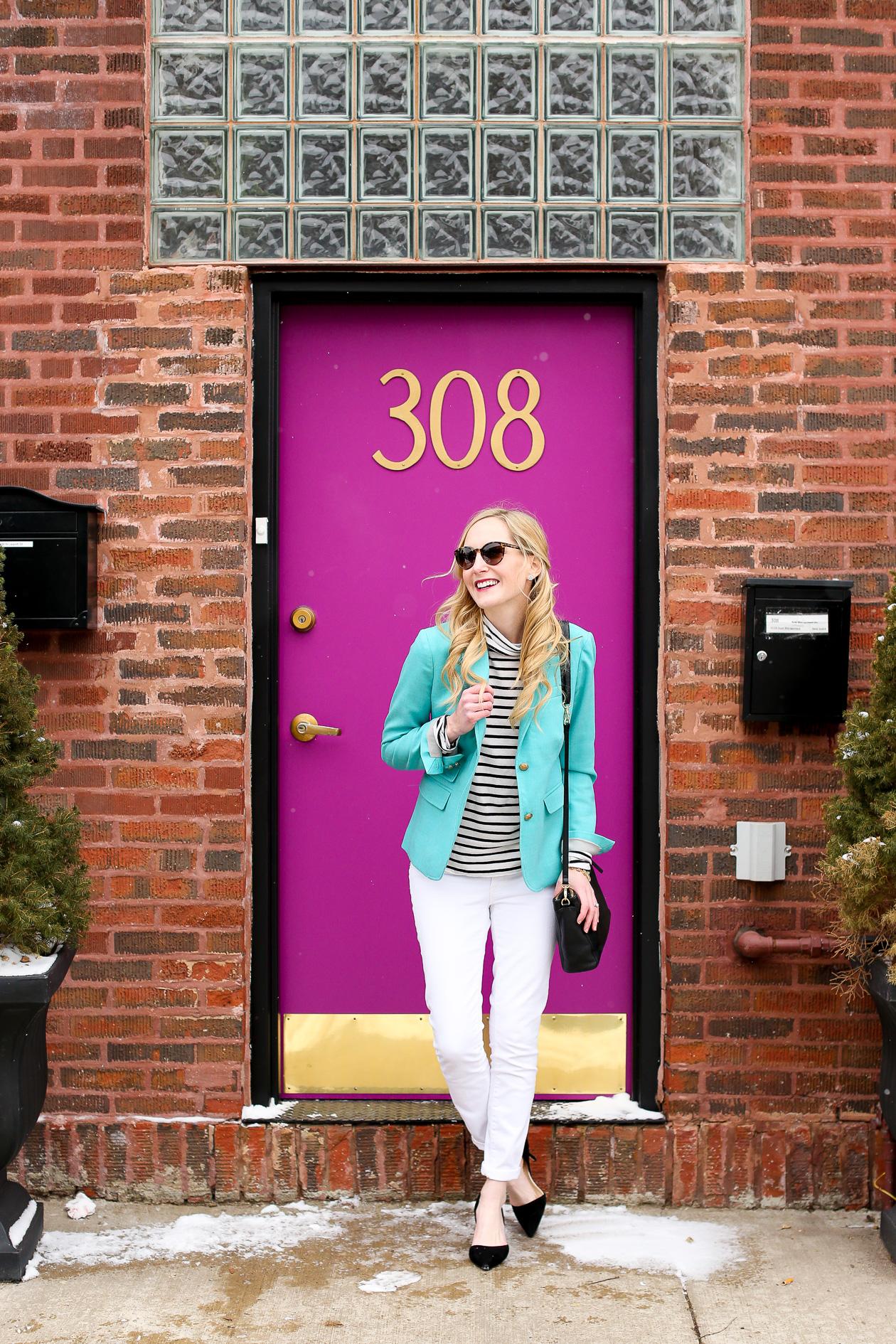 Sole Society Pumps c/o (Also available at Nordstrom) / J.Crew Blazer (Old, similar here. And I love the Regent Blazer!), Striped Turtleneck and Toothpick Jeans (Also love this version!) / Lo & Sons Bag (Borrowed from Jess) / Kendra Scott Bracelet c/o / Amelia Rose Bracelet c/o / Kate Spade Sunnies (Old, similar here and here)
I've definitely worn my fair share of pink on the blog over the last few weeks in honor of Valentine's Day, as the time leading up to the holiday is a fun excuse to do so. But I'm taking a little break from my Valentine's Day blog silliness to actually reflect on my experience with love… and not just mindlessly wear another pink sweater. (Though don't worry: yet another pink sweater coming to Kelly in the City tomorrow, haha. Rose Quartz, after all, is the Pantone Color of the Year. Or at least one of 'em.)
Before I start, though, I should mention that this outfit was a huge #FAIL this past Wednesday. I was getting ready for a little work session with Lauren, Jess and Maya at the South Loop Loft (a gorgeous furniture and home decor showroom/shop in Chicago's West Town neighborhood), and thought it would be fun to dress somewhat professionally. You know: mix up my usual weekday oversized-sweater-and-jeans look for once. Of course, I didn't check the weather until Maya was about 15 seconds from my house, and didn't have enough time to change into something more appropriate. While I thankfully grabbed a wool sweater on the way out, I spent the majority of the day shivering in my pumps. Take your own advice, Kelly!
Anyway, back to the topic at hand:

Love

.
I started Kelly in the City in 2013, about six months before getting married. (Three-year blogging anniversary coming up!) I won't lie: it was an absolutely magical year, and I don't think I'd ever been that happy. Sure, I was crazy busy with wedding planning, a stressful teaching career and an extremely successful blog (jokes — these were my first posts), but I was wildly in love and just extraordinarily happy.
What's weird about all of this, though, is that most of you guys didn't know me before this era. Back when everything was complicated and confusing, and back when life was a lot different. So, in honor of Valentine's Day, why don't we delve into that oh-so-interesting time?
When I really think about it, my trouble with love probably started in middle school. ;) I was attending a tiny, all-girls' school in a sleepy part of Princeton, New Jersey, and I adored it. While it was just a day school, it felt like one giant, really fun sleepover. I loved the small, intimate class sizes; the adorable uniforms; the exciting activities; and the bonds I formed with the other girls. I advanced academically, developed new interests and hobbies, and gained a ton of confidence.
With the exception of confidence in the boy department. Because I rarely came in contact with them, I started to fear 'em. I know: it sounds pretty funny, but my 11- and 12-year-old self found great difficulty switching from an extremely comfortable environment to one that was new and different. Boys were bizarre to me. What did they even do besides play video games and watch professional sports? And why did they smell weird?
My school actually put on co-ed dances every few months to make sure we were becoming socially well-rounded, but I spent the majority of them pretending I needed to use the bathroom for the umpteenth time or chatting with friends in a circle, feigning excitement about the strangers from another school while "One" by Brian McKnight played in the background.
All the stress.
And then I got really into Saves the Day and only wore t-shirts with meaningless words on them because emo music and culture understood me.
(Holy goodness.)
Things changed a few years later in high school, and I actually had quite a few male friends, many of whom remain my best, best friends to this day. (Hiiiii, guys. Hope you're not reading this. Who am I kidding? There's like a two percent chance, haha.) But Kelly and romance? Pretty laughable. For example, right after my first kiss, the boy paused and then asked, "Have you ever done this before?" No, you jerk. And thanks for making me feel even worse.
There are so many other cringe-worthy experiences that are still excruciatingly vivid, too: pining for guys who clearly viewed me as as friend only; weird on-again, off-again "relationships" I wasn't sure I even wanted to be in; and how I acted and what I said in particular situations. Needless to say, I'm glad for "selective forgetting," and the fact that the mind tends to alter troubling memories from the past in an effort to protect itself. Because I'm sure there's a lot more I'm suppressing, haha.
In college, I actually had boyfriends, but I'll admit that my awkwardness, inexperience and lack of confidence didn't exactly provide for solid foundations. While I may have acted as the heartbreaker once or twice, I also allowed my vulnerable, "love"sick self to be mistreated by a guy time and time again. You know that friend who's in the wrong relationship but she doesn't see it? And no matter how many times you tell her that she deserves better, she doesn't listen? Even when she's sobbing on the bathroom floor clutching a pint of Ben & Jerry's? I was that friend. And it went on for way too long.
After college, I decided to move to New York and start over. (Which is a hilarious statement, considering I was 21.) I distinctly remember sitting on the roof of my first apartment, looking out over the city skyline, so excited about the new life I was creating for myself. Still, I couldn't shake that old relationship. Maybe because it was my first significant one, or maybe because I was afraid of losing the "comfort" that comes along with having someone, no matter how wrong that person might be for you. Who knows, though.
At one point, it was made very clear to me that a proposal was coming in the somewhat near future, and I freaked. After many teary-eyed conversations with Dad at Patsy's Pizzeria on 60th and 3rd, lots of reflection during subway rides and soul-searching during long walks in Central Park, hours of analyzing song lyrics (some of which were emo, I'll admit), countless phone calls with girlfriends, and a whole lot of crying, I decided that I didn't yet have the kind of love I wanted. And then it was over, for good.
Right after I did it, I remember getting the feeling that real love probably wasn't going to happen for me. It sounds like a childish overreaction to a relatively common life experience, but I'd never been someone to fall in love easily, I'd never been particularly "lucky," and I had an inkling that I'd missed the years when you're most likely to find that someone. Would I date? Probably. But fall in love? It was decidedly not in the cards.
Yet I didn't feel sad. I loved my family, my friends. Also, I loved writing and music and photography. And I loved New York. Like Dad had told me in Patsy's, "Who you spend your life with is the biggest decision you'll ever make." Living the single life in the Big Apple for the rest of my life was far better than living my life with the wrong person, right?
The crazy part–and this is 100 percent true–is that I randomly mentioned Mitch in a conversation with an old friend in the days immediately after the breakup. "I get that silly butterfly feeling when I walk past this other teacher in the hallway," I told her. "I mean, I don't even know him. But if I ever decide to date someone again, it'll be someone who gives me that feeling."
TRUTH.
But that's a story for another time. ;)
The thing about love is that all too often, we oversimplify it. We look at other people and want what they have, and we create stories and imagine things we don't know. We compare our beginnings to others' middles and ends, and we forget the "before" parts.
The thing about love is that all too often, we oversimplify it. We look at other people and want what they have, and we create stories and imagine things we don't know. We compare our beginnings to others' middles and ends, and we forget the "before" parts. Isn't everyone's love life a complete disaster before the right person is found? I know there are some relationships that end completely amicably, but aren't those few and far between?
Back when everything was complicated and confusing, I found myself looking at my parents or friends, for example, and creating oversimplified stories: one day they were teenagers, then they grew up a little, then they met, then they fell in love, then they got married, and then everything was perfect! But that couldn't be further from the truth. All of those people stood in my shoes at one point in their lives. Nearly everyone has experienced "complicated" and "confusing," and many continue to. Real love isn't a romantic comedy, with a predictable plot structure. It continues on, and it changes and requires care.
Very honestly, I'm still in shock that Mitch is my husband. He's everything I never thought I'd have, and he's perfect for me. Not a day goes by that I don't think about my rocky past and how lucky I now am, and I'm forever grateful that I somehow garnered up the courage to change everything and take a chance. Mitch is kind, compassionate, selfless and understanding; he makes me laugh and is adventurous and fun-loving; he has strong values and makes me a better person; and he accepts my faults and loves me anyway. He's my best friend, and I truly fall more in love with him every day. But to be clear, my love life was a complete and utter disaster up until him. ;)
And we're totally in the middle of our love story.
I should also mention that Mitch and I don't really "do it up" for Valentine's Day. We go out to dinner and reflect on our lives together, but that's about it! From a young age, my mom always made Valentine's Day about family and friends–doing adorable things for us like hiding presents in our rooms, making us red-and-pink breakfasts, laying out themed outfits for us, and sending us to school with special lunches and notes about how much she loved us. To this day, I still view the holiday as just another opportunity to eat candy, wear pink and tell family and friends that you love them. So on February 14th, I'll definitely tell Mitch that I love him, much like I do every day. But I'll also tell a whole lot of other people that. :)
Thanks for always making sure my head's screwed on straight, Mom. I love you!
Shop the post:

Sole Society Pumps c/o (Also available at Nordstrom) / J.Crew Blazer (Old, similar here. And I love the Regent Blazer!), Striped Turtleneck and Toothpick Jeans (Also love this version!) / Lo & Sons Bag (Borrowed from Jess) / Kendra Scott Bracelet c/o / Amelia Rose Bracelet c/o / Kate Spade Sunnies (Old, similar here and here)
SaveSave