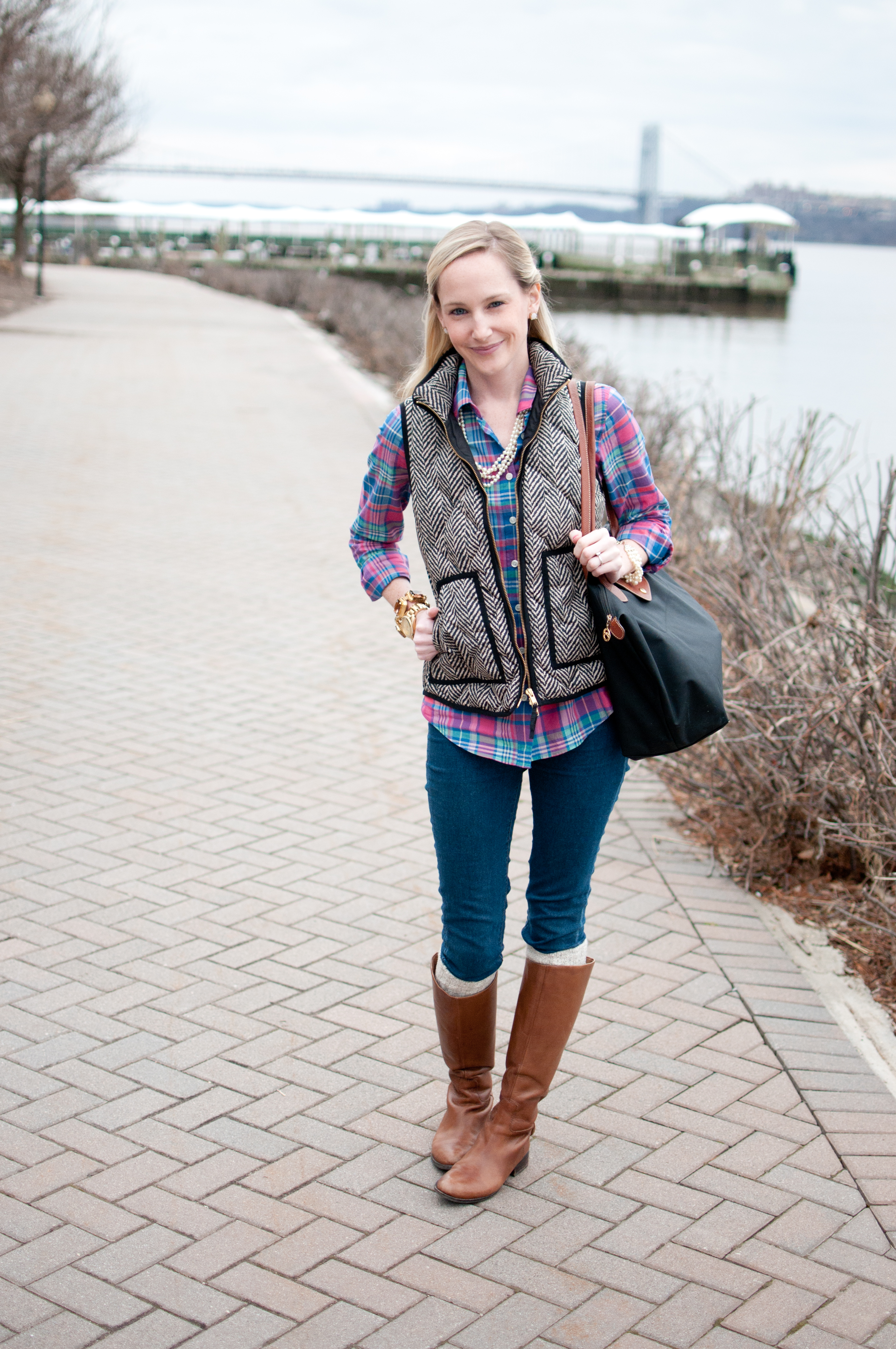 Vest: J.Crew (try eBay) / Shirt: J.Crew Factory similar here for spring / Jeans: Anthropologie similar here (but if you find a pair like these, TELL ME! :)) / Boots: Franco Sarto similar here / Bag: Longchamp / Necklace: J.Crew / Bracelets: J.Crew, C.Wonder, J.Crew Factory / Earrings: Kate Spade similar here / Watch: MICHAEL Michael Kors / Ring: Wonderful fiance ;)
I can't tell you how happy I am that it's Friday! This week kicked my butt. I think next week's resolution will be to get up earlier so I'm not so frantic in the morning. I just can't help myself! Get up or press "snooze" one more time? Snooze, thanks. Need to kick that habit!
It's MARCH! Yessss. I can't believe there are only four months left of school. June seems far away, but I know it'll be here in the blink of an eye. And our wedding is in only five months! I can't believe it. I think I need to post some wedding projects soon. I have so much to share! ;) Stay tuned!
Today was just one of those days in which I needed to wear something super comfortable. In hindsight, maybe I would have yawned less if I'd worn four-inch heels. (It was seriously out of control. Embarrassingly so.) Of course, now that I'm home, I'm ready to GO. Always seems to work like that, doesn't it? So I think it's time to change into something a little more "Friday-Nightish." ;)
But before I go do that, just in case you're wondering what I'm sporting today: THE BEST J BRAND JEANS EVER. Oh. My. God. I can't tell you how wonderful they are. I'm in love. They're so soft that they feel like you're wearing pajamas. The only problem is that I have no idea where I'd ever get another pair if I accidentally destroy these. (Biggest klutz ever; constantly ruining my clothing, ha.) I purchased them for something like $30 during a huge Anthropologie sale, and after several Google searches, I just can't seem to locate a pair that looks similar. Oh, well. I'm sure in the next five minutes I'll rip them or something, haha. ;) Anyway, this is the only pair of J Brand jeans I've ever owned, and the only pair I've ever tried on… but I can't recommend the brand enough! (But obviously wait for a major sale. Their prices are sinful. I recommend doubling up coupon codes on top of a sale at my favorite site ever, Piperlime.)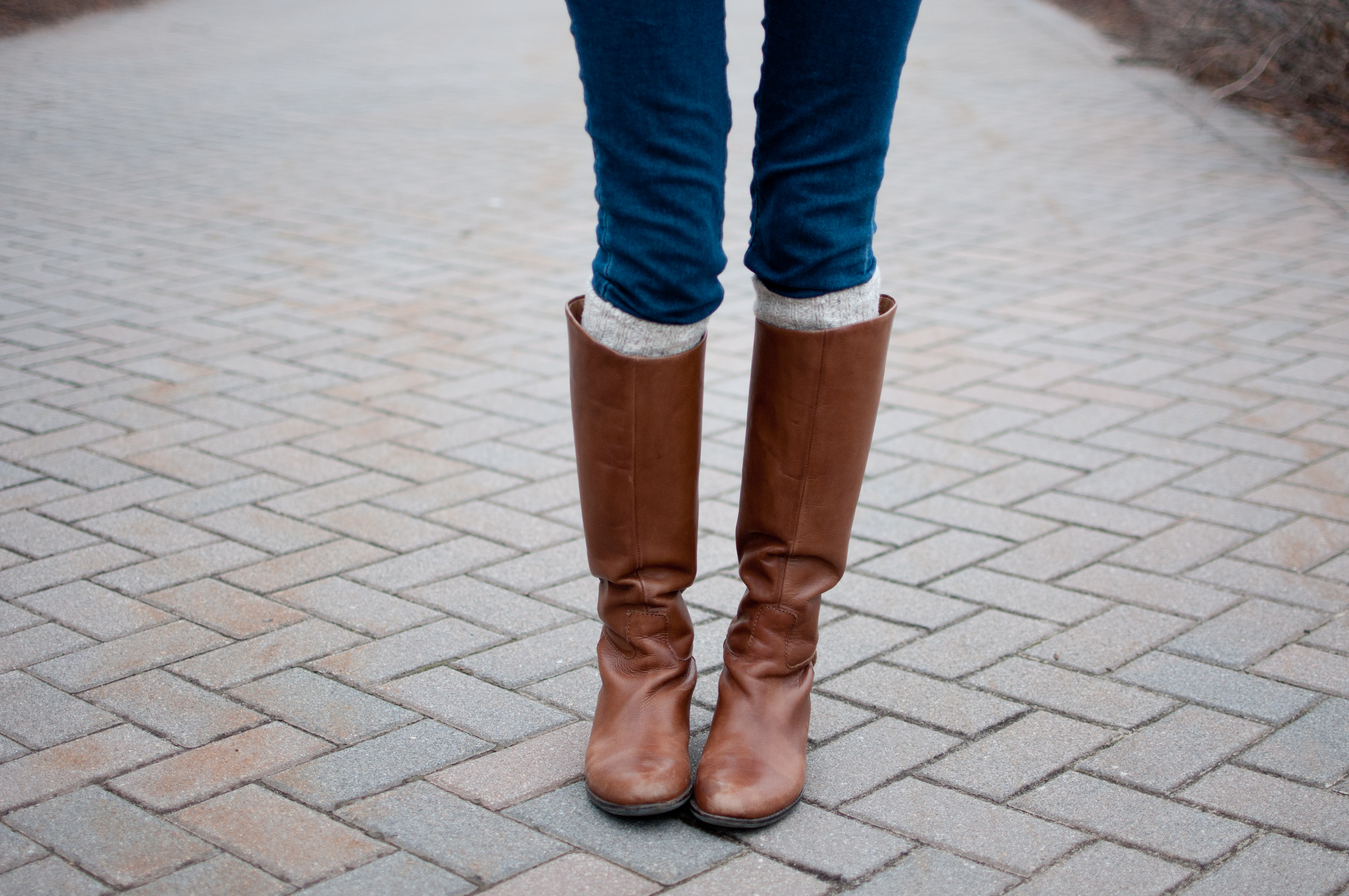 Similarly, I would be devastated if I lost my brown Franco Sarto boots. (Why am I being so negative? Perk up, Kelly. It's Friday! hehe) They're so comfortable. My feet hurt in pretty much any pair of shoes I wear with the exception of flip flops, but I can walk five or six miles in NYC in these boots without any type of pain. The funny part is that my Mom picked them out and gave them to me as a Christmas gift a few years back. Maybe I just make bad shoe choices on my own. ;)
Underneath my boots, it looks like I'm wearing boot socks, but they're actually just the top portion of a pair of rugged camping socks. I cut them in half to get the look without majorly overheating. I can't take credit for this idea, though. Definitely came from Pinterest!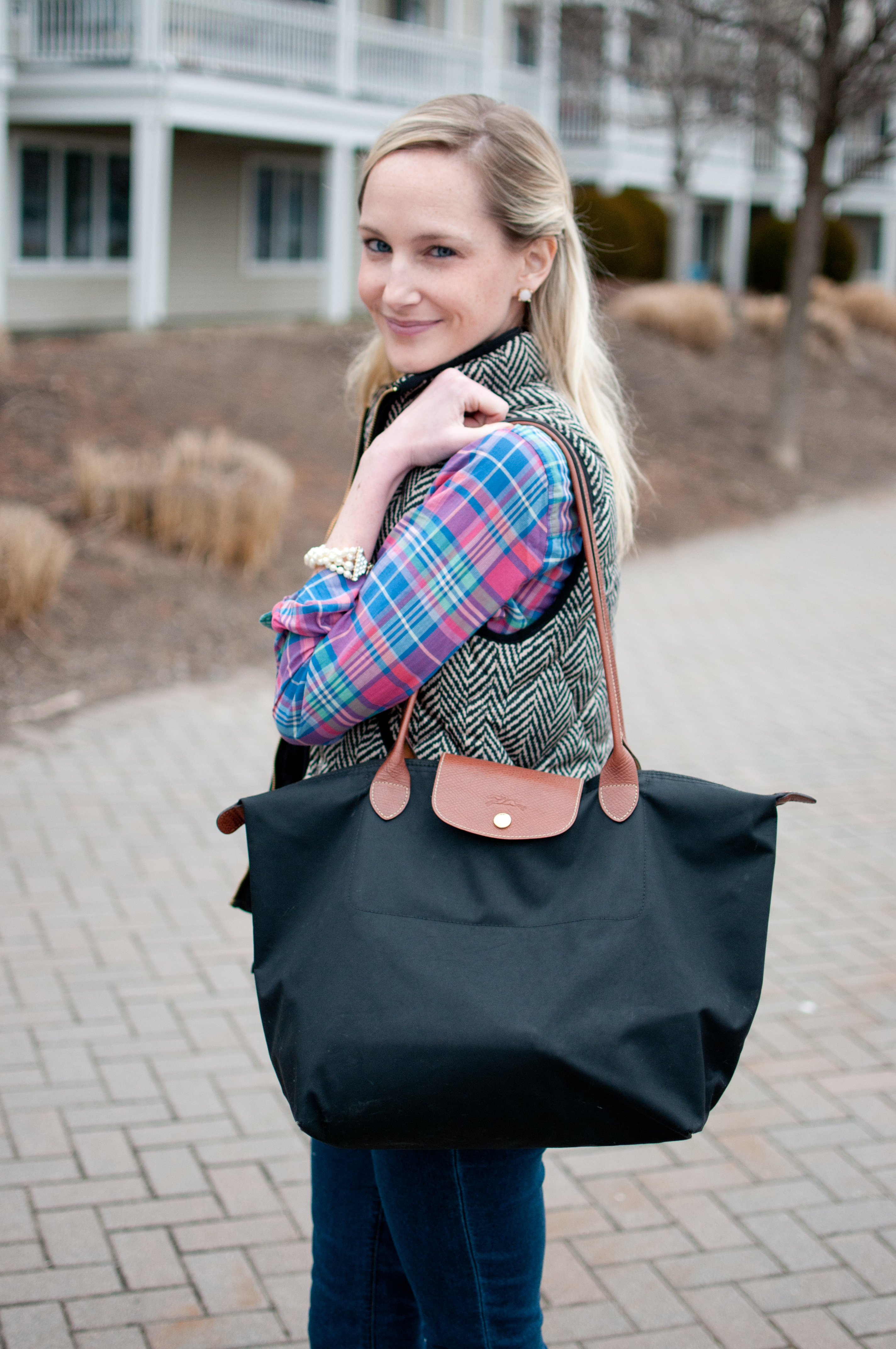 The bag is another one of my staples. As a teacher, I lug around a lot of stuff. The Longchamp Le Pliage tote is the only bag that's ever allowed me to carry everything I need to get through my longest days. The best part about Longchamp is that if your bag becomes a bit tattered, the store will repair it for you free of charge. (Note: you'd need to go into an actual Longchamp store, not just a department store.)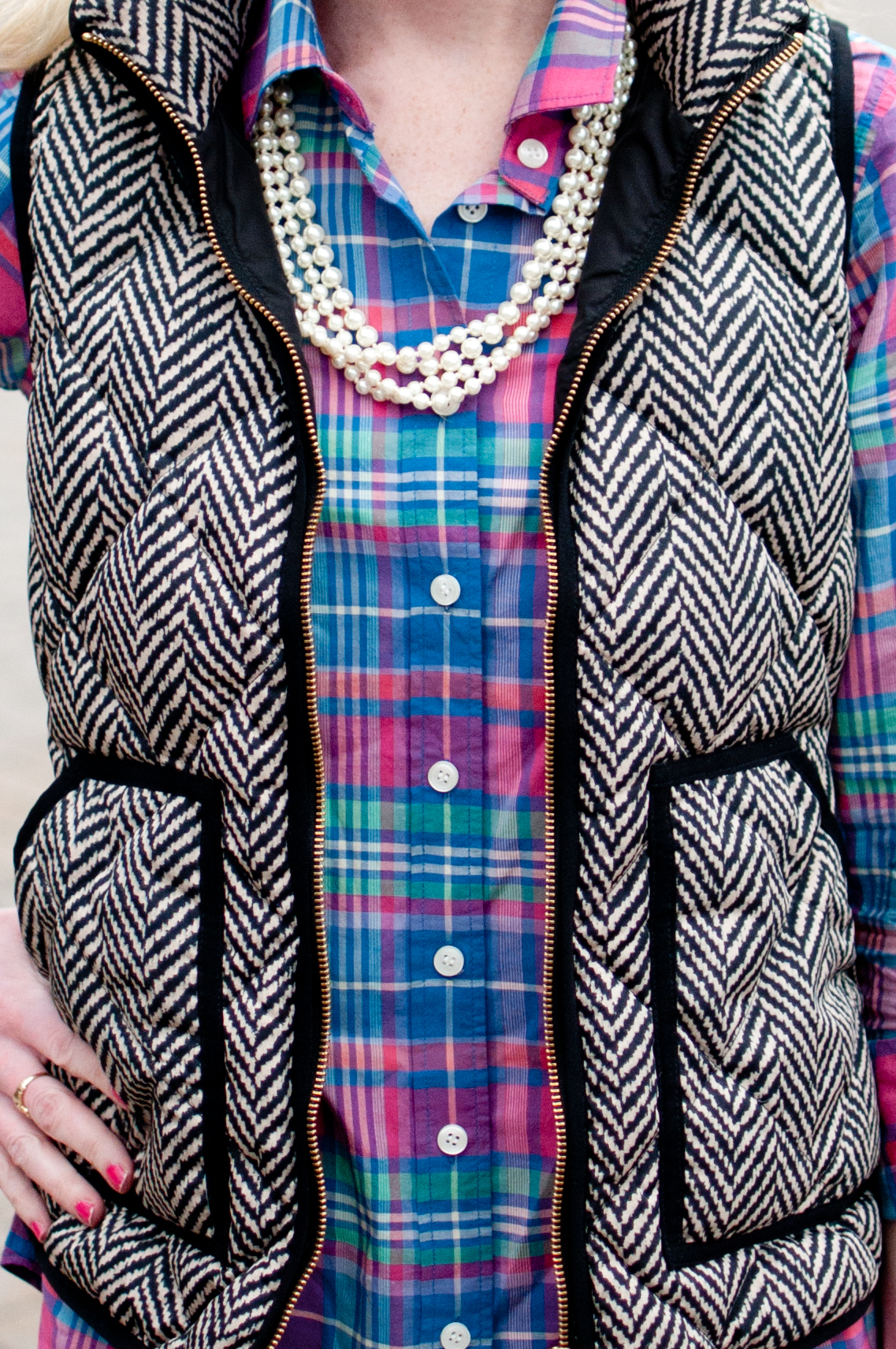 The rest is just a lot of J.Crew and J.Crew Factory. The vest is J.Crew's famous Excursion Vest, which has been so popular (seriously, you see it everywhere, ha) that it's sadly sold out. However, eBay sellers have been putting the vests–new with tags–up over the last month or two, so head on over and check it out. I love eBay, if you haven't already noticed. ;)
And of course, pearls. My feeling is that pearls, even if they're fake (cough, cough), gives any outfit a bit of class!
Happy Friday, all!