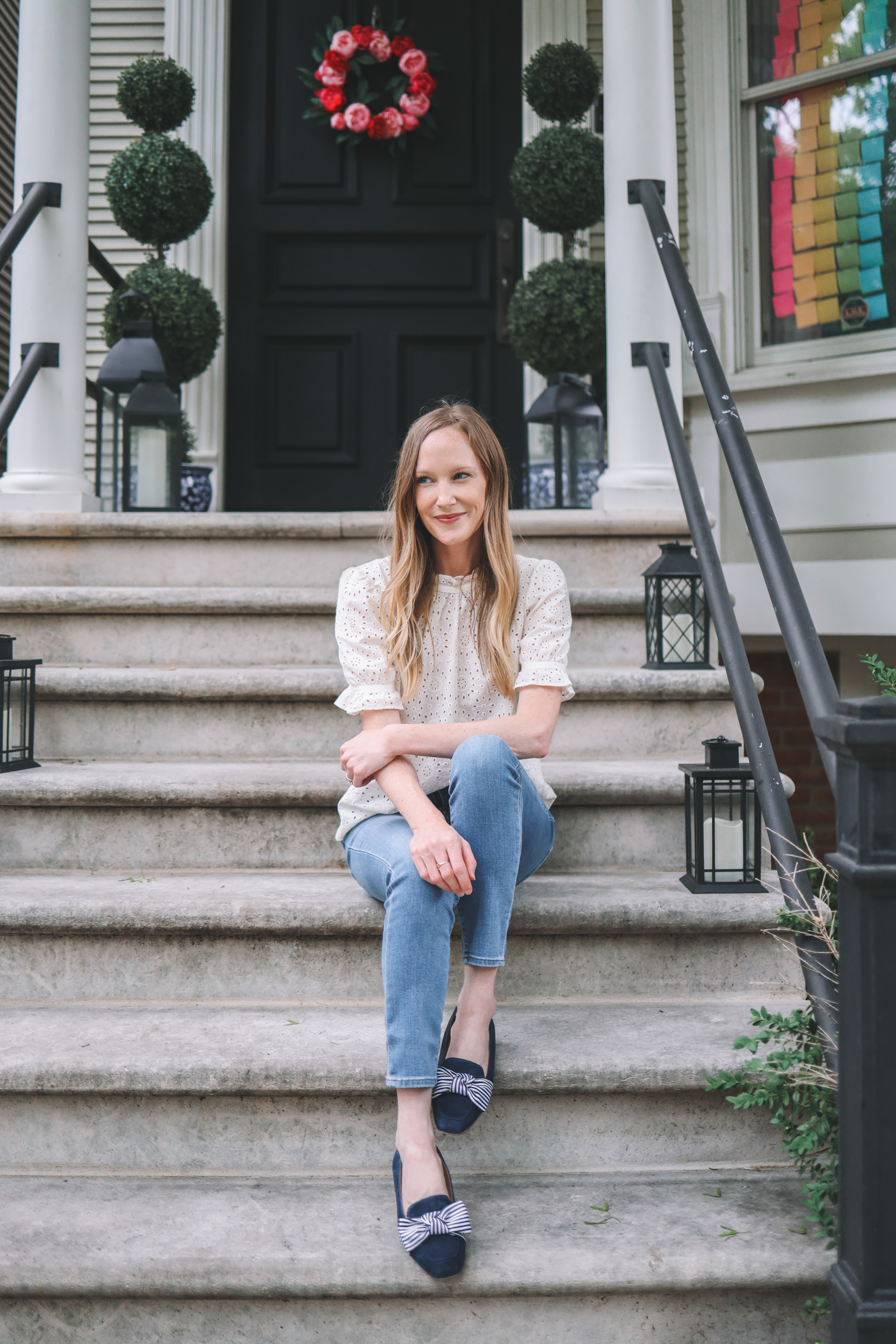 Madewell Roadtripper Jeans / Striped Bow Loafers / Eyelet Top (Nearly identical here, here, here, here and here.) / Wreath / Lanterns / Topiaries (Darby Home carries a TON of topiaries. They're amazing!)
Does this count as an outfit post?
Best I could do, haha.
But I'm obsessed with the three (😂) products I'm wearing here… so let me tell you why!

Striped Bow Loafers: SO CUTE. They're ridiculously comfy (no break-in period) and the striped bow is perfect for cooler summer days and nights. I'll say that they run slightly large, but not enough that I needed to go down a half size. They sell out really quickly, but Talbots also restocks when returns come in… so if you can't find them in your size right now, just check back!
Ruffled Eyelet Top: I stalked this top to find it in my size. Just like the bow loafers, though, Madewell restocks often. That's how I found mine! I tried both a small and extra small, and both looked good. It's supposed to be a little billowy, so going up or down one size shouldn't be an issue! I also found some nearly identical options here, here, here, here and here.
Madewell Roadtripper Jeans: Over the last year, I've tried SO many pairs of high-waisted jeans, including those from designer brands. But Madewell's Roadtripper line, time and time again, beats out the designer brands–by a long stretch. (Jeggings joke.) I normally go one size down, but they're PHENOMENAL. Wonderfully stretchy yet don't bag out. With the exception of a couple of J.Crew pairs, they're the only brand that remains in my pared down closet!

Wreath: Recently got this to simplify life. I feel like I can simply tack on a different bow for the holidays… and if I don't get around to it, no big deal. Year-round and it looks VERY real!
Lanterns: We have older ones from Target, but they help up exceptionally well over this past Chicago winter. Very happy with them!
Topiaries: They *also* held up perfectly over the winter. I'm frankly astounded. In case they're sold out, Darby Home carries a TON of topiaries. They're all amazing!
Planters: Stunningly beautiful, but wait until they go on sale. It happens very often! We left these out over the winter as well and zero problems.