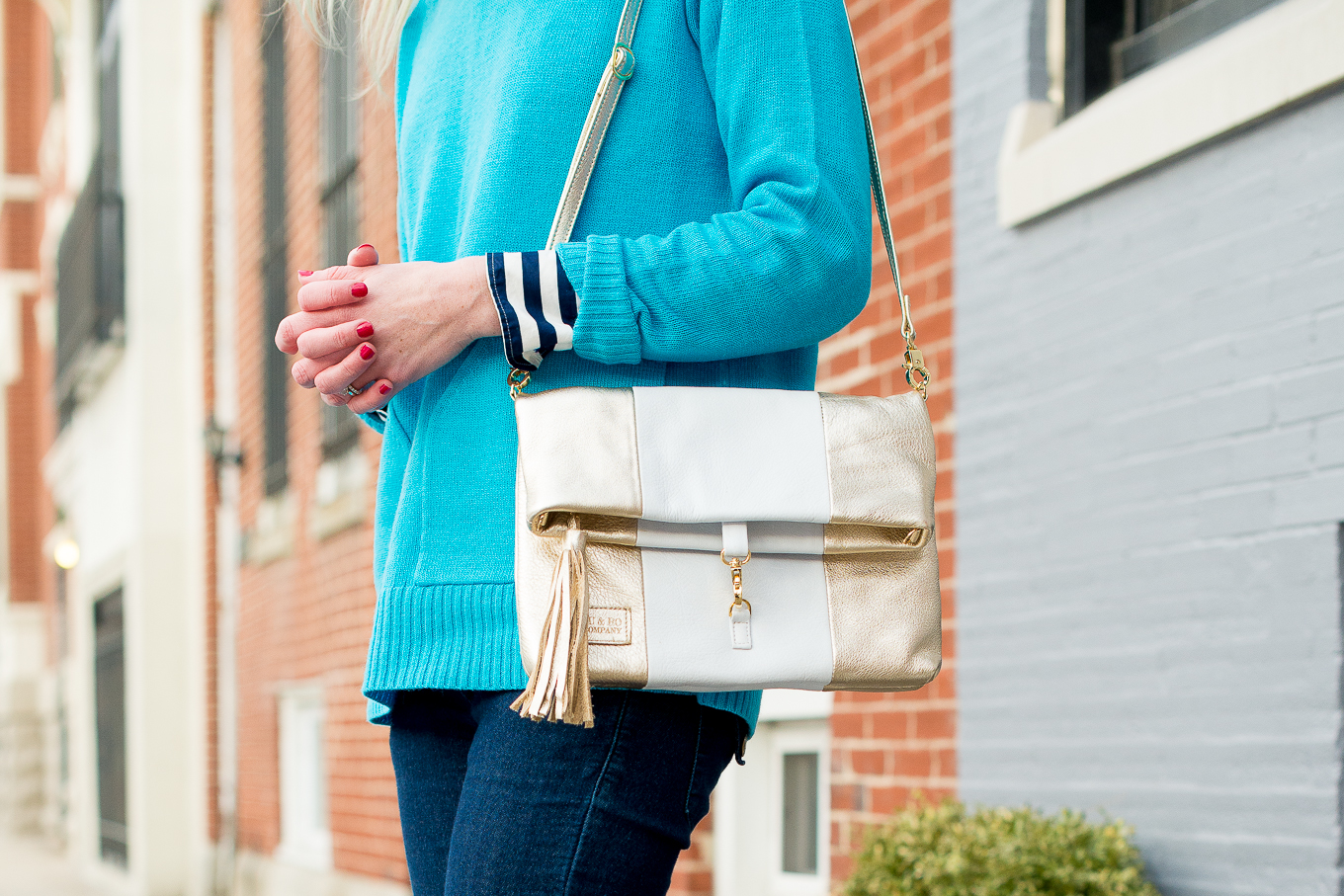 J.Crew Factory Sweater (On major sale!) / Hudson "Collin" Jeans /Beau & Ro Bag (c/o) /C.Wonder Pink Suede Pumps (Old, similar here, here, here, here and here) / J.Crew Navy Striped Shirt (Old, but more striped goodness here) / Hazel & Marie Pearl Earrings (c/o) / Daniel Wellington Watch (c/o, use code "kellyinthecity15" to take 15 percent off your order until March 31st!)
How does one effectively travel from a frozen location to a tropical one without freezing or overheating? I wore this–sans the heels–for my trip from Chicago to Miami a couple of days ago, and goodness. What a hassle. I'm freezing all the time, so traveling in summery clothing really wasn't an option for me. But arriving in Atlanta (70-degree weather) and then Miami (83-degree weather) in snow boots, a wool sweater, and a puffer coat?
Hahaha.
I'm not the best at traveling, as I'm pretty weak and majorly struggle with luggage. (A few years ago, my brother had to carry my suitcase all over Paris for me. Thaaaanks, Patrick.) So you can only imagine what I looked like trying to juggle a carry-on, tote bag, laptop, puffer coat and pair of snow boots. At one point, I found myself kicking the boots onto the Air Tran. (What? At least I wasn't kicking the laptop.)
But I'm not complaining. ;) Because my snow boots and I are IN MIAMI, and we're so happy. Sunshine, palm trees, daiquiris and girlfriends–what could be better?!
Updates and stories to follow!
Happy bachelorette to Kim, my future sister-in-law! We love you! :) xoxo