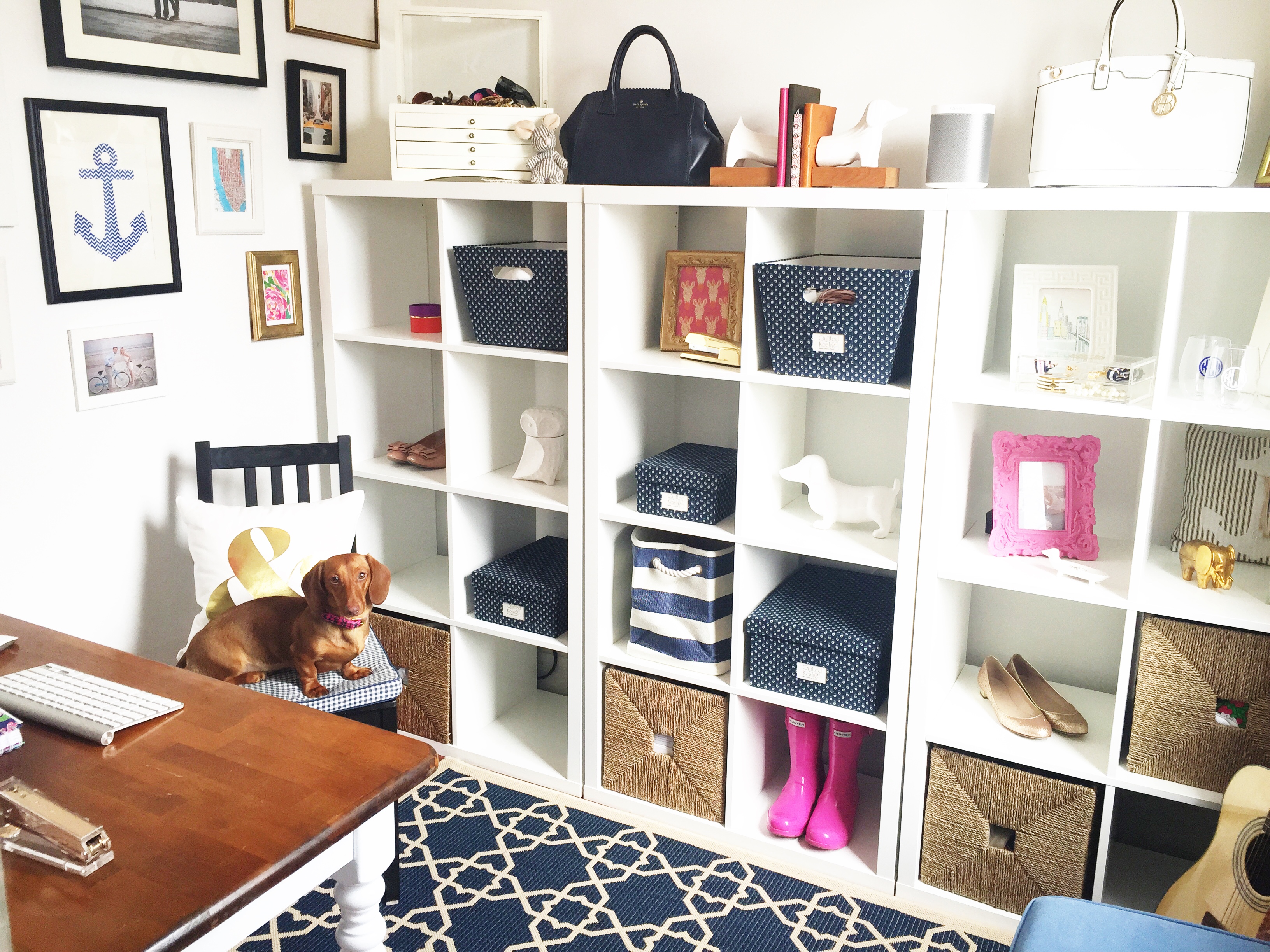 Let's get something straight. I am not one of those bloggers who has a picture-perfect home. I just don't have that eye for design that so many possess. And as Mitch and I plan to buy our first home within the next year or so, we're currently workin' the furniture and decor we bought as "kids." No sense in buying new stuff before a move.
Still, I do wish we had a cuter space. Our apartment–built in the late 1800s–has a lot of charm, but it's undoubtedly in need of some TLC. It has gray molding that can look a bit dingy, wide plank floors that collect so much dirt, an all-gray bathroom that appears dirty no matter how much we scrub, and a 60s-style kitchen that's screaming for an update.
I can't help but wish for a home like the ones I see on Pinterest and Instagram. It doesn't need to be big! Just something super bright with high ceilings and white molding. And I'd kill for a new couch; gold bamboo coffee and end tables; and navy, white and pink decor. ;) See my "Preppy Home" Pinterest board. Swoon, right?! (At the same time, UGH. Pinterest is depressing, haha.)
Here's the thing, though. It's just not in the cards right now. Like I said, our home is kind of temporary… and I live with a guy. He's the best guy ever, and he doesn't say anything when I come home with ruffled shower curtains and monogrammed pillow cases. But… I just can't do that to him. I mean, before I came along, he had a stuffed squirrel named "Rowdy" hanging on his wall (?), and used his hamper as a dresser. (Love you, Mitch.) Completely prepping out our home doesn't seem quite right.
But I'm totally okay with "girl-ifying" a single room. Guys have "Man Caves," right? The obvious choice was our tiny, tucked-away home office, where I spend most of my time. And yes: Mitch approved this project. ;)
Full disclosure: this took a long time–two trips to Ikea, a lot of help from some really fabulous companies, and a great deal of Pinterest-stalking. And the photos kind of make it look nicer than it actually is. (Let's be serious; Overexposed pictures make everything appear lovelier!) But I love it, and find that I'm happier and more productive now that I have a tidy, cheerful workspace!
So, without further ado: the FINAL PRODUCT! (And be sure to check out the "before" photos at the bottom of the post.)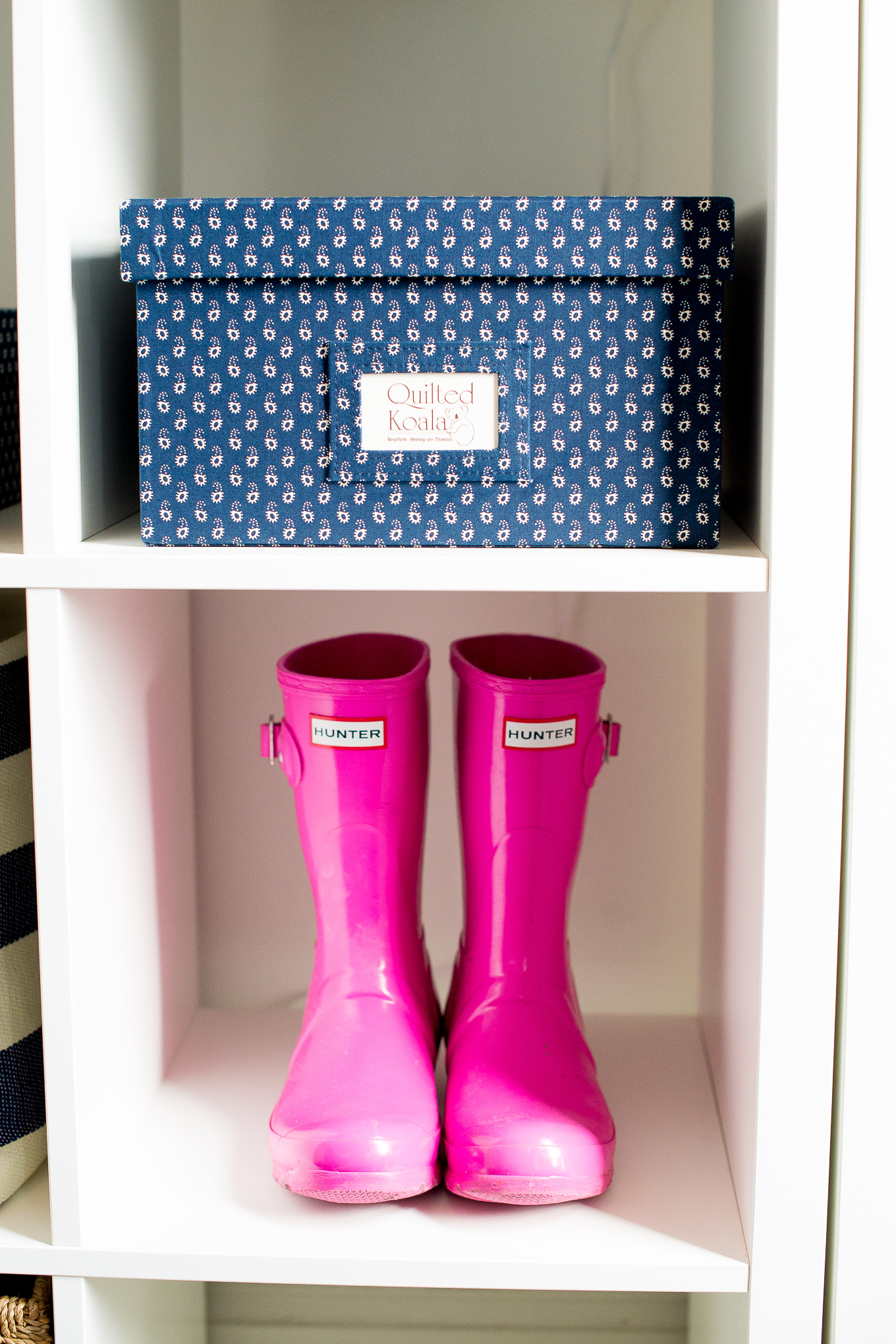 Quilted Koala Box (c/o) / Hunter Boots — Other styles here / Ikea Kallax Shelves
First, I should mention how much more storage I have now. Until this past week, things were pretty disastrous on that front. There were bags and boxes and clutter everywhere, and everything looked half-complete. And while I knew we desperately needed a refresh, I was so overwhelmed by the mess that I kept putting it off.
Quilted Koala came to the rescue, though, and sent a bunch of gorgeous navy-and-white (!!) bins and boxes to help me get organized, and make my space look less cluttered. If you haven't heard of it yet, Quilted Koala is a new accessories line created by "Today Show" contributor Stephanie Oppenheim. Made from gorgeous quilted Andover Fabrics, the company's products range from totes, bags and jewelry rolls to jewelry boxes and decorative bins and boxes (pictured above). Take my word for it. They're lifesavers. And so pretty!
I also invested in two additional Kallax shelving units. Before the makeover, I had one, which was tipped over on its side. But I adore how three of them–upright, and side-by-side–kind of create the allusion of custom, wall-to-wall shelving. Kind of. Oh, and get this: Mitch and I didn't measure before going to Ikea. We just assumed the shelves would fit… but GOOD GOD. Miraculously, they did, but there was only a half inch of space left over, haha.
(This totally brought back memories of my sophomore year of college, when my roommate and I decided to rearrange all the furniture in our tiny dorm room, and found ourselves wedged between the mess, unable to escape. We actually had to call for help. You think I would have learned…)
Jonathan Adler Dachshund Bookends (c/o — Seriously, thank you, Jonathan Adler! Life complete.) / Kindle and Cole Haan Kindle Cover / Barbour Notebook (c/o) / Leather notebook from Florence (Gift from the parents, similar here) / Sonos Speaker
These are the only bound books that I own. I know that sounds incredibly sad, but I've moved nearly every year since freshman year of college (save for two years in the same Upper East Side apartment and two years in the same East Village apartment)… and books are heavy. A couple of years ago, Mitch and I went decided to go completely digital, and I have to say: it's been really nice. Of course, I miss my physical books, and hope that someday, we'll have a room full of them. But for now, not owning them makes city living a lot easier. And I don't care what people say. A book is a book, whether it's in paper or digital form.
That said, I'm definitely in the market for a few pretty coffee table/bookcase books. Preferably ones that are New York City-/London-/dachshund-/photography-/nautical home decor- or preppy fashion-themed. (So specific!) I'd also love a nice copy of my favorite novel, "A Tree Grows in Brooklyn." And "To Kill a Mockingbird," while we're at it. Have suggestions?! Please let me know! I clearly need some cuter books for the most adorable bookends ever.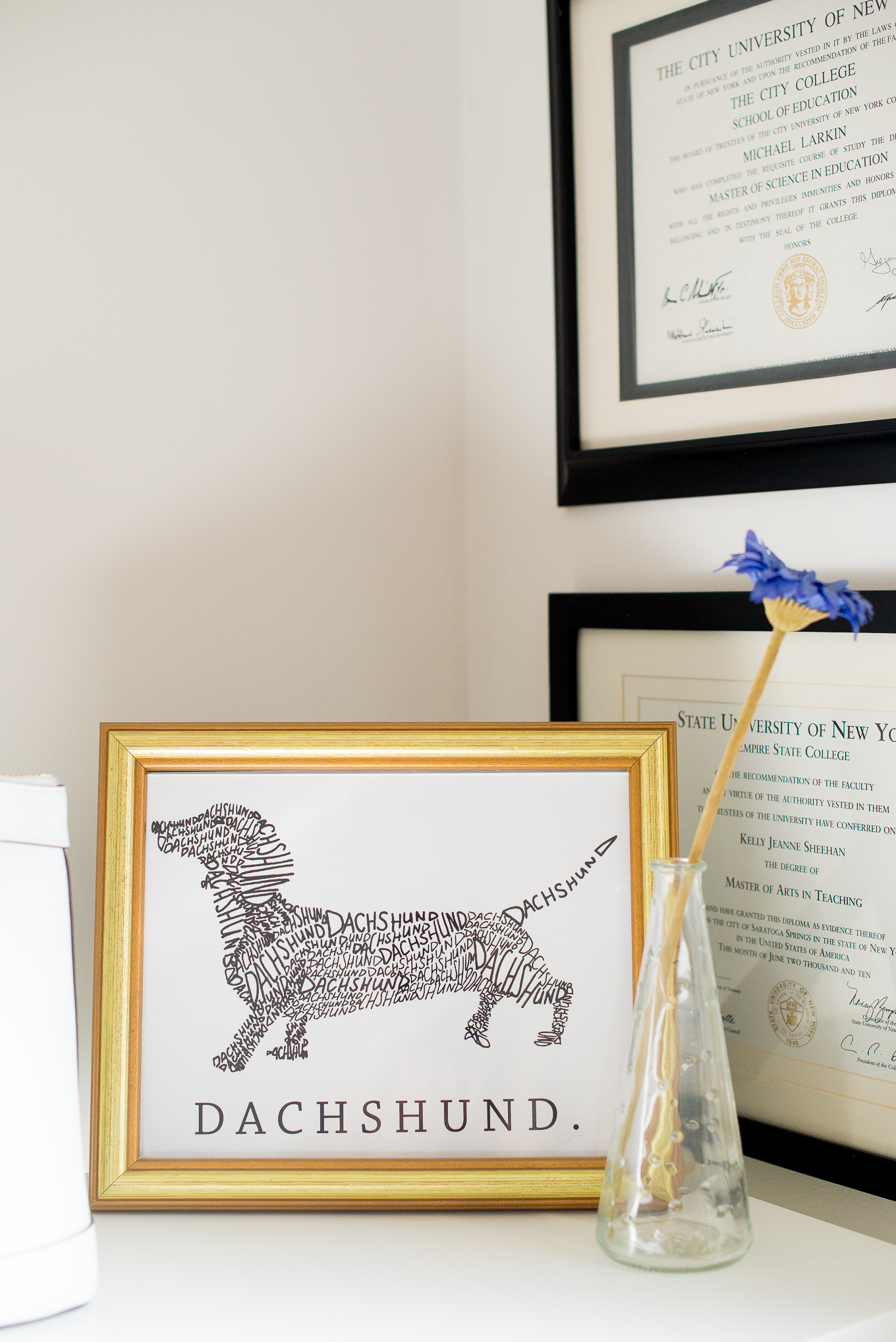 The Public Postcard dachshund print (I found this at a thrift store, but I'm pretty sure it comes from "The Public Postcard" in Germany. How cool?!) / NYC Teaching Fellows diplomas (Huzzah!) / Ikea vase (My brother- and sister-in-law used it at their wedding, and then we used it at our wedding. Awww…)
Okay.
Yes. I have a lot of dachshund decor. I just can't help myself, though. So prepare yourselves, because there's a quite a bit more.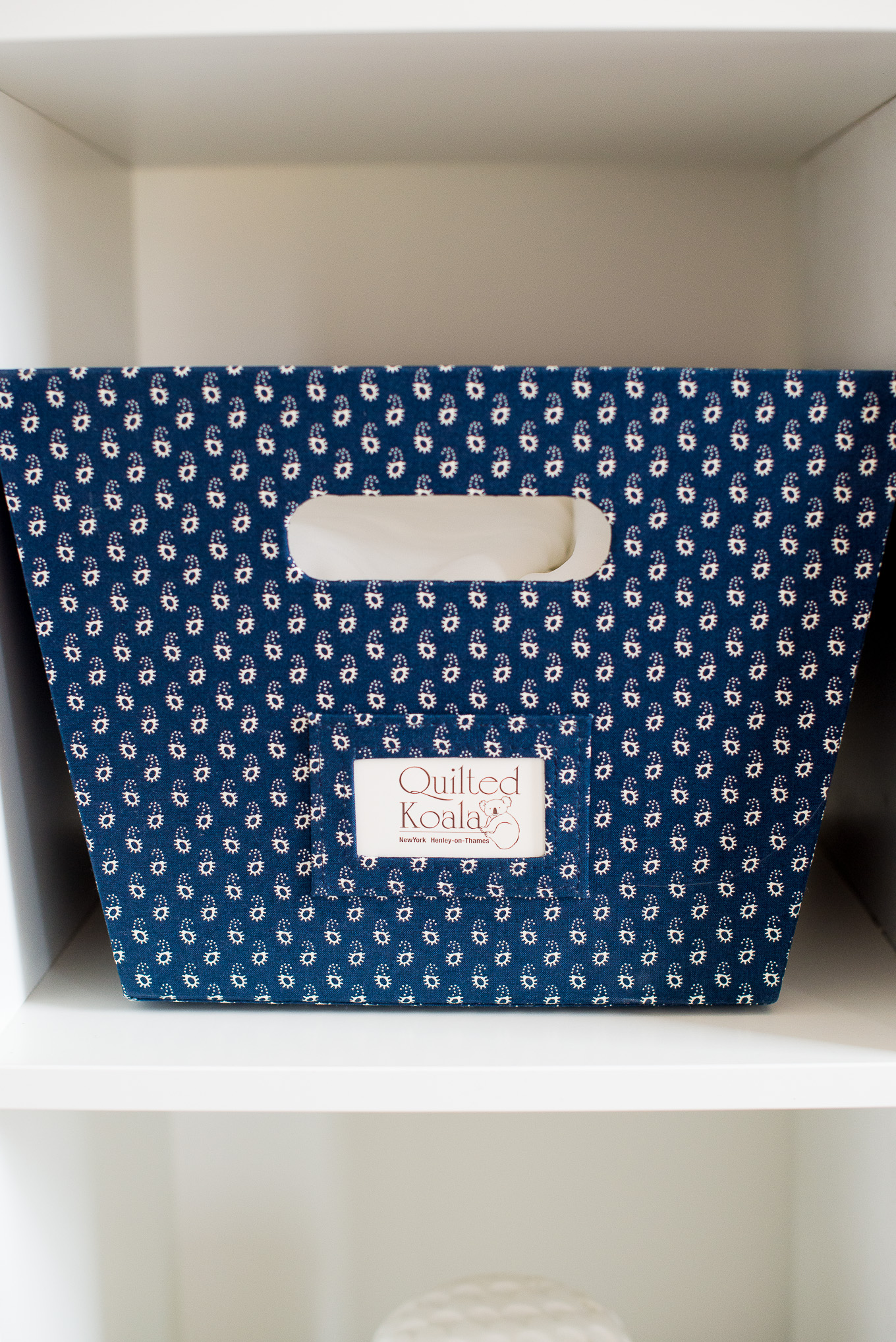 Quilted Koala Bin (c/o)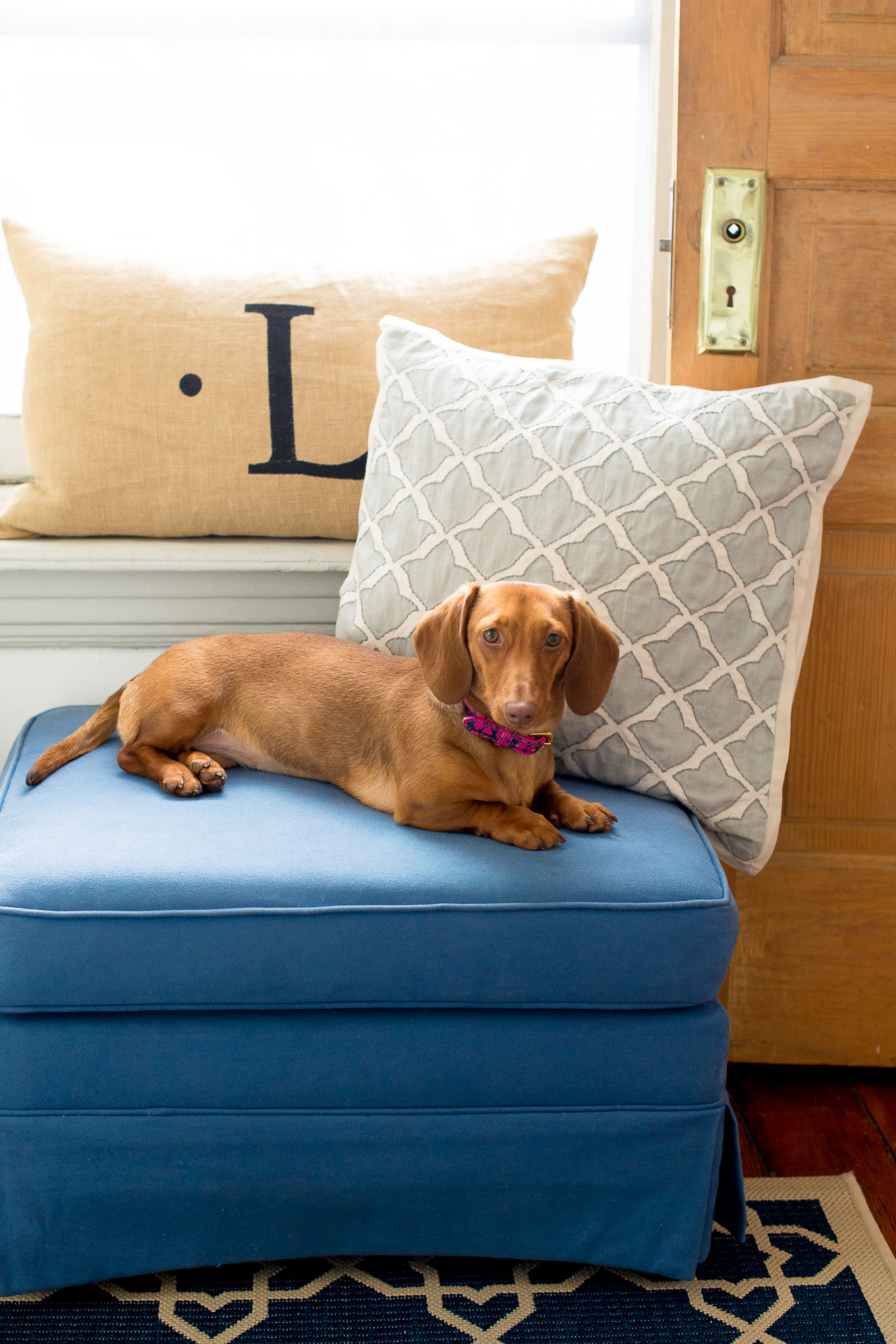 Noodle / Safavieh Rug (Not exactly the same, but very close. Similar here, here and here) / Initial pillow (Gift from my adorable mother-in-law, similar here) / Ottoman (My grandfather's, similar here, here and here) / Pottery Barn Pillow (Old, but holy goodness, guys. Pottery Barn has been killin' it in the pillow department as of late. My favorites: dachshund pillow, monogrammed pillow, ampersand pillow, London pillow, New York City pillow, and Chicago pillow!)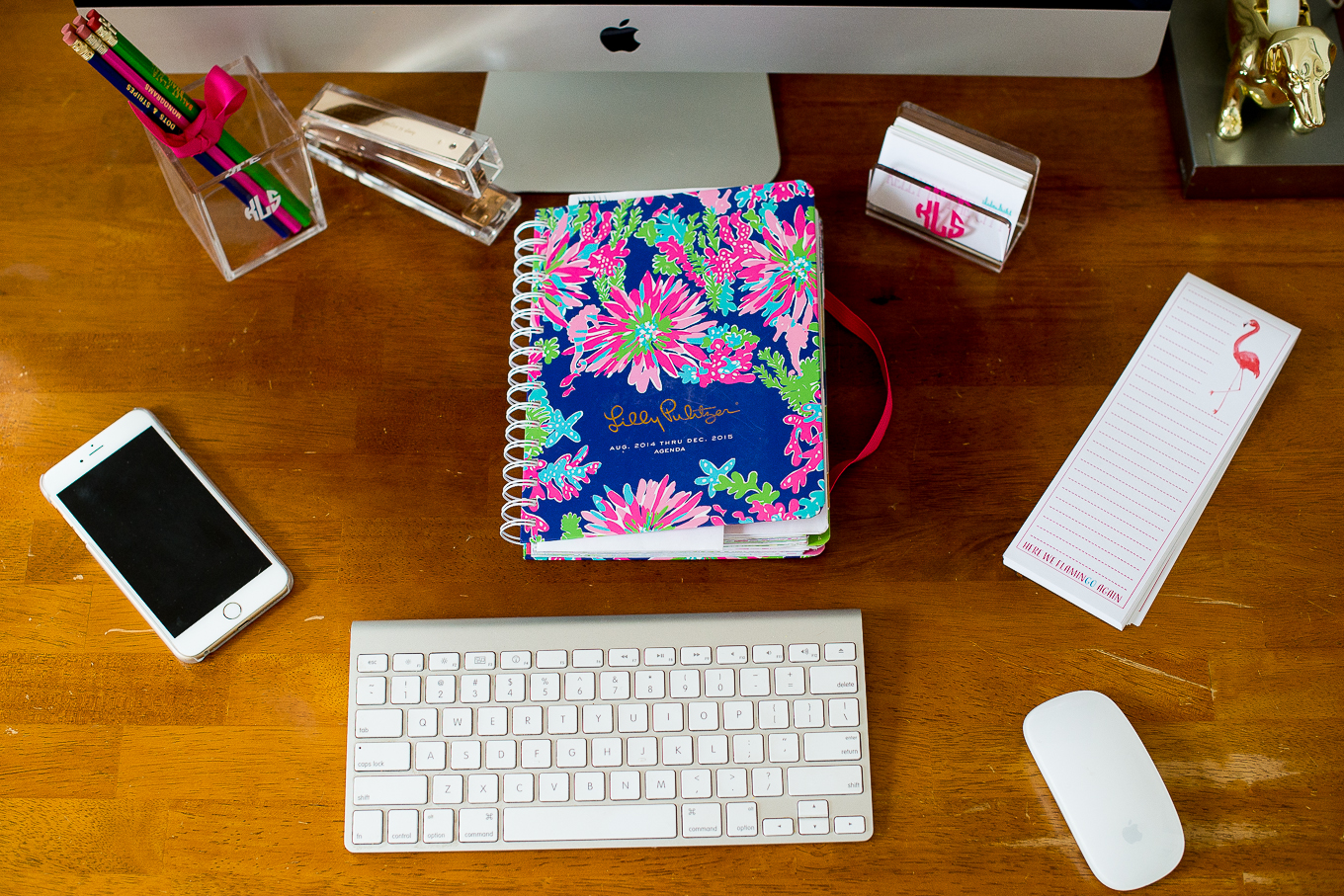 iPhone 6 Plus / Lilly Pulitzer Planner / Design Darling Pencil Holder, Pencils and Stapler (c/o) / Apple iMac (From my photography days), keyboard and mouse / Nate Berkus dachshund tape dispenser / Giddy Paperie Notepad (c/o) / White Elephant Designs Business Car Holder (c/o)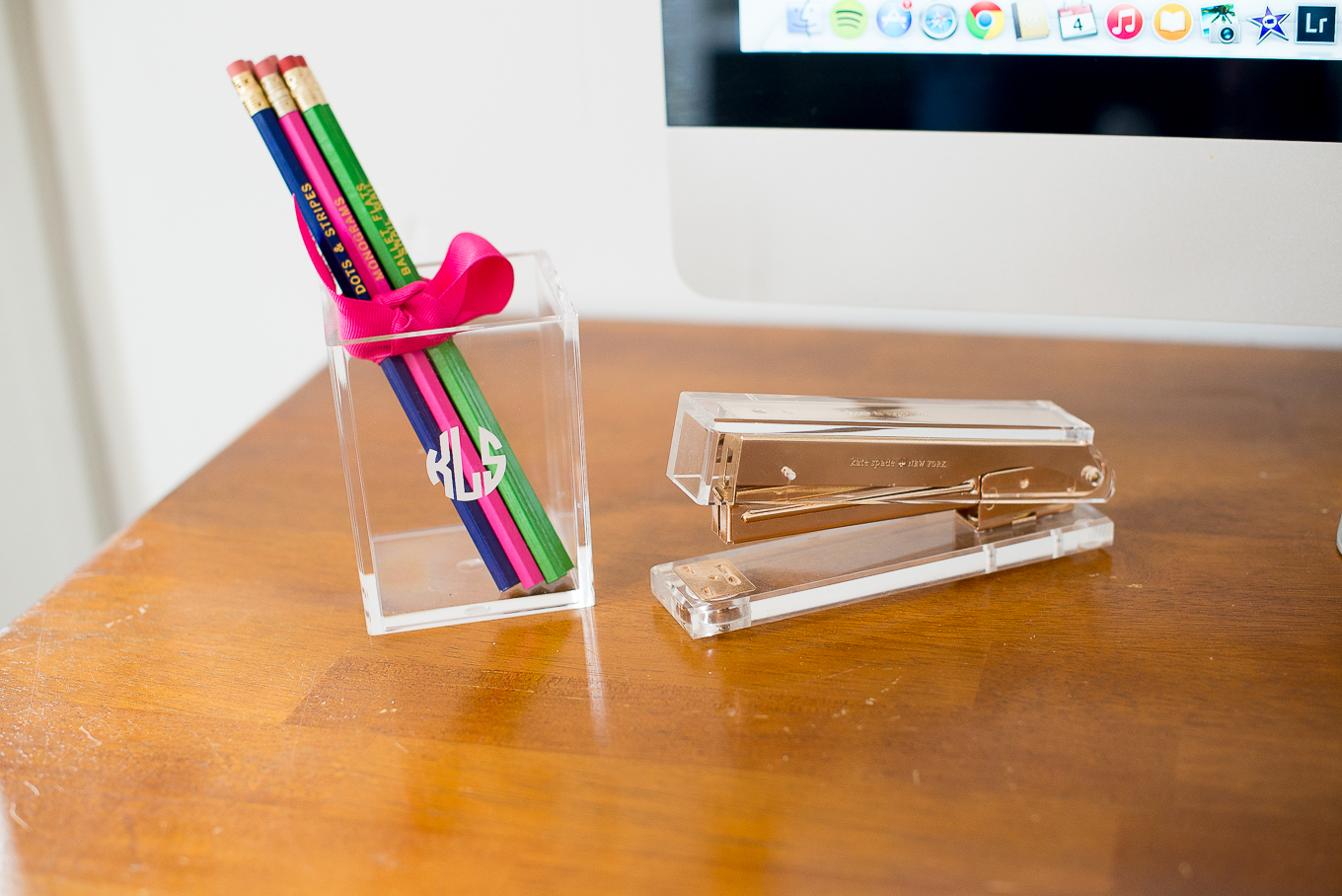 Design Darling Pencil Holder, Pencils and Stapler (c/o)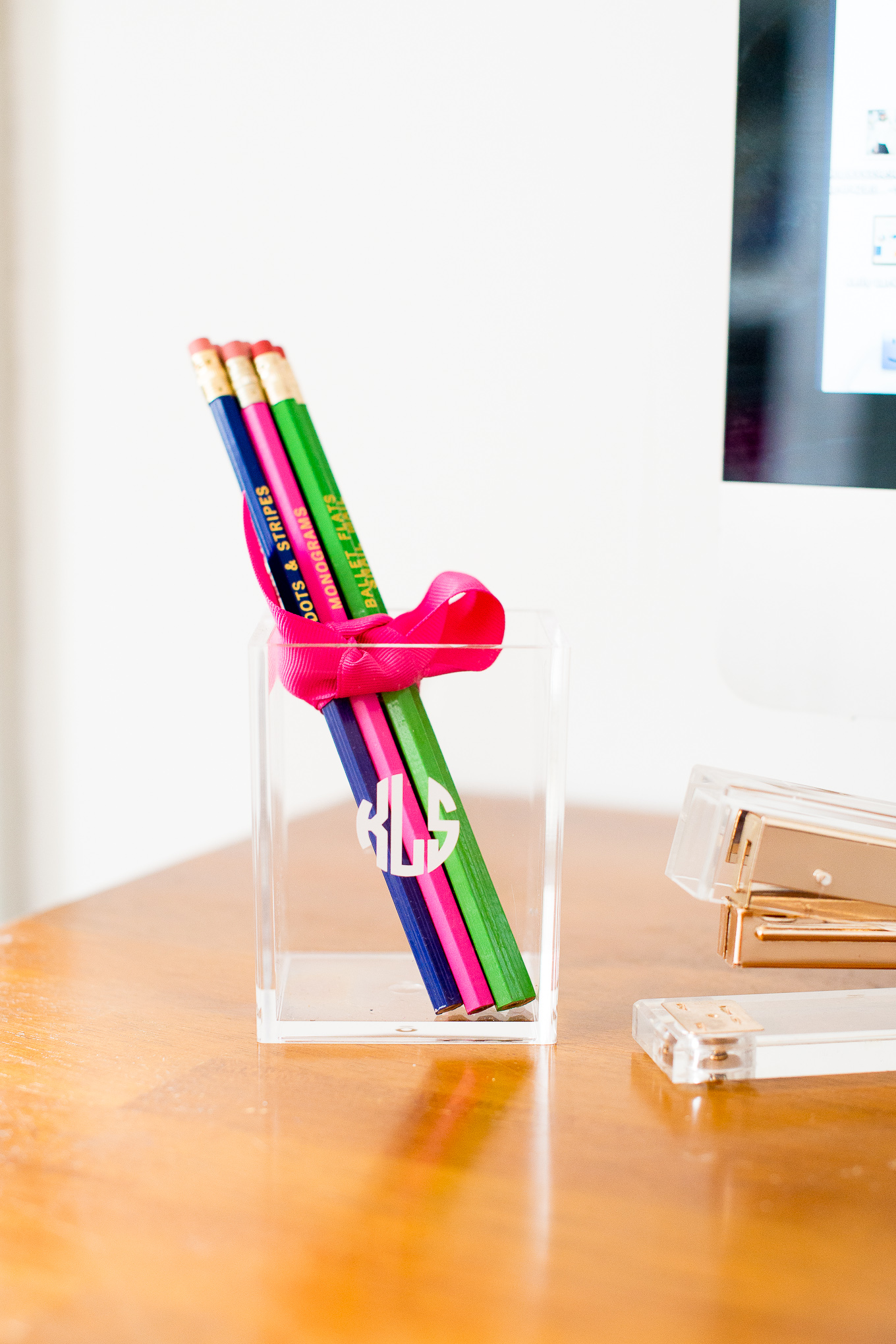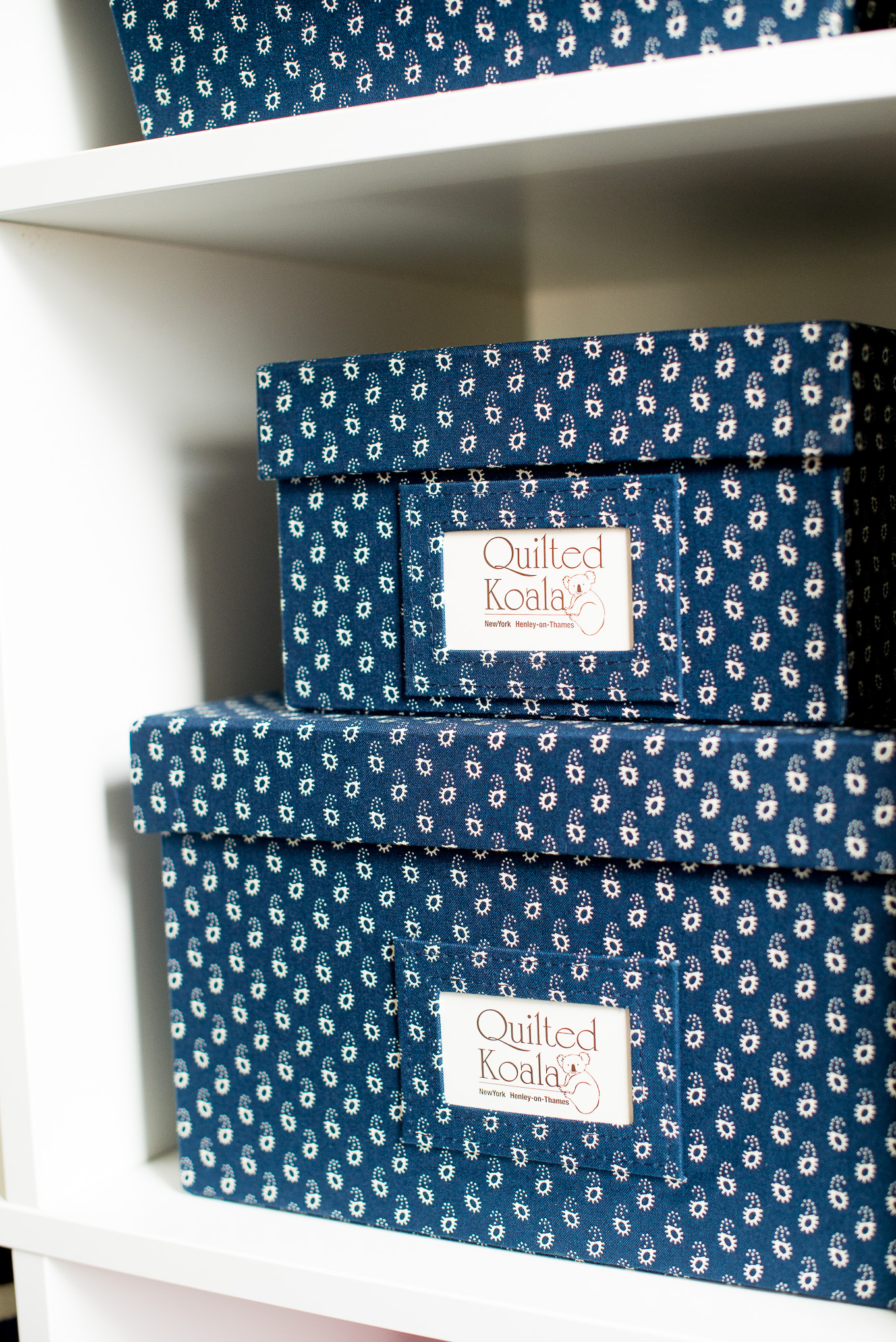 Quilted Koala Medium Box and Large Box (c/o)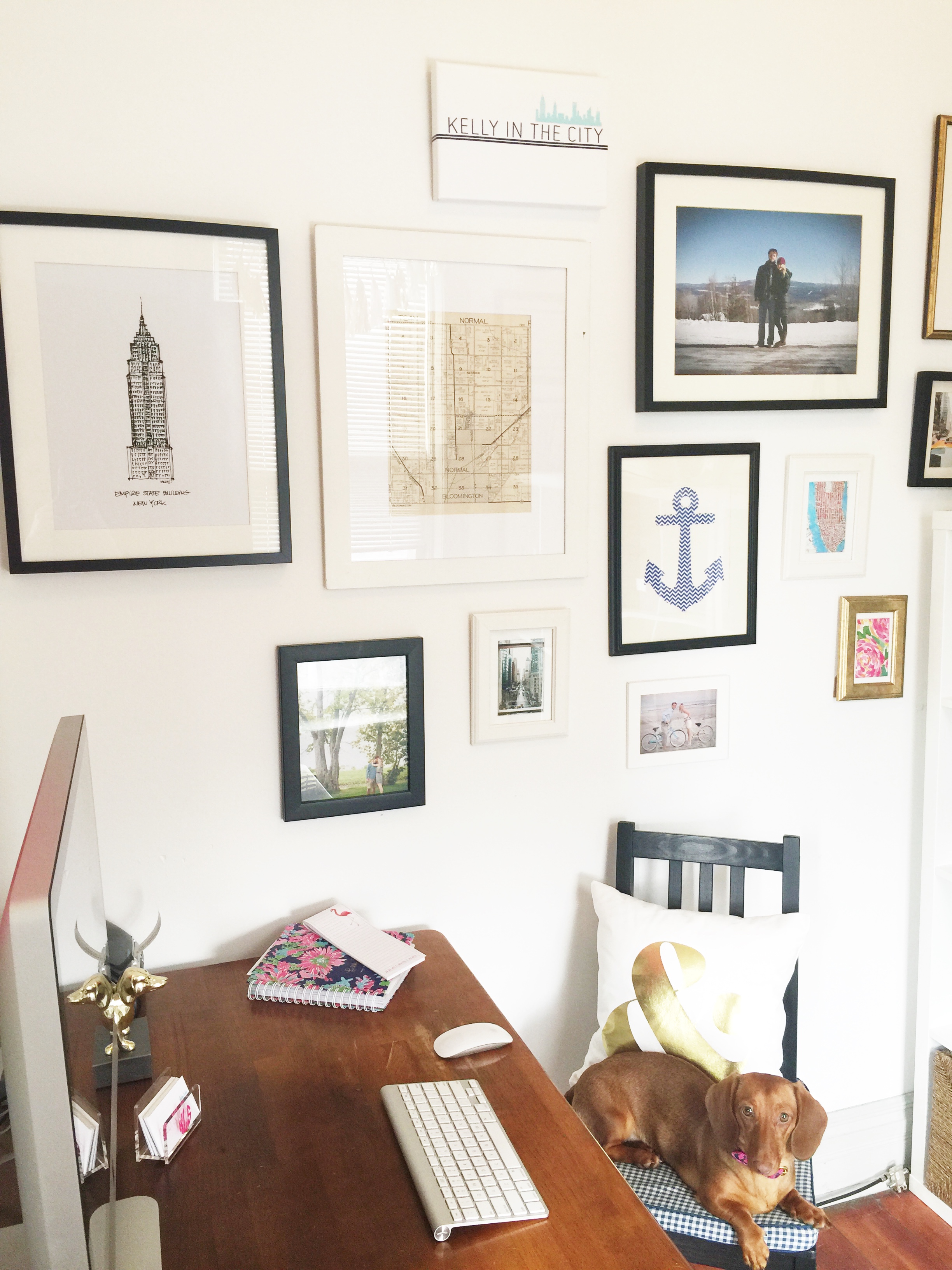 Crate & Barrel Empire State Building print (Old, similar here, here and here) / Anchor print (From a New York City street artist, similar here, here and here)
How cute is the "Kelly in the City" canvas? Mitch had it made for me for Christmas last year! (Awww.)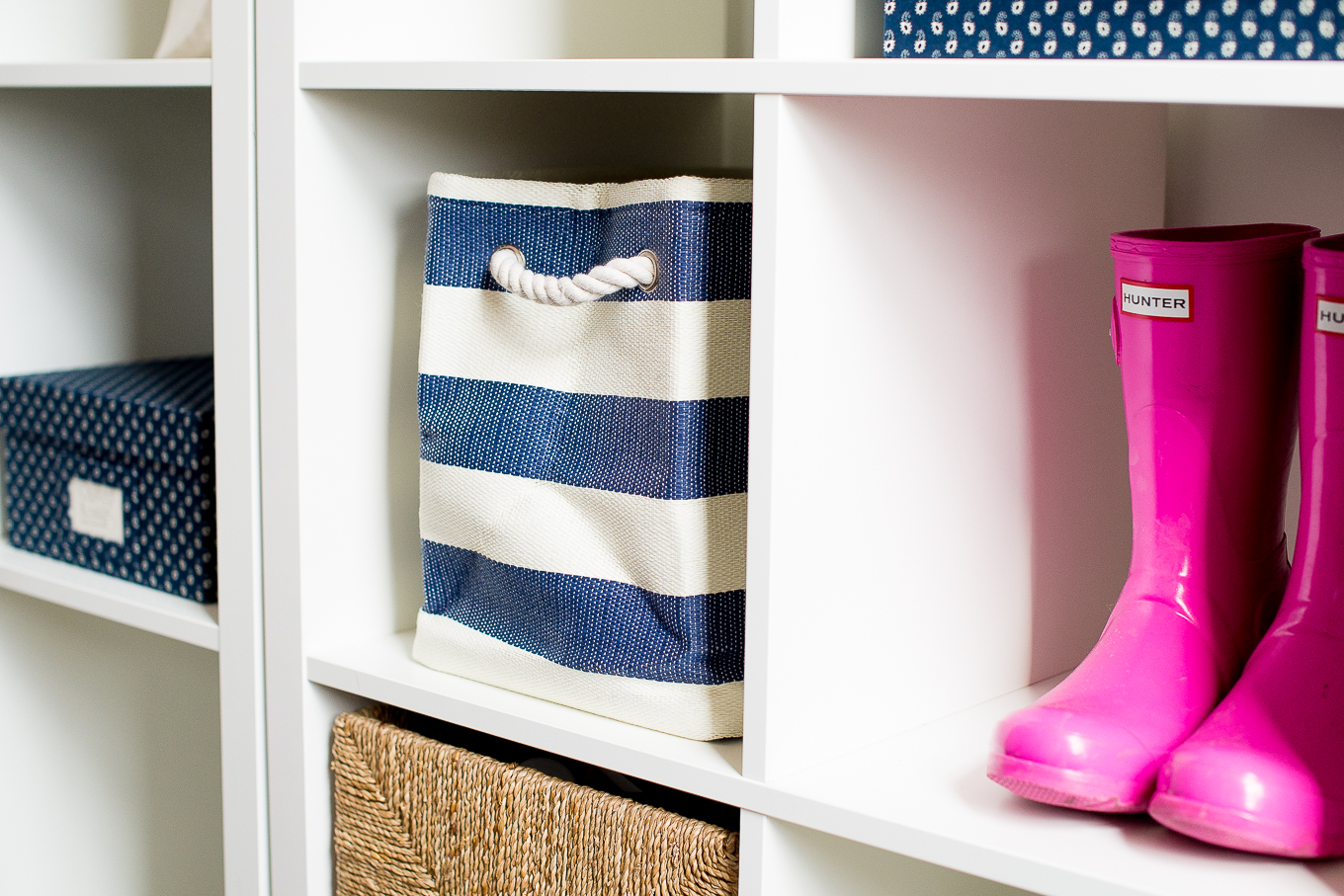 The Container Store bin / Quitled Koala boxes / Hunter boots (Other styles here)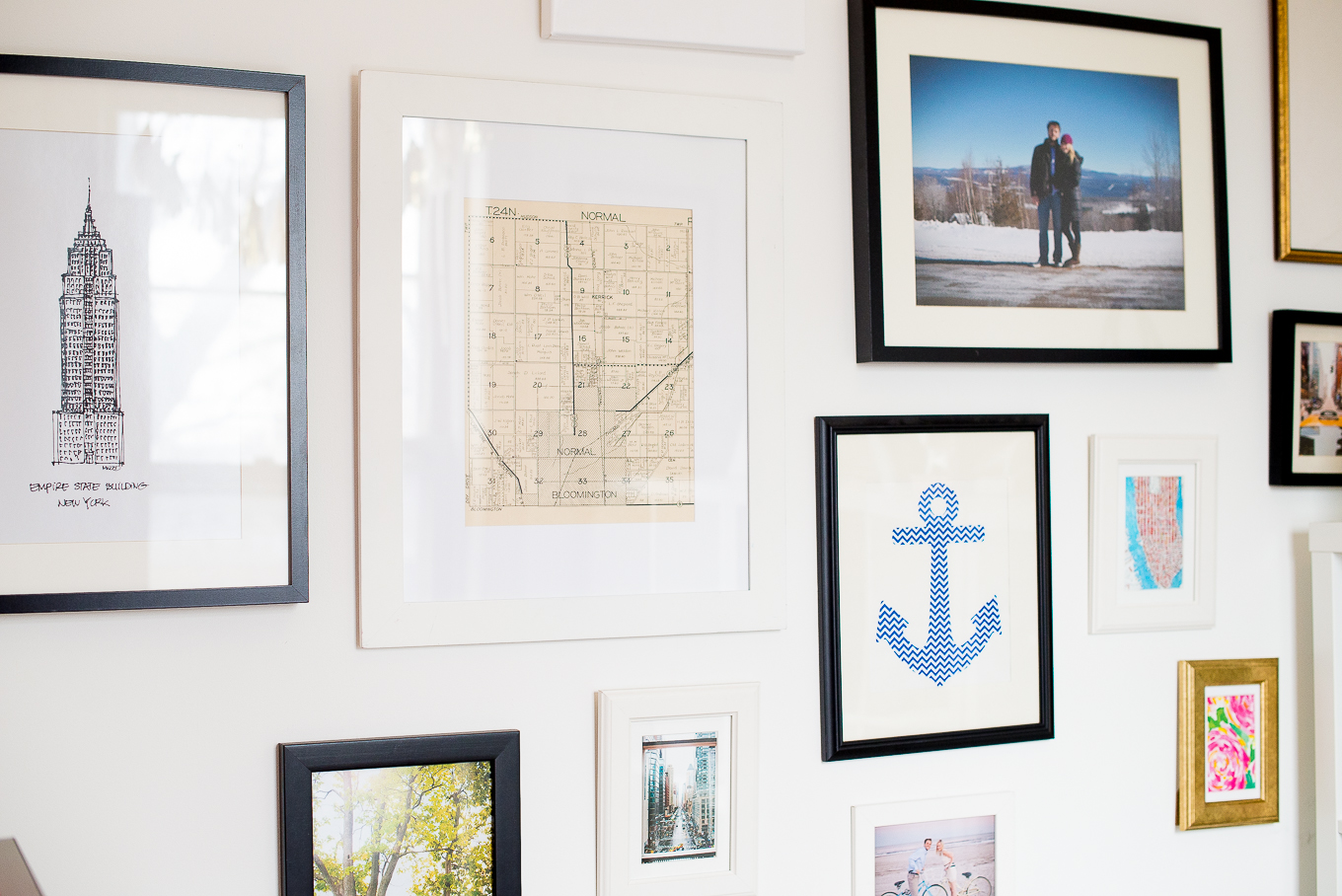 See above links.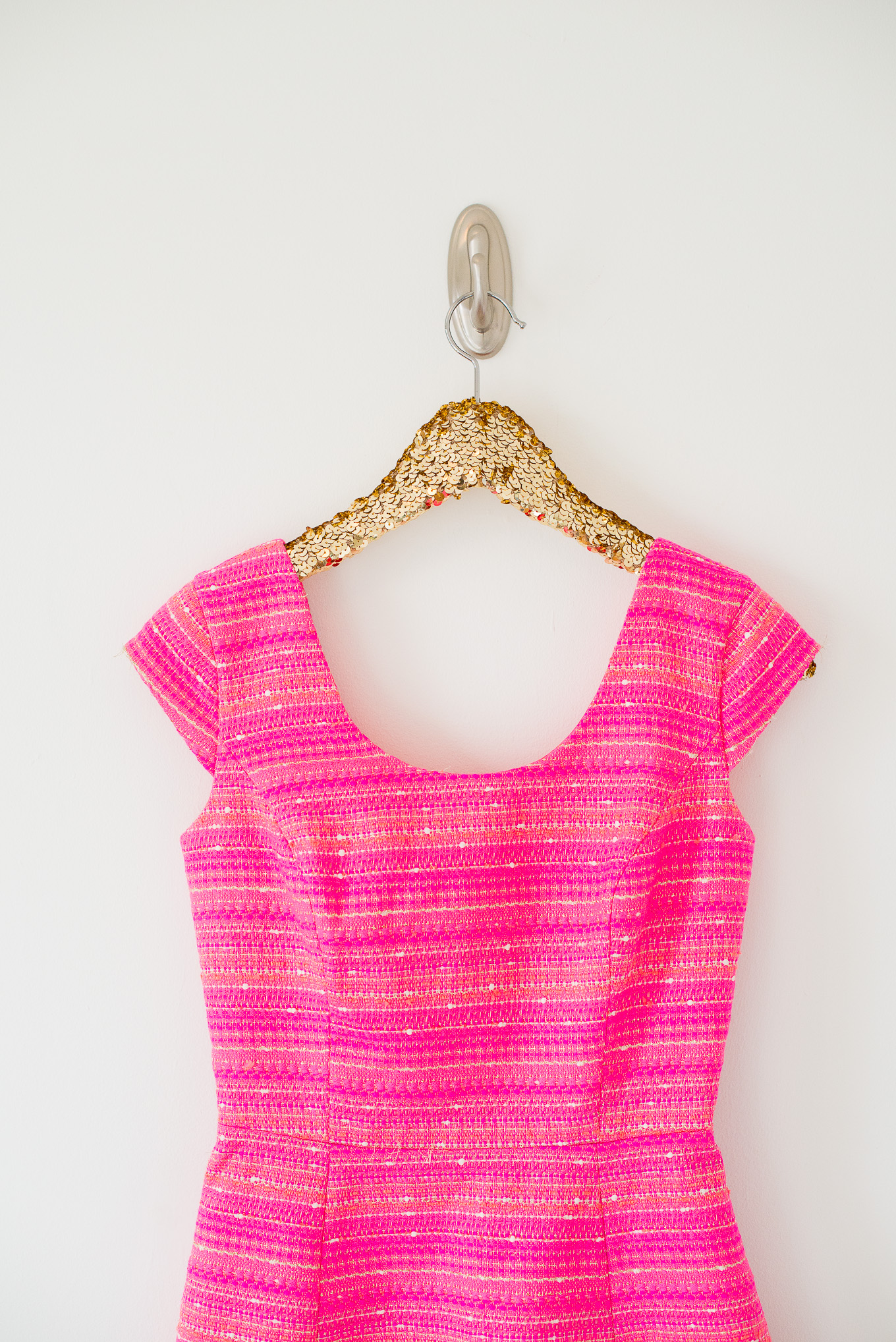 Sequined hanger / Lilly Pulitzer dress / 3M hook
This hangs directly above my computer. While I mostly use it for photography and resale purposes, I love that it adds some personality and color to the room. High five, 3M!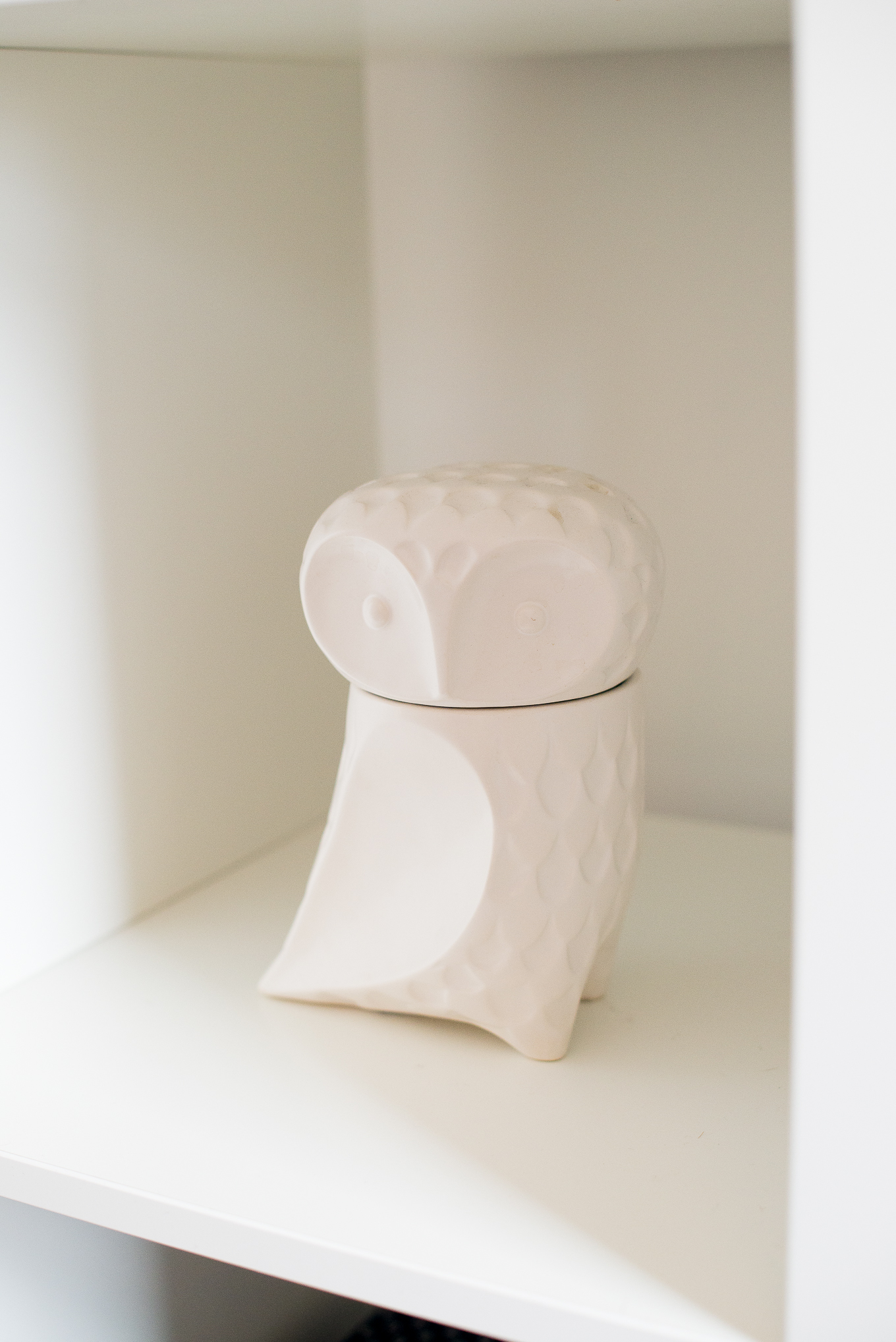 Jonathan Adler Owl Canister (c/o)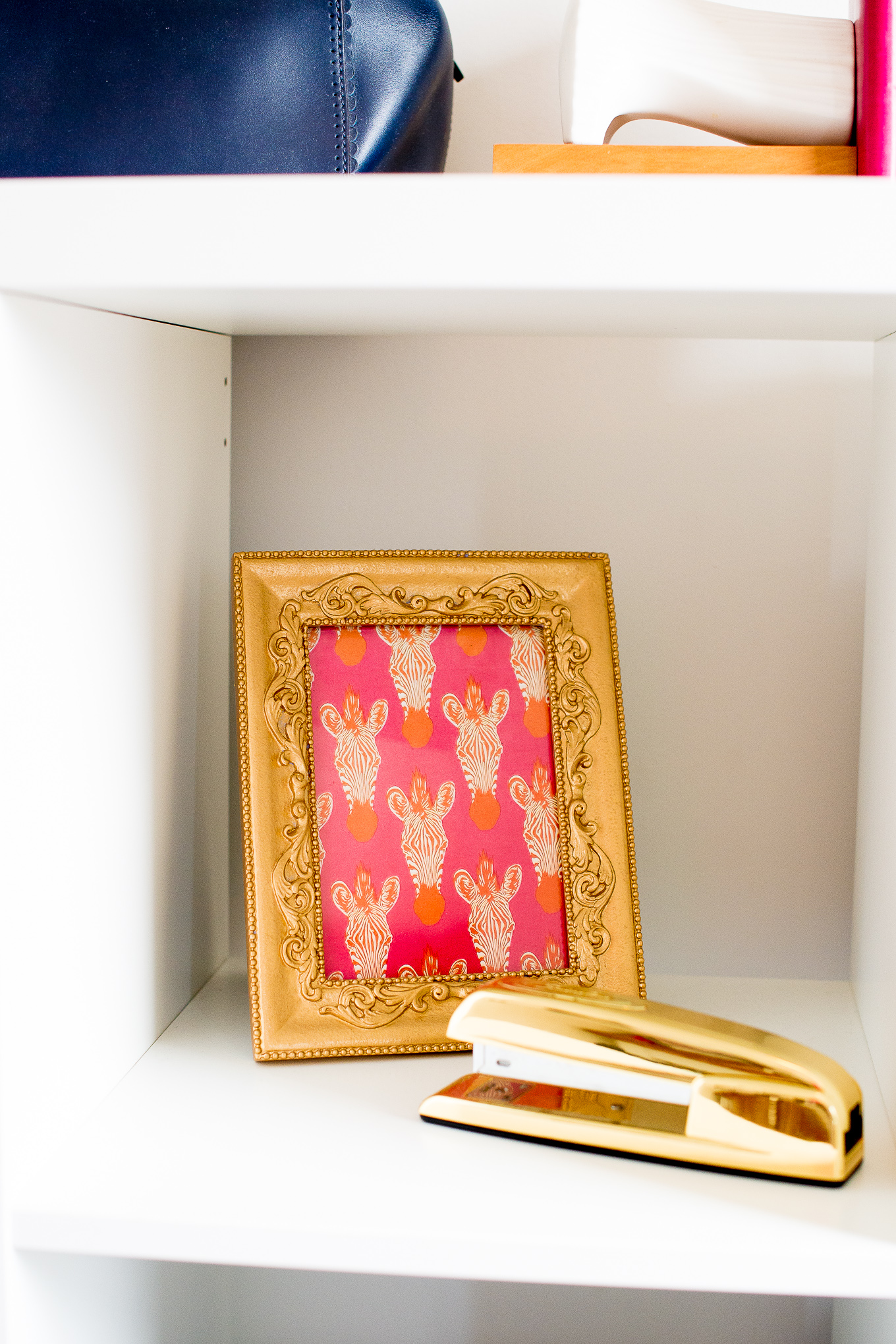 Gold frame (Gift, similar here) / Alexander Henry "Zahara" fabric / Gold Swingline stapler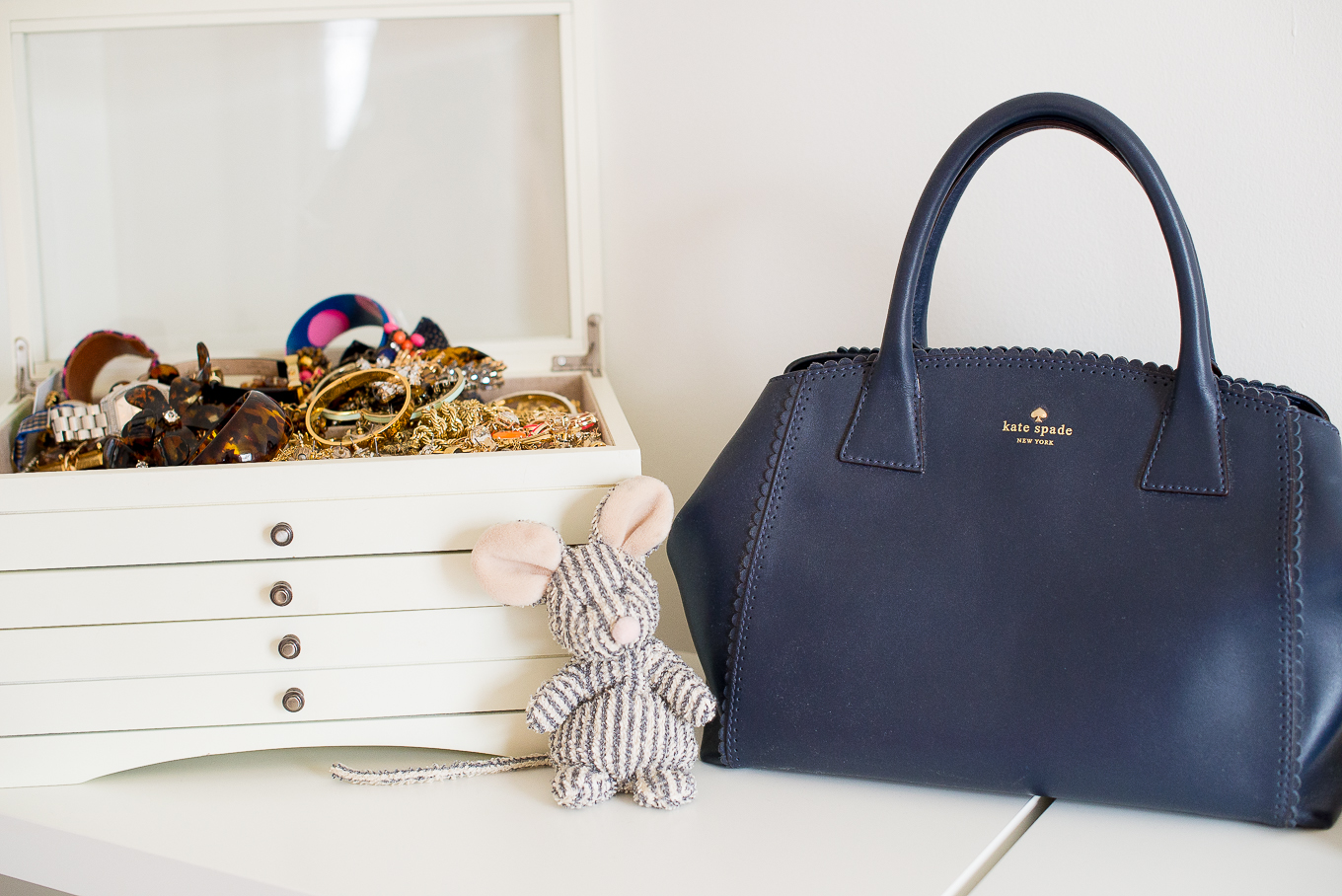 Pottery Barn Jewelry Box / Kate Spade Bag (Old, see newer scalloped bag here!) / Mouse Stuffed Animal — Love you, Allie!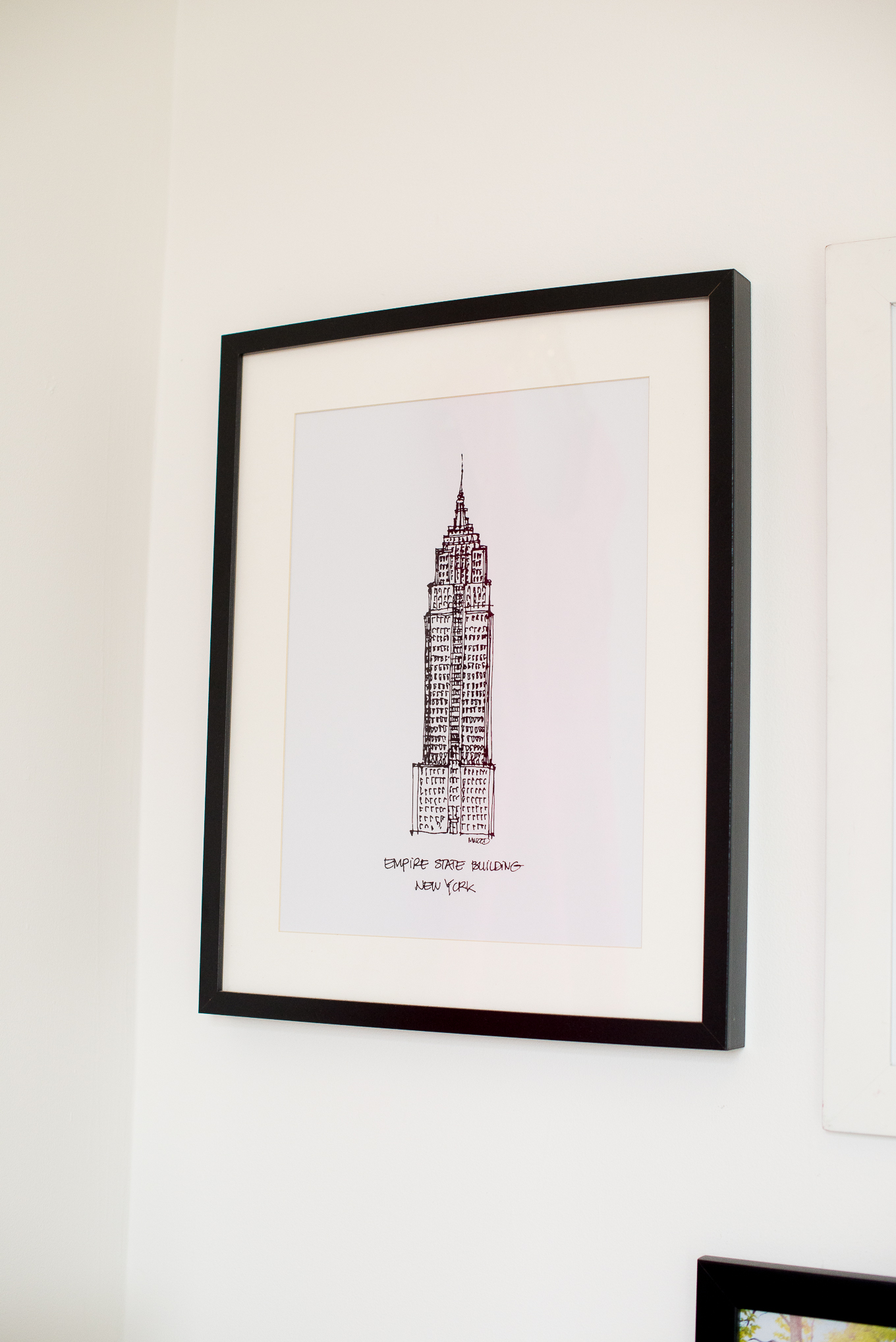 Crate & Barrel Empire State Building print (Old, similar here, here and here)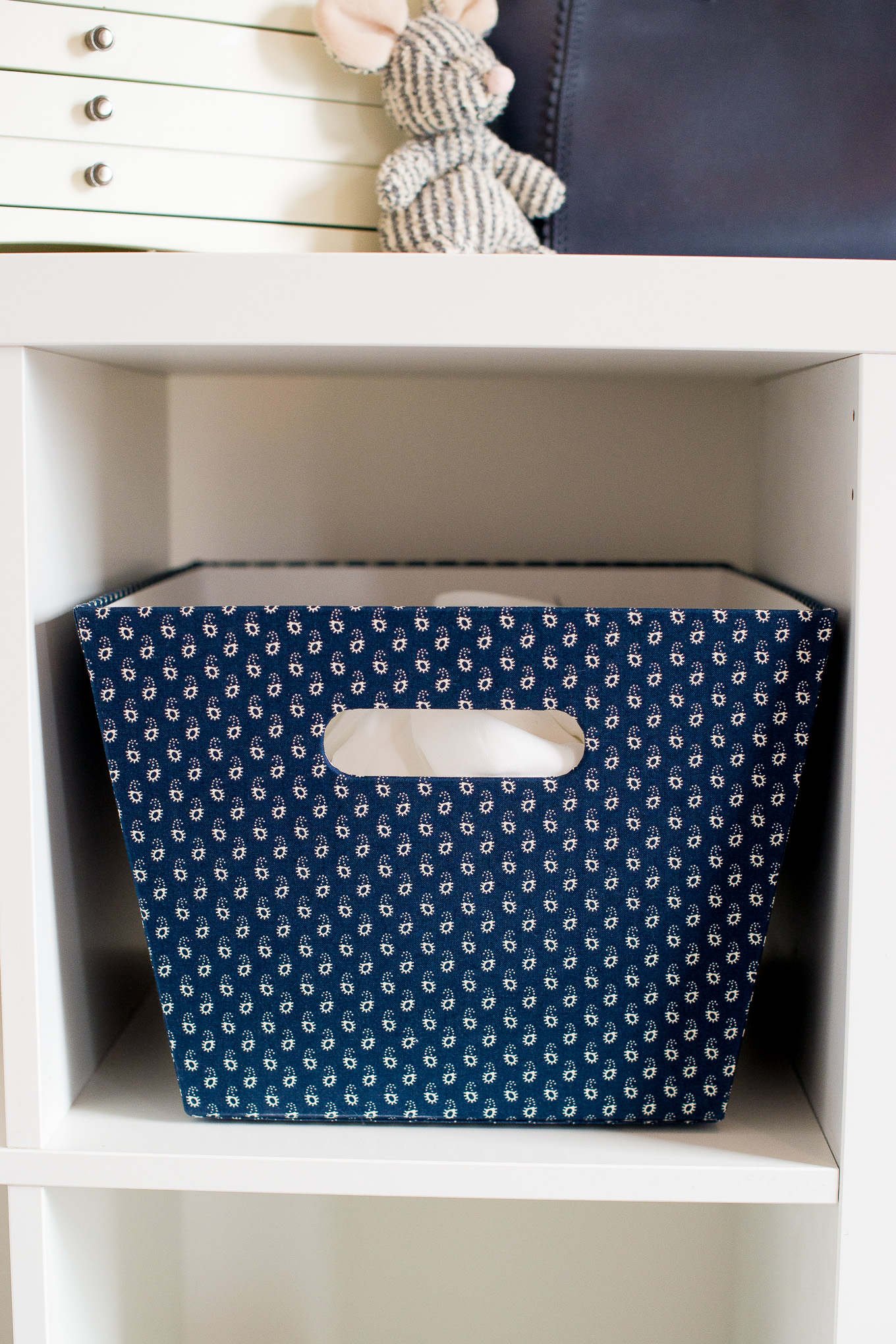 Quilted Koala Bin (c/o)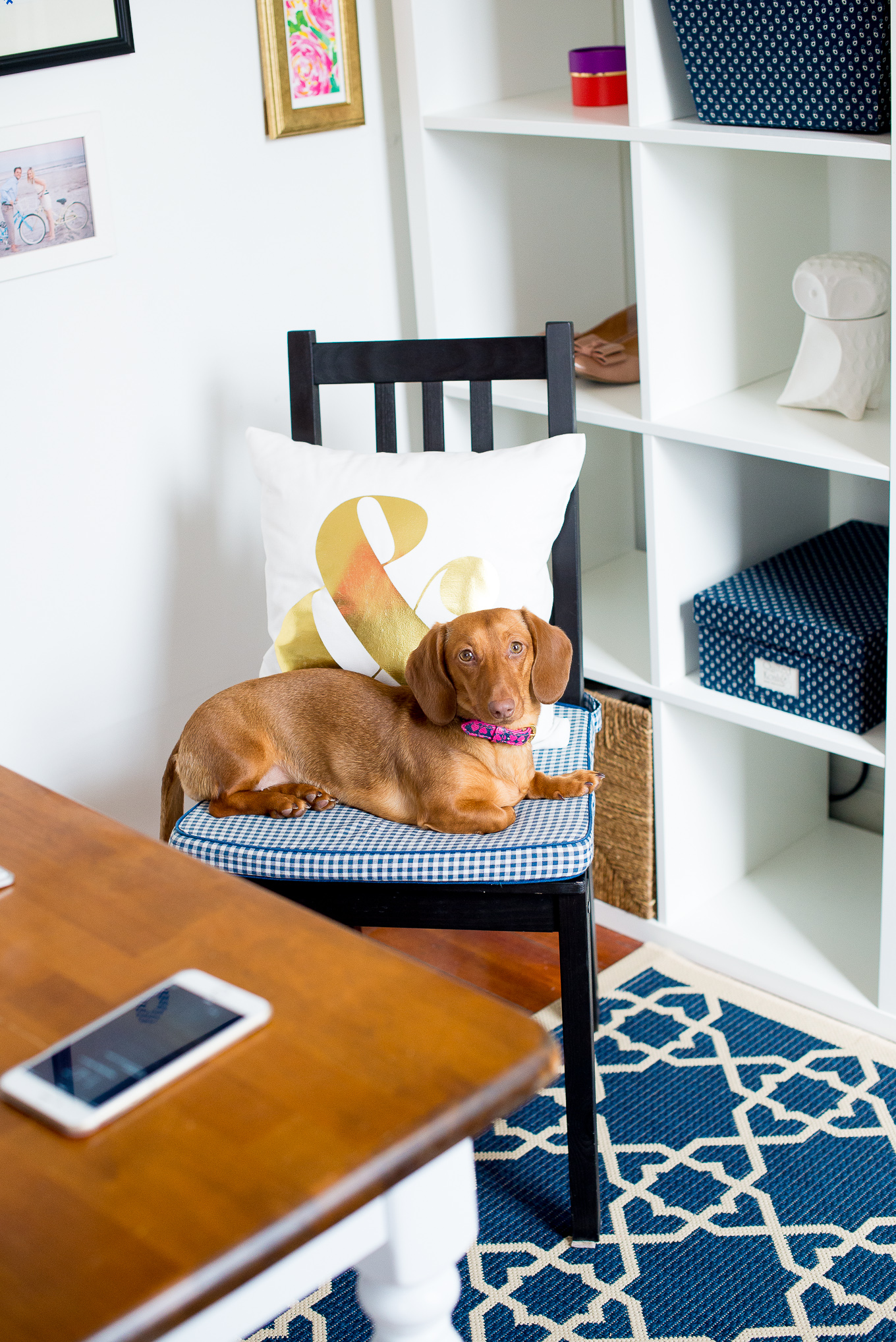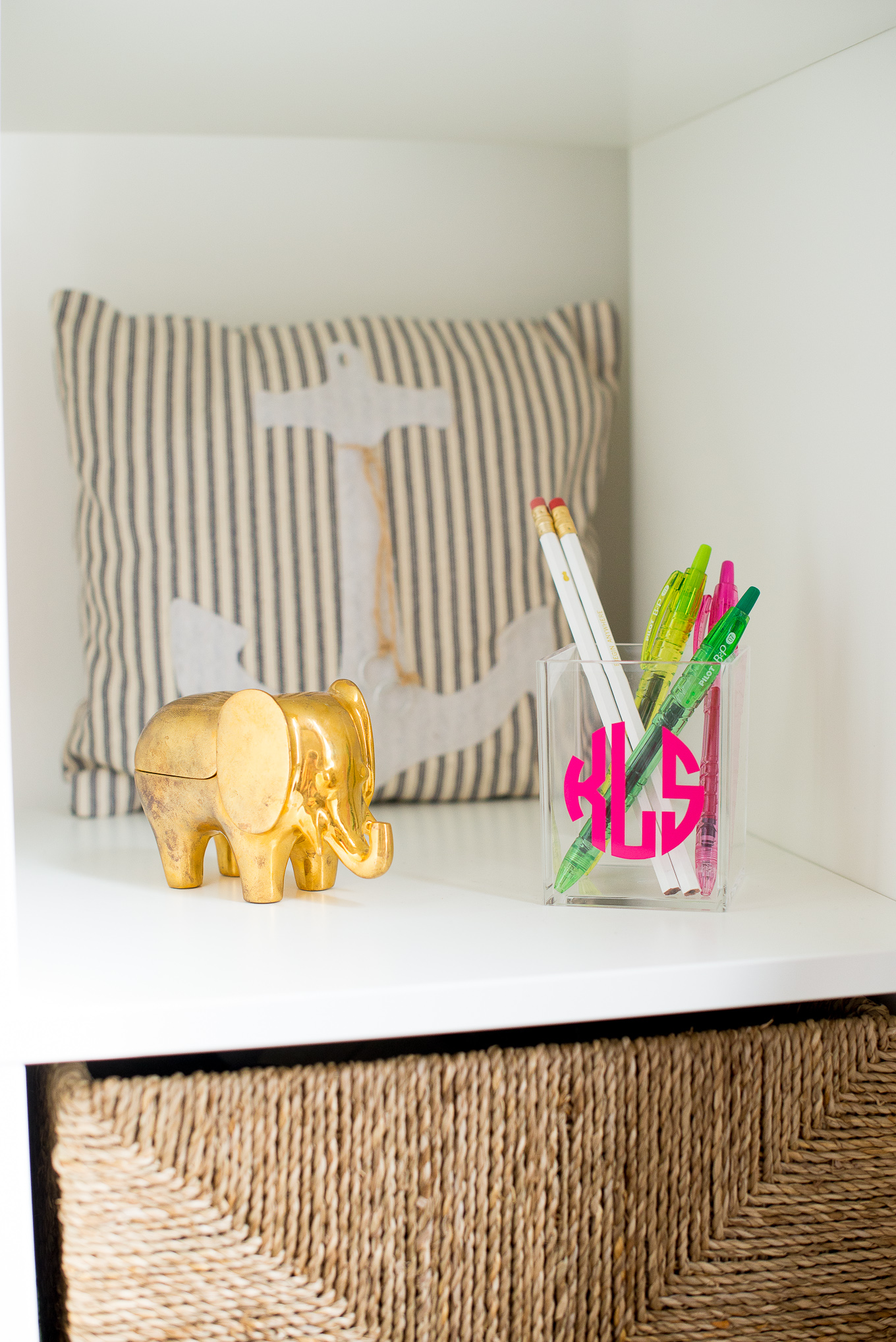 Jonathan Adler Elephant (c/o, similar here, here and here) / White Elephant Designs pencil organizer / Ring bearer pillow from our wedding (I made it! Inspired by this)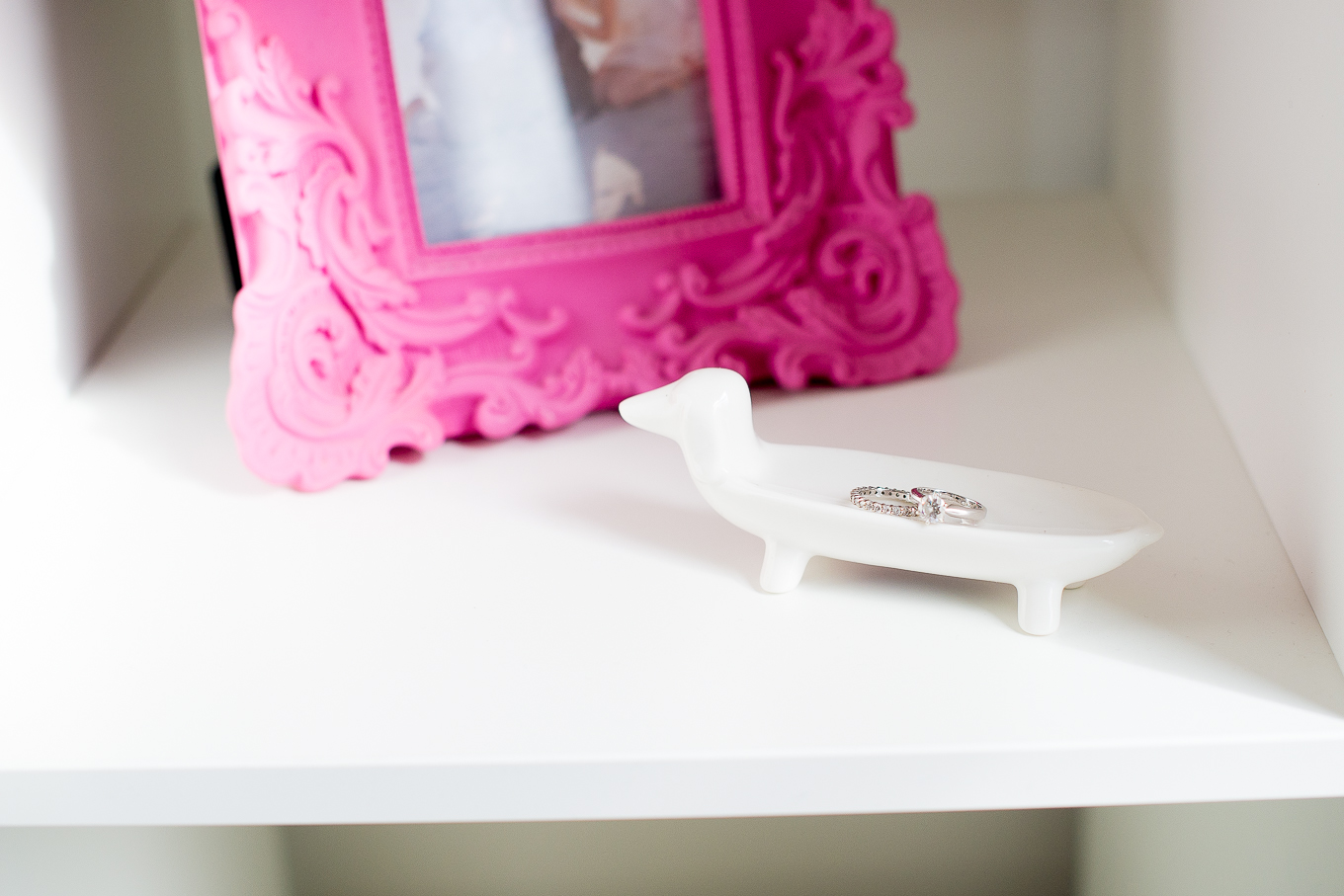 Pink frame (Gift from sister-in-law, similar here) / Dachshund Jewelry Holder (Purchased on the Jersey Shore… but can you believe that this one is sold out?!)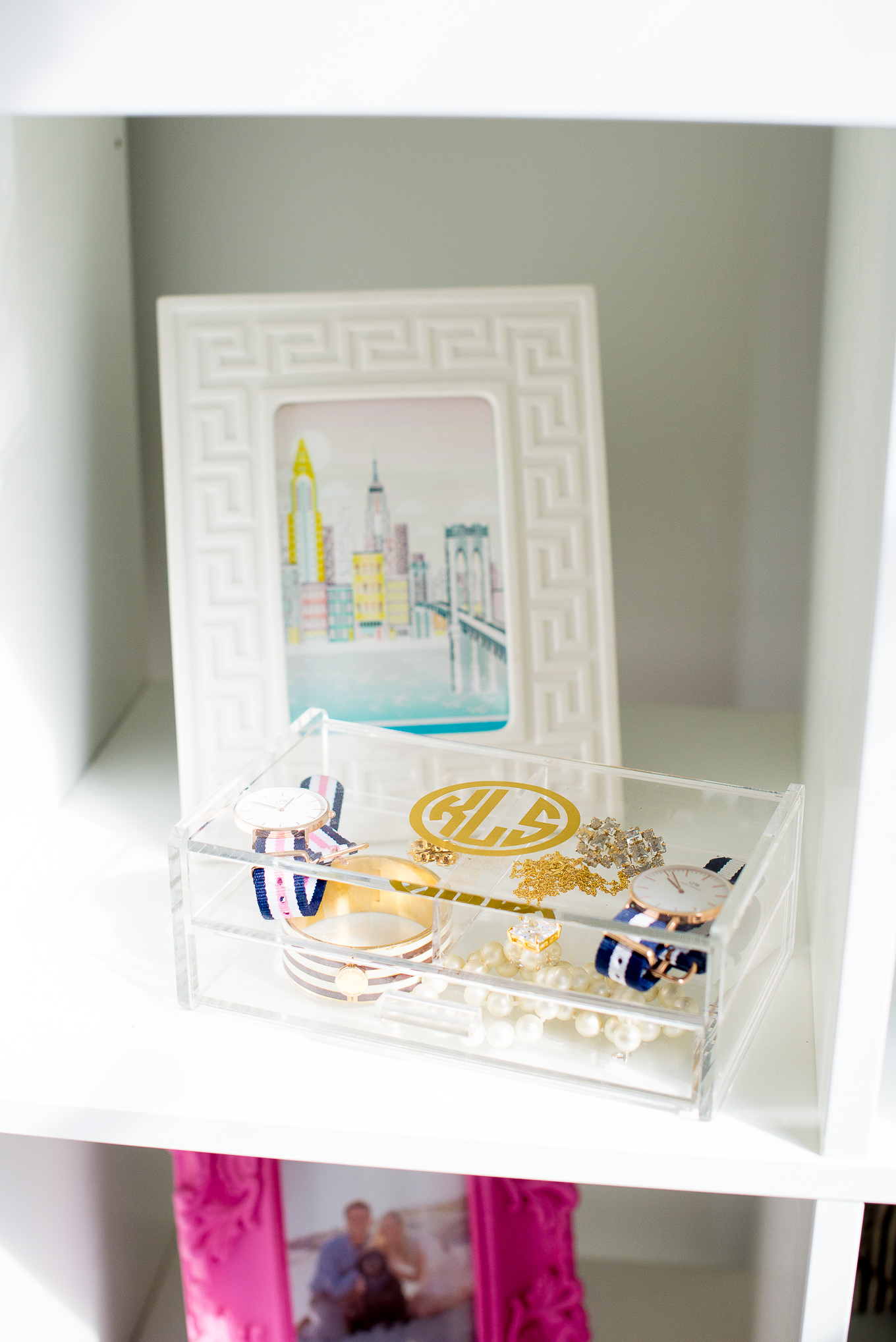 White Elephant Designs Jewelry Box (c/o) / Daniel Wellington Watches (c/o) / Jonathan Adler Frame (c/o) / Moon and Lola Earrings (c/o) / Henri Bendel Bracelet (c/o) / Kate Spade Pearl Necklace / Tory Burch Logo Studs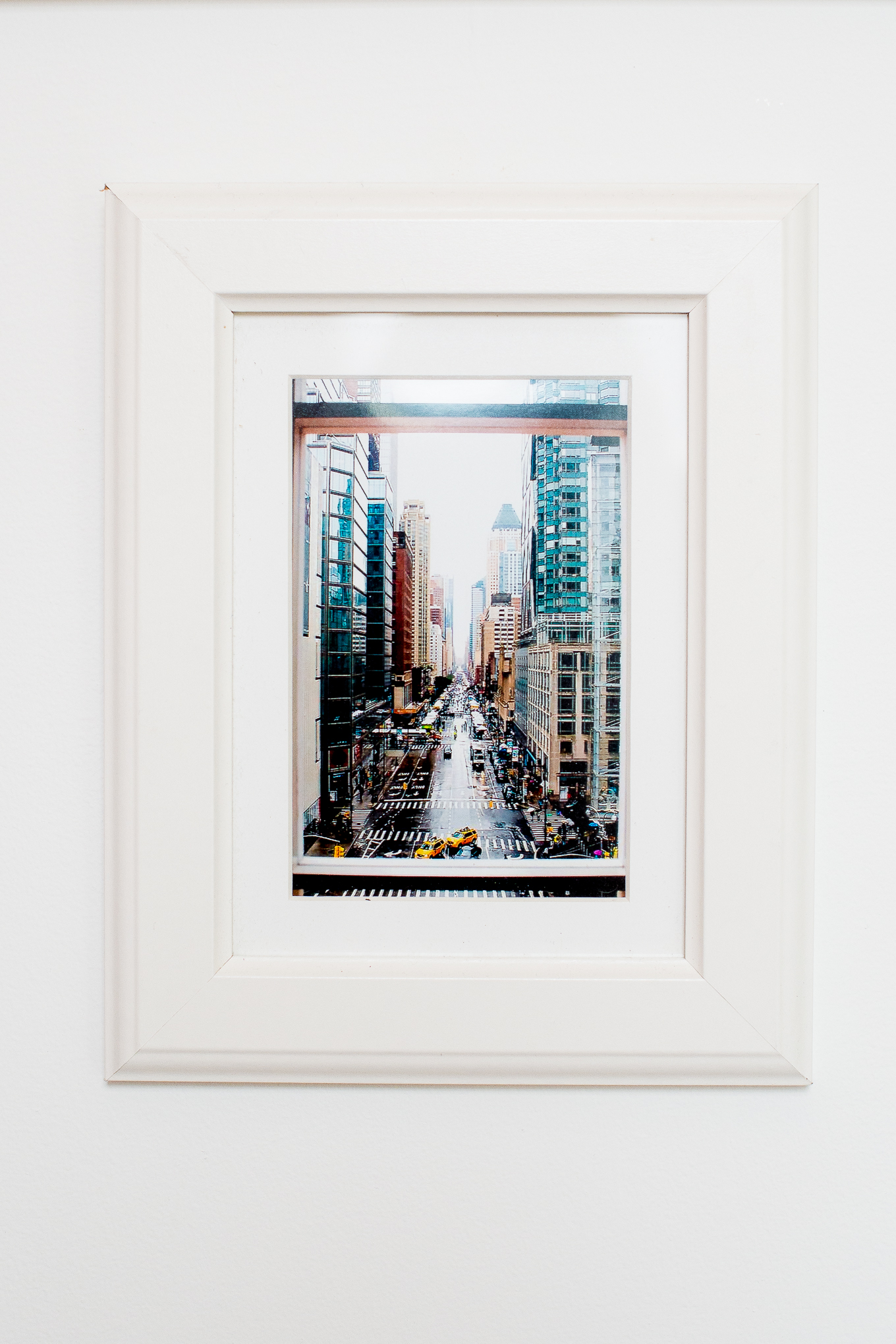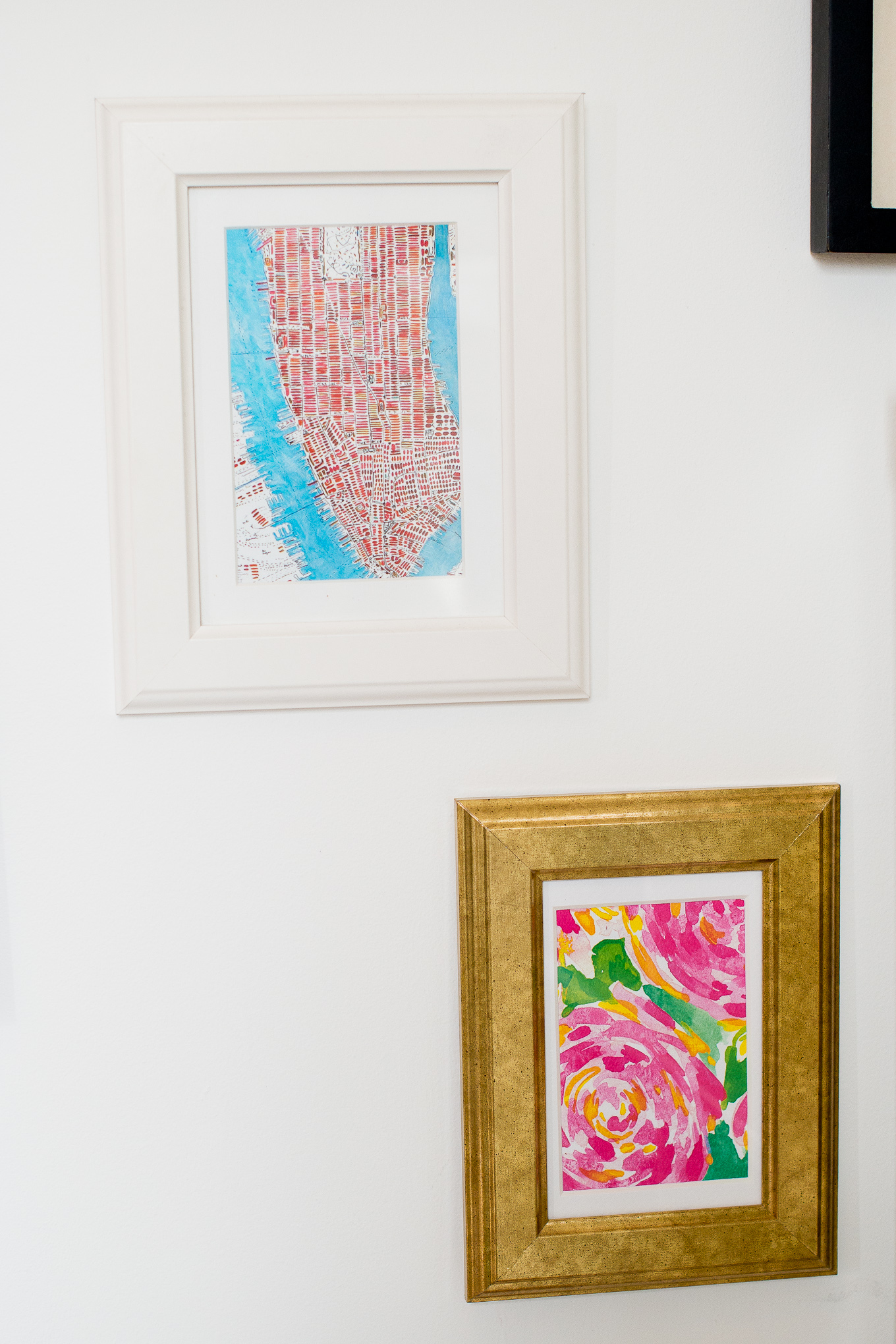 Prints from my New York City Pinterest board / Back of the current Lilly Pulitzer catalogue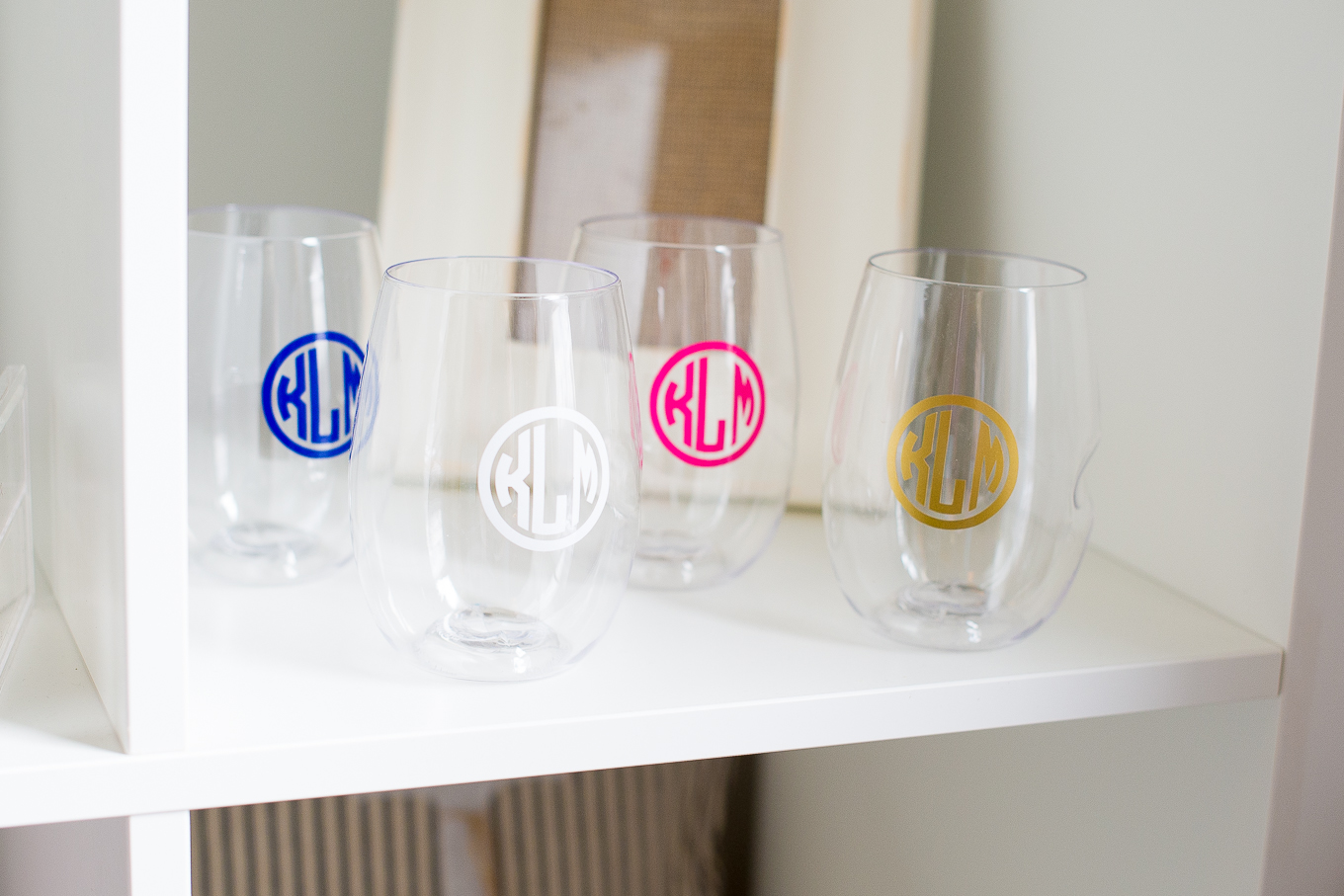 White Elephant Designs wine glasses (c/o)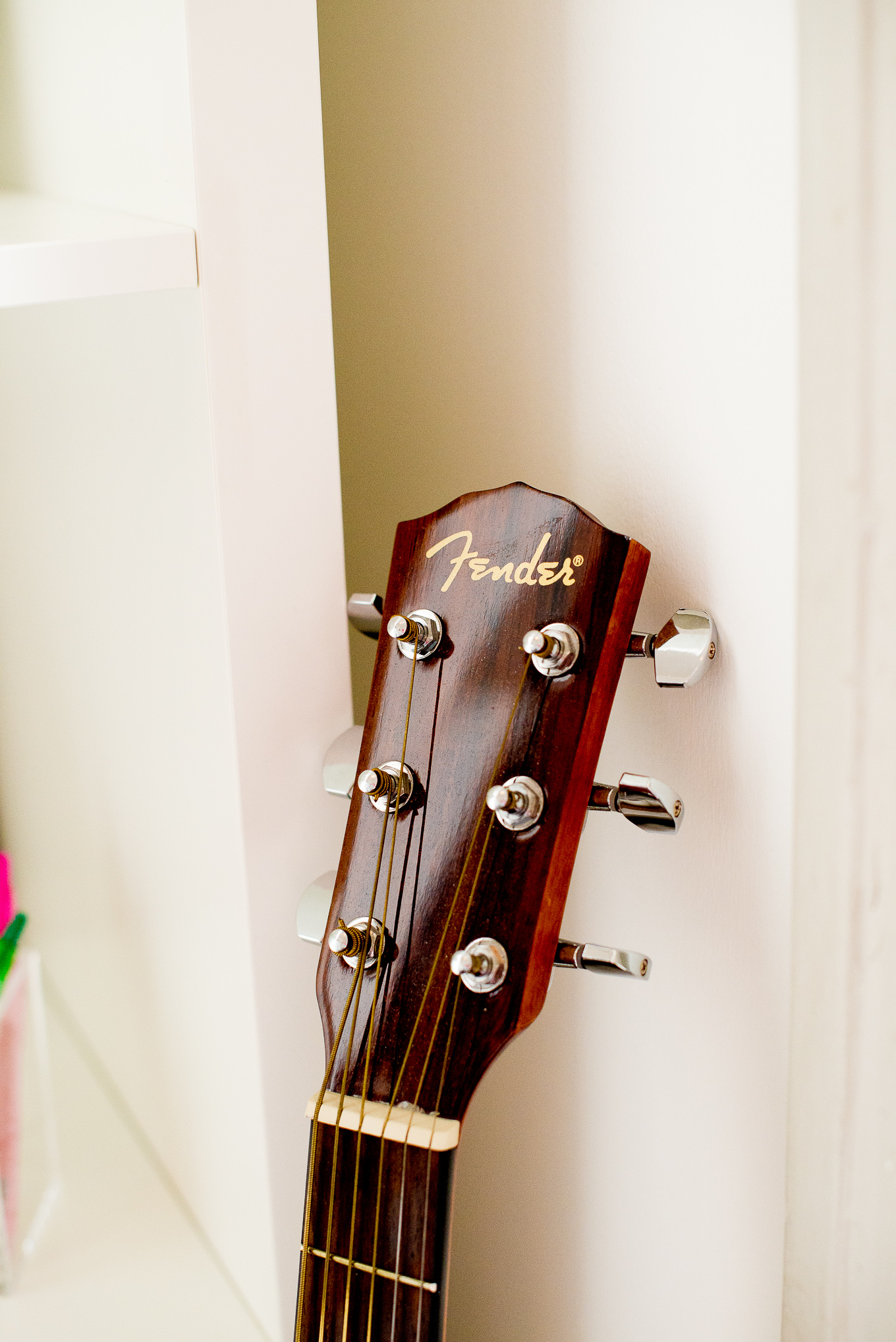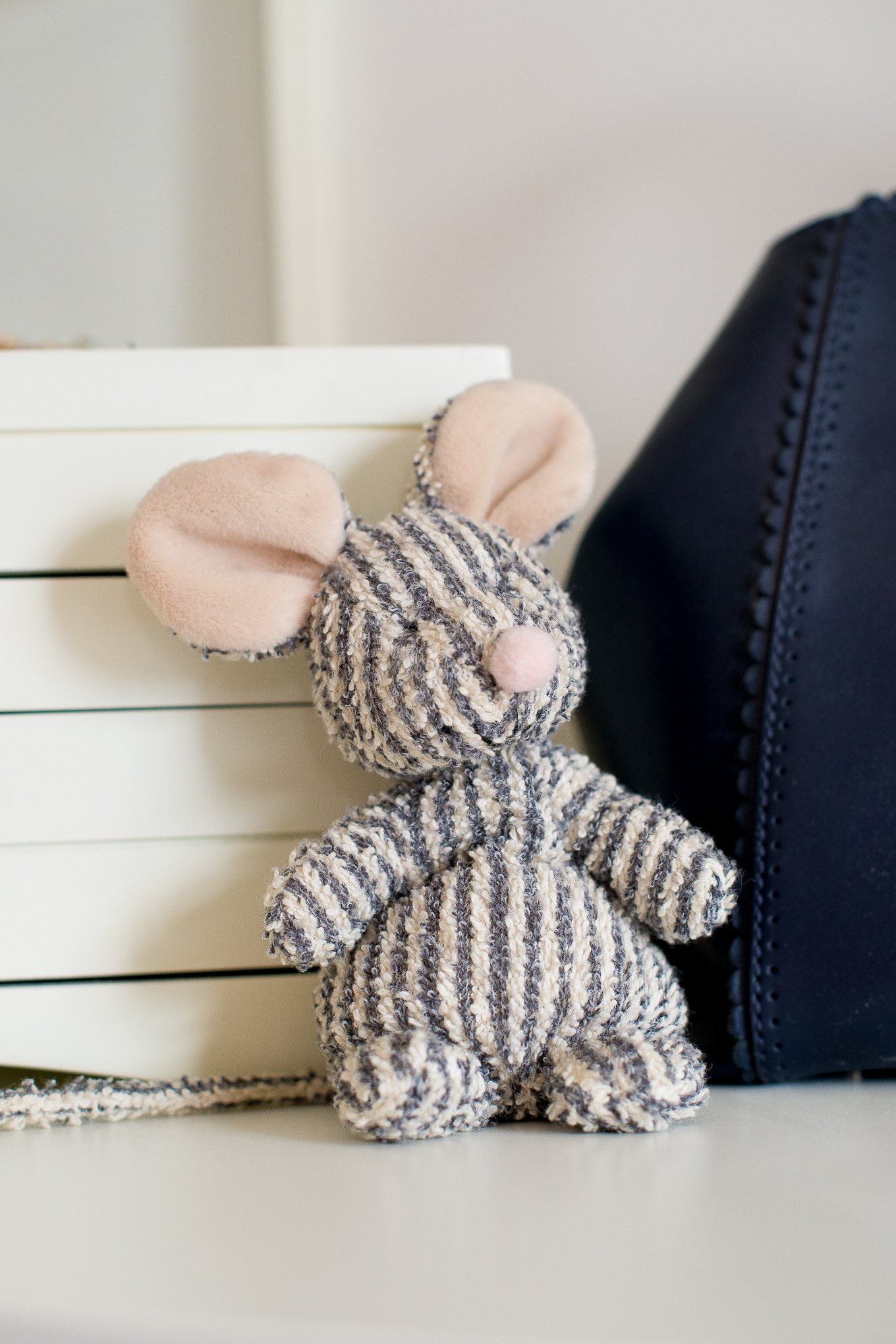 Before:
What do we think? Living room next?!