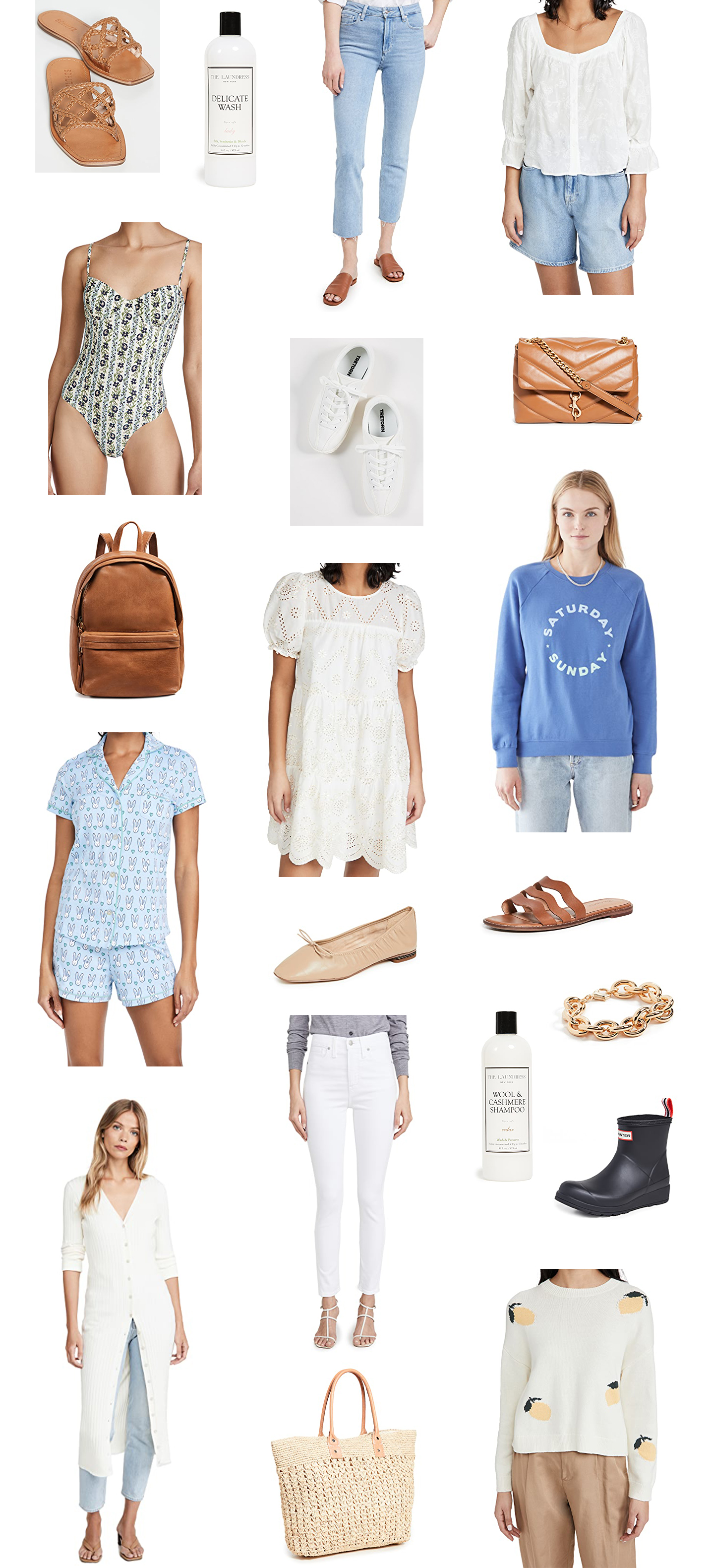 Today I'm sharing my favorites from the big Shopbop sale! If you're new to Shopbop, it's actually owned by Amazon—and the retailer carries so many insanely wonderful brands that normally don't go on sale. So this is the perfect time to take advantage and score some investment pieces at a big discount!
Note: If you're an Amazon Prime member, you get the same benefits that come along with your membership. (Free two-day shipping and free returns!)
The details: Now through Friday, April 16th, you can use code "STYLE" on Shopbop.com to take 15 percent off $200+ orders, 20 percent off $500+ orders, and 25 percent off $800+ orders.
Here are my faves!
Woven Sandals: Can you believe that sandal weather is just around the corner?! I actually wore them while visiting my brother and sister-in-law in New Orleans because it was HOT, and it was so surreal. Living in the city, I really beat mine up… so I always invest in a couple of new pairs every year. This pair is so cute!
The Laundress Wool/Cashmere Shampoo and Delicate Wash: I swear by this stuff. It's how I (entirely) avoid going to the dry-cleaners! It's a little pricey, but way less expensive than sending your stuff out… and way more convenient for those of us with chaotic lives.
Cropped Jeans: So into the cropped/slightly flared jeans this year. They're ultra-flattering and amazingly comfortable. This pair has a ton of stretch and is known to be wonderfully comfortable.
White Top: White blouses like these are on constant rotation for me during the spring and summer. They're just so easy and make you look like you tried!
Floral Bathing Suit: Oh wow. If only I didn't have such a long torso, this swimsuit would be in my cart for sure! Stunning.
Tretorn Sneakers: Favorite sneakers of all time. Super padded. I walk miles in them without any discomfort!
Quilted Crossbody Bag: I LOVE this bag. Doesn't it look so much like a Chanel?!
Leather Backpack: A leather backpack is such a comfortable way to switch things up. Great if you need to be hands-free with kids, too.
Eyelet Dress: Yes yes yes. This is a statement piece but since it's solid white, one that you can keep on rotation and wear all the time. Dree it up or dress it down. Dressing-it-down ideas: Pair it with a military or jean jacket and some cute flats/sandals and you're good to go!
Saturday/Sunday Sweatshirt: I've cut myself off from sweatshirts this year but I'm very tempted by this one. ;)
Bunny Pajamas: I have these and LOVE them! So wish I could find the matching nightgowns for the girls but they seem to be sold out everywhere. So soft, and you just can't beat that wide waistband.
Nude Flats: I hear that these are phenomenally comfy! They look 5x the price, too.
Wavey Leather Sandals: Loved these because they kind of remind me of scallops. Oh, Kelly.
Long Cardigan: I have this cardigan in black and it's so versatile! Love wearing it with a camisole underneath. Great for going out because it looks fancy when paired with chunky heels or sandals.
White Skinny Jeans: Don't tell me yours aren't stained from last year.
Chunky Gold Bracelet: Slowly getting back onto the jewelry train, and I love this simple bracelet!
Comfy Hunter Boots: After a solid week of rain, I'm thinking about upgrading my rain boot situation. The taller ones are pretty impractical with little kids. Slip-ons for the win! These get great reviews.
Woven Tote: An easy way to spring-ify your look. The straps are over-the-shoulder, too.
Lemon Sweater: Live in Chicago where spring doesn't actually exist? ;) BEHOLD!