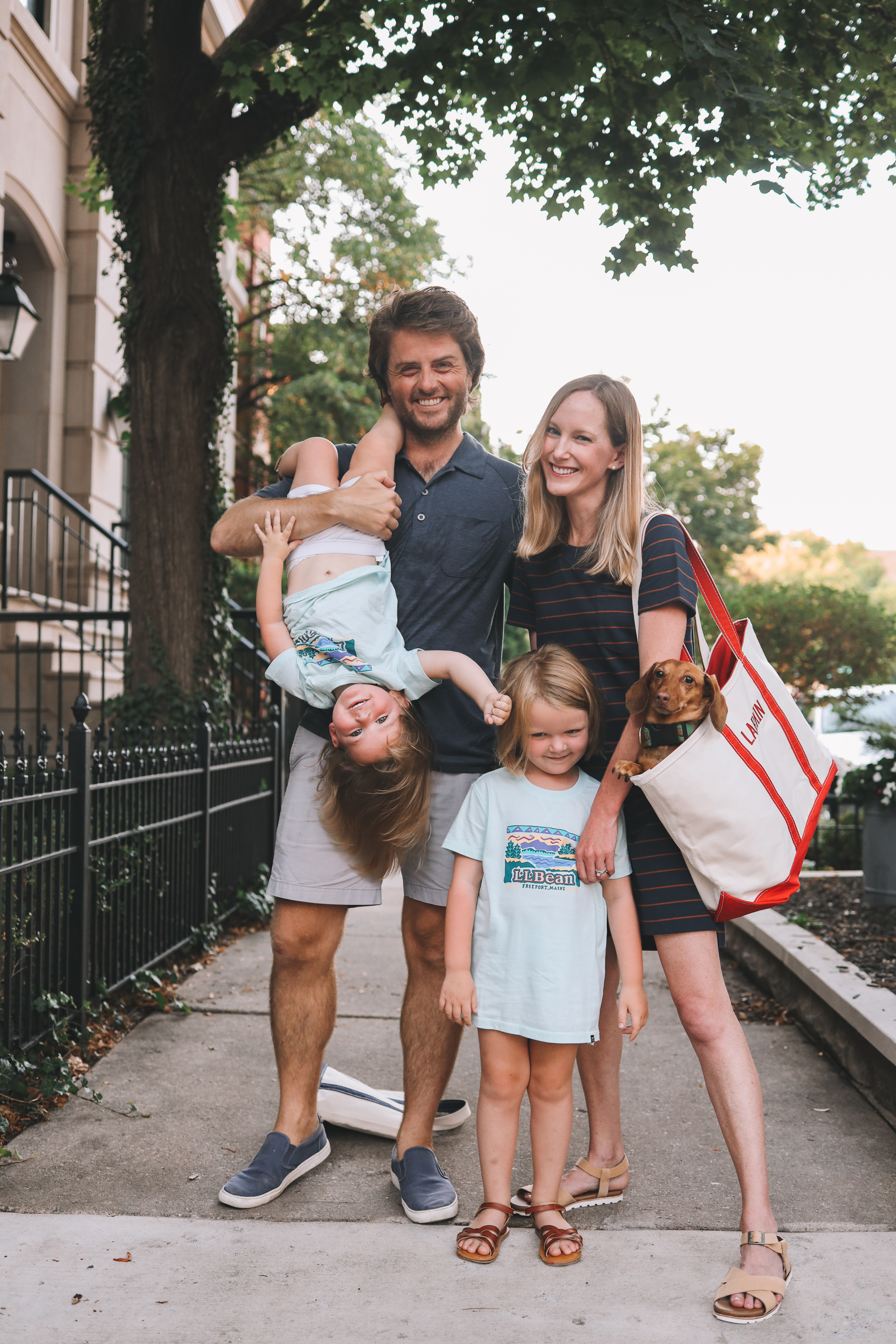 Striped Dress / Sandals / Girls' LLBean Shirts / Mitch's SunSmart Polo / Boat and Tote Zip Top (Size Large, Extra Long Handles) / Noodle's Collar / Original Backpacks
Perhaps we should have ordered the tote bag in a size XL for Lucy. 😜
We took these photos for an Instagram partnership with L.L.Bean, but wanted to share them here, too. :) The idea for the collaboration was that L.L.Bean believes in the restorative power of the great outdoors, especially for city dwellers. And as LLBean is one of our all-time favorite brands, it was such an honor to be one of the city-dwelling families asked to participate!
Here are a few of our top clothing + gear products for end-of-summer hikes, scoots, bike and boat rides, and front stoop play sessions in Chicago:
Striped Dress + Sandals: I have a deep, deep love for t-shirt dresses, and this one didn't disappoint. Substantial yet very soft, and the perfect length. (No too short that I would flash people while picking up my kids, yet not too long to look matronly. Big fan! TTS.) The sandals are ultimate comfort. I would order your usual size. I went a half size up because I like a little extra room in my sandals, and I think I should have stuck with my normal size!
Girls' LLBean Shirts: Only recently has Emma become okay with wearing t-shirts and shorts, mostly due to her love of field hockey as well as her cousin Carson's everyday outfits. Aren't the girls adorable in these tees?! So easy for play.
Mitch's SunSmart Polo: Mitch asked for more of these for his birthday or Christmas. And that's saying a lot coming from the man who hates 99 percent of what's in his closet. They provide sun protection AND they're breathable and quick-drying. They're also slimming! A+ all around from him.
Boat and Tote Zip Top: I have adored this tote for years, and it was really exciting to receive one in red! Isn't it cute?! My best advice is to get the size large, which you see here, because it fits perfectly under plane seats. Also get the zip top so nothing falls out, and the extra long handles so you can throw it over your shoulder with ease. Holds everything your family could possibly need for the day, whether traveling or roaming the town/city!
Noodle's Collar: IT HAS BEAN BOOTS ON IT. Enough said.
Original Backpacks: I had and loved this backpack growing up, and it made me a little teary-eyed to see my own daughters carrying and loving them! We actually brought them to camp this morning, and they were adorable walking in with them on their backs. They're honestly just as good as I remember, too. The perfect size for littles, and they're simple yet super functional. A water bottle pocket on the side, and a great front pocket with lots of storage—without the bulk. Red is obviously the best color. ;)
Okay! Please enjoy these silly photos. ♥️ The one of Mitch and me was taken by Emma!
Shop the post:
Striped Dress / Sandals / Girls' LLBean Shirts / Mitch's SunSmart Polo / Boat and Tote Zip Top (Size Large, Extra Long Handles) / Noodle's Collar / Original Backpacks