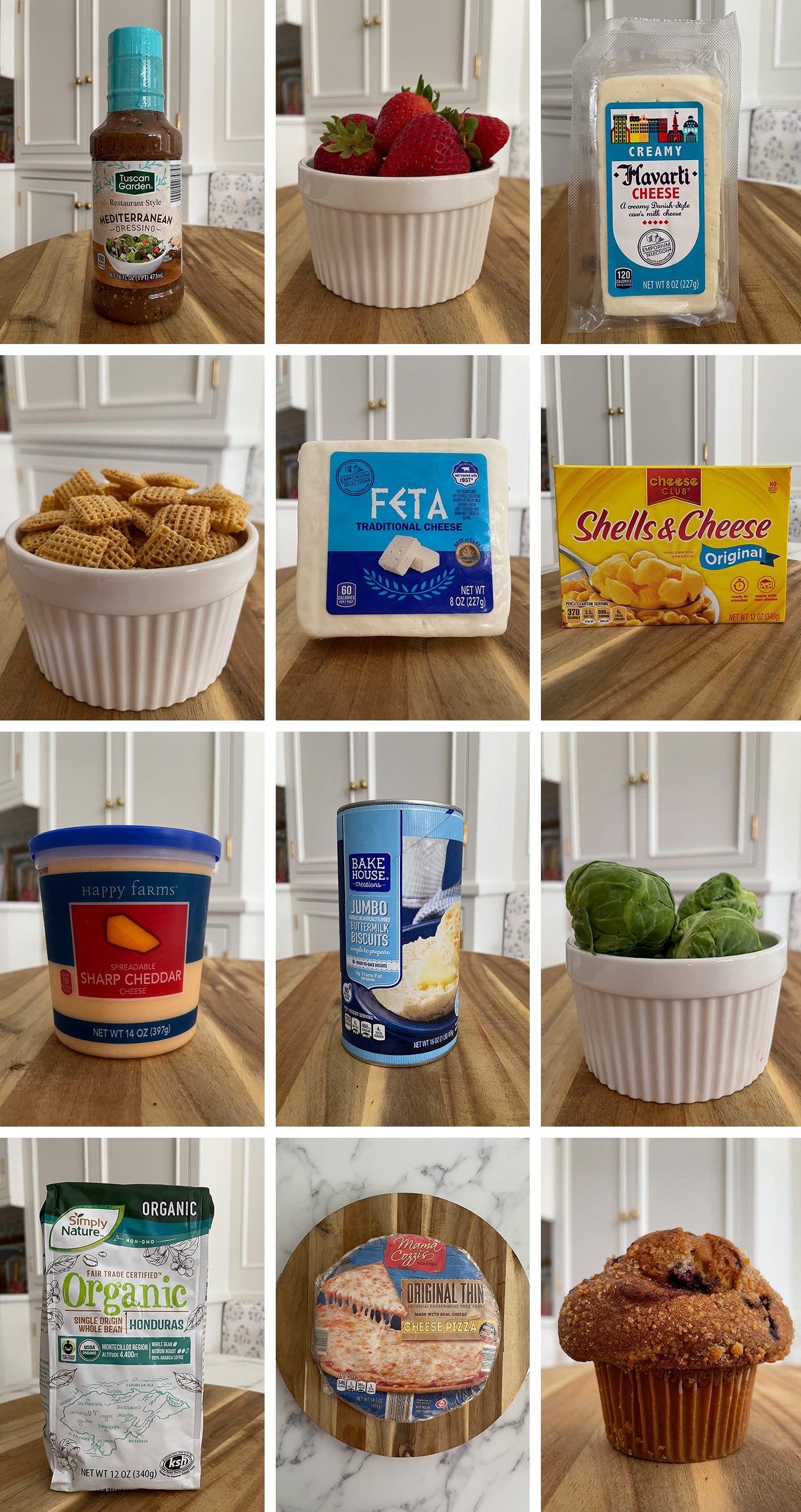 Mitch here!
It's been nearly two years since I wrote this guide to my most-loved ALDI products, and I figured it was time for an update. I've shopped at ALDI nearly every week since that post was written, and I've found some new favorites.
As you probably know, I'm an ALDI fanatic. I just adore the place, and have since we lived in New York City, where food normally costs a small fortune. Shopping at ALDI cut my grocery bill by more than half without sacrificing any of the quality, though. How do they do it? ALDI focuses on creating a streamlined number of private label products and doing it really, really well—resulting in great stuff that's easy to find in-store. (No more frustratingly long searches!) The savings are so good that when we're at the store, I let my family go wild. "Get whatever you'd like," I tell them. And that's not a Mitch thing to say while shopping. But I'm a diehard fan.
(Did I ever tell you about the time I got to go to New York with ALDI? There was a contest where we had to guess the prices of products. Guess who got all of 'em correct? YEP. ME. Kelly was embarrassed.)
Anyway, today I'm updating my 10 ALDI favorites post from two years ago, and adding 11 new fabulous products to add to your shopping list. Enjoy!
1. Tuscan Garden Mediterranean Salad Dressing
This stuff isn't just for salads, though I do use it on my salad every day. It's next level. We marinate our chicken in it, drench our French fries in it, and use it to fix squeaky doors around the house. It's great.
2. Strawberries
I regret this, but until recently I'd drifted away from strawberries. They weren't a favorite and fell off the end of the grocery list. But Lucy came home from peewee with a taste for strawberries, and I'm happy to report that ALDI Strawberries are freakin' delightful. They're super sweet, plump, healthy—and one of the ALDI Fan Favorites this year. I'm a big-time strawberry guy now. Love 'em.
3. Brussels Sprouts
There comes a time in everyone's life when they discover that Brussels sprouts are scrumptious. For me, that time is now, so I'm making sprouts three or four times per month. I follow the same recipe I use for everything else: drizzle oil, crisp/burn slightly, cover in salt, serve. Works every time!
4. Millville Corn Squares Cereal
Emma lives on this cereal. It was one of her first solid foods and she's had it every day since she was a baby. If we (god forbid) run out, life stops until we replenish the supply. I buy four boxes at a time. This is not a drill.
5. Emporium Selection Traditional Feta Block
Specialty cheeses are typically the most expensive splurge in the supermarket, but ALDI has a wide array of super-fancy ones at reasonable prices. My favorite—this traditional feta—goes great on salads, sandwiches and crackers, or works as a simple snack. Or if you're like me, you can just eat the whole feta brick like an animal.
6. Emporium Selection Plain Havarti Cheese
Kelly's favorite of the specialty cheese from ALDI is this creamy Havarti cheese. It's light, soft and snackable and it's always the first thing gone when we entertain. People are like, "Where did you find this delicious cheese?" and I'm like, "ALDI." And then we have an hour-long conversation about why they should become ALDI converts. Shout out to Happy Farms Sharp Cheddar Spreadable Cheese, too!
7. Bake House Creations Jumbo Flaky Biscuits
A good biscuit can change your life, and I took a deep dive on biscuits recently after our trip to Savannah. But after some epic failed biscuit attempts in the kitchen, I gave up on the idea of ever being able to enjoy them in Chicago. Thank goodness for the Jumbo Flaky Biscuits from ALDI, though. They make biscuit-baking at home easy and delicious. You really can't mess them up. We have them every Saturday morning.
8. Cheese Club Macaroni and Cheese
Kelly handles the macaroni and cheese in our house. She cooks the noodles to a perfect al dente, and then removes half the noodles resulting in double the cheese. The result is, well, let's just say I'm a proud member of the Cheese Club.
9. Simply Nature Fair Trade Organic Peruvian Whole Bean Coffee
Shout out to ALDI for making Fair Trade-certified coffee available at such a reasonable price. I make a LOT of coffee every day, and these ALDI beans are about as good as it gets for the self-grinding, espresso-making coffee aficionado that I (way too proudly) am. (I'm the butt of a lot of jokes from our extended family. But guess who always accepts a cup of coffee from me?! Every. Single. Person. In. The. Family.)
10. Mama Cozzi's Pizza Kitchen Thin Crust Cheese Pizza
I like to think that I eat more frozen pizza than anyone I know. At this point, I'm probably doing close to five frozen pizzas per week. (With help from my family, of course.) The simple Mama Cozzi Thin Crust Cheese Pizza is about as perfect as it gets. I'm a huge fan of it as is, but if I'm feeling fancy, I fill it up with toppings from the fridge and make a little night out of it.
11. Bake Shop Blueberry Muffins
Kelly is a muffin maven. She slices them in half and toasts them in butter on the griddle. The result is an impressive display of decadence that I don't think I've ever rivaled in the kitchen.
Mitch. OUT!