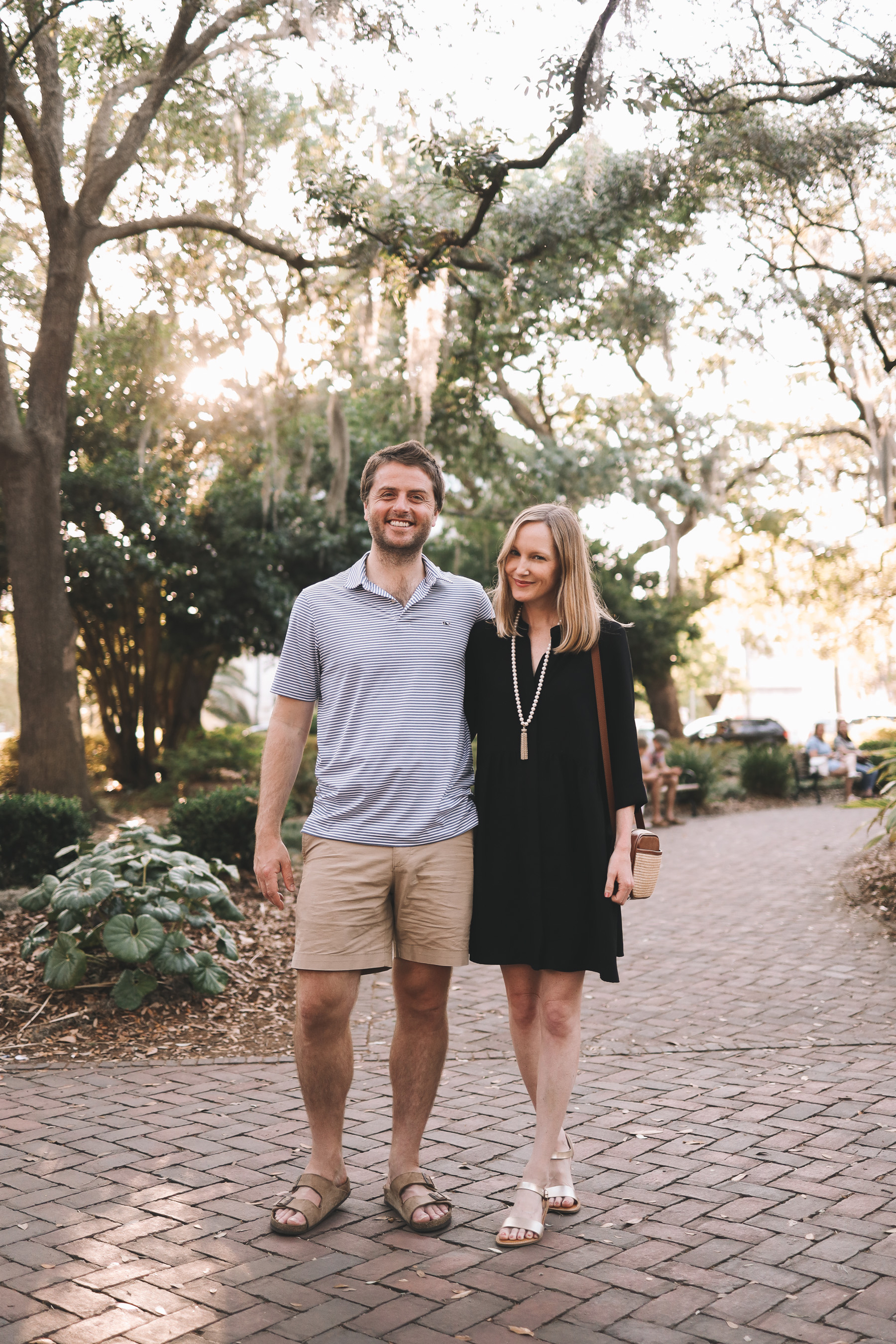 The Best Little Black Dress (Runs large! Wrinkle-resistant and travels great. Sleeveless version here.) / Clara Williams Pearl Necklace (I also have the matching bracelet!) / J.Crew Rattan Camera Bag (See all Camera Bags here!) / $20 Amazon Essentials Sandals (SO comfy. Shop all super soft Amazon Essentials sandals here. No break-in time!) / Ray-Ban Sunglasses / Mitch's Birkenstocks / Mitch's Vineyard Vines Polo
There are approximately one zillion photos in this blog post because shooting without kids is so gosh darn lovely. 😜 I mean, I was literally able to stop and smell the roses. And then photograph them. *Deep sigh.*
Okay, three things today:
Here's my favorite Tuckernuck dress in black, which is arguably the one that I get the most use out of! (There's a sleeveless version, too.) It's wrinkle-resistant and travels great, and because it's so classic-looking and can easily be dressed down or up, I often wear it several times while on trips. (So nice to travel with less.) I love that it keeps the sun off my shoulders—where I burn most frequently—but that it's lightweight enough to wear even on 85-degree days. Runs big; I order one size down in the Royal Shirt Dress.
Say hello to the most versatile and beautifully timeless piece of jewelry! Clara Williams is a Chicago-based jewelry designer, and I'm so in love with the two pieces she sent me. The necklace features two strands of 10-11mm potato pearls, and they can be doubled up and worn short. (I'm obviously wearing the necklace long in these photos!) And it has a magnetic clasp that allows for interchangeable centerpieces, tassels and tags… so you can really change the necklace's look whenever you want. :) I also have the matching bracelet! It's undoubtedly the best bracelet I've ever owned because it features a magnetic clasp and therefore is super easy to take on and off by myself. Would make for a wonderful gift, too!
What we did in Savannah
We were only in Savannah for three days, but here's a little list of what we did and where we ate. I cannot recommend the hotel we stayed at 😆, but the next time we're in the city, we hope to stay at the Eliza Thompson House, which looked adorable.
Meals + Drinks
Activities
Exploring the squares: Did you know that Savannah features 22 squares, each more beautiful than the last?! Mitch and I couldn't get enough, and spent the majority of our time wandering from one to the next, reading the plaques, admiring the landscaping, and taking in the surrounding homes. The city was originally planned out in a grid, and the squares were meant for both the militia and for residents to enjoy. My favorite square was Pulaski Square—you can see my photos here—but I also loved seeing Flannery O'Connor's childhood home on Lafayette Square.
Walking Jones Street: Described as one of the most charming streets in the country, the bricked Jones Street is where you'll find gorgeous houses, home to many notable historical figures. Mitch and I walked it at least three times!
Strolling along the River Walk: This is a touristy thing to do, but who cares. It's fun! You'll see lots of people walking with drinks (because that's allowed in Savannah 😮) and find lots of shops and restaurants. I personally love being by the water, so I really enjoyed the River Walk!
Visiting Forsyth Park: WOW! This is Savannah's Central Park. :) One regret I have is not planning a picnic there, but we did stop in at The Collins Quarter and then roamed the park with wine in hand, haha. Anyway, it's just a stunningly beautiful park, and a must-see when in Savannah. It's hopping, too… which makes it extra fun!
Shopping: We didn't do a ton of this, but we did pop into several antique stores, which Savannah is known for. We also picked up some gifts for the girls at Rhen's Toy Nest.
Visiting City Market: City Market is happening! It can get a little rowdy at night, but there are some great restaurants, shops and bars there. We went twice—our first night for dinner, and then our last night for a quick slice of pizza—and had a lot of fun. A great spot for families!
Again, we were only in Savannah for three days, but we definitely plan on going back. What did we miss?! What are your recommendations?!
Shop the post:
The Best Little Black Dress (Runs large! Wrinkle-resistant and travels great. There's a sleeveless version, too.) / Clara Williams Pearl Necklace (I also have the matching bracelet!) / J.Crew Rattan Camera Bag (See all Camera Bags here!) / $20 Amazon Essentials Sandals (SO comfy. Shop all super soft Amazon Essentials sandals here. No break-in time!) / Ray-Ban Sunglasses / Mitch's Birkenstocks / Mitch's Vineyard Vines Polo