Chicago Restaurant Week is back!
Mitch and I enjoy dining out at local restaurants and this annual city-wide celebration is the perfect opportunity to try some new eateries. 
It's also a fantastic time to enjoy a meal at some of the best restaurants in the country. And with the special event meal prices, we can treat ourselves to a fine dining experience without the guilt-inducing splurge!
Seriously. We are so excited.
If you're wondering where to eat, I'm here to help. This isn't our first time around the block, after all. ;) These are my recommendations for where to eat during Chicago Restaurant Week: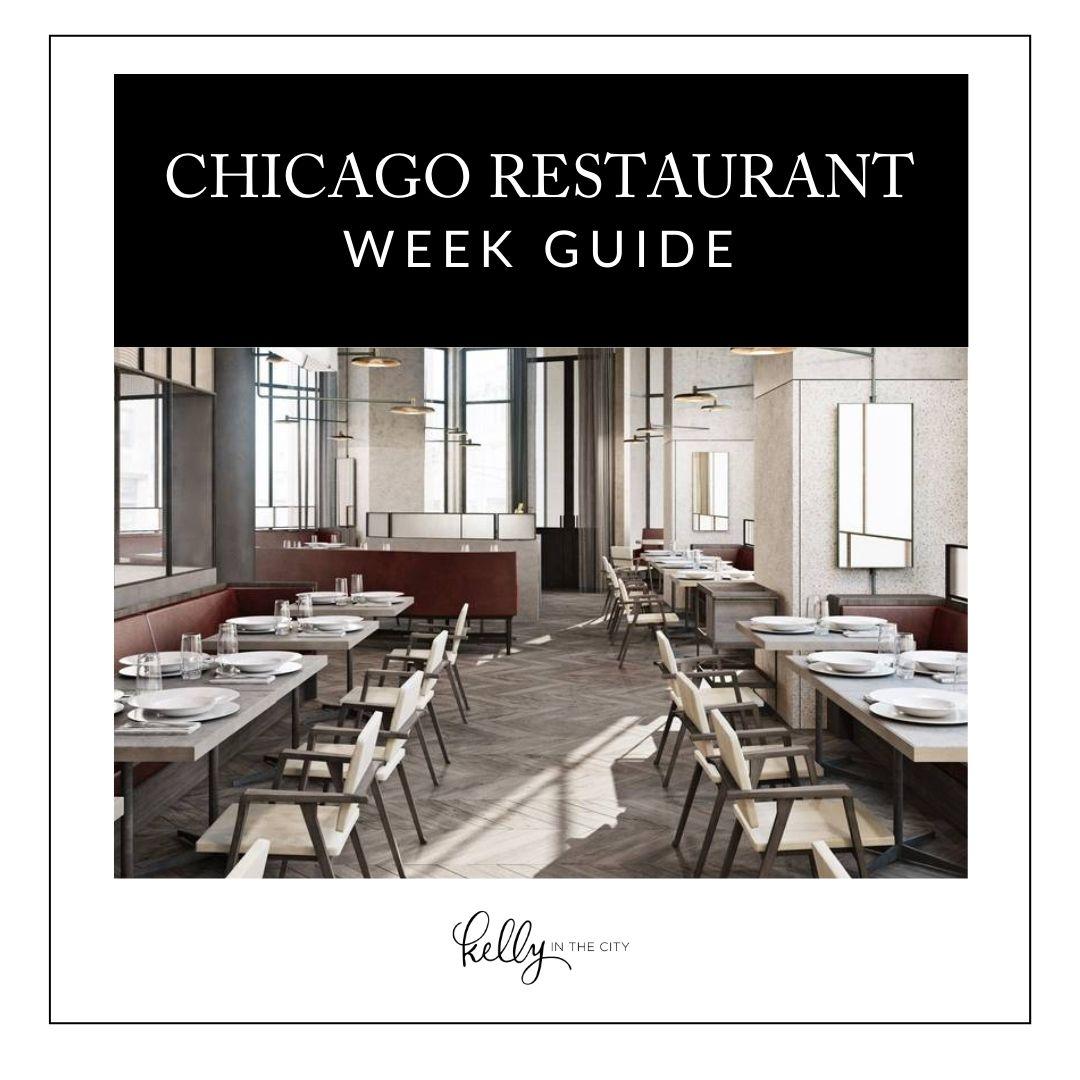 Chicago Restaurant Week Guide
What Is Chicago Restaurant Week?
Chicago Restaurant Week is a celebration of the city's award-winning dining establishments. Despite its name, Chicago Restaurant Week actually goes on for 17 days. The event, which shines a light on more than 300 of the top restaurants in Chicago, has been held every year for the last 16 years.
During the event, diners are offered special prix fixe menus at each participating restaurant in Chicago and nearby suburbs. The meals, which include multiple courses, are $25 for brunch or lunch, and $42 and/or $59 for dinner (price doesn't include drinks, tax, and gratuity). 
When Is Chicago Restaurant Week? 
Chicago Restaurant Week runs from January 20 to February 5, 2023.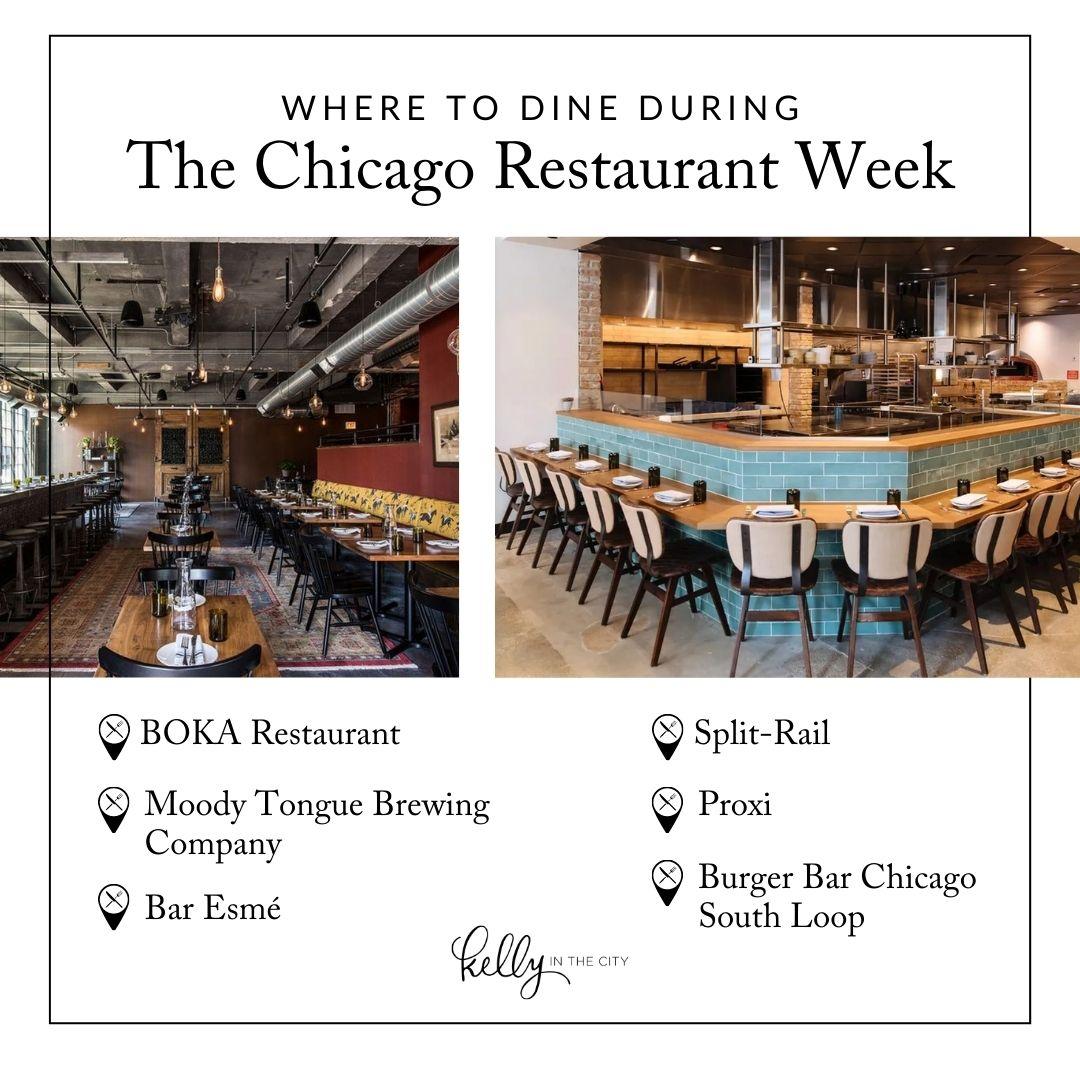 Where To Dine During The Chicago Restaurant Week
BOKA Restaurant Group in Lincoln Park is a mega-popular dining destination during Chicago Restaurant Week. It's not everyday that you get to enjoy a four-course dinner at a Michelin-starred establishment for only $59. 
The meal begins with a selection of hot and cold appetizers like duck leg ravioli and dry aged beef tartare. There are four entrees to choose from, including Icelandic cod and grilled pork collar. Two delectable dessert offerings conclude the meal. Diners can add wine pairing for an additional $40. 
Reservations aren't required to enjoy a meal at most of the restaurants participating in Chicago Restaurant Week, but for a spot like BOKA, they are definitely recommended. 
Click HERE for directions to BOKA Restaurant. 
Moody Tongue is the world's first two Michelin star brewpub, so you can imagine the excitement surrounding its participation in Chicago Restaurant Week. For $59, diners can enjoy an impressive dinner in The Bar, the more casual area of the brewpub.
The Restaurant Week menu at Moody Tongue includes appetizers like braised beef cheeks and seared scallops. For your entree you can choose between cod, pork belly, strip steak, and roast cauliflower. Then, for your dessert, you can enjoy either Brownie a la Mode or Buttermilk Panna Cotta. 
Click HERE for directions to Moody Tongue Brewing Company. 
Bar Esmé is located in the same space as the Michelin-starred fine dining restaurant. The Lincoln Park eatery is making its Chicago Restaurant Week debut. 
During the celebration, diners can enjoy a $59, three-course dinner that begins with their unique take on a Flaming Hot Cheeto. Butternut squash soup or mushroom conserva are the second course offerings. For the third course, diners can select either trout or wagyu pithivier. 
Click HERE for directions to Bar Esmé.
Split-Rail is a neighborhood bistro owned by an eclectic fried chicken specialist. This new American eatery debuted two dinner options for Chicago Restaurant Week. The $42 "Divey" menu features dive bar favorites like jalapeno poppers, Frito pie, and salisbury steak, with funnel cake for dessert.
The $59 "Diva" menu offers a more refined meal that includes a grilled bell pepper crab salad and seared NY strip with panna cotta for dessert. 
Click HERE for directions to Split-Rail. 
There are few restaurants as suited to serve international cuisine as Proxi. World-renowned Executive Chef Andrew Zimmerman plans to wow patrons with four courses for just $59. 
The Chicago Restaurant Week menu at Proxi features an assortment of family-style dishes. Menu options include sweet potato chaat, coal roasted mussels, wood grilled pork collar, and spiced lentil dumplings. For dessert, which is served family-style to the whole table, you can choose either tres leches cake or chocolate budino. 
Click HERE for directions to Proxi.
For a more family-friendly, AKA kid-friendly, meal during Chicago Restaurant Week, look no further than Burger Bar. This South Loop eatery stacks up some of the best burgers and craft beer around. 
For Chicago Restaurant Week, Burger Bar is offering lunch and dinner for $25 and $42 respectively. For lunch you will be treated to their award-winning house-made fried pickles and the Crunchy Cheesy Tomato Soup Stacker. You can choose tater tots, fries, sweet potato fries, and kettle chips for your side. The dinner menu has the same offering with the addition of six jumbo grilled wings. 
Click HERE for directions to Burger Bar Chicago.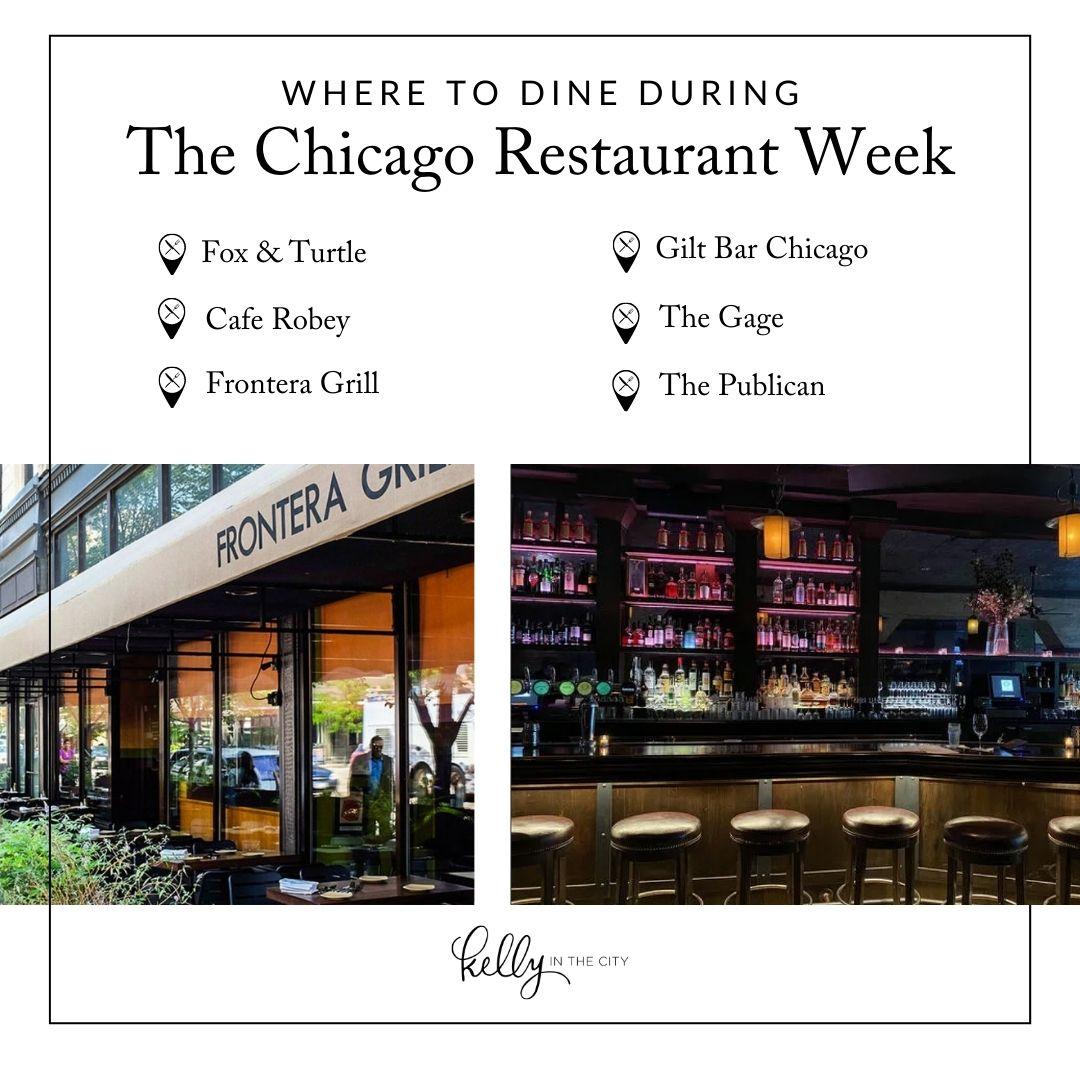 I made a point to include Fox & Turtle because it has one of the best Chicago Restaurant Week menus for less adventurous eaters. If you just want to enjoy the classics, this is the place to go. You can come in for their $25 lunch or their $42 or $59 dinner options. Each menu includes a diverse selection of dishes like burgers, chicken, and salmon, as well as tasty desserts such as sorbet, key lime pie, and gelato. 
Click HERE for directions to Fox & Turtle. 
Here's a great brunch and lunch option to try during Chicago Restaurant Week. Cafe Robey will also offer dinner, but it's the brunch menu that has foodies talking. For a mere $25, you can select an appetizer and entree. 
Delectable appetizers include ricotta toast and an apple crumb bar. There are several entrees to choose from, including a salmon bagel or a cheeseburger, as well as a quinoa and brown rice bowl or a breakfast skillet. 
Click HERE for directions to Cafe Robey.
The acclaimed Frontera Grill is owned by one of Chicago's best-known chefs, Rick Bayless. His Chicago Restaurant Week menu covers lunch and dinner. 
You'll want to stop in for appetizers like fresh ceviche, corn tamales, and sopecitos rancheros. Your entree options include chicken with yellow mole and mushroom mixiote. Your meal even includes one of two incredible desserts. Select either cuatro leches cakes or a chocolate pecan pie bar.
Click HERE for directions to Frontera Grill. 
If you have your sight set on trying the best three course meals in the city, don't overlook Gilt. Gilt Bar Chicago, a Bib Gourmand pick, is the perfect place for a romantic date night. (And date night is essential, amiright? Especially when you're getting this good of a deal!) It's best-known for its impressive bar program, but the $59 Chicago Restaurant Week menu is similarly impressive.
Gilt's three-course dinner begins with your choice of wood fired bone marrow, tenderloin steak tartare, or burrata. For your main course, you can dig into a prime rib French dip, steamed mussels, or paccheri alla norma. For dessert you will be treated to chocolate cream pie.
Click HERE for directions to Gilt Bar Chicago.
The Gage is one of the most booked restaurants in Chicago. Once you visit this Millennium Park eatery, you'll understand why. Every dish on their menu is equally impressive and delicious. During Chicago Restaurant Week, you can stop by and enjoy a memorable $25 lunch or $59 dinner. 
Lunch options include lobster bisque, creole gumbo, veggie wellington, and either a chocolate caramel tart or creamsicle cake for dessert. For dinner you can choose from an impressive collection of dishes like white asparagus bisque, hamachi crudo, duck breast, and swordfish. 
Click HERE for directions to The Gage.
For those of you who are looking to score the best deal during Chicago Restaurant Week, be sure to visit The Publican. The Fulton Market establishment is offering a $59, four-course dinner that is worth way more than twice that!
During Chicago Restaurant Week, you'll have the opportunity to devour dishes like bouchot mussels, skate wing, butcher's steak, and arguably the fanciest toasted marshmallow you've ever had. To get the most bang for your buck, you better head to The Publican and take advantage of their event menu while you can!
Click HERE for directions to The Publican.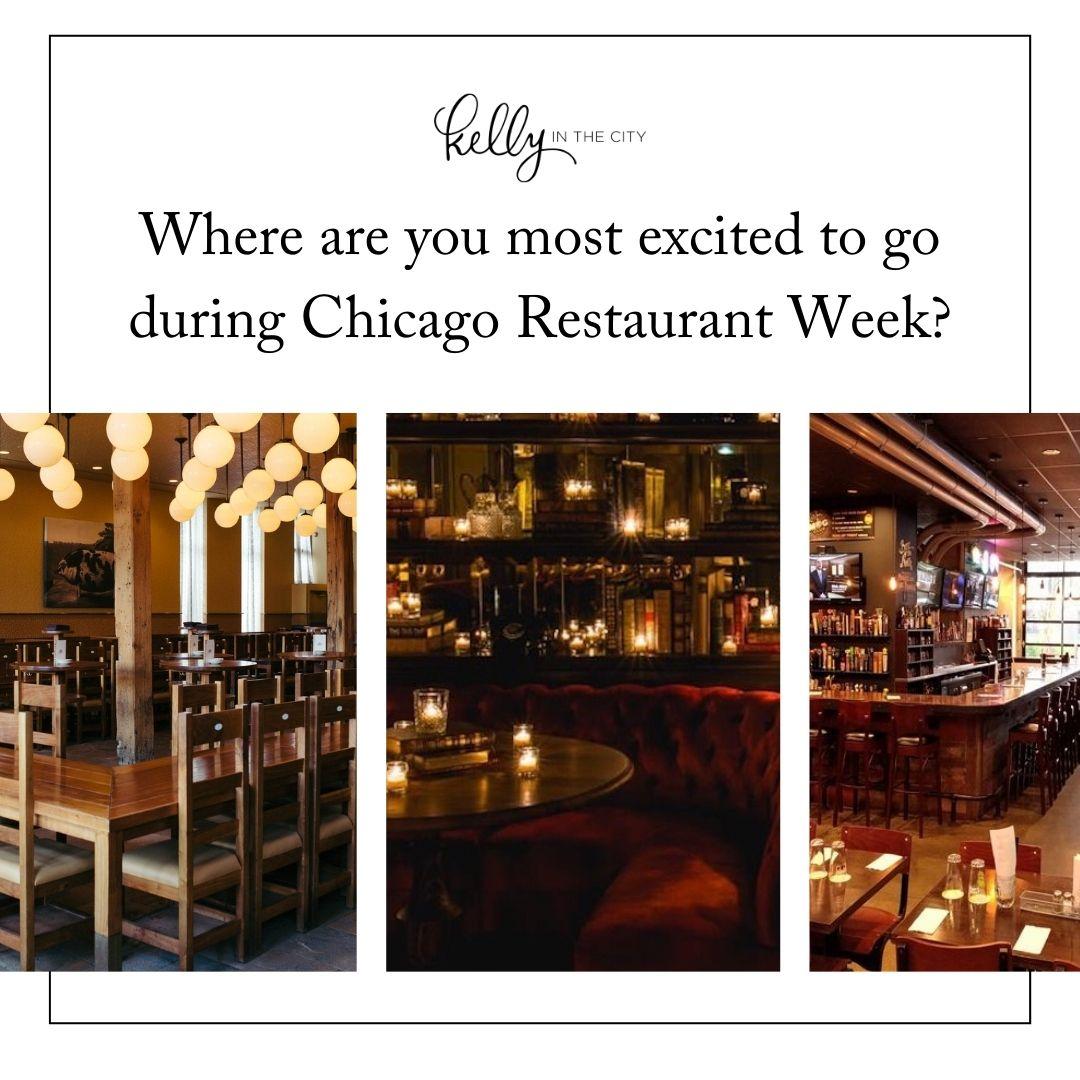 Where are you most excited to go during Chicago Restaurant Week?
Are you looking forward to trying one of the restaurants above? Or maybe you have your own recommendation to share. If so, I'd love to hear it! There's no better time to try a new place than during Chicago Restaurant Week. Oh, and if you're worried about taking your kids out in the hustle and bustle, check out my survival guide for restaurants with kiddos!
If you're interested in reading more about all the amazing things you can do in Chicago, head over to the blog!