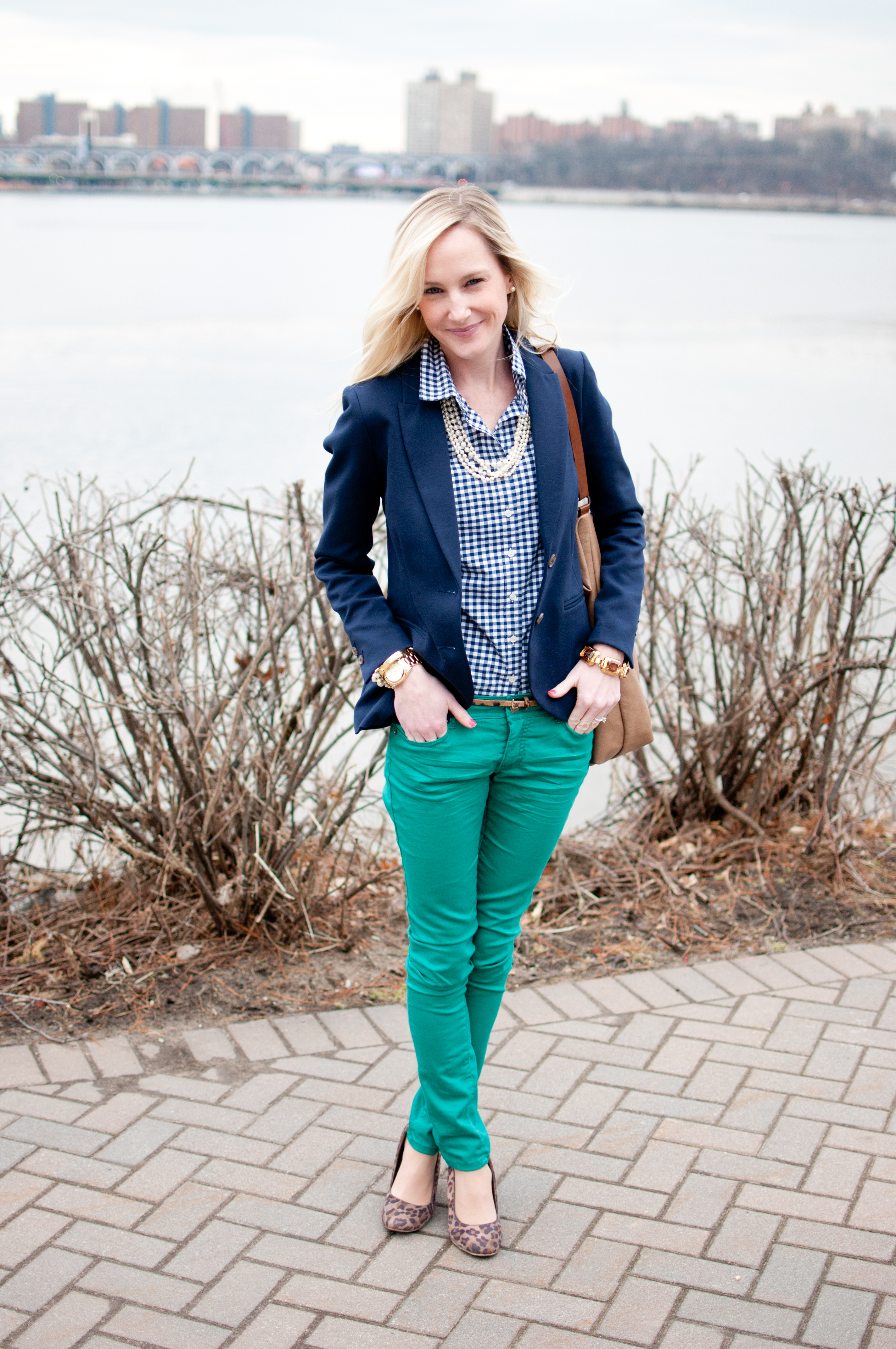 Colored jeans: Target / Wedges: Payless / Blazer: H&M similar here / Navy Gingham Button-Down Shirt: J.Crew / Bag: Zara similar here / Necklace: J.Crew Factory / Earrings: J.Crew / Watch: MICHAEL Michael Kors / Bracelets: J.Crew similar here, C.Wonder not similar, but wonderful here, Earrings: Kate Spade / Belt: J.Crew similar here
I obviously adore everything J.Crew, Kate Spade, Lilly Pulitzer, C.Wonder and the like, but sometimes–when the clothing budget has been spent or money is being saved for a honeymoon (!)–a girl needs to save a little dough by drawing inspiration from these brands and finding the styles for less.
Last year, like most preppies, I was crazy for colored skinnies. I drooled over them from designers like Paige, J Brand and Hudson (I'm an addict), but in the end, really couldn't justify spending a ton on something that couldn't really be worn more than once every couple of weeks. I clearly couldn't live without them, though, so I went to Target, the place I always go when I want a good deal on a trend. Luckily for me, Target had recently arrived in Manhattan, and the store was rife with colored skinnies. The only problem was that I simply couldn't decide which color to buy.
Which leads me to the hundred-dollar bet story. :) Hehe.
One day when a Dave Matthews Band came on the radio, Mitch bet me a hundred dollars that I couldn't name the band's albums in order of their release. At first, I couldn't believe he was making this bet with me. But then I realized that I'd never mentioned I was a DMB *fanatic* throughout middle school. So I took the bet, telling Mitch that if I won, I was marching (like ants, ha!) to the nearest Target up on 116th Street and purchasing five pairs of colored jeans.
"Fine," he said, smirking. "You're not going to win."
"Watch me."
Of course, I correctly named the albums in the order of their release, and Mitch sadly handed over the hundred dollar bill he'd recently won in Atlantic City. And I promptly took the subway up to Target to purchase my colored skinnies.
Today I'm sporting a pair of those Target Mossimo colored skinny jeans. For anyone who hasn't tried Target's colored jeans, they're awesome, and I highly recommend them. Granted, they're not as wonderful as designer jeans, but they get you the look without shelling out hundreds. They're comfy, flattering, and sturdy. I've had mine for a year now, and no rips or tears. I scored them (five pairs, as I promised Mitch) from $15 to $22. If you're ordering online, size up, as they're juniors. While I'm usually a 25/26 or 0, I wear a size 7 in Target jeans. Couldn't even button up the size 5! Word to the wise. ;)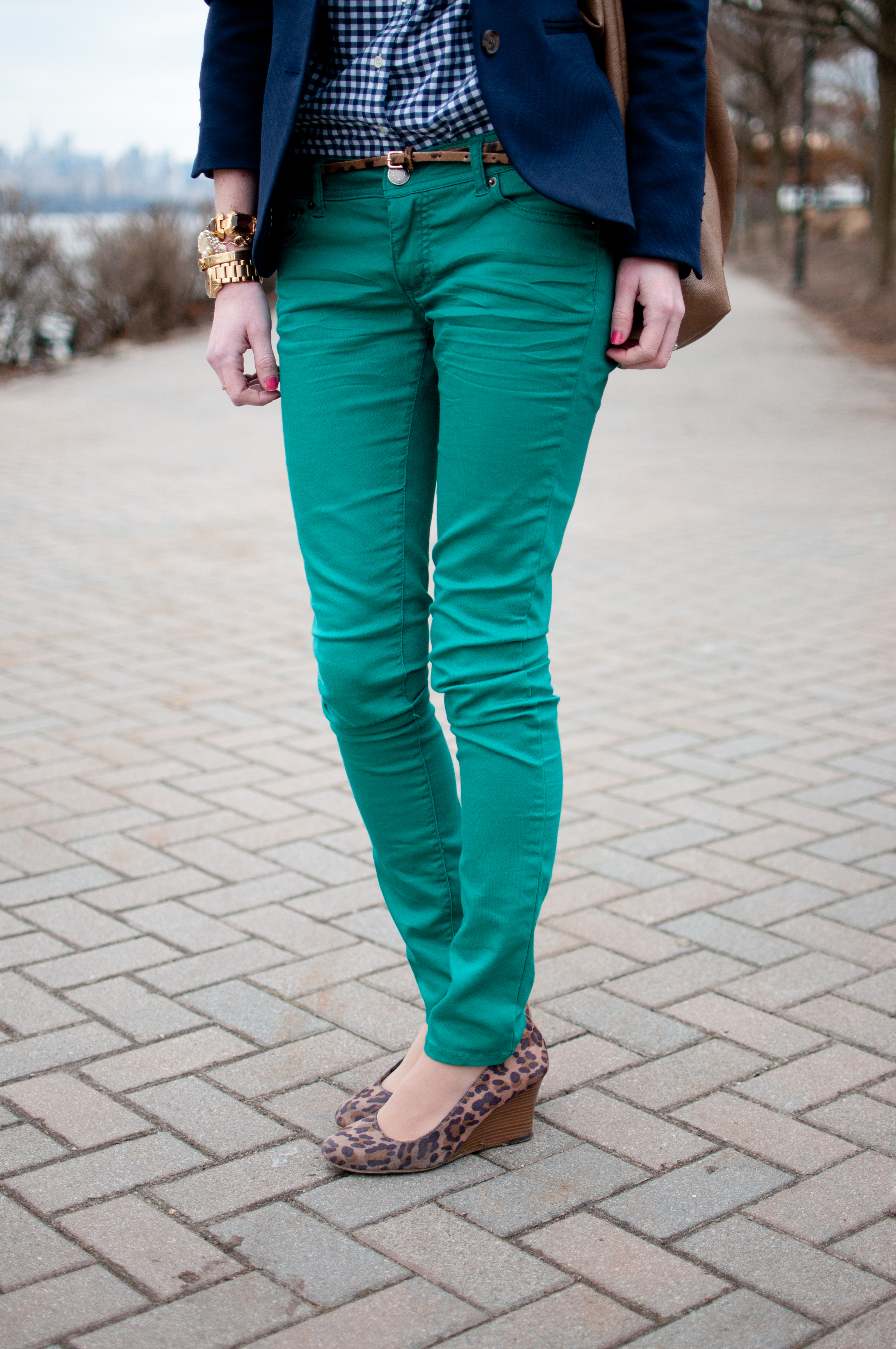 The blazer I'm wearing is surprisingly from H&M. I'd been longingly looking at J.Crew's blazers in September, but my budget wouldn't allow for it. ;) Instead, I found this one for less than $30. Again, size up.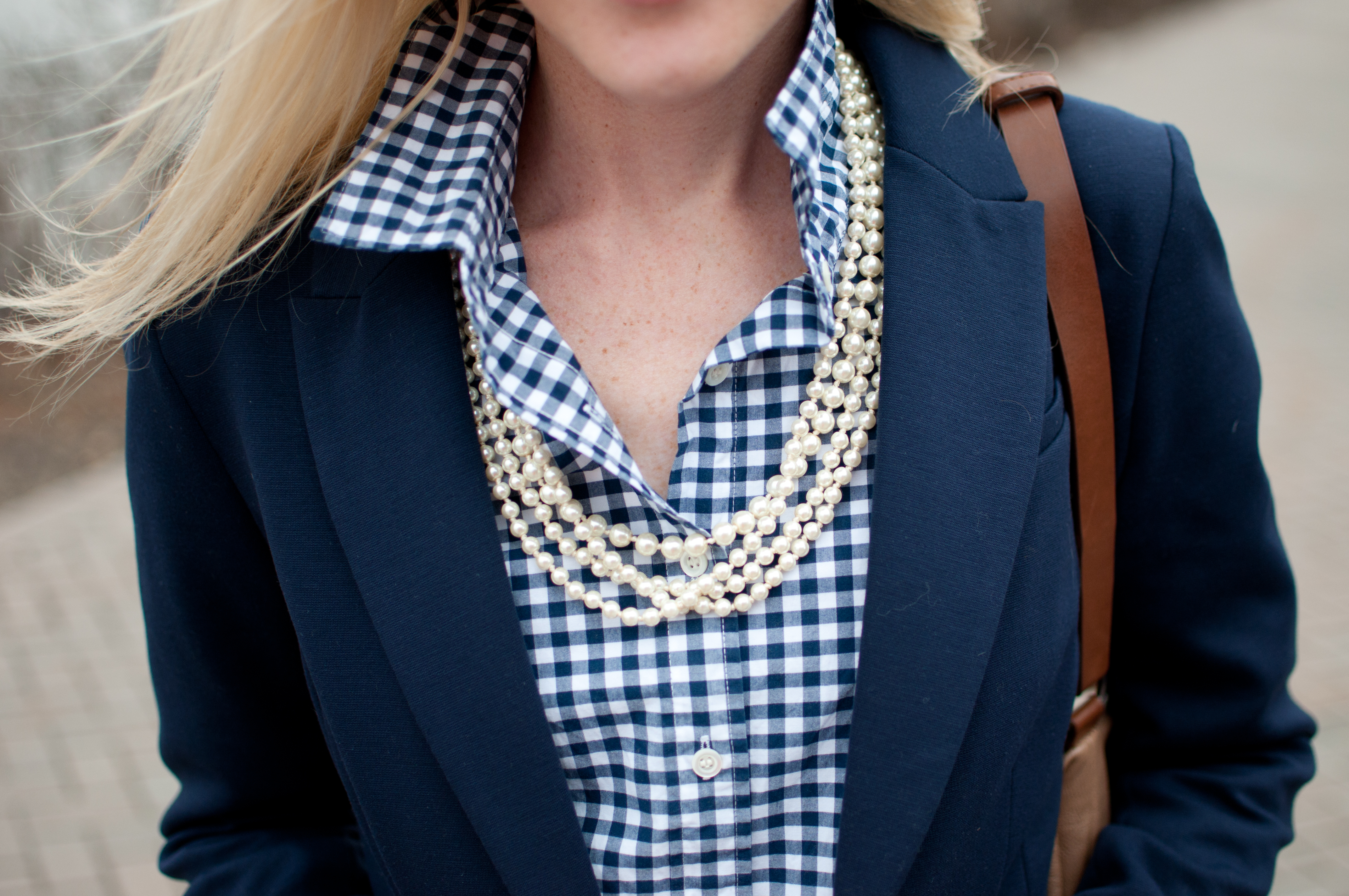 The leopard print wedges are also a J.Crew inspiration. These I found at Payless for $15. I can't even explain how comfortable they are. I've walked miles in Manhattan and haven't acquired a single blister. They're called the "Dexter" wedge and they come in lots of different colors… I have many, ha. I actually had to have this pair of Dexters resoled recently because I'd worn them out! The sole repair cost more than the shoes. Go figure. ;) Totally worth it. True-to-size.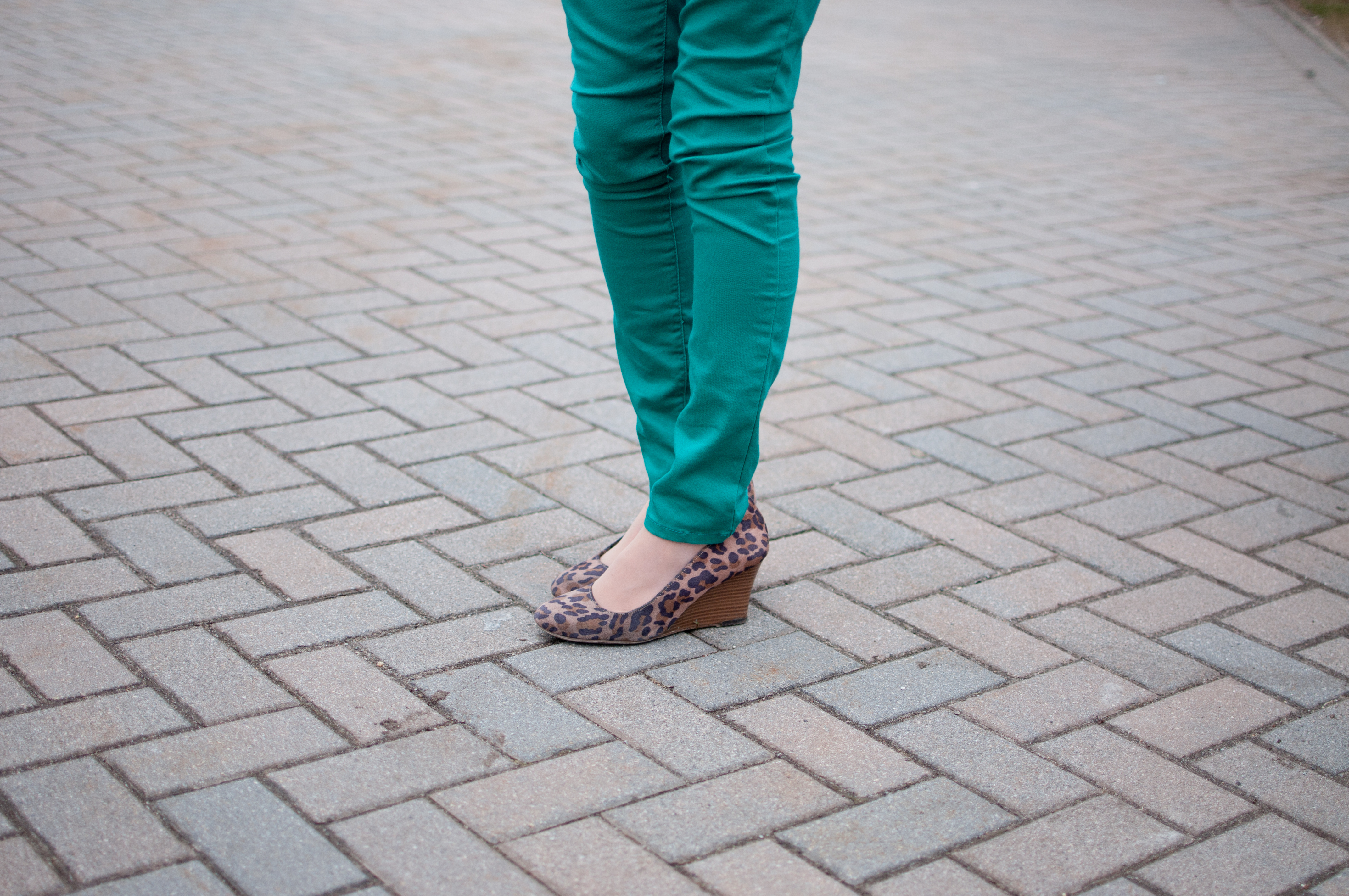 Finally, the bag is a $15 find from Zara in Dublin, Ireland. Bought it after the straps to the only tote I'd brought snapped right off. Zara, thanks for saving me :) Still use the bag all the time!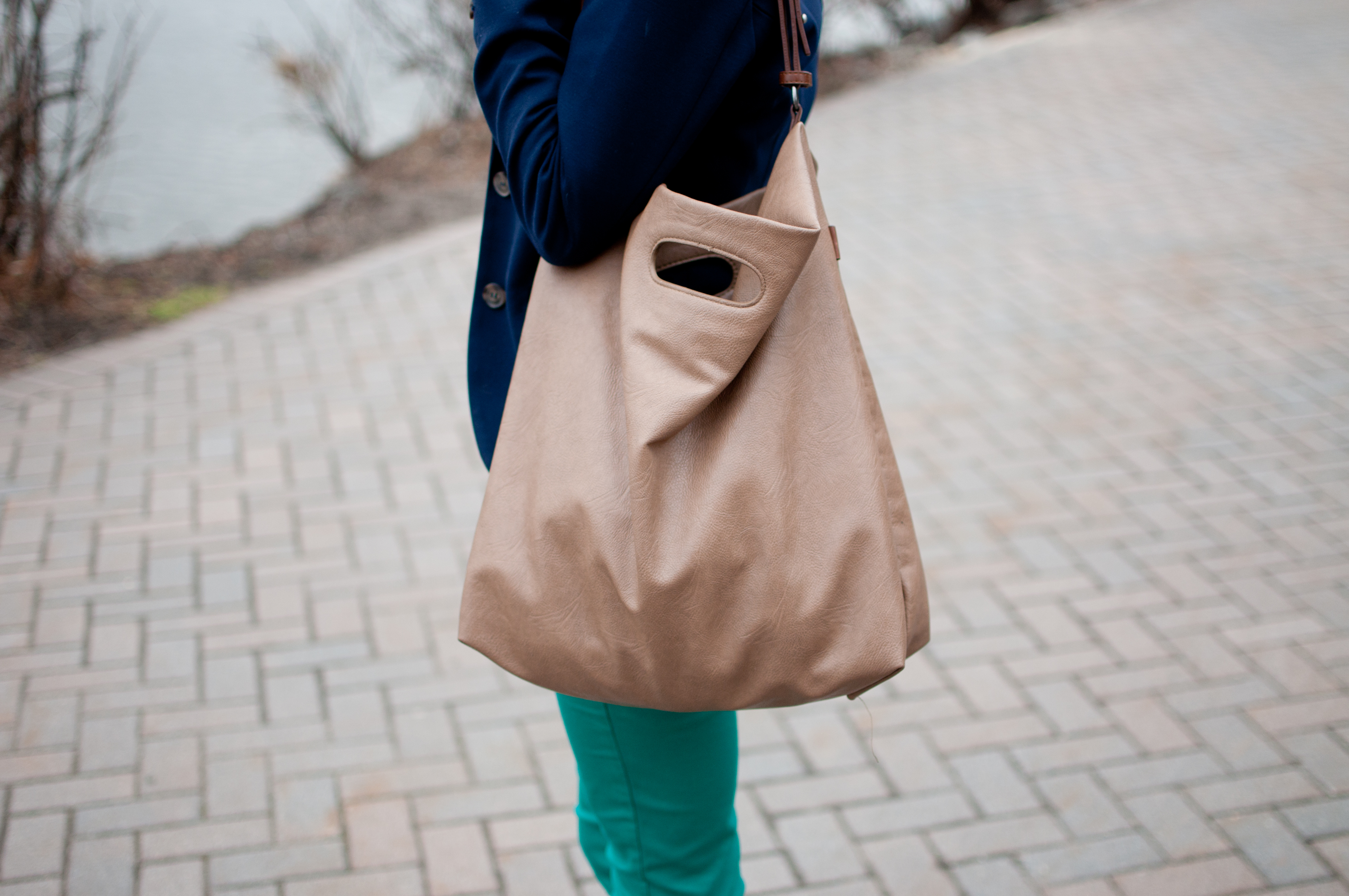 For anyone who is looking for the designer brands for less, try eBay, Piperlime (coupons are combinable!), Amazon/Endless, and 6pm.com. I've scored a couple of pairs of super cheap Paige colored skinnies through these sites. Incredible! Just know your size before purchasing, as some sales can be final sale. Happy shopping!