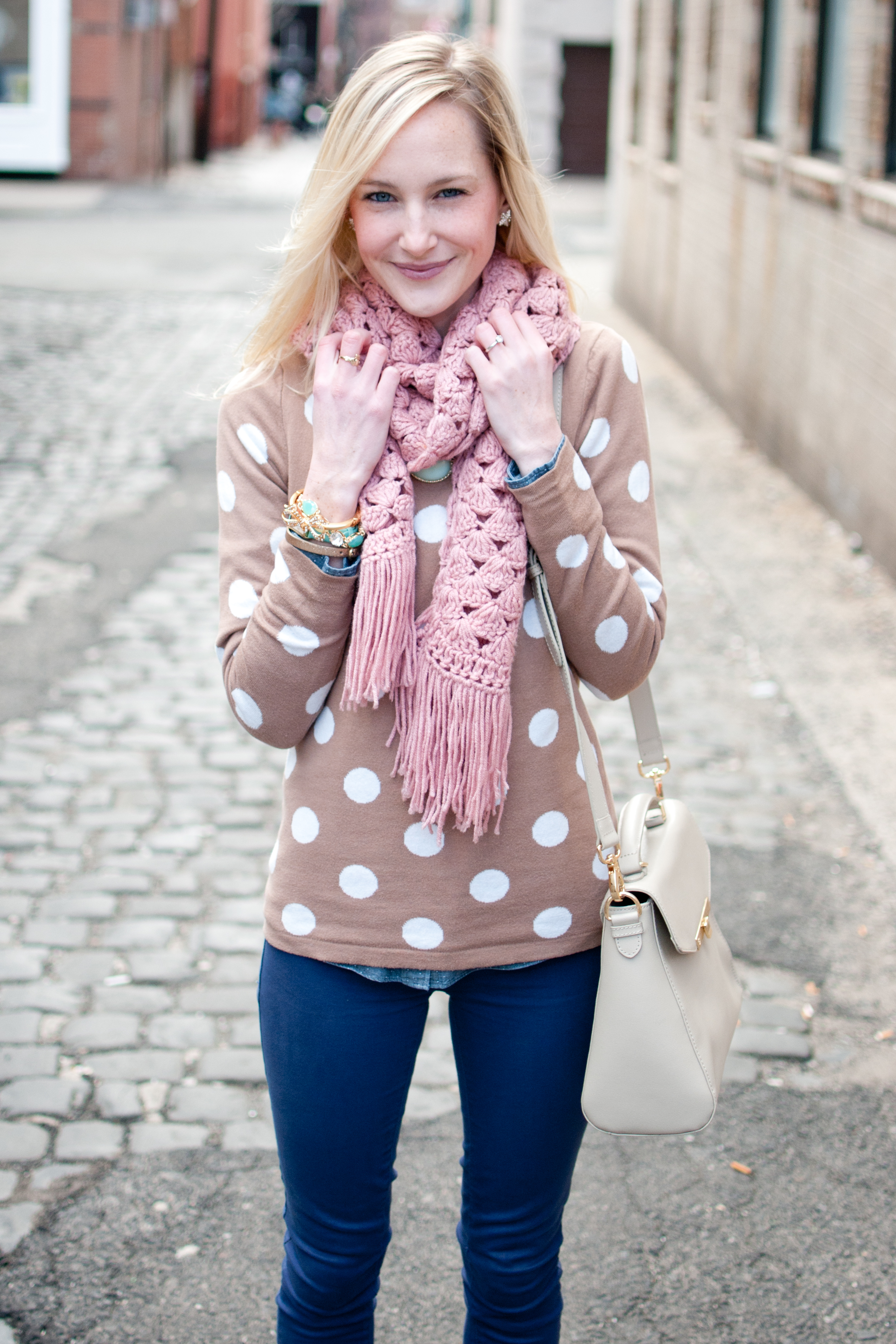 Coat: J.Crew (old) similar here / Sweater: Old Navy similar here and here / Pumps: Target similar here / Jeans: BlankNYC (they get a bad review on Amazon but they're wonderful! / Bag: C.Wonder similar here / Shirt: J.Crew Factory / Scarf: Handmade by friend / Necklace: J.Crew Factory / Watch: Kate Spade / Bow bracelet: J.Crew (sold out, try eBay) / Glitter bracelet: J.Crew Factory similar here / Green bracelet: J.Crew Factory / Earrings: J.Crew Factory
Ah, I love Saturday! This morning, Mitch and I took a nice leisurely walk down Washington Street with coffees and watched the drunkenness of Hoboken's (unofficial) St. Patrick's Day celebration begin. We were supposed to host a house party for the shindig, but we didn't realize it was this weekend. (Note the lack of green clothing in the pic.) How it's possible that we didn't know the festivities were scheduled for today, I don't even know. Ha. #newresidentfail So to everyone we invited to our place in a couple of weeks: Uhhh… Sorry that we dropped the ball on this one! (Collar tug.) Somehow we missed the ZILLIONS of signs around the city that clearly stated the celebration was scheduled for today. But celebrating St. Patrick's Day on actual Saint Patrick's Day could still be fun, right?! ;)
It might be better that we didn't partake in this year's festivities, though. The cops were really out in full force, ticketing illegally parked cars and unsuspecting partiers. Apparently the fine for drinking on the street or being unruly is $2,000. Yowzers! I'd like to say that this wouldn't be a problem for me… You know, that I could never possibly be accused of disorderly or reckless behavior. But, you see, I'm clumsy and trip a lot. When completely sober. So… yeah. Off to Connecticut we went! ;)
After grabbing some cupcakes and cookies at Carlo's (the "Cake Boss") Bake Shop, we drove up to Fairfield County to see my two best girlfriends from college, Beth and Tara, and their fabulous husbands. Even though our crazy schedules make it difficult for us to get together on a regular basis, we always seem to find a way, and have dinner at someone's place once every month or two. It's absolutely wonderful, and each time we all see each other, I'm reminded of just how lucky I am to have friends as amazing as they are! Beth and her husband, Matt, cooked this amazing dinner–a new recipe, too!–and Tara and her hubby, Mike, made guacamole without cilantro so I could eat it. How sweet is that?! (For those of you who don't know, I hate cilantro with a passion. I used to think I was the only person out there who felt this strongly about a silly herb, but apparently there are tons of us. ;) ) The night was fantastic. Good friends, laughter and wine… what could be better?!
Since it's March, I feel like I'm now allowed to go pastel. And since it's the weekend, I feel like it's necessary to wear a super comfortable sweater. Once again, it's a rather chilly day! My favorite part of today's ensemble is the hand-knit pink scarf that a friend made for me. While I'm certainly a sucker for J.Crew, C.Wonder, Kate Spade and the like, it's really nice to incorporate a piece that's uniquely mine once in a while!
Hope everyone is having a fabulous weekend! We still have Sunday. Isn't that a great feeling?