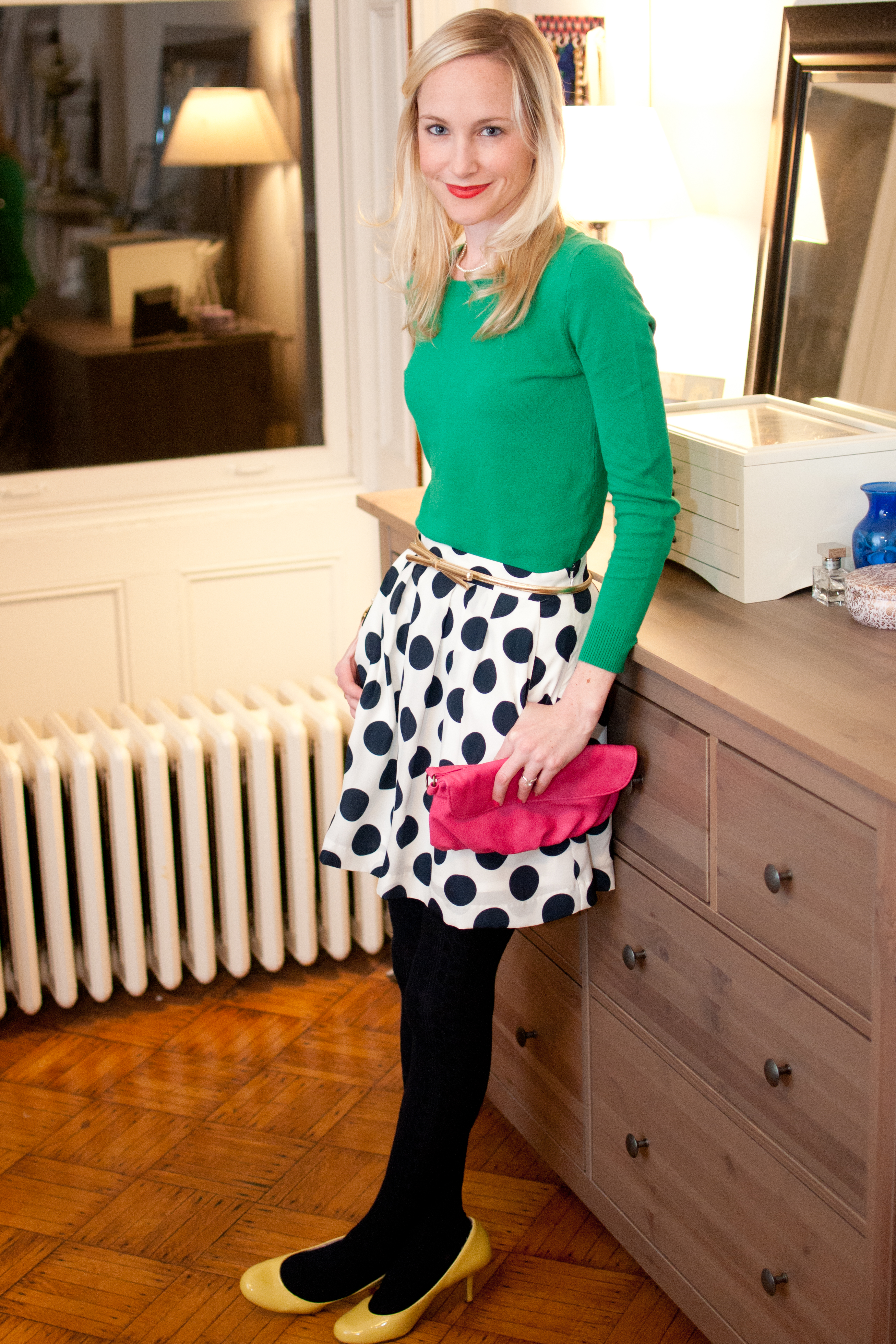 Skirt: J.Crew Factory (check eBay if sold out in your size) / Sweater: J.Crew similar  here / Tights: HUE but try eBay for a great deal / Pumps: Unisa / Clutch: Target / Belt: Lilly Pulitzer similar here / Pearls: Childhood similar here / Earrings: J.Crew Factory similar here / Lipstick: Joe Fresh / Bracelets: All J.Crew (old) similar here / Watch: MICHAEL Michael Kors
Clearly, I've been on a green kick. ;) And I'm still trying to persuade spring to arrive early this year.
But since it's being a bit stubborn, I've been trying to kick the habit of exclusively wearing pants every day while I wait. Every morning, between the months of October and April, I consider wearing a cute skirt—I open the bottom drawer to my dresser where they all live and everything—but always end up abandoning the idea for jeans. (I'm one of the lucky people who are allowed to dress casually for work. One of two perks of my job. ;) But it also enables laziness when it comes to fashion!)
I think the biggest culprit here is that I usually select that day's clothing in the wee hours of the morning, around 5 a.m. or so, right after reluctantly leaving my extremely warm and comfortable bed. Once my feet hit the cold hardwood floor, I can't even fathom the idea of not being bundled up for blizzard-like weather. (Even if the iPhone says the temperature will likely rise above 40 degrees.) Honestly, it's hard enough convincing myself not to wear a gigantic sweater every day!
One thing that helps is selecting clothing the night before. I don't go as far as laying them out. (Please. I'm not THAT organized. ;)) But I do take a look at my closet and inside my drawers and mentally note some sort of a wardrobe idea for the following morning. It works, I tell you! This morning, I didn't go running to my thickest, most comfortable denim. Instead, I pulled on sweater tights, which are arguably more comfortable than jeans (the best kind, HUE, feels like leggings!) and allow you to wear those skirts you'd otherwise be freezing in. Steer clear of nylons. (They're kind of out anyway.) Get a good pair of navy, ivory and black sweater tights, and you'll be set.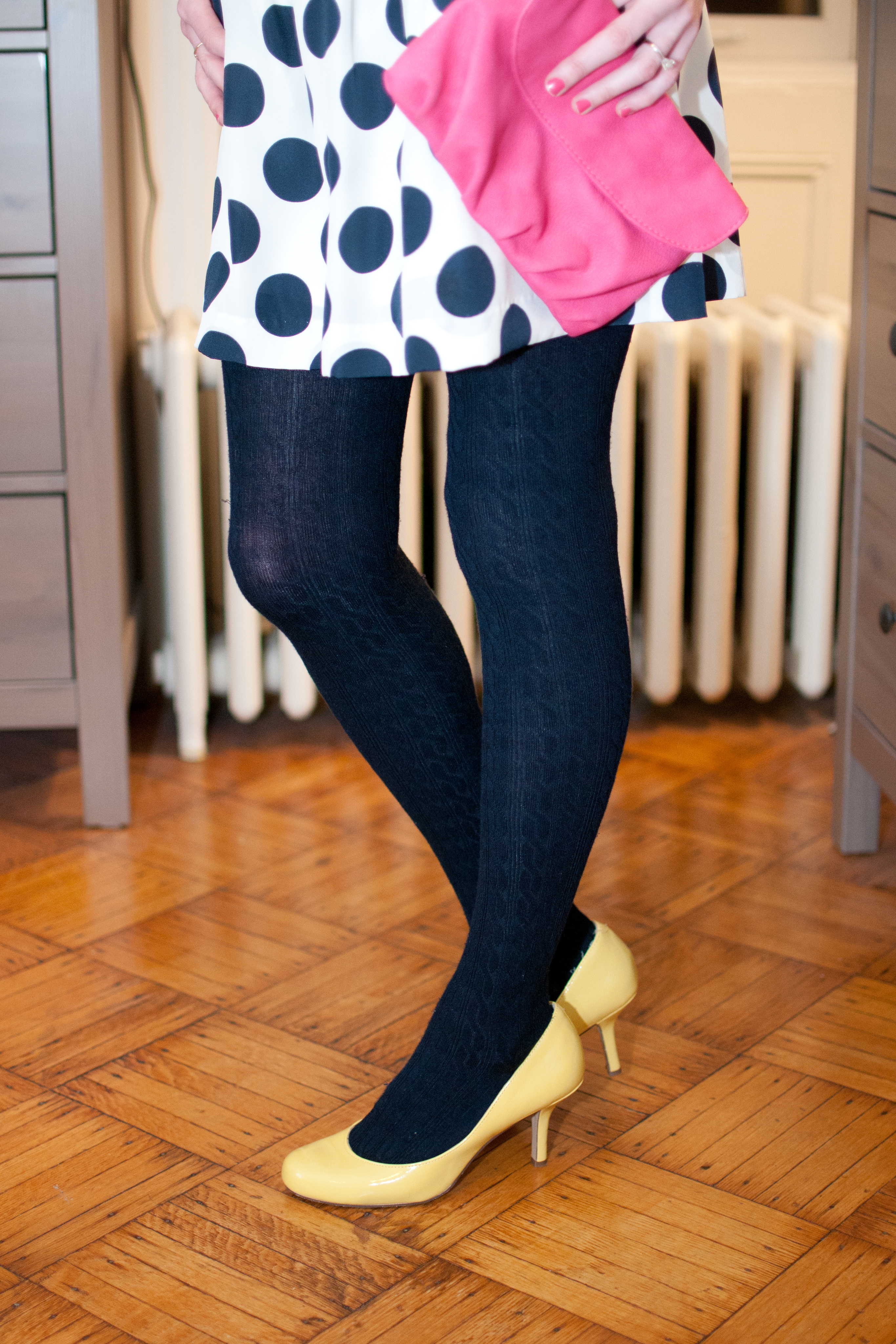 Today I paired a navy pair of HUE sweater tights with a polka dot skirt, Kelly green sweater (how appropriate), gold bow belt I picked up from RueLaLa, and an old pair of bright yellow pumps. After work, I slipped on flats and headed down to the Village with Mitch to leisurely stroll around our favorite part of the city and get some errands accomplished. We had to return a pair of Ray-Bans (Valentine's gift I'd given Mitch that sadly didn't work… still hunting for the perfect pair!), pick up prints at Adorama, and stop in at Zara, as I recently spilled white paint all over my favorite leggings and needed a replacement. I got irrationally upset about it when that happened, but good leggings are hard to come by! I can't recommend Zara enough, though. I found the perfect replacement pair–thick enough for cold weather wear–in less than 10 minutes. :)
Before heading home, we tried to grab a bite at Lyric Diner, our favorite Manhattan diner (we used to go there once or twice a week when we lived in Stuyvesant Town) but to our dismay, it had turned into a Greek restaurant! :( I guess we hadn't visited the spot in a while, because it's apparently been closed for some time now.
We love Greek food, but were really in the mood for French onion soup and french fries, so we headed off to Orion, a nearby diner, and it was nothing short of fabulous. (Jersey Girl at heart.)
With Monday and Tuesday down, the end of the week is almost within reach. ;)